Caleb Westphal hasn't missed a Friday night fish fry since 2013. Follow along with his never-ending adventures here.
At 4 o'clock this past Friday, I found myself seated—not at a restaurant waiting for a Friday night fish fry, but outside at the Western Lakes Golf Club in Pewaukee, waiting for a wedding to begin. After the ceremony, I went inside and grabbed a glass of wine. There was quite a bit of time before the wedding dinner would be starting, as it wasn't until 6:45, but I knew I wouldn't be attending it, as I had checked ahead and fish was not one of the food choices. Two people were celebrating the most important day of their lives, and there I was, getting ready to abandon their special moment and go find a fish fry. I didn't want to head out right away, out of fear that I would return in the middle of a teary-eyed wedding speech, so I slowly drank my wine, and left around 5:45.
There are plenty of places to get fish along the shores of Pewaukee Lake, but I had one place in mind. A few years ago I substitute taught a few times at the middle school and high school in Pewaukee, and each time I had done so I had driven past a sign on Highway G that had an arrow that pointed down a side road and said "The 5 O'Clock Club." It seemed like the perfect opportunity to finally visit the place the arrow pointed towards. Plus, the 5 O'Clock Club (N28 W26658 Peterson Dr., 262-691-9960) is a supper club, and it also happened to be August 31, a very important date in Wisconsin: Supper Club Day.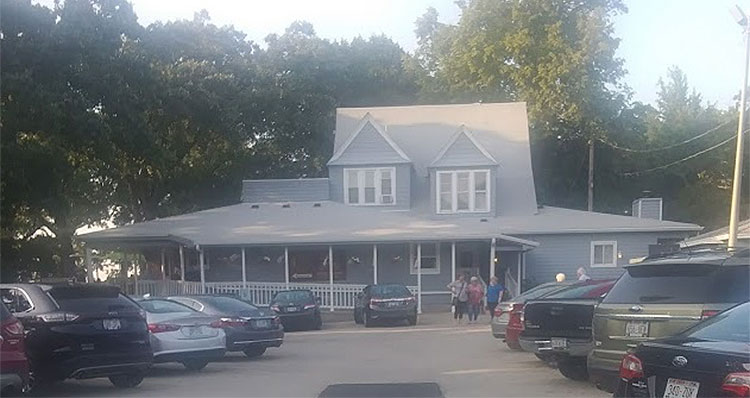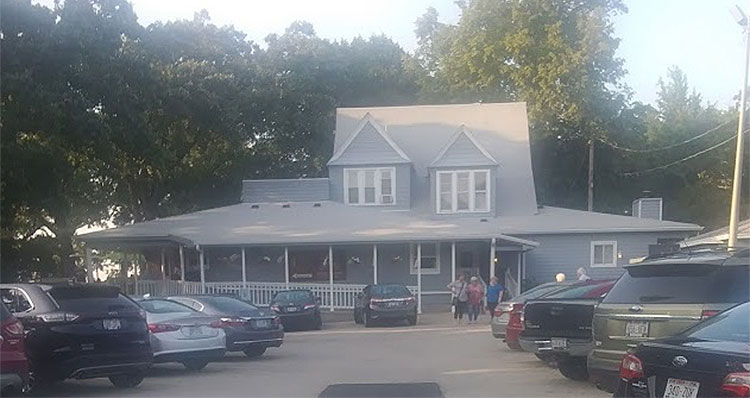 The 5 O'Clock Club originally was just a house, or a "farmette retreat," built in 1865 and first occupied by the Voechting family. In 1918, the Peterson family purchased it—explaining why the road it sits on is now called Peterson Drive. Frank and Mary Kizivat bought the house in 1929 and soon opened it for business. At a time when Prohibition was still the law of the land, those who stayed in summer cottages around Pewaukee Lake began frequenting the establishment.
The restaurant has been in the same family ever since. Frank and Mary's daughter Mitzie worked there, as did her husband, Earl Knutson. It was first known for Mary's fried chicken, but fish frys soon began being served and becoming popular. In 1973, Mary could still be found serving up food at the age of 80, when meals of perch, fries, and coleslaw could be purchased for $2.75. After Mary passed away in 1980, her grandson Richard Knudsen and his wife Jeanine took over. They still run it today, and their son Jason is now the head chef. Richard has brothers who are part owners of the establishment as well.
The first thing I noticed when I arrived at the 5 O'Clock Club was the sheer amount of people that were there. Cars lined the road as I approached the restaurant, and they were all angled towards me, indicating people had driven into the parking lot, circled it and found no place to park, and came back out. The multiple dining rooms and bar area bulged with people, and more people spilled out onto the patio and even off of it, next to the building. The original building never would have been able to take this many people, but thankfully, multiple additions have been built over the years.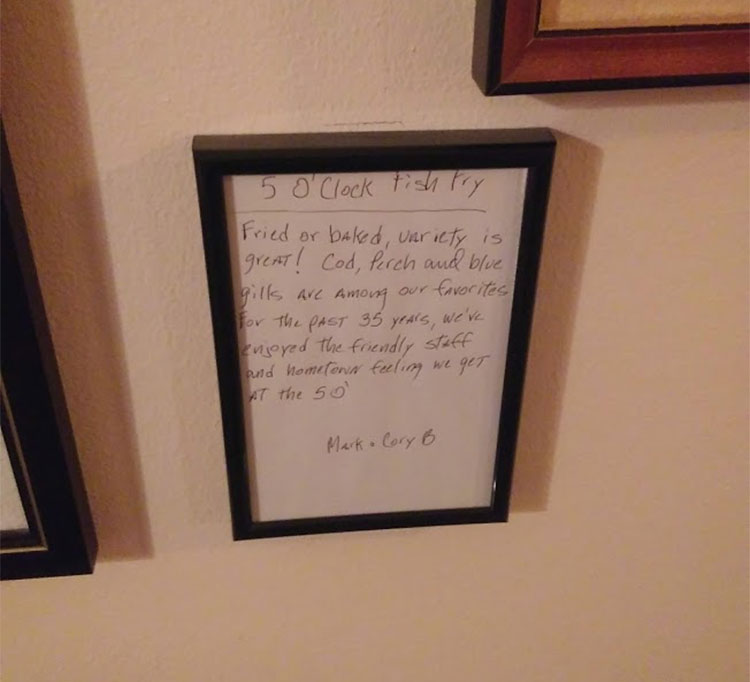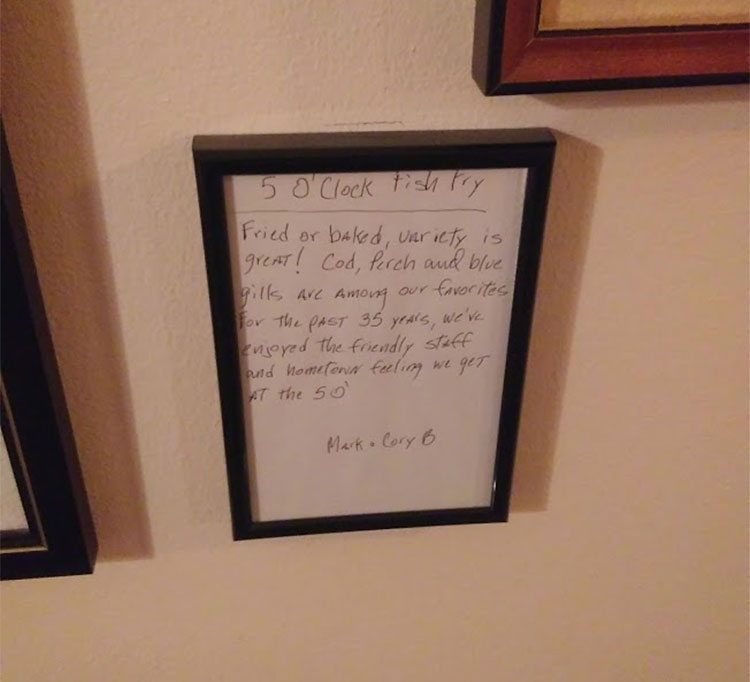 As expected, I was told it would be a long wait for a table. The lady who took down my name responded with a tone that seemed to say, "Do you really want to do this?" "How long is it going to be," I asked, "an hour…hour and a half?" She told me it would be at least that long. But that was fine by me—I had plenty of time to kill before the wedding dinner would be over.
I grabbed an Old Fashioned and began ambling about, looking at all the artifacts that had been collected on the walls over the years. Eventually I was able to find a solitary chair next to some stacked booster seats and a coat rack. And then I waited. 7 o'clock rolled by. When you sit this long you begin to reflect on life, death, and your whole existence. Everything flashed past me. I looked at the coat rack and thought of all the coat racks and coat rooms that I had stood by as a child while waiting for fish frys. I thought of all the kiddie cocktails I had drank down, and all the memories that had now partially faded, and all the people who were now gone. By 7:20 the hunger was really taking over, but five minutes later the hostess walked past and told me I would be up shortly. At 7:40 it happened; "Westphal, party of one" was called overhead.
Rye bread, tartar sauce, and coleslaw were already on the table when I took a seat. Had they just assumed I would be ordering a fish fry? How did they know I wasn't going to order a sandwich? This display of fish fry confidence seemed odd, but also warmed my heart. I wish more places would do it.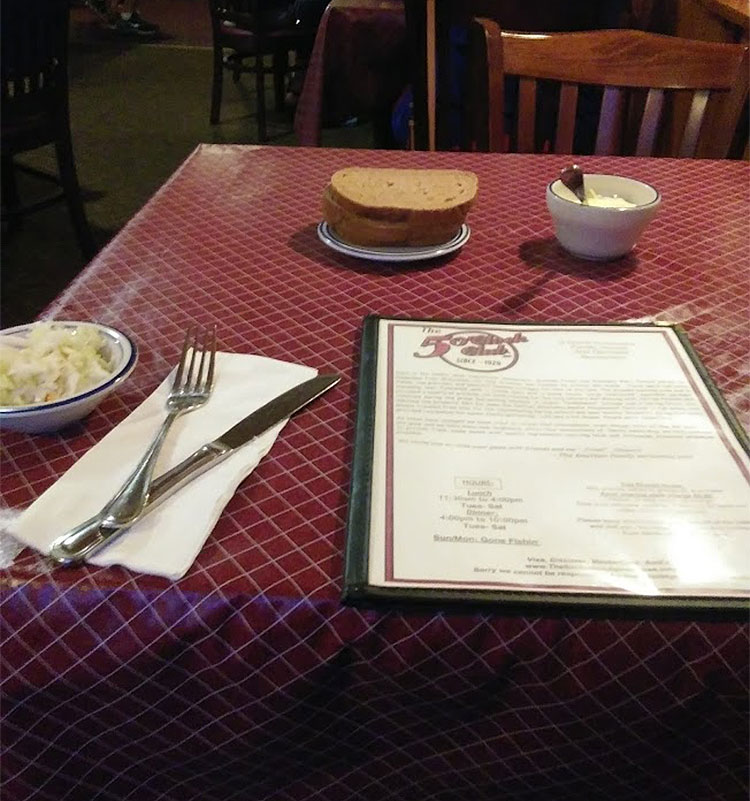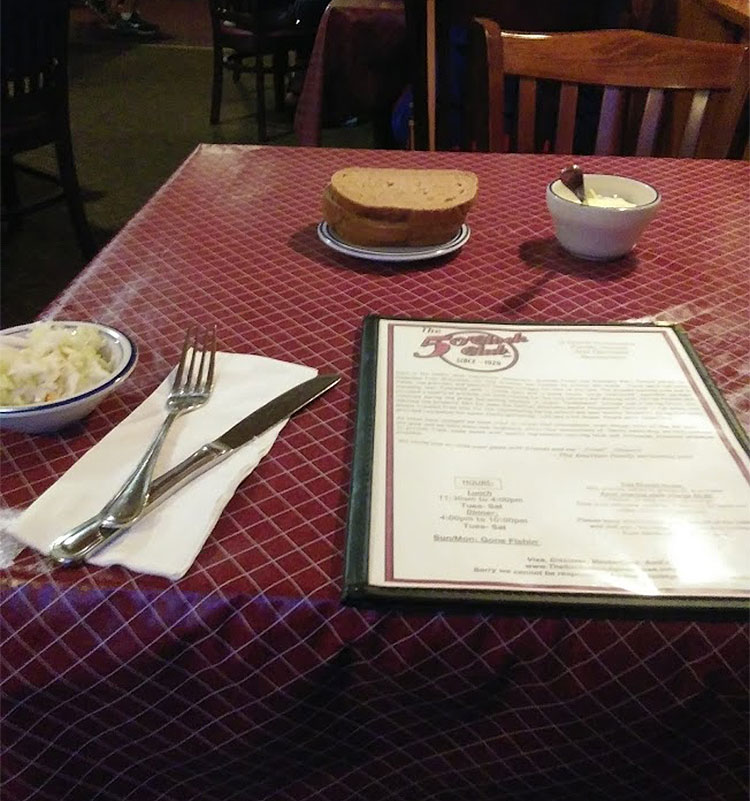 There are many fish options at the 5 O'Clock Club: lake perch (MKT), small perch ($12.50), cod ($12), small cod ($9.50), perch and cod combo ($16.50), walleye ($16.50), and bluegill ($16.50). There is also a seafood combination ($22) consisting of perch, cod, shrimp, and scallops, as well as other non-fish seafood options. All fish frys are served with french fries, as well as rye bread and coleslaw. I ordered the perch and cod combo, as well as a bowl of seafood chowder ($5). It seemed to make sense to get a bowl, as it was only 50 cents more than a cup.
The homemade chowder not only had clam, but shrimp, scallops, and crab as well. Slices of fresh green onion were evident, and pepper seemed to give it a little bit of a kick. A smaller bowl of croutons was brought to go with it. The three pieces of rye bread were soft and plain, just like the band with the same name (I apologize, this is the second time I have ripped on Bread in this column). The homemade coleslaw was vinegar based and crunchy, and like the chowder, it too was a little peppery.
When the plate of fish and french fries arrived, I pushed over the fries so I could get a view of all the fish at once. Some of the fries fell off the plate, but they weren't the reason I had waited so long, so I really didn't care. I was given two pieces of cod and four pieces of perch. The fish was well above average. The juicy and flavorful morsels of cod were particularly of high quality, and would have been good even without breading or tartar sauce. But, both the texture and flavor of the breading was of high quality. It adhered well to the fish, and from what I could tell, the same breading was used on the cod and the perch. The large cup of homemade tartar I was given enhanced the whole experience.
I could barely finish the fish, but eventually managed to do so. The fries were a different story: I took most of them home for later. But first I had a wedding to stop back at. The timing had worked out perfectly, and I arrived after the wedding dinner was finished. People were really starting to light up the dance floor, but I could barely move, and spent most of my time in a chair. I guess fish frys are just a little more satisfying than wedding dinners. Some may question the rectitude of leaving a wedding to get a fish fry, but my almost five years of faithful Friday night fish fry eating has outlasted about 20% of marriages, and there is no end in sight. Until death (or extreme illness or really shitty occurrence, I guess) do us part.
Takeaways: I had to leave a wedding because they weren't serving a fish fry; the 5 O'Clock Club has been owned and operated by the same family for close to 90 years; there were like 7 billion people at the restaurant; they don't take reservations on Fridays; I waited for about 1 hour and 40 minutes to be seated, enough time to listen to Mel Waiters' "Friday Night Fish Fry" approximately 21 times; tartar, slaw, and bread were on the table when I sat down—before they even knew I was ordering fish; lots of fish options; high quality cod morsels; the breading was swell; here is their coleslaw recipe; speaking of weddings and fish frys, remember, Pat's Oak Manor serves fish frys and has a wedding chapel.