Caleb Westphal hasn't missed a Friday night fish fry since 2013. Follow along with his never-ending adventures here.
Fish frys tend to be served at a few types of locations: taverns, sit-down restaurants, supper clubs, and halls. A week after returning to Pat's Oak Manor for a celebratory 250th consecutive Friday fish fry, I was still in a hall type of mood. There are a handful of other halls nearby that I've been to for fish—The Schwabenhof, Serb Hall, and Emerald City come to mind—but I was on the hunt for someplace I had never been. Perhaps I could unearth a gem, a spot under the radar and often passed over that was of high quality. I remembered a place I had come across during the summer: Carl's Catering (5110 W. Loomis Rd., 414-421-6550). Their website said they had a Friday fish fry from October until May. It was now the third week of October. Perfect.
Carl's Catering is just a half mile down Loomis Road from Ray's Butcher Shoppe, on the edge of historic Greendale. It has been at its current location since 1994, and has been serving all-you-can-eat fish frys there just as long. Prior to being on Loomis Road, Carl's was located in Wauwatosa, where it opened in the early 1970s.
The building that has housed Carl's since 1994 has a long history of serving fish frys. From the early 1960s through 1993 it was Jolly's Cocktail Lounge & Restaurant. An advertisement for Jolly's from shortly after they opened said they were an ideal place for parties, receptions, and meetings; they offered free dance lessons every Monday; and they served "A Whale Of A Fish Fry" on Fridays. Another advertisement claimed they served a "Kings Cuisine at Peasant's Prices." In the late 1950s, prior to being Jolly's, it was Club Aberdeen. For some years prior to this, a beer depot and tavern was at the address.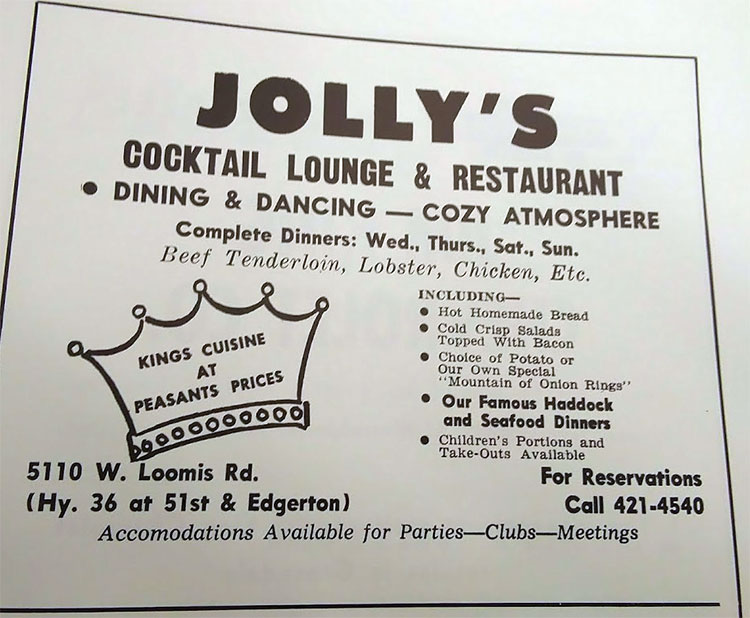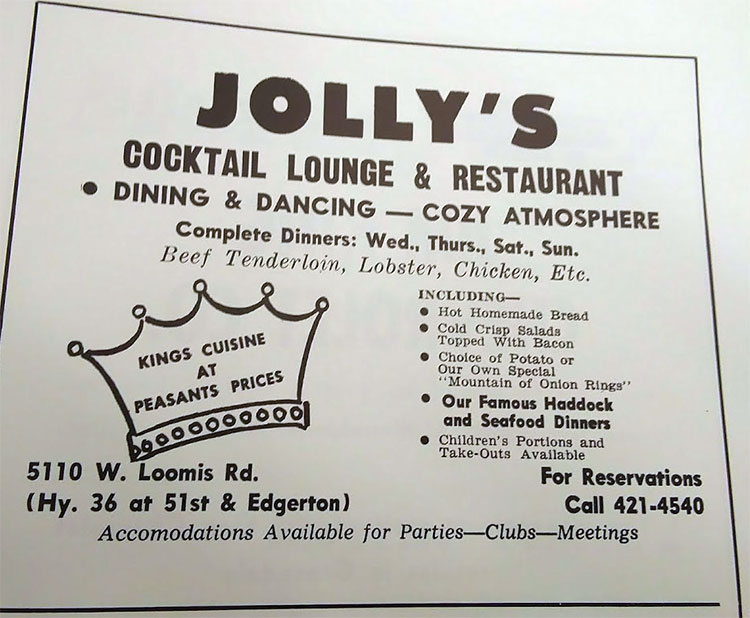 I didn't know exactly what to expect when arriving at Carl's, as they hadn't made a post on their Facebook page in over two and a half years, and I wasn't even sure if their website was up to date. As I got out of my car, a restless wind blew the smell of fried fish across their expansive parking lot. "Off to a good start," I thought.
After walking through a foyer, I found myself in a large banquet hall. About a dozen or so eight-top tables were covered in white tablecloths, and a bar lined one of the walls. My friend and I were seated in a smaller, adjoining hall, where the tables were a little bit smaller, but still pretty big. There were very few tables for small parties to be found anywhere. In short, Carl's Catering is either a place to eat with your whole family and a bunch of friends, or a cool place to change your seat multiple times while eating alone, to really confuse your server.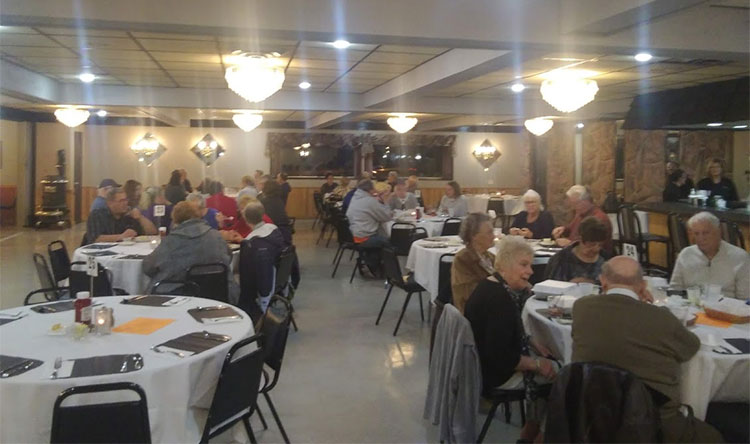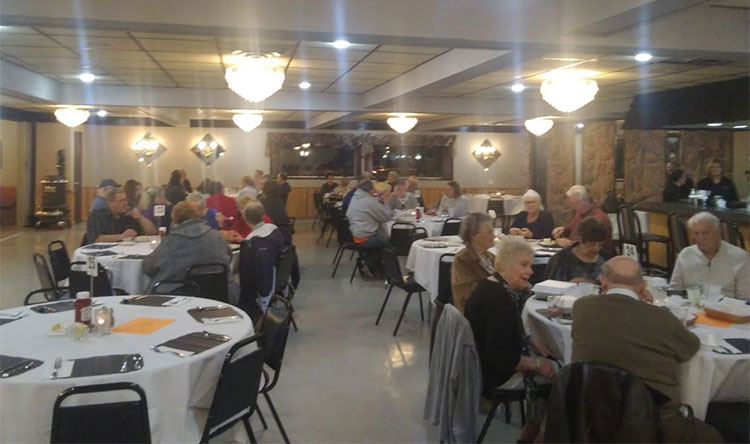 Fish fry options include beer battered or breaded cod ($9.95 for 1 piece/ $12.50 for 2 piece/ $13.95 for 3 piece/ $16.95 for all-you-can-eat), baked cod ($14.95), breaded Lake Erie perch ($16.95 for 6 piece), and a Fisherman's Platter ($17.95 for 1 cod, 2 perch, and 3 shrimp). They also have a child's fish fry ($7.45). The all-you-can-eat does not include extra sides. The potato options are french fries, sweet potato fries, cheesy hashbrown potatoes, homemade potato pancakes, parsley buttered potatoes, and baked potato. For those who don't want one of these 35 potato options, "vegetable du jour" is also available; I'm just going to assume it's a potato. I ordered the all-you-can-eat cod with the potato pancakes, as well as a cup of clam chowder ($2.00) and an Old Fashioned.
We had already been brought bread and coleslaw, and had that to eat while waiting for everything else to come out. The bread was a soft marble rye. The coleslaw came in smaller plastic cups and was creamy, with large chunks of cabbage. It became sweeter as I got farther towards the bottom of it.
The chowder soon came out, followed by the Old Fashioned. The high quality chowder had a balanced creamy texture with a heavy seafood flavor. It had large potato chunks and lots of clam. The Old Fashioned was a pretty standard non-muddled cocktail.
I had asked for a mix of breaded and beer battered cod, and my friend had ordered the three piece cod. But when we got our food, I was just given beer battered, while my friend was only given two pieces of fish. We alerted our server, who quickly brought another piece of fish for my friend, and put an order in for additional fish for me. This initial mixup in the kitchen was an anomaly, as our amiable server was superb in service throughout our meal.
The potato pancakes were very hashbrown-like, with a soft interior and a small amount of onion flavor. The cod had a light batter with a pleasant, mild beer flavor. They were decently sized full fillets, and the meat of the fish was of satisfactory quality. At first glance I didn't think the tartar was going to have what it took, but I was wrong. Its thick consistency and dill-tinged flavor went well with the fish.
A second plate of fish was brought, with one piece of breaded cod and one piece of beer battered cod. When I looked down at it I found a Friday fish fry miracle: the beer battered piece was shaped like Wisconsin. There wasn't anything strikingly original about the breaded piece, but perhaps it just seemed that way because I was so enthralled with my Wisconsin shaped fish.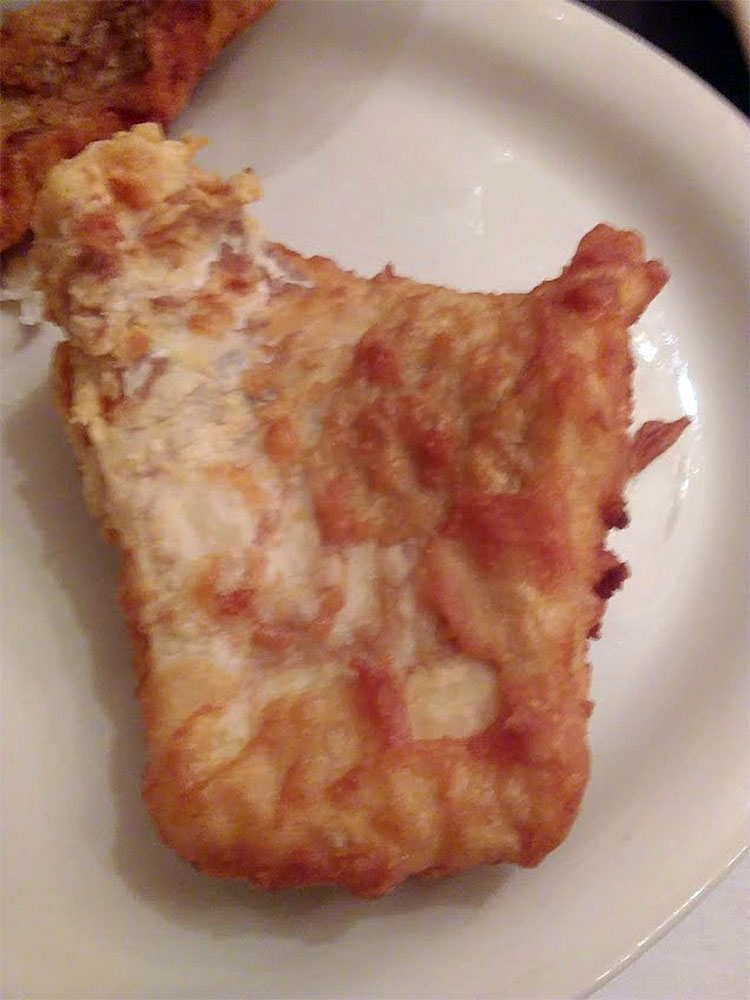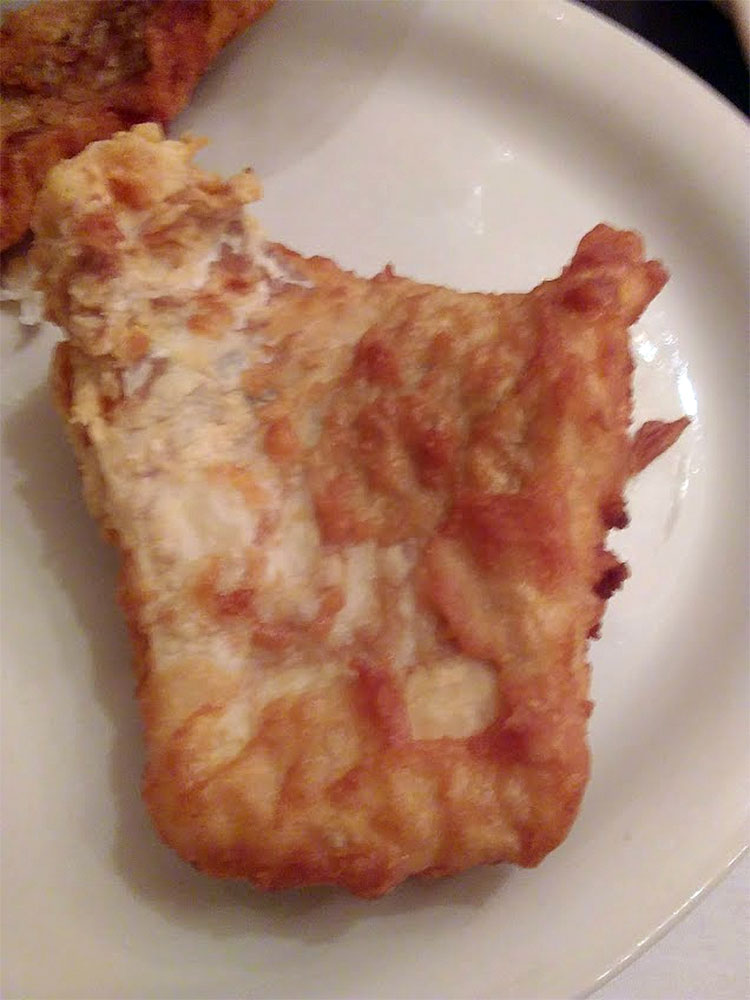 I decided to keep my composure and not order any more fish, but I was not yet done eating. At Carl's, each fish fry is ended with sherbet ice cream. While it was no chocolate log, the chilled orange and lime treat was a good ending to the meal.
So is Carl's Catering a hidden gem of a fish fry? I'm not sure if I'd go that far, but it's definitely worth stopping at if you are looking for a new place to check out. The beer battered fish and tartar sauce are commendable, the potato pancakes are decent, and the food is enjoyed in a classic hall atmosphere. You can get clam chowder for two dollars, you get to eat some sherbet, and if you're lucky, you will get a piece of fish shaped liked Wisconsin.
Takeaways: They serve Friday fish frys from October thru May from 4-7:30 pm; they have large tables; solid chowder, and it's only two dollars; AYCE does not include extra sides; decent beer battered cod, tartar, and pancakes; I got a piece of fish shaped like Wisconsin; friendly staff and good service; if you don't feel like cooking for Thanksgiving you can pick up a meal here; I received a stamp card that says I can get one free fish fry valued at $8.95 if I eat 10 fish frys, but their cheapest fish fry besides the child's one is $9.95, so I think they are trying to trick me.