Caleb Westphal hasn't missed a Friday fish fry since 2013. Follow along with his never-ending adventures here.
It's easy to forget that there is more to Milwaukee than downtown and its immediate surrounding neighborhoods, or that the city is made up of almost 100 square miles of land. Do some of the outlying neighborhoods get overlooked because they seem to blend in with their adjacent suburbs? Or do they get passed by because they don't appear to be the cultural heartbeat of the city? While some areas of town may seem to have a weaker pulse—not being home to many flashy restaurants, music venues, or other artistic institutions—some of them have places that have been beating just as long or longer than many establishments in the central part of the city.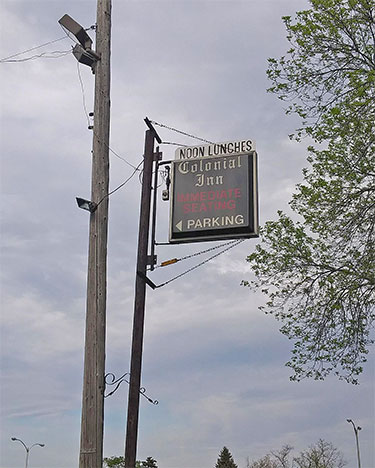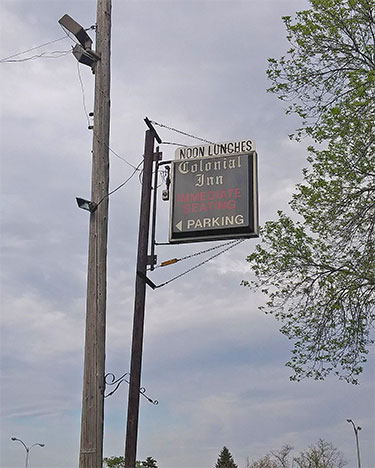 Take Schneider's Food & Drinks (3717 N. 76th St., 414-466-6590) for example. Built in 1931, in what was then the Town of Wauwatosa, it was a watering hole by at least the end of the 1930s, when it went by the name of the Blue Bird Tavern. Elmer Schmidt had it as Schmitty's Tavern for a time in the 1940s, and by at least 1950 it was the Colonial Inn, a name it has had some form of ever since, while it has gone through various owners. It became Schneider's Colonial Inn in 1994, but is more commonly now known as Schneider's Food & Drinks. The city of Milwaukee annexed the land that it sits on in 1951, and it is part of the Nash Park neighborhood.
Besides reviewing fish, there are a few things I often attempt to do while writing this column. One is to possibly unearth a gem of a restaurant that has been forgotten or overlooked. The other is to try to capture the essence of such a place. After finding a Post-it Note I had scribbled "Schneider's" on at some point, and looking at pictures of the place online, I headed there with hopes of finding the best fried fish in the world.
The parking lot at Schneider's was completely full—a good sign—so I parked on Nash Street. The smell of fried fish wafted to me as I shut my car door. From the outside, Schneider's looks like a giant house, and upon entering it doesn't look unlike your average Wisconsin townie bar. I asked for a table, and was led to the back corner of the second dining room. From there I had a good view of what structurally looked like an everyday family restaurant. No one in the dining rooms appeared to be under 55, and most people looked to be about 70. At one table, a couple made the sign of the cross before eating, while at another, four biker-looking dudes drank beers and dropped a few f-bombs.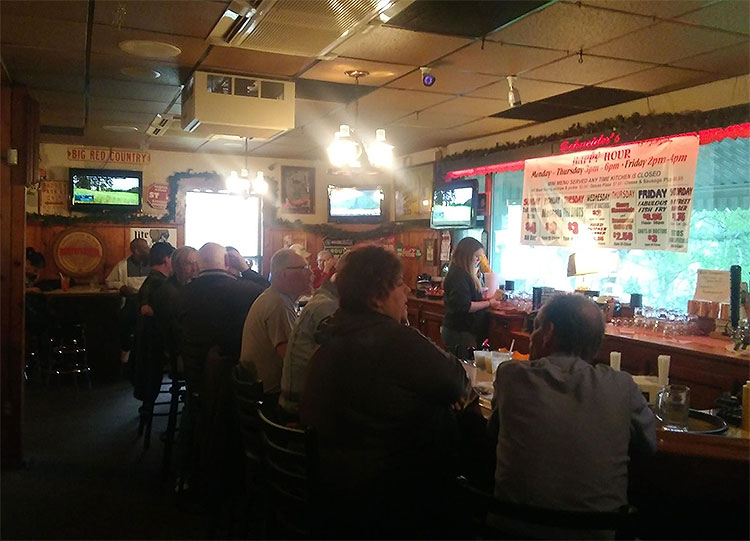 I ordered a Brandy Old Fashioned Sweet and a cup of clam chowder, and looked over the fish options. There are four fried fish choices at Schneider's—cod, perch, walleye, and bluegill—all of which are priced at $10.95, except for the cod, which is $8.95. I figured it had been too long since I had had perch (15 weeks, but who's counting?), so that's what I ordered. I asked if they had homemade potato pancakes. They didn't, so I went with french fries.
The Old Fashioned was boozy with a bite. The more I drank of it, the boozier and boozier it seemed to get, until I wondered if I was drinking straight brandy. "Am I imagining this," I thought. "Is it really that strong?" Perhaps it wasn't straight brandy, but it seemed strong enough to cloud my perceptions of the clam chowder, either because its bite was overbearing my taste buds, or because it was giving me a buzz. The chowder was of a moderate consistency, and included clam and potato. It seemed to start out mild in flavor, but the more of it I ate, the stronger its flavor seemed to be, until it had what felt like a robust peppery taste. Again, maybe it was just the brandy.
The best part of the meal was the fish. I was given five crisp, but light pieces of perch. They were perhaps a little on the salty and greasy side, but overall were satisfactory. They were paired with a light, mayo-based tartar that had a lot of pickle relish in it. The french fries were thicker straight cut fries, a little on the softer side, not unlike pint-sized steak fries. The meal was rounded out with two unbuttered half pieces of extremely light rye bread, and a small cup of standard creamy slaw.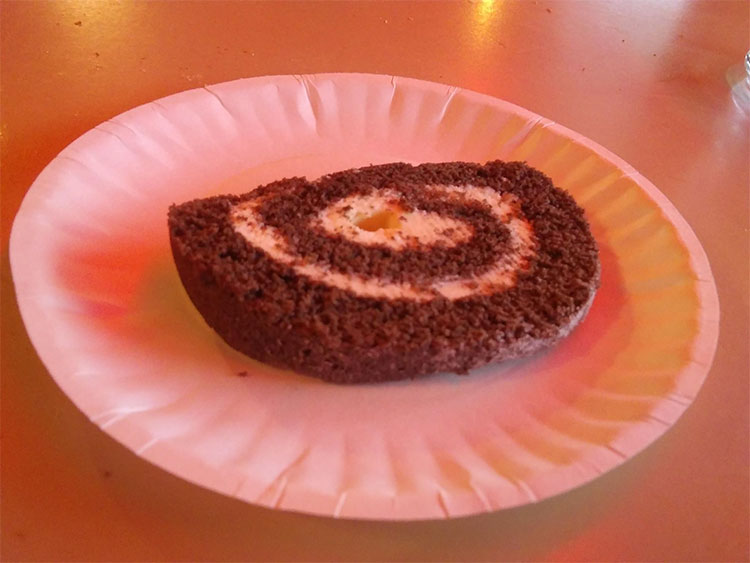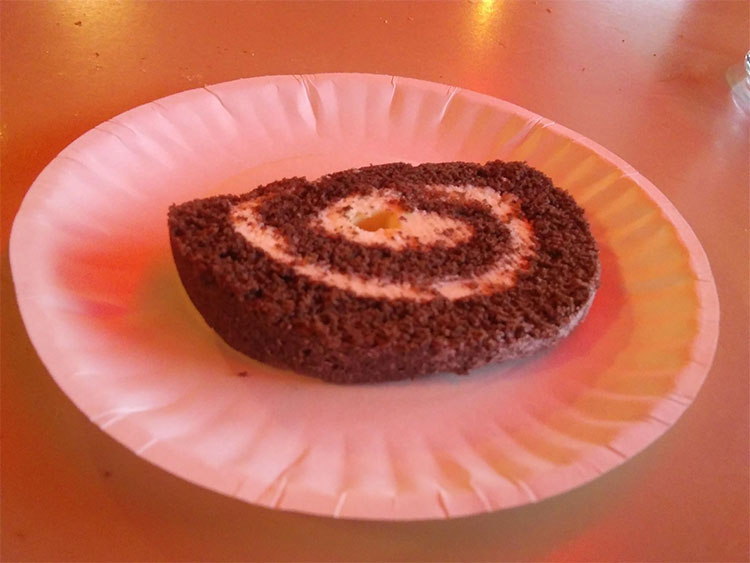 "And this is for you," my waitress said, as she placed a small paper plate in front of me, after I had finished my meal. "What is it?" I asked. "It's a chocolate log…actually, it's a chocolate roll," she informed me. As I finished off the complimentary treat, I reflected on my journey to Schneider's. Did I find the hidden gem of a fish fry I had hoped? Not quite, but I had a good time nonetheless, and was still glad I made the drive.
Takeaways: The name of Colonial Inn has lasted about 70 years through various owners; there wasn't much Old Fashioned in my brandy; no homemade potato pancakes; good portion size of decent perch; complimentary chocolate roll slice; just a stone's throw from Gard's.