Caleb Westphal hasn't missed a Friday fish fry since 2013. Follow along with his never-ending adventures here.
It's all going to end. Maybe not this week, or the next week, but eventually it will end. Even if I'm somehow able to keep up the streak until I die, if I live to be 70, that means I have 1,990 Friday night fish frys left. If someone were to say to me, "You will die after your 70th birthday," I would reply, "That sounds reasonable enough." But, if someone were to tell me, "You have 1,990 Friday night fish frys left," that would be unsettling and give death a whole new reality. Never has death's finality struck me so deep as when I realized that at some time the Friday night fish frys will end. Warren Zevon once said, "Enjoy every sandwich." I now say, "Enjoy every fish fry."
This past week, I was thinking of getting in the car to once again head in a random direction until I found a spot that had fish. But the friend I was going with mentioned that it didn't seem that I got to Wauwatosa that often, and he suggested we go there. In reality, it had only been six weeks since I had been there, but it had been thirty-two weeks prior to that. Granted, at that rate I will still get to Wauwatosa for fish another sixty-two times before I die, but it did seem like making a trip back would be a good idea. So, I pointed the car in the direction of Leff's Lucky Town (7208 W. State St., Wauwatosa, 414-258-9886).
Named after the Bruce Springsteen song, "Lucky Town," from 1992 album of the same name, Leff's Lucky Town is owned by Chris Leffler, and has been in business since 1994. According to Silver Screens: A Pictorial History Of Milwaukee's Movie Theaters, Leff's was once a movie theater, going by the name of the Wauwatosa Theater Delight, among other names. It was in operation from 1911 until 1922, meaning that it closed its doors five years before the first talking picture—The Jazz Singer—was released. Some online articles claim that after this it was a shoe store with a hidden speakeasy, but according to the Wauwatosa city directories, by at least 1926 it was a billiards hall, which became a tavern following the repeal of Prohibition in 1933.
As I arrived, the sun was already down, and red lights lit the outside patio; the patio looked to be a pretty fun place to hang out in the summer, but being that it was twenty degrees out, I shivered my way inside the building. There are two rooms in Leff's, both having a bar and some tables for dining. I ended up in the back room, where a high tin ceiling and a popcorn machine make it easier to imagine a theater. Sports memorabilia and the occasional music-related item fill the walls.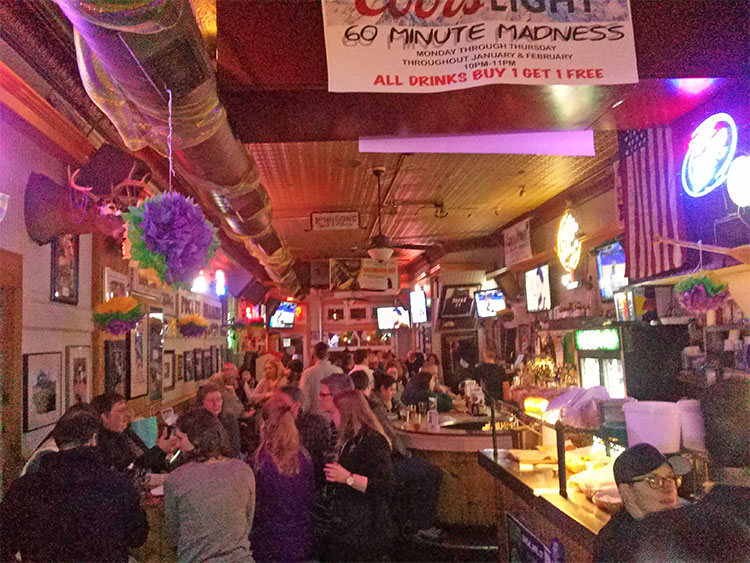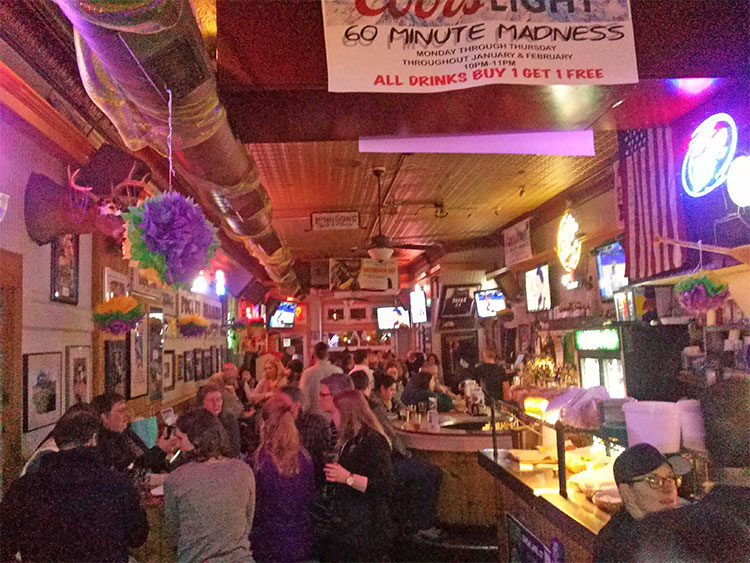 There are two fish fry options at Leff's, both for ten dollars: cod and perch. I can't think of many scenarios where I would choose cod over perch if they were the same price, and this was not an exception. I also ordered a bowl of chowder. It was very gravy-like, and had a pretty standard taste, with an average amount of clam and potatoes. I was about halfway done with my chowder when the fish arrived, in one of the most neatly arranged food baskets I have ever seen. Four fillets of perch were on one side, fries on the other, and the bread and lemon were between the containers of slaw and tartar in the middle.
The breading of the perch had an excellent texture; it wasn't greasy at all, and the fish could easily be eaten without a fork. The overall taste of the fish was pretty decent as well. The tartar sauce was average, or maybe a little above, and had a hint of sweetness to it. The fries tasted, looked, and were salted very similarly to McDonald's fries, or what I would imagine them to be like, as I haven't had McDonald's in probably five years. They were actually pretty good, though; I could have eaten another basketful. The coleslaw had a little bit of an aftertaste to it, and was maybe a little strong, possibly from horseradish. The bread was a light colored rye with noticeable caraway seeds; I was expecting more from it, but it was pretty mediocre.
Leff's Lucky Town has been operating for almost a quarter century, and there's no reason to believe it won't be doing so for a long time to come. Its reasonably priced perch fry is moderately satisfying, and knowing that images of Douglas Fairbanks, Mary Pickford, or a young Charlie Chaplin may have once flickered in the building gives the place an added touch. But that was many Friday fish frys ago—too many to count.
Takeaways: Free popcorn; gravy-like clam chowder; perch you can eat with your fingers; crisp, salty fries; the building housed a pre-talkie theater; this is sort of disgusting, but apparently they have the biggest urinal in Wauwatosa.