Caleb Westphal hasn't missed a Friday night fish fry since 2013. Follow along with his record-in-the-making here.
Charles Bukowski was once asked his philosophy on life. He responded by saying, "Don't try." I think I finally understand what he meant. I've tried for years for American Dream-type achievements; you know, things like finding a soul-rewarding job that pays a living wage, and finding true love. I have not found success. Do you want to know what I have not tried much at? Eating fish every Friday night. Here are the steps to being successful at eating fish every Friday night: go to a restaurant and eat fish. Sure, I'm a little scared that at some point I'll get sick on a Friday and ruin the whole thing, and I need to make sure I have twenty or twenty-five bucks in my pocket on a Friday, but the actual effort that I've put into this is not much. I mean, you have to eat, right? This week I continued my streak of not trying and went to Wauwatiki (6502 W. North Ave., Wauwatosa, 414-323-7555).
Tiki bars can rearrange your perception of time and place, and there has been many a winter night I have found myself in Riverwest's Foundation drinking Mai Tais until I was convinced I wasn't in Wisconsin, but in a tropical paradise. While I didn't feel completely transported while in Wauwatiki, I did like their original concept of an all-around tropical experience. I'm usually a traditionalist when it comes to a fish fry environment, so I had to remove my bias and remember it is pretty cool that a Tiki bar serves fish.
Wauwatiki has an extensive Tiki drink list, and what caught my eye was the Rum Old Fashioned. It was served with no ice, and with a cinnamon stick and a cherry. I really liked how the Wisconsin fish fry staple could be tweaked so the ritual could still enjoyed, while at the same it felt like you were doing something new. I asked if they had any clam chowder, but they did not. I wasn't really expecting them to, so it wasn't too big of a deal.
All the food at Wauwatiki is gluten-free, including the fish, which is cod. The fry comes with a creamy slaw, fries or sweet potato pancakes, and Serrano cheddar cornbread. I really liked the coleslaw, which had a bit of a kick to it. The cornbread was also really good. Both of these sides were pretty small, though, and I could have used a little more of them. I wanted to try the sweet potato pancakes but they didn't have any left. I was there a little late, at around 7:45 p.m., but that really wasn't an excuse for them not to have any. The fries were really good, though, with a lot of seasonings. They are listed as "crack" fries on the menu, and I can see why. They were addictive, and maybe they just told me they were out of pancakes to get me hooked.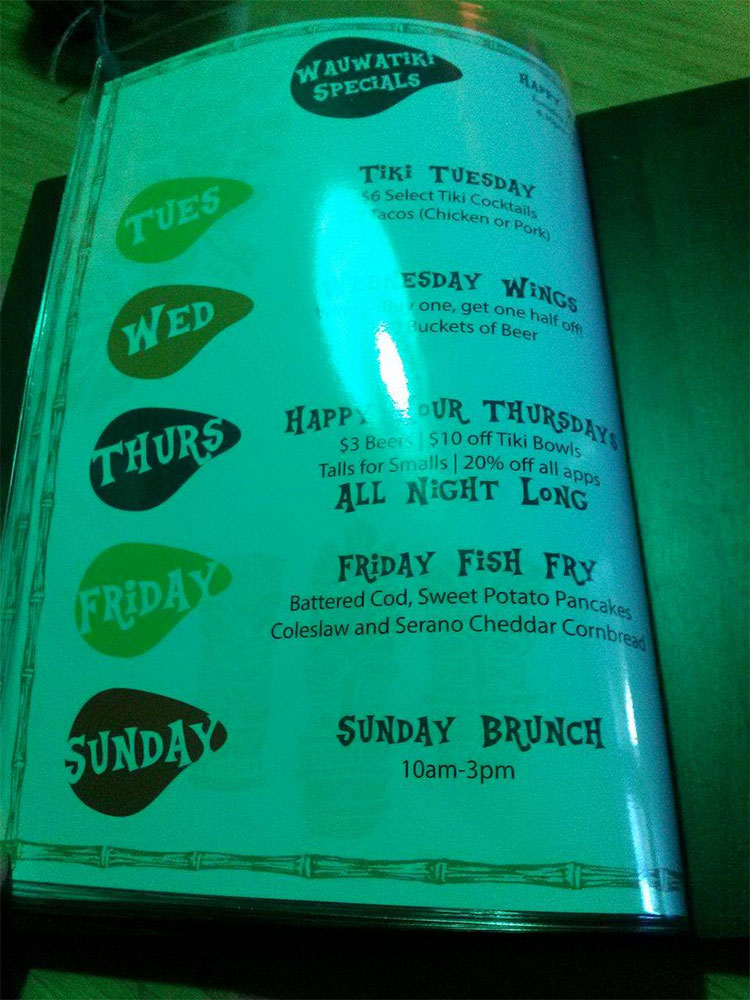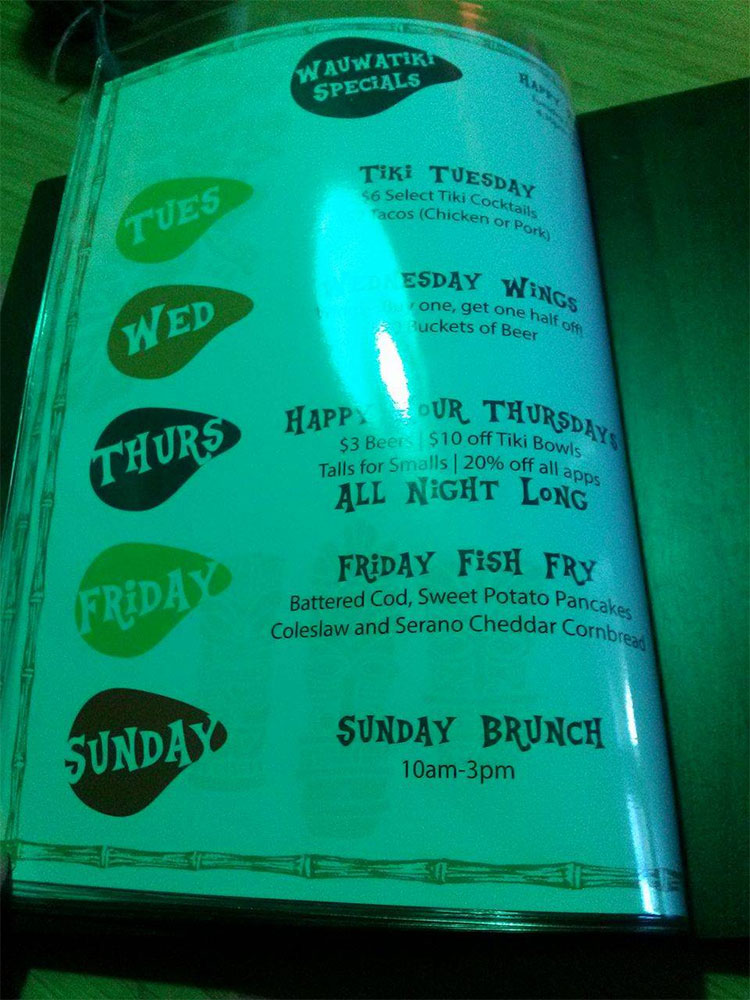 The center component of a fish fry is, of course, the fish. This is what holds the most weight in any assessment of a fry, and this is where Wauwatiki fell short. The fish had some of the hardest batter I had ever encountered. Maybe it was dropped in the fryer a little too long? Maybe gluten-free batter just does this naturally? Either way, I could barely cut through the fish. On top of that, my first piece was about fifty-percent batter, and, a la the old lady from the 1980s Wendy's commercials, I had to ask myself, "Where's the fish?" My friend ordered the same thing and had the same reaction, so I knew it wasn't just me. I guess the big question is this: Did I somehow end up with a bad batch, or is this the norm?
Wauwatiki gets points for originality when it comes to the environment, food, and drinks, but the fish itself was a huge disappointment. If you are a gluten-free eater this may be the place for you, but I think I'll stick to sampling the various libations the next time I'm there and leave the gluten-free stuff to someone else.
Rating: Original restaurant idea, creative variations of drinks and food, ran out of potato pancakes but addictive fries available, no clam chowder. Is the fish always like that? Please say no! 
2 out of 5 stars.