Some places come and go, while some places become icons. Mandatory Milwaukee is all about the latter. Join us as we revisit beloved and well-worn local staples with fresh eyes, and explore how they might figure in the city's future.
One of humankind's most notable features—and, indeed, one of the reasons humankind has made it this far—is its ability to adapt. Climate, technology, and that time they kept moving The X-Files from Fridays to Sundays have been no match for some good old-fashioned human adaptation. The same can be said for certain bars. Take Foundation (2718 N. Bremen St., 414-374-2587), a Mandatory Milwaukee candidate if there ever was one. When the Riverwest watering hole opened its doors in 1995, it was known and embraced for being dark, dive-y, and plastered wall to wall with skateboard decks and skateboard art. It was a bar for its time and place. But in 2004, Foundation began to change. Walk through its doors now and you'll see the end product of that change: Today, Foundation is Milwaukee's premier tiki joint.
Not that the tiki takeover happened overnight, and not that it was entirely unexpected. Owners Charles Jordan and Don Nelson harbored a love for the tropical and Polynesian even in the bar's early days; Foundation's "Tiki Tuesdays" were the kinds of nights weeks were scheduled around. But as Riverwest began to change—getting a little bit older, settling down a bit—so too did the bar. In a 2004 piece for OnMilwaukee, Jordan explained: "(We're going for) a cozy, cleaner, slightly tropical lounge with patio seating to accommodate the diversity of the Riverwest neighborhood." It was a move that, while bemoaned at first (though what change isn't bemoaned at first?), paid off in ways that eventually kept original patrons happy and brought in boatloads of new ones. Boatloads and boatloads.
And so the transformation began, with Foundation slowly shedding its skate-rat skin and turning into something more exotic, something more unique, something, well, more. Walls were painted, pool tables were discarded, bathrooms were moved (remember when the men's bathroom was where the east end of the bar is today?), and, more importantly, a metric ton of tiki paraphernalia was hung, plastered, and displayed throughout the two-room establishment. Seven-foot Marquesan Poles created by Milwaukee artist Dave Hansen took up residence at the bar. Nelson's personal collection and creations moved in. Surfboards became tables. Light-up puffer fish blew themselves up and blinked into existence. Everything remained really, really dark.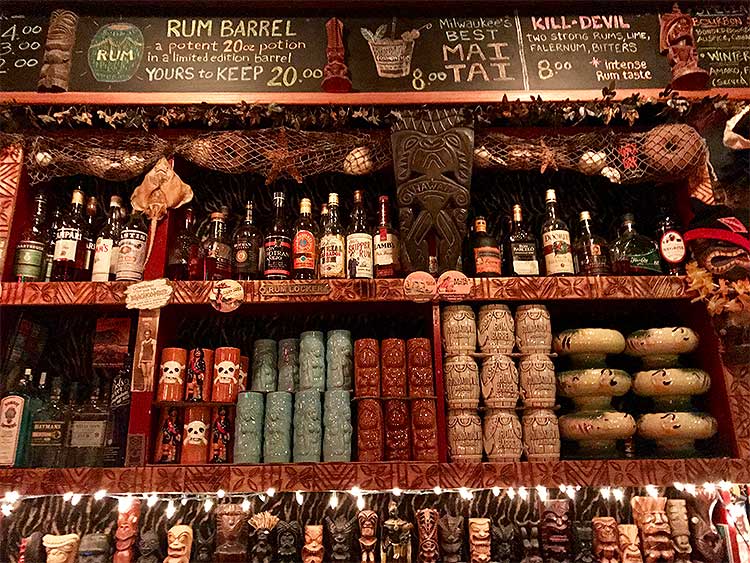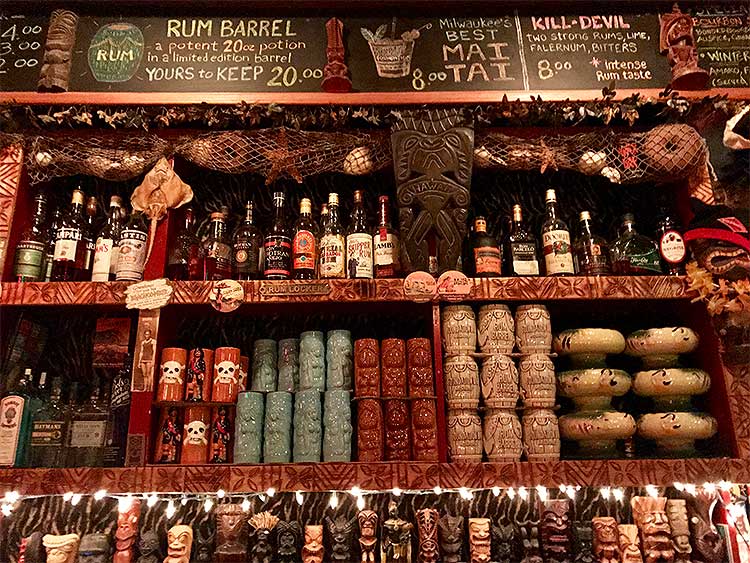 Oh, and the drinks. Today, Foundation has taken its original "Tiki Tuesday" specials to the nth degree, doubling down on authentic island-themed cocktails that would seem to have no business existing in a less-than-island-themed town like Milwaukee. The Mai Tai ($8) remains the bar's beloved staple, and with good reason: Though the drink is a tried-and-true concoction, Foundation's version sticks as closely as possible to the original 1944 recipe of Trader Vic—the self-anointed inventor of the drink, and one of the godfathers of the modern tiki craze. It's a fresh, light-but-potent cocktail—heavy on crushed ice and all the better for it—that lives up to its reputation as "Milwaukee's best." More than 20 years into Foundation's existence, the drink remains an unbeatable classic.
As with the Mai Tai and the other slew of drinks on Foundation's menu, if it's rum you want, it's rum you'll get. The Jet Pilot ($8) will prove whether or not you have the right stuff with a potent blend of spices, citrus, and three—count 'em, three—rums. The triple-rum punch also lands true for the Jamaican Sour ($9) and the Zombie ($11)—the latter a gift to the drinking world from the other godfather of tiki, Don the Beachcomber. If you're feeling extra good about yourself, and don't mind picking your car up the next morning, the mammoth 20-ounce Rum Barrel ($20) is for you (and hopefully some friends). And yes, you get to get to keep the barrel as you walk out the door—a door emblazoned with a Hawaiian word of thanks, "mahalo."
But perhaps what's most impressive about Foundation is its uncanny ability to be all things to all people—weird for a bar that practically redefines the word "themed." Jonesing for a romantic night out? Tuck into one of the dim back room's even dimmer nooks and crannies. Blowing off steam and getting shitty with some friends? Sidle up to those surfboards and go nuts. Just looking for a quiet and cool place to sip a drink after work? Foundation can get more than a little packed after 9 p.m. and on weekends (don't be surprised if the bar hits capacity and you get temporarily turned away), but ducking into its darkened confines at 4 p.m. remains a singular and satisfying joy. The bar may represent an exotic "special night out" for some, but it also stays true to its roots as a regular-friendly Riverwest hangout.
It's that versatility that keeps Foundation fresh today, and will likely keep it fresh well into the future. Trends, tastes, and neighborhoods change, yet Foundation remains. It's aptly named.