Caleb Westphal hasn't missed a Friday fish fry since 2013. Follow along with his never-ending quest here.
About a year ago I was given a copy of the Directory Of Wisconsin's Best Ma & Pa Restaurants, a publication of Our Wisconsin magazine. It lists 455 cafes, supper clubs, and diners in the state, and has coupons for many of them. Ted's Ice Cream & Restaurant (6204 W North Ave., Wauwatosa, 414-258-5610) is under the Milwaukee County section; listed after "Best Thing On The Menu" is "The shrimp and fish are excellent." That was enough to convince me to give it a shot.
Ted's has been in the same family for 76 years. It was opened in 1941 by Ted and Ella Gottwein, who ran it together until Ted's passing in 1954. Ella and her two sons, Ken and Ted, ran it until 1970, when Ken and his wife Treva took over. Treva's nephew Kevin started helping out in 1991, and he took over the business in 2011.
As I entered the building, I held the door open for someone who was leaving with what looked to be a take-out fish fry. Two U-shaped counters filled the diner-like restaurant, with about 15 red-topped stools at each counter. The room was brightly lit: red light emanated from the backside of the counters, green light from the perimeter of the ceiling and a few small windows, and blue light from part of the back wall. I sat down at the first counter, which I had all to myself. A few people were at the second counter, one of whom happened to be Kevin, the owner, who was chatting with a customer. It was just about 5 o'clock, and I couldn't figure out why it was so empty. But, at the same time, a few different people came in to pick up take-out fish frys, which they had called in for in advance.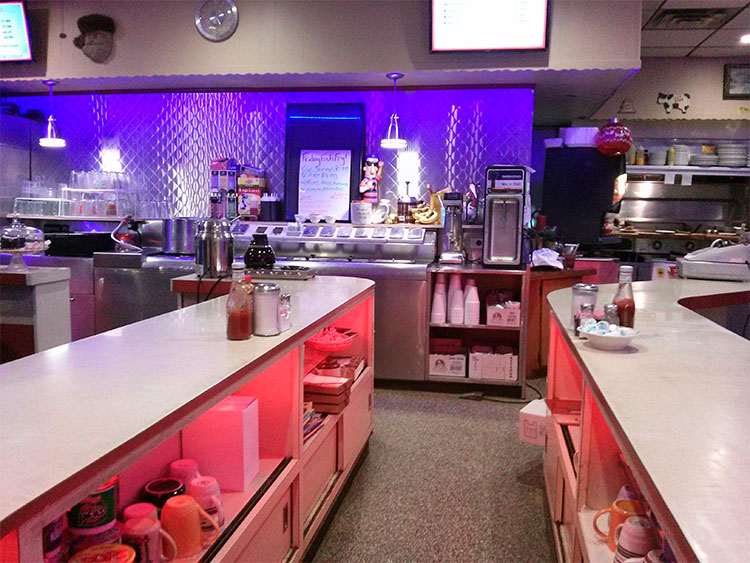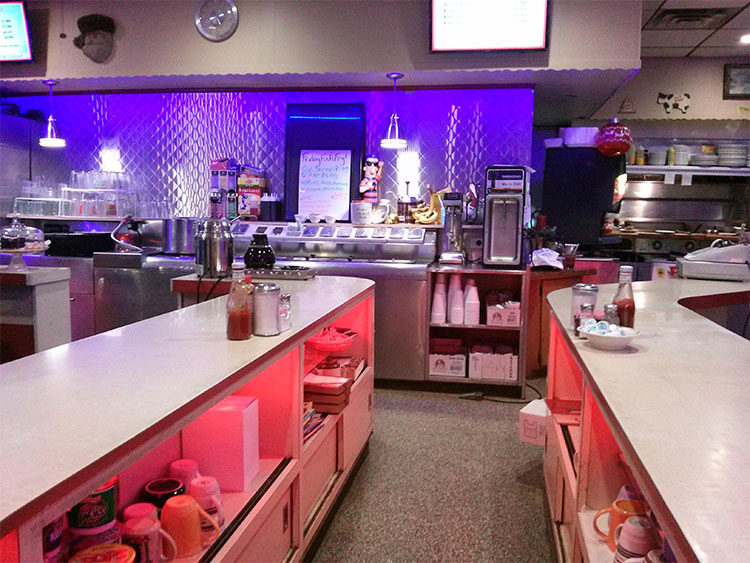 I ordered a cup of seafood chowder, which was hearty and made with imitation crab, and was just $2.19. There were two fish options: cod for $7.99, and pike for $8.99, as well as shrimp for $7.99. I went with the cod, which came with three medium sized and lightly breaded pieces. They were mild in flavor, but really popped with the tartar sauce. The tartar fooled me—I initially thought it was one of those sad mayo and relish concoctions. But it wasn't! It was very sweet, and what appeared to be dill seeds helped give it its distinct flavor, which helped brighten up the fish. The potato pancakes had a crisp breading and were flavorful. A healthy helping of coleslaw was on the plate, as opposed to being in the usual separate cup, and it was creamy, but very mellow, with fresh carrots, and red and green cabbage. The fry came with thick buttered marble rye; you couldn't ask for much better rye bread. As I was at an ice cream place, I ordered a scoop for dessert. Surprisingly, they only had vanilla, but a machine next to the coffee pots held hot fudge, which I had it topped with.
A brightly lit, ice-cream-centered restaurant may not be what comes to mind when you think of a Friday night fish fry—usually you think of a hall, a bar, or a supper club. But Ted's helps illustrate the strength of Wisconsin's fish fry tradition. Why wouldn't fish be on the menu on a Friday? And if you were to go there on a Friday, what else would you possibly think of having anyway?
As I prepared to leave, the restaurant started to fill up. A mother came in with her young son, who started climbing on the stool closest to the door. Indicating that they come to Ted's often, she said, "Oh, you want to sit there this time," before taking him to the second counter. A few more families came in, until the second "U" was almost full. I saw some customers shake hands and meet each other. The employees were wishing everyone a Merry Christmas, not because they were apparently now free to, but because giving well wishes to their customers seemed to be inherent in who they were. After the homelike feeling last week at Just Art's, and having that same feeling again this week, I thought maybe there still is hope in the dark days of 2017. It may just be in our communities, and in small "Ma and Pa restaurants" such as Ted's. So Happy Holidays, Merry Christmas, and Happy New Year. And speaking of a new year, did you make your resolutions yet? How about having a goal of eating 52 consecutive Friday night fish fries? Who's with me?
Rating: Excellent price for what you get; standout sweet tasting tartar; decent fish, pancakes, and slaw; they aren't skimping on their rye bread; hot fudge machine and ice cream; very friendly staff; I want to go back in the summer for burgers and shakes. 3 out of 5 stars.