Back in August, Christopher Porterfield of Field Report launched "Bird Songs," a concert series designed to raise awareness for LuAnn Bird. Bird is the Democratic candidate for State Assembly in the 84th District. The district—recently reconfigured to include bits of Greenfield, Hales Corners, Greendale, and Milwaukee—has long been controlled by the GOP. If it remains under GOP control after Bird faces former Milwaukee alderman (and frequent mayoral runner-up) Bob Donovan on November 8, it may lead to the party achieving a supermajority, removing Governor Tony Evers' power to veto.
"This seat will likely determine the future of the state. Not enough people are aware of that," Porterfield says.
Now, following a series of intimate "Bird Songs" concerts, Porterfield is ramping things up. On Thursday, October 20, a who's-who of Milwaukee musicians will assemble at The Cooperage for "We May Well Be The Ones." The benefit show is being co-produced by former Alverno Presents director David Ravel, who is coming out of retirement just like Obi-Wan Kenobi did when Baby Leia got kidnapped. The show takes its name from a Paul Westerberg song "about the power of ordinary people accomplishing extraordinary things."
"We May Well Be The Ones" will follow the format of Ravel's past "Uncovered" shows, with Milwaukee artists performing original material and re-interpreting the music of Westerberg, Laura Nyro, Gil Scott-Heron, and others. The Milwaukee artists in question include Porterfield and Field Report, B~Free and Quinten Farr, Tontine Ensemble, Caley Conway, Marielle Allschwang, Sarah Vos, Treccy MT, Ellie Jackson, and Cree Myles. Now that's a lineup.
General admission tickets to the 7 p.m. show are $25, and are on sale NOW. All proceeds will be donated to the LuAnn Bird campaign.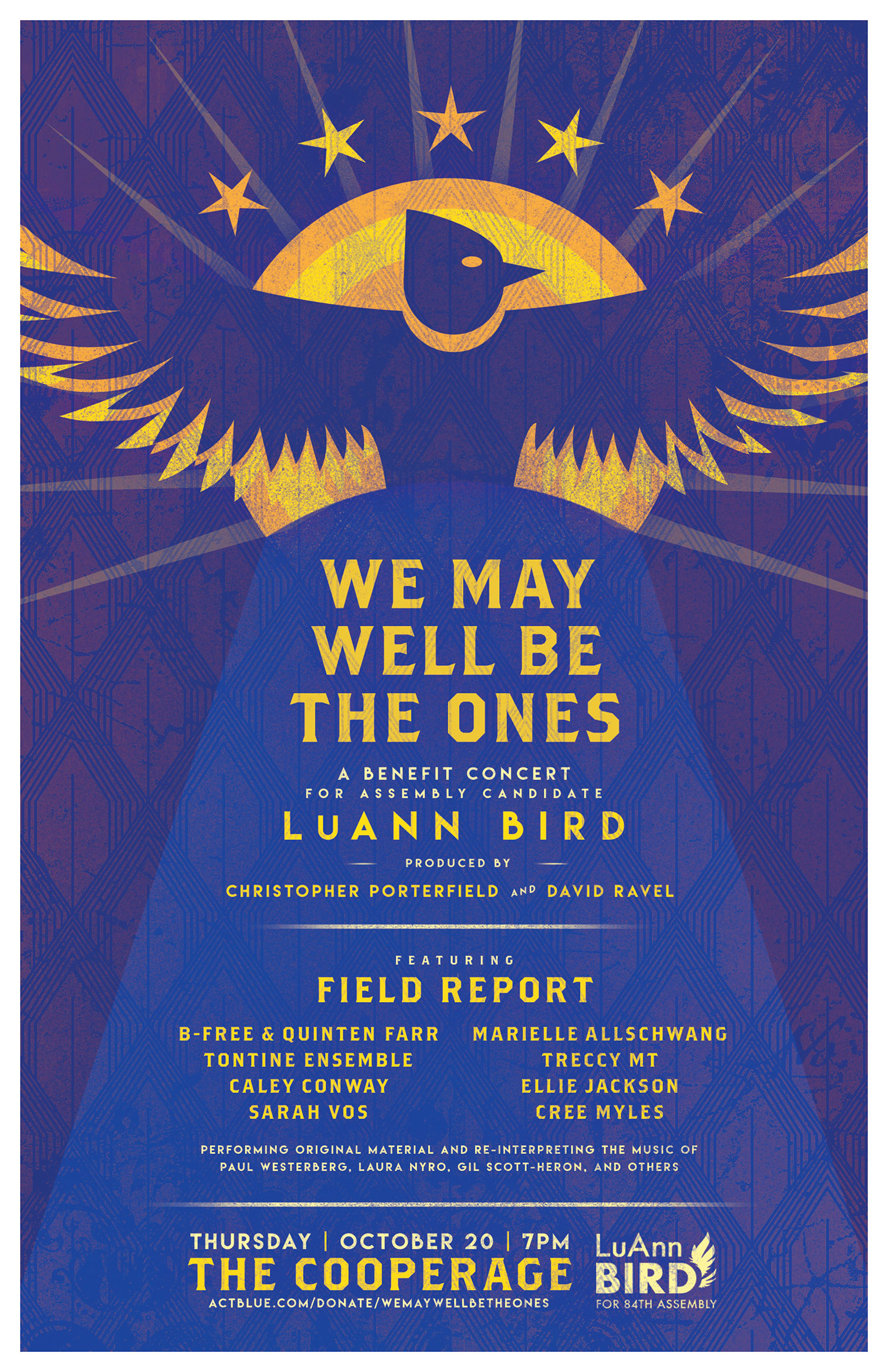 Exclusive articles, podcasts, and more. Support Milwaukee Record on Patreon.
---
RELATED ARTICLES
• "Bird Songs" concert series aims to elect LuAnn Bird, flip 84th Assembly District