Caleb Westphal hasn't missed a Friday fish fry since 2013. Follow along with his never-ending quest here.
"Was möchten Sie gerne?" the man behind the bar asked me as I sat down.
"Ah, that's German, right?" I queried.
"Yes, it means 'What would you like?' " he replied.
"A Brandy Old Fashioned!" I responded, which really should be the answer to all of life's questions at this point.
The man behind the bar was Art, and I was at Just Art's Saloon (181 S 2nd St., 414-347-1171). As he held my Old Fashioned glass, he began to draw me into conversation with the other two patrons in the bar, immediately making me feel welcome, as if I was an old friend. Shortly thereafter, as I didn't see a menu anywhere, I asked Art if he had fish, and he told me he had Alaskan cod; I said that sounded good to me. Art walked towards the back of the bar, behind a small ledge, and started descending a hidden stairway into the basement. One of the patrons asked Art if they should answer the phone if it rang, and he replied in the affirmative—demonstrating the familial nature between Art and his patrons.
Art returned with the fish and walked to the counter area past the left of the bar, where all of the food preparation was done and could be seen. I watched him use metal tongs to dip the fish in his homemade batter, which was in a large plastic container. I saw him take out some rye bread and butter it. As he threw some fries in the deep fryer, the whole bar was engulfed by a loud bubbling sound.
The patrons at the bar told me I should probably have some hor d'oeuvres, which were sitting on a table past the right end of the bar. They told me Art is always putting out snacks, and there were fresh veggies, a cheese and sausage tray, hot chicken wings, meatballs, cut-up sausages, and mini weenies. While it was no clam chowder, how about that for a pre-fish appetizer?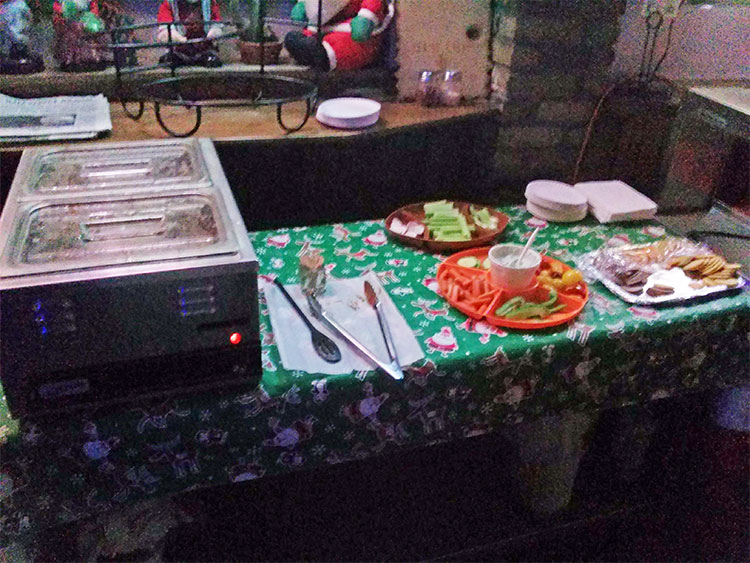 The fry came with four smaller pieces of cod with a light batter, and for being from a tiny hole-in-the-wall bar, they were excellent. As I was eating, Art started joking about how he actually caught the fish out of the river out back, and that he just called it Alaskan cod. I asked what type of beer he used in the batter, and he said he used Miller Lite, which he justified by saying it helps everyone watch their figure. He had four potato options (including tots!), but I just went with the standard pre-cut crinkle fries. The coleslaw and tartar were both pretty typical, and they were in plastic containers Art had taken out of the fridge.
As I ate, I asked Art how long he had been running the saloon. "Too long," he quickly stated, followed by a chuckle and a long pause. "Well, thirty-seven years," he clarified. Art invited me to his Christmas party the following day by telling me, "If you come in tomorrow you'll get a free meal." I told him I was sorry that I couldn't make it because I happened to be having my own Christmas party the next day, but he said I could still come to his party beforehand, as long as I didn't steal food from his party and bring it back to mine.
The fish fry must have been under $10, as the fry and Old Fashioned came out to $13.65. As I paid and got ready to leave, I wished Art luck for his Christmas party, and he did the same to me. As I opened the door, the two patrons waved and said goodbye to me as well.
If we are talking about overall fish fry ambience for the year, this place is right towards the top of the list. There was a certain homelike feeling that was instantaneous upon entering the establishment, and Art filled the room with endless quips and anecdotes. If the aliens eventually land and ask to be taken to a "Wisconsin bar," take them to Art's; and, if the big bombs ever come from North Korea and wipe out the Bronze Fonz and everything else we love about Milwaukee, I predict Art will still be behind his bar, telling it how it is.
Rating: It really was just Art behind the bar, along with his quips and stories; hor d'oeuvres table!; really good beer battered Alaskan cod—or fish from the Milwaukee or Menomonee Rivers—who knows!; pretty standard fries, slaw, tartar, and rye bread; very homelike—even the other patrons wave to you when you leave. 3.5 out of 5.