Earlier this week, newly-acquired Chicago Cubs pitcher Cole Hamels angered masses of Milwaukee fans when he questioned the existence of a Brewers-Cubs rivalry.
"When you have the majority of Cubs fans in the stands, I don't know if that's a rivalry," Hamels said, following his no-decision in a game Milwaukee eventually won 4-3. "They aren't going to like me for the comment, but look at the ticket sales. When they start to get a little closer and their fans sell out, then I think that's kind of the understanding [of a rivalry]."
While those bold remarks don't exactly suggest Hamels is a fan of the Brewers, the World Series winner and four-time All-Star allegedly purchased a Brewers cap and wore it around a Cathedral Square bar in 2010. Justin Koshak was working at the bar following a game between the Philadelphia Phillies (Hamels' team at the time) and Brewers.
"It was back in 2010 when I was working at Whiskey Bar as a bouncer and Cole Hamels was playing for the Phillies," Koshak says. "They were staying at the Pfister and he came in with Roy Halladay, Joe Blanton, and Kyle Kendrick. They had a few celebratory drinks and he bought a Brewers hat off of some guy's head at Whiskey Bar and put it on."
Thankfully, someone thought to snap a photo.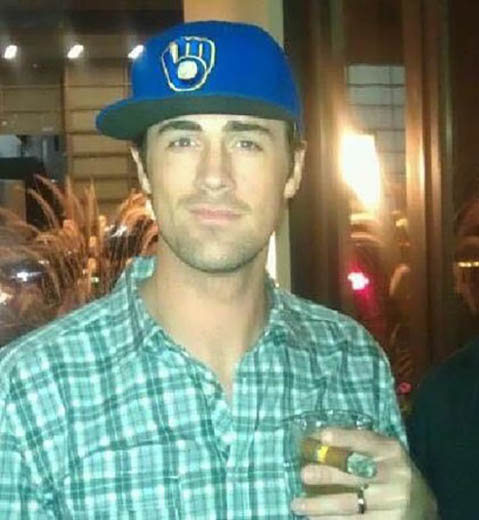 We're told Hamels and his teammates went to the bar after beating the Brewers in a lopsided game. That season, Philadelphia bested the Brewers 9-5 on Friday, May 14, and 10-6 on Saturday, May 15. Since Hamels started the May 16 game, this points to the photo being taken after the May 14 game.
Though the 2010-era digital camera isn't doing many favors in terms of clarity, the resemblance is uncanny. Check out this side-by-side. Both images display thick eyebrows, a long neck, a distinct Adam's apple, and a hairless patch of skin on the chin of both figures.
Hamels may be critical of Brewers fans, but if this photo is to be believed, he was one…at least for one night back in 2010. True rivalry or not, it's probably not the best idea to wear your opponent's cap out at a bar after a game.
[h/t Charlie Chaparas]