Back in July, we stumbled across a curious crowdfunding campaign: "Melt the Bronze Fonz." "IT'S TIME TO PUT MILWAUKEE ON THE MAP!" cried the accompanying write-up. "Let's look at objectively better cities (Chicago, Minneapolis, NYC, Gary). Notice anything about them? THEY DON'T HAVE A BRONZE FONZ. IT'S TIME THAT MILWAUKEE ALSO DOESN'T HAVE A BRONZE FONZ!"
The campaign was a pitch-perfect piss-take on things like the infamously dumb/cynical/scam-y "Love MKE. Blow Up a Car" Kickstarter from 2012, and it managed to raise exactly $0 of its $5.5 million goal. Now, however, it seems some sort of actual, physical, melted Bronze Fonz will be on display at tonight's Pop-Culture Jam at RedLine Milwaukee. Here's the scoop, courtesy of the mysterious entity behind the project, "MilRunny":
MilRunny is proud to announce our newest accomplishment: we are finally putting Milwaukee on The Map by melting the one and only Bronze Fonz! We will be unveiling the Melted Lil Buddy (MLB) this Thursday, October 18th at 6pm at Pop-CultureJam at RedLine!

An unfortunately unsuccessful $5.5 million GoFundMe campaign in August of 2018 led MilRunny to be forced to use public funds to bankroll its "Melt the Bronze Fonz" dream. Using a giant magnifying glass and a nearly perfect sphere of hot plasma (the sun), MilRunny turned that Fonz dude into Fondue! As evidenced by the Fonz's passing, Milwaukee will finally get the recognition it deserves. Without the Bronze Fonz, Milwaukee has finally drunkenly stumbled onto The Map, joining sister cities Minneapolis, Chicago and—the Paris of the Midwest—Green Bay. We didn't realize we didn't need a Bronze Fonz until we had a Bronze Fonz. Not everyone is going to love it, but not everyone loves all things.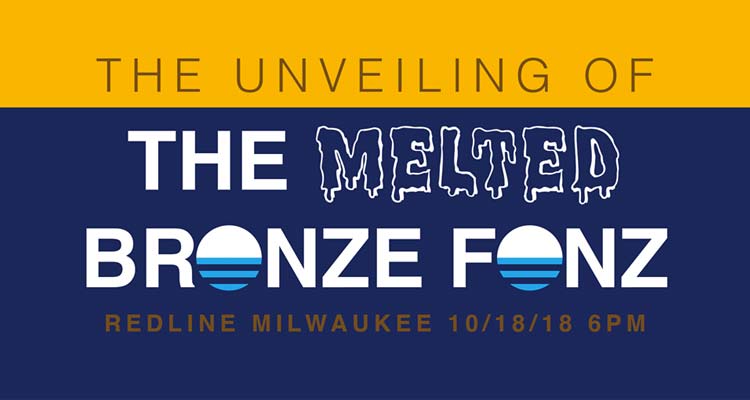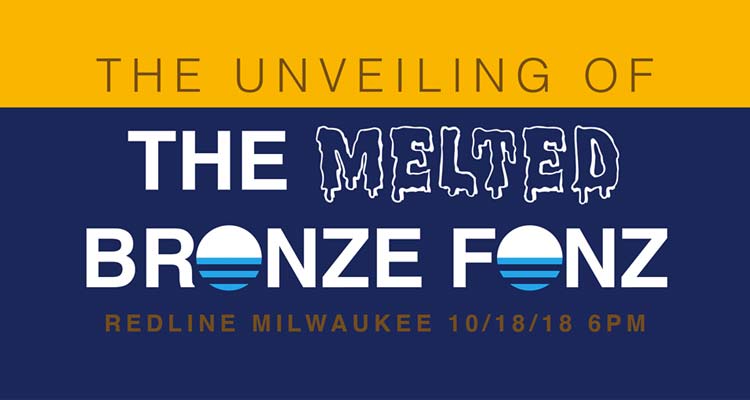 And here's a follow-up crowdfunding campaign: "WE MELTED THE BRONZE FONZ!!!"
Tonight's Pop-Culture Jam will feature pieces from more than two dozen artists "who will provide viewers with a critical examination of how pop culture is currently shaping the world as we know it." Be there. Put Milwaukee on the map. Melt the Bronze Fonz. Aaay.