Caleb Westphal hasn't missed a Friday fish fry since 2013. Follow along with his never-ending quest here.
This week I ventured to Gard's (7170 W Burleigh St., 414-442-4280). The restaurant and lounge is located in Milwaukee's Enderis Park neighborhood, which is named after Dorothy Enderis. Per the neighborhood's website, Enderis was a "teacher and assistant superintendent who embraced multiculturalism," and was also a "key figure in MPS Recreation and Adult Education programs." Most of the houses in the neighborhood were built in the 1930s and '40s. According to the City of Milwaukee's Assessor's website, the building that houses Gard's was built in 1949.
As I arrived, I thought about sitting in the dining area; it looked inviting and almost from a bygone era, with red leather booths, chandeliers, carpeted floors, dimmed lights, maritime decorations, and a Christmas tree. The room was completely empty, though, so I decided to take a seat at the bar, where there were people. Hanging over the winding bar top were five stained glass lamp shades. Packers memorabilia hung on the walls, including a decent-sized photo of Reggie White. A popcorn machine and CD jukebox lined the wall.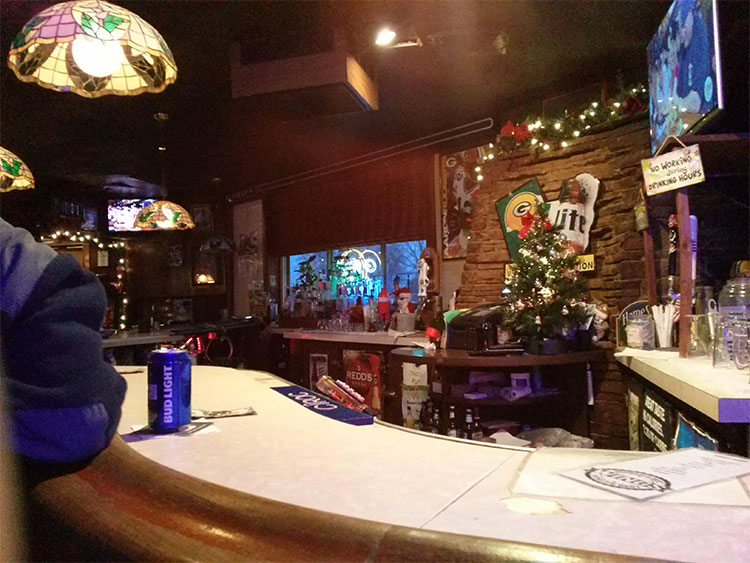 I ordered an Old Fashioned, which came garnished with a small lemon slice and cherries, as well as a large fresh-cut orange slice. I looked over the menu, which included steaks, seafood, and fish. I ordered the house fish fry. The house fry had options: cod or haddock, either breaded or beer battered. I chose the beer battered cod. I also ordered a bowl of clam chowder. The chowder had an excellent texture, which was defined by its thick consistency. It was almost completely filled with potatoes and clam, with a larger than average amount of clam in it. It arrived with a bread and cracker basket.
The fry came with three pieces of fish; the fish flaked well and the beer batter was typical—it wasn't too soft or too crispy, and it didn't overpower the fish. The potato pancakes were mild, with a nice contrast between their harder outside and soft inside. The tartar came in a large dish—well, large for tartar, at least—and was pretty standard, but tasted really fresh. Finally, the coleslaw also came in a decent-sized dish. It was a better-than-average cream slaw with a good crunch.
The woman behind the bar, Denise, told me her family has owned the establishment since 1992. She opened it with her father Dennis, who could always be found sitting at the end of the bar and greeting patrons as they arrived. He passed away in 2015. I asked Denise if she knew all of the different businesses that had been in the building since it opened. She said it had always been a restaurant, and had changed hands a decent amount of times over the years, but for a long period of time was a steakhouse. As I got ready to leave, I couldn't help but pop back into the almost empty dining room, and couldn't help but imagine it in days gone by. Did the restaurants that had been here over the years serve fish? Would the dining room have been packed on a night like tonight?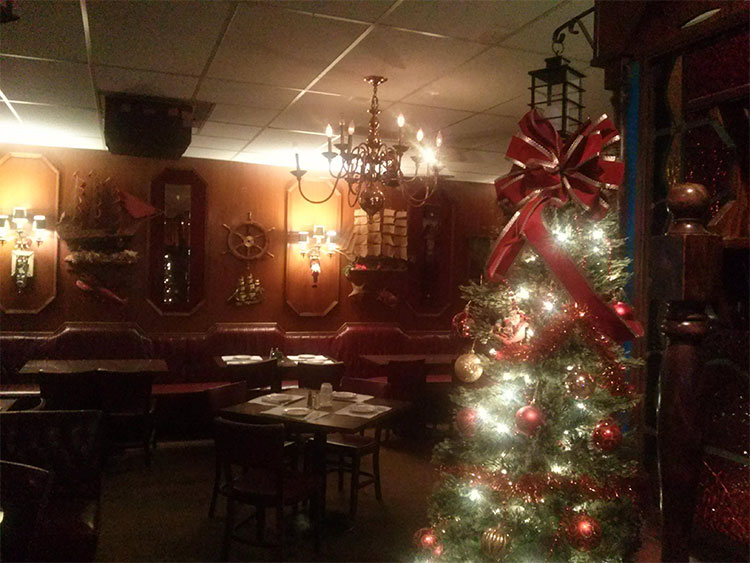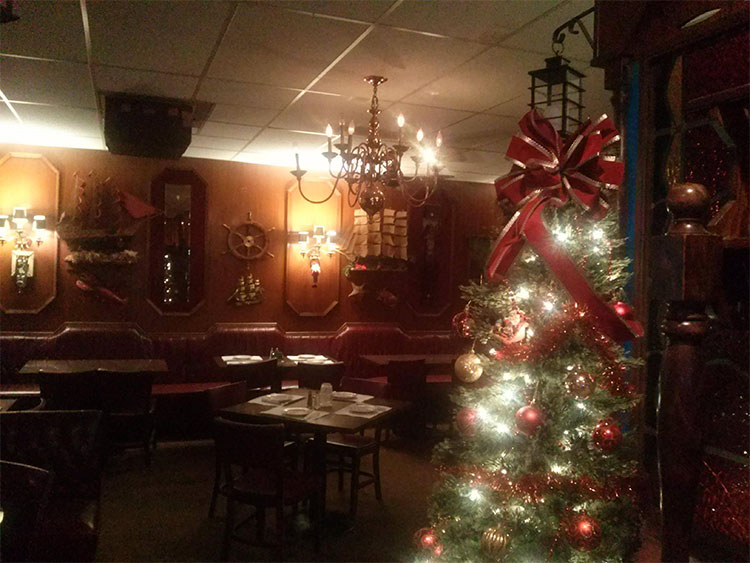 The stories of the building's past, along with the image of the dining room in my mind, interested me enough that afterwards I found myself digging in the city directories at the Central Library. The first year that the address was listed was 1952, when Tonilu's Tavern opened there. In 1957 it became Selaiden's Cocktail Lounge and Restaurant, and stayed that way until 1975. This was the steakhouse that Denise had referred to; underneath its name, the city directory listed: "Noon Lunches, Sandwiches, Complete Dinners, Open Daily 11 to Closing, Dining Room Cater to Reservations for Weddings." In 1975 it became RJ's Restaurant and Lounge, and in 1979 there was a slight name change to RG's Restaurant and Lounge. It remained that way until 1989, when it became Felicia's Restaurant, which listed "Noon Lunches, Dinners, Prime Steaks, Specials, Friday Fish Fry" in the directory.
I still had to know, were fish fries served there when it was Tonilu's and Selaiden's? And then I found it, a Milwaukee Journal advertisement that listed "Fish on Friday" from January 17, 1953, back when it was Tonilu's. The advertisement said that all you can eat shrimp for $1.95 was available as well. I found another advertisement from March 19, 1970, which said that Selaiden's served Friday night fish frys for $1.75. I could finally picture the dining room decades ago, in all its glory and warmth, packed with people eating fish and drinking cocktails.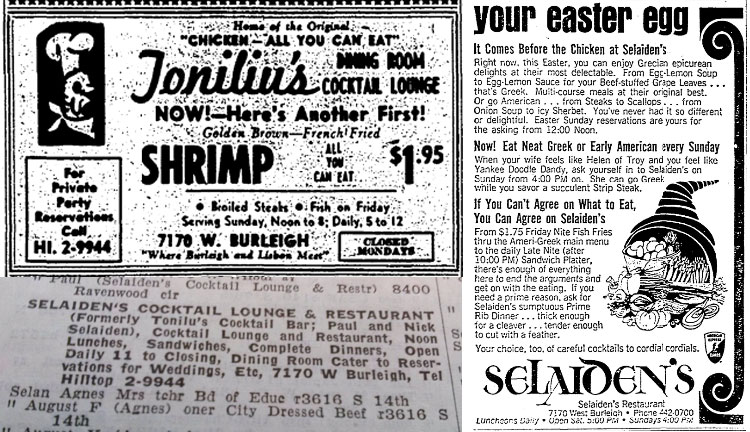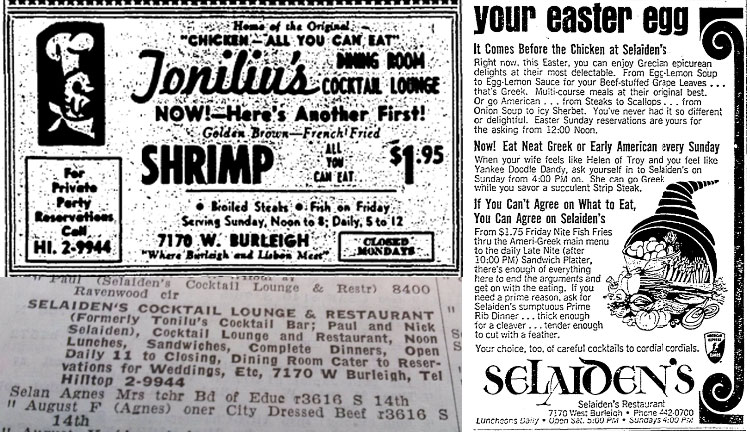 I really hope that Gard's filled up after I left on the night I was there, and that it fills up in general, but something tells me it has now been passed over for newer and trendier restaurants that don't have half the story to tell us as a place like this. It's up to us to keep seeking these places out, and honoring their legacies. Maybe I should have eaten in that dining room after all.
Rating: The name may have changed, but through the years the fish has remained; inviting dining room recalling a time in the past; excellent clam chowder; standard beer battered fish; decent potato pancakes; top notch coleslaw. 3.5 out of 5 stars.