Caleb Westphal hasn't missed a Friday night fish fry since 2013. Follow along with his never-ending adventures here.
Growing up in Fond du Lac, I wasn't brought to Milwaukee too often as a child. My only recollections of being in the city in the 1980s and '90s are of a few trips to the Milwaukee County Zoo, a school field trip to a church, and annual Brewers games at County Stadium. Each year, my uncle would buy me and my cousins tickets for a baseball game; my dad would come along as well. I don't remember much about the games—most of my memories of going to County Stadium consist of everything else that happened besides baseball.
Each year's ritual went something like this: We would arrive in Milwaukee and park on Dana Court, off of Hawley Road, next to a strip club called Monreal's Encore. (I checked the city directories going back to 1982, and it can be confirmed that this strip club has existed since at least the last time the Brewers went to the World Series, meaning it definitely was Monreal's Encore when I was a kid.) I had no idea it was a strip club at the time. In fact, I probably didn't even really know much of what happened in a strip club, or that they even existed.
After we would park, we would eat cold sandwiches in the car, and then crawl below the Dana Court bridge and walk under power lines between two cemeteries, heading east towards County Stadium. There was always garbage and graffiti everywhere. Eventually we would find a specific spot in the fence where the bottom was cut, and we would shimmy up through it and walk to County Stadium. During the 1990s, this was my basic conception of Milwaukee—a strip club, graffitti, garbage, and finding the right spot in a fence so you could crawl through it.
At the stadium, we always had seats in the bleachers. I remember using binoculars, and my dad or uncle would always bring a small portable radio in order to listen to Bob Uecker. Being that we were so far away, these were the things that helped us better understand what was going on with the game.
This past Friday, in honor of the Brewers winning their division, and in honor of my childhood memories of the Brewers and of Milwaukee in general, I decided to go on an adventure. After seeing that Monreal's Encore had a fish fry, my initial thought was to get one to-go from there and eat it outside of the place, just like I ate those cold sandwiches all those years ago. I called them and asked if they had "food to-go for takeout," and they said they didn't. I suppose they probably don't get that request too often, and maybe they didn't even understand what I was asking. I then thought maybe I could just go there, order food, and then say I was full and have it boxed up so I could go outside. I also thought maybe I could just eat inside of the strip club. In the end, I came up with another idea.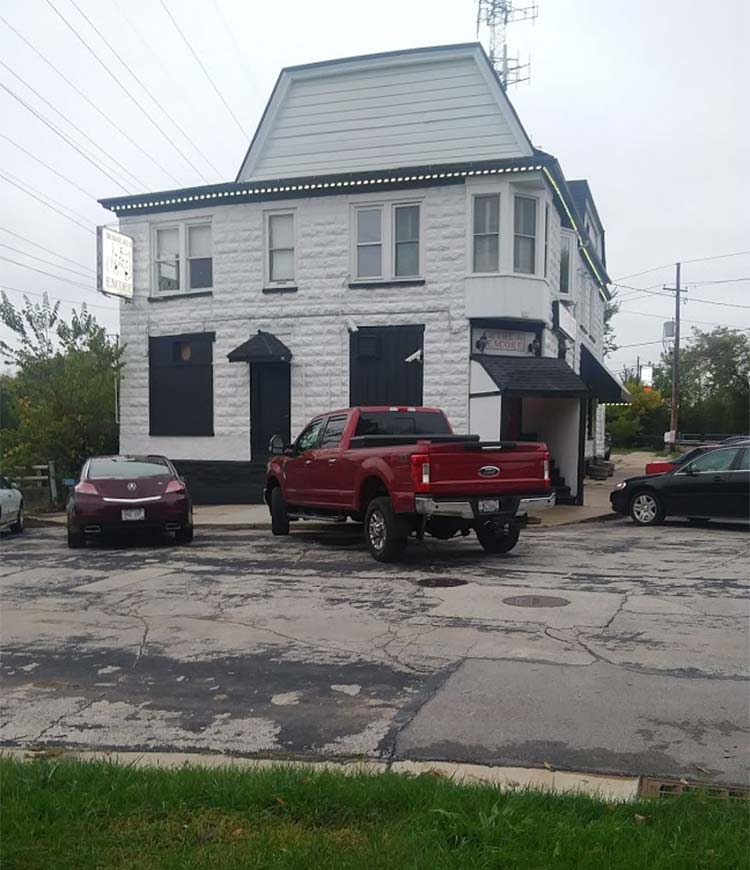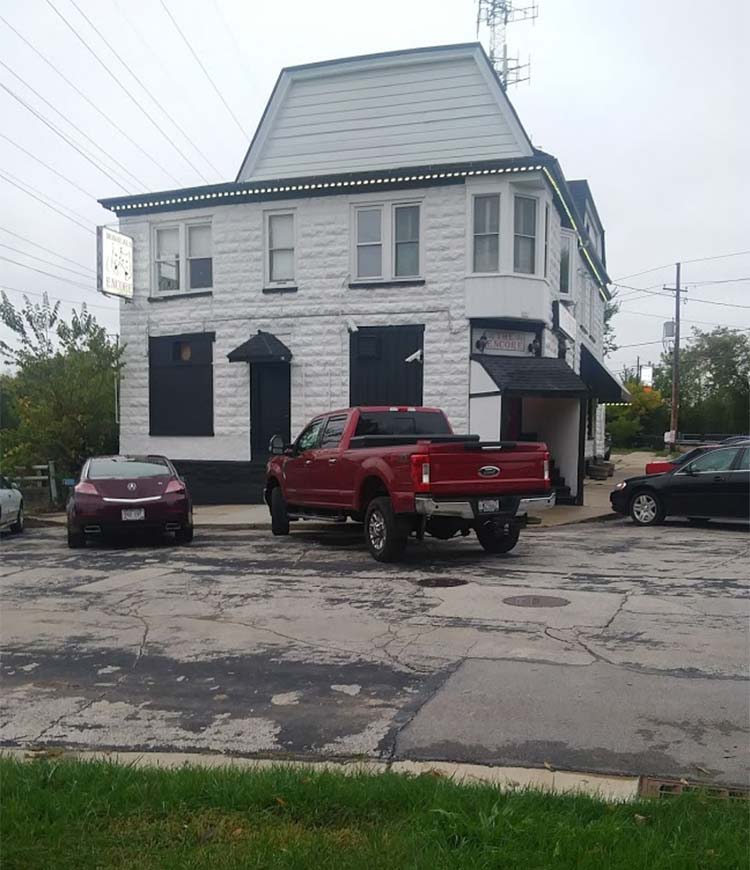 I left my house one-and-a-half innings into the game, turned Uecker on in the car, and headed to the Pick 'n Save on Holt Avenue. I scanned the non-alcoholic beer section. They had one of my favorites, O'Doul's, but it just wouldn't do. The Brewers were competing in a playoff game and I needed a non-alcoholic beer made by Miller. I needed Sharp's.
I headed to Oklahoma Liquor and picked up a cold 12-pack of Sharp's. I drove past Fritz's and saw their open sign was on (they are staying open on Fridays until they find the right buyer), and I drove past Grainger's. Eventually I arrived at Ray's Butcher Shoppe (4640 W. Loomis Rd.; 414-423-1322).
Opened by Ray Konkel in the late 1970s, Ray's Butcher Shoppe was originally on Howell Avenue. It has been at its current location on Loomis Road since 1989. It is a full-on meat market, with steaks, ribs, homemade sausages and brats, jerky and beef sticks, and just about every other meat you can think of. They cater pig and chicken roasts, and party trays and salads are also available. I had been there once before, for Sunday hot ham and rolls. They've had a Friday night fish fry for as long as they've been at their current location.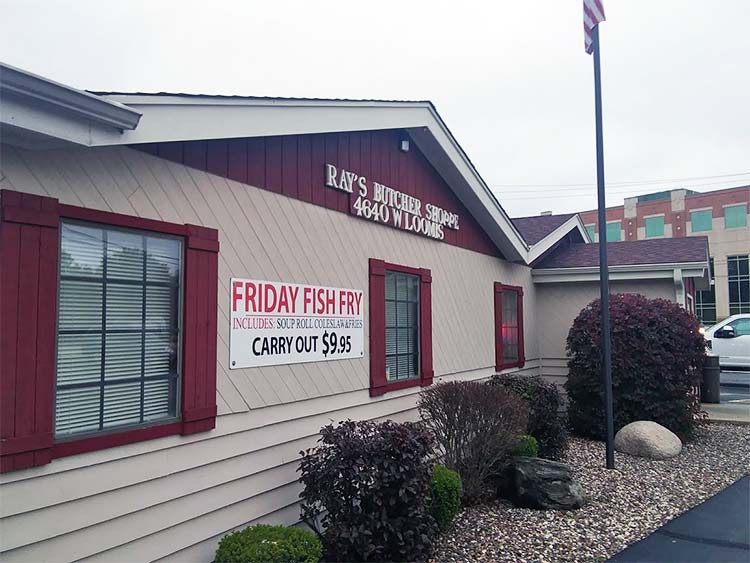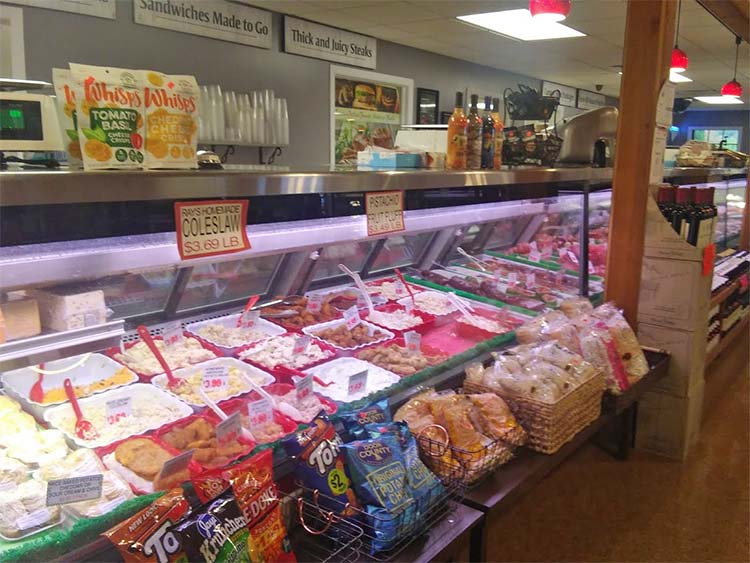 When I ordered, I was asked if I wanted a two piece or three piece meal, and I went with the latter. I was also asked if I wanted french fries or steak fries, and what type of soup I wanted. Since seafood chowder was an option, I quickly chose that.
To-go orders are put in big paper bags, names are called out, and if no one claims them right away they are set on a cart. While I was waiting I checked to see if they had Sharp's beer in their cooler. Nope. At least I hadn't wasted my time by making multiple stops. After about 10 minutes, my name was called and I was out the door.
I circled the city, following I-894 to the west and then to the north, and then heading east on I-94. Uecker was in the background on the radio. It was the fourth inning. I hit some traffic caused by an accident as I got closer to Miller Park, and I began to get antsy. I had to get to my destination before it got too late.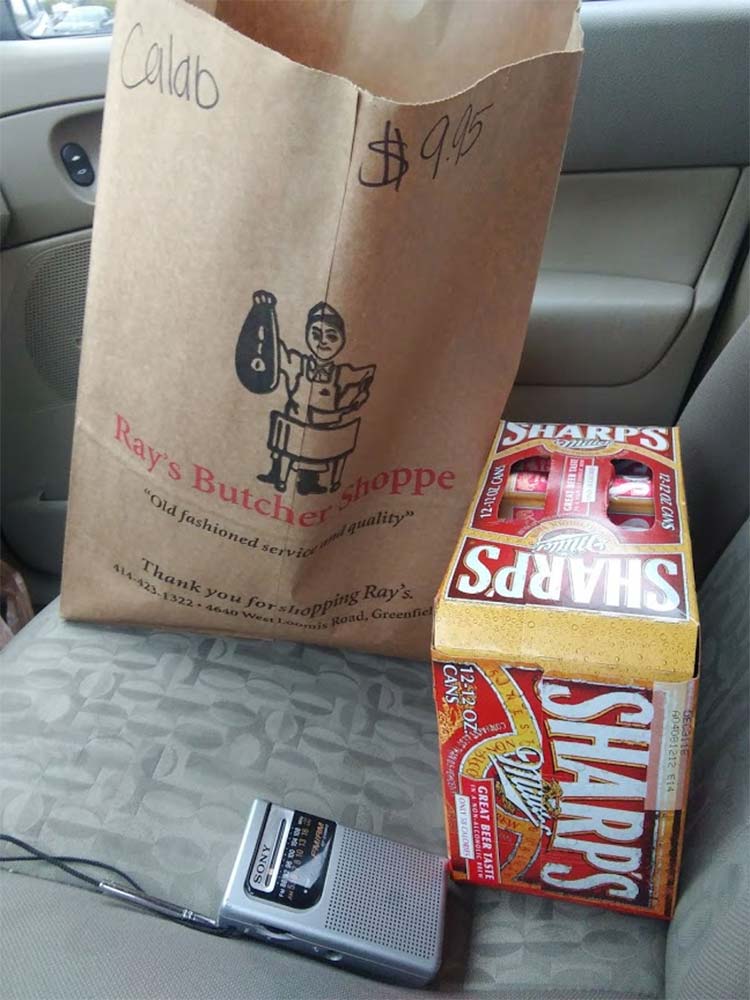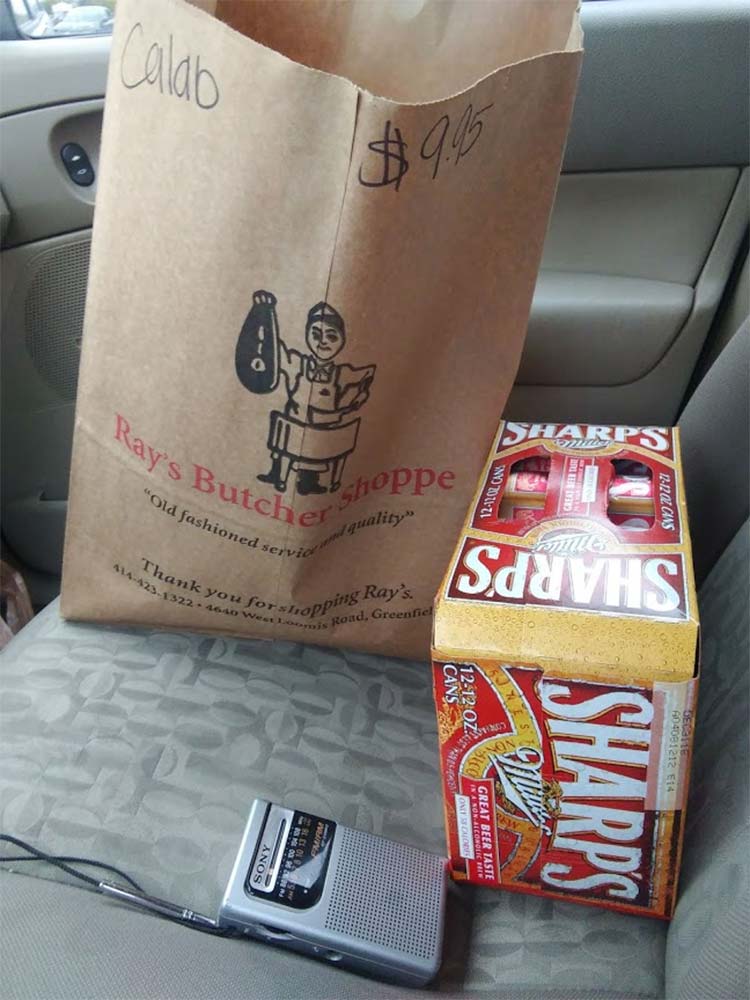 And then I was there, at a spot I hadn't been at in about 20 years—the spot that was my original understanding of what Milwaukee was. I parked outside of the Encore, and grabbed my paper bag of fish, a Sharp's beer, and a small portable radio. I laid out my spread on the concrete guard of the bridge I used to climb underneath, and I turned on Uecker on a little radio, just as my dad or uncle had done when we used to sit in the bleachers of County Stadium.
I tried hard to focus on the food in front of me, and on the game, but my thoughts kept drifting back to my childhood, and the mosquitos started attacking with a fierceness I hadn't anticipated. Instead of three pieces of fish, I was actually given four. They were short in length, but thick and juicy. They were covered with a thin and rather tasty batter, and came with quality tartar sauce. The french fries weren't anything special—just some plain crinkle cuts that made me pine for what the steak fries might have been. The coleslaw came in a small container, had a light cream, and had small cuts of cabbage with a piquant bite. The roll was satisfactory, and the seafood chowder was smooth and flavorful, and even had some shrimp in it. The Sharp's almost tasted like a beer, and was better than I remembered from past experiences.
I thought about walking under the bridge and trying to find the spot where the fence used to be cut, but the pathway to get below the bridge looked even more treacherous than it had in the 1990s, and the mosquitoes were getting really annoying. As the sixth inning began, I packed up and headed home. Uecker was on the car radio in the background, the rhythm of his voice following the rhythm of the game, just as it had when I was a kid climbing through fences and sitting in the bleachers of County Stadium.
Takeaways: Ray's Butcher Shoppe's fish fry would be good for eating at a picnic in a park or at a beach on a nice day—it is also good for eating on a bridge outside of a strip club next to some cemeteries; decently priced at $9.95; Rays has six and 12-piece fish buckets so you can bring all your friends; Sharp's beer is okay, non-alcoholic beer is okay; Did anyone else used to park next to the strip club and crawl through that fence? Was this a well known thing? Does anyone still do this? Please message me if you have any information about this.