Milwaukee author Luke Geddes is an accomplished scribe whose books have earned praise from trusted voices at respected publications like the New York Times, NPR, and Publishers Weekly. In addition to being an acclaimed writer of the Simon & Schuster-published novel Heart Of Junk, Geddes produces and releases a wide variety of other creations—items ranging from clothing to records to collage art and more— at his Works Of Love imprint.
Fittingly, the latest Works Of Love release centers on something Geddes is especially passionate about: Halloween episodes of television shows released in or before the year 2004. The first issue of Geddes' self-published TV Grime zine is, to quote the author, "a complete A to Z guide to reviews, reflections, and deeply personal memories related to Halloween-set TV episodes." Spanning 116 pages and featuring hundreds of entries about programs stretching through parts of five decades, it's safe to say Geddes is something of an expert on the ultra-specific subject of Halloween television.
Prior to the local release of TV Grime at Lion's Tooth on Saturday, October 15, we spoke with Geddes about his affinity for Halloween-themed television, what makes a holiday episode good or bad, what to expect at this weekend's event, and why his zine is "an elegy for the monoculture."
Milwaukee Record: I know this is the first volume for what will likely be a numerous-volume thing that will focus on a variety of TV themes, but what was the reason for wanting to start with specifically Halloween-themed episodes?
Luke Geddes: I think it didn't matter that much what the theme of it was. I was looking for something that allowed me to dip into a single episode of random TV shows, some of which are memorable and some of which aren't. A lot of TV shows, especially pre-streaming era, had the Halloween episode. And unlike Christmas episodes, Halloween episodes are usually good. They're usually one of the better episodes of a season, whereas Christmas episodes are often saccharine and the worst episode of a show.
Pragmatically, my wife and I already watched Halloween episodes every year, so over the years, I've built this massive hard drive of Halloween episodes. I already had it in my mind and I already had it organized, so this is just the print version of the activity we've been doing for the past few years because we're crazy people.
MR: While putting this together, you relied largely on your memory, right? I believe you mention in the text that the goal was to not re-watch anything. Why was it important to write from memory? Was it a matter of not wanting to spend all the extra time revisiting something you've already seen or did you want to have entries be pure reflections from the time you first saw it?
LG: I think it was both of the things you said. One, it was already an insane amount of work to write up all these things. To have to also sit down and watch them before writing about them would've been even more time and effort. I also think it was a challenge to see what I remembered. I can imagine doing a version of this that's really just recapping the episode and talking about the TV series, but that's just sort of Wikipedia stuff. I thought the less I had to go off of in terms of a fresh viewing, the more I would have to rely on whatever memories and specific, personal, and potentially-embarrassing memories that come with whatever the show is. And I think that relates to the way TV used to be, where there was a regular schedule to it—22 episodes from September through May—and I feel like people of a certain age who watched as much TV as I did can remember where they were when they saw certain episodes. It's not just pop culture history, it's personal history.
MR: And you insert a lot of your personal history into the recap blurbs. Some entries reference you having a nervous breakdown in front of a pinball machine and the in-text assumption a show you missed must've aired on Wednesdays because that's when you had "religion class." Growing up near where you did, being about the same age, and living in the pre-DVR era, we just had to come to terms with the fact we might never get to see the Veronica's Closet Halloween episode.
LG: Exactly. It's a horrifying thing.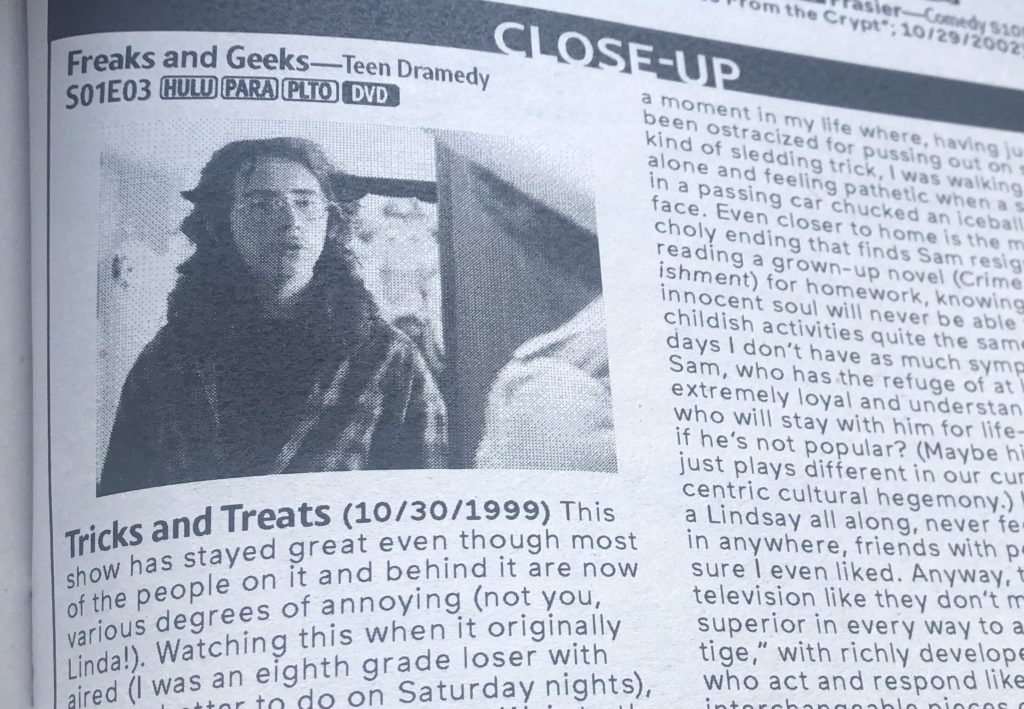 MR: I know there's an extensive episode rating system in place, but when you go through the rundown of shows you wrote about, are there any particularly good or especially bad Halloween episodes that come to mind?
LG: Most of the episodes considered "Close-Ups" are among my favorites. My So-Called Life is a big one, The Adventures Of Pete & Pete, Freaks And Geeks…those are all top-notch. In terms of the worst ones, there are the bad ones that are bad because they're such standard-issue sitcom trash that aren't that interesting. Then there are ones that are bad in a way that are memorable. One that stands out is that show Meego. It's incredibly bad in an interesting way. It had an amazing cast: we have Ed Begley Jr., Michelle Trachtenberg, Jonathan Lipnicki from Jerry Mcguire, and Bronson Pinchot! What an amazing cast for this terrible show about, like, a funny alien. But also, I wouldn't watch an episode of a show like According To Jim unless it was a Halloween episode. There's something about the Halloween episode that's an open door, even into the shows you'd never usually want to watch, like Dr. Quinn, Medicine Woman.
https://www.youtube.com/watch?v=9pdtL5XwYL4
I think another thing that's good about Halloween episodes is it's often an opportunity for a show to break reality or break their canon. They stand out a lot, especially to kids who see an episode where all of a sudden the normal rules don't count. It can actually be kind of disturbing when people tune in expecting to see the usual thing and it turns into this horror story. And they don't always put things back to normal at the end. I know in one of the Home Improvements, Tim and Jill get their heads cut off at the end and there's nothing to say it was just a dream. It's just another scene of the show.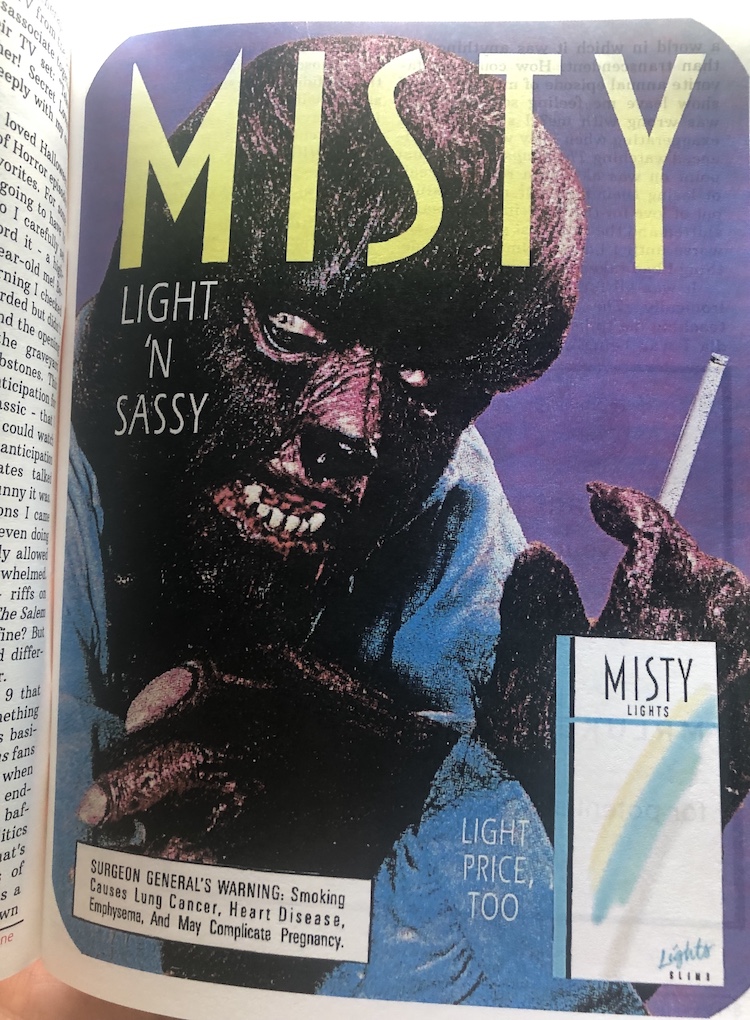 MR: I also want to get into the artistic aspect of TV Grime. There's a mix of these sort of monster-fied ads, but then there's actual magazine ads for ABC's Thursday night Halloween lineup. What was the assembly process for both finding old ads and making new "ad" art that would fit the book's overall aesthetic?
LG: The black and white listing section has all real ads. Some of them were from old TV Guide issues I cut out and scanned. Some are from newspaper archives, like local haunted house ads, and some are just off the internet. I tried to go deep. I didn't want to use things people have seen a million times before. Then, with all the color pages, there are some ads I created myself or I remixed or whatever. I remember TV Guide always had lots of cigarette ads before those were banned, so I knew it needed to have cigarette ads. Finally, I had some alternative cartoonists I know do some comics in the back for the kid's section.
MR: What's in store for the event at Lion's Tooth this weekend? Will it be a reading of a few entries? An audience Q&A-type thing?
LG: Because of my time in the trenches of the literary publishing world, I've had enough formal readings in my life, so I'm not going to make everyone stand around as I read things aloud. I think of it more like a mixer—a non-romantic mixer between you and television and your memories of television. It's the official release of the zine, so there will be copies of the zine to browse and buy. I'm going to bring in an old TV and have it playing content from my archive of original broadcasts of Halloween content, including original commercials. And there will be a buffet of the least favorite Halloween candy, as determined by what some websites say: probably black licorice, Circus Peanuts, and those peanut butter taffies.
It's something you can pop into whenever. It's the local release at the legendary Lion's Tooth bookstore and it'll be available after [the event], but this is the night to journey into the past. I call the zine "an elegy for the monoculture" because if you're not super young, you probably remember being kind of stuck with whatever was on TV. If you told us back in the day that we wouldn't have to watch Wings or sit through Home Improvement reruns and we could just watch whatever we wanted on our computer, people would think that's so much better. But I think this shows there's a nice aspect to the way things used to be.
Join Luke Geddes at Lion's Tooth (2421 S. Kinnickinnic Ave.) on Saturday, October 15 for the local release of TV Grime's inaugural issue. The event begins at 5 p.m. and is free to attend. Can't make it? Lion's Tooth will have copies of TV Grime available for purchase after the event as well. Copies can also be purchased on the Works Of Love website.