Caleb Westphal hasn't missed a Friday fish fry since 2013. Follow along with his never-ending adventures here.
It was sometime during the summer when the sign caught my eye. Striking, with tones of fuchsia and emerald green, it protruded from the building not unlike how so many Pabst and Old Style signs of old still do. Right under the name—"Pat's Niche Pub & Grub"—the sign read: "Friday Fish Fry." Was this place open? Would it be opening soon? I kept going by the sign on subsequent drives and my eyes kept darting to it. It looked new, but somehow also appeared dislodged from any parameters of time, as if it could have been there for years and I never noticed it. Eventually, I pulled over and walked up to it. The restaurant sure didn't look open. Later that day I found the restaurant's Facebook page, and started keeping my eyes on it instead, waiting for an opening date to be announced.
Pat's Niche Pub and Grub (3956 S. Howell Ave., 414-539-6452) had their soft opening on Tuesday, November 19, 2019. More importantly, they served their first fish fry on Friday, December 6. They had their grand opening on Saturday, December 21, and on the night of Friday, December 27, I went there to complete my sixth straight year of eating Friday fish frys. What I didn't realize until shortly before I left my house to go to the restaurant, was that the "Pat" of Pat's Niche Pub and Grub was the same "Pat" as of Pat's Oak Manor: Pat James. Being that Oak Manor is one of my favorite places to get fish, it seemed to be a rather auspicious moment.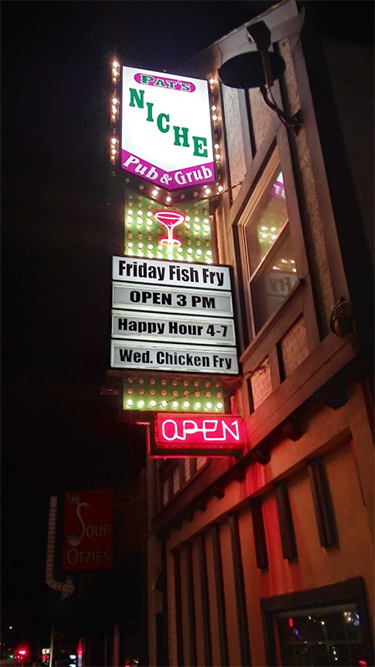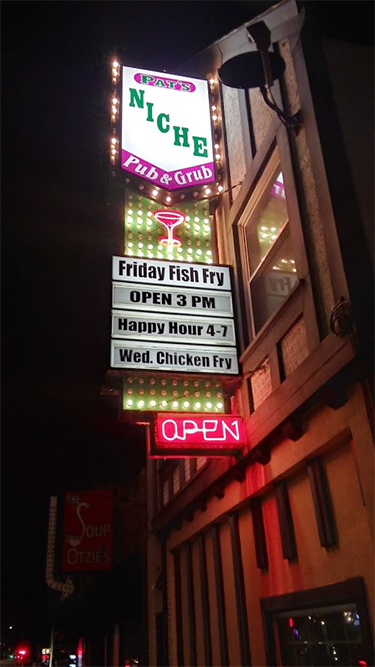 The sign flashed and lit up the December night as I walked inside the building. Since being built circa 1930, the building—located on the east side of S. Howell Avenue, just over a block south of Howard Avenue—has housed many establishments. It was home to Joseph Tratnik's tavern from the late 1930s throughout most of the 1940s, Frederick's Tap during the mid-1950s, Art's Never Inn from the late 1950s until about 1969, Yum Yum Lounge from then until the mid-1980s, and Belle's Cantina before becoming Ho Ho's Chinese Restaurant around 1989, which it stayed until a handful of years ago.
But you wouldn't guess that the place has changed much over the years. Even though it had been open for less than six weeks, you could have convinced me that if you dropped me there in 1975 it would have looked about the same. Some places are made to look retro and you can tell that they are not. That's not the case with Pat's Niche. It's like a comfy worn sweater. It's like a car that you won't trade in because it still runs. Maybe the age of the building helps give it this feel, but something tells me that Pat, who is in her seventies and has long been in the restaurant business, has something to do with it.
The first of two rooms is home to the bar, which is lined with dark red bar stools. Small red tables cover a floor of checkered beige and red squares. There's an old Hamm's beer sign and a popcorn machine. LP sleeves of country western crooners like Jim Reeves and Marty Robbins hang on one of the walls. The second room, the dining room, has red leather booths, as well as tables with red chairs. Old movie posters with the likes of Brando, James Dean, Joan Crawford, and Clarke Gable on them hang on the walls. Wreaths, a tree, and other Christmas decorations could be found throughout both rooms.
I was meeting three friends for dinner, and after we had all arrived, we took a seat in a booth in the dining room. Shortly after our waitress greeted us, she asked us if we wanted a bottle of Budweiser that was already opened and not needed. Or course we did. I ordered a Brandy Old Fashioned Sweet. Some of my friends had taps of domestic beer, which came in wide mouth mason jars (I later ordered a High Life in one of the jars). As it says on their sign, happy hour is from 4 p.m. to 7 p.m. How much were the drinks during this? The Old Fashioned was $4 and the beer was just $1.25. Nope, that's not a typo. The Old Fashioned was muddled with a giant orange slice and topped with three stemmed maraschino cherries. It was well balanced and had an effervescence to it.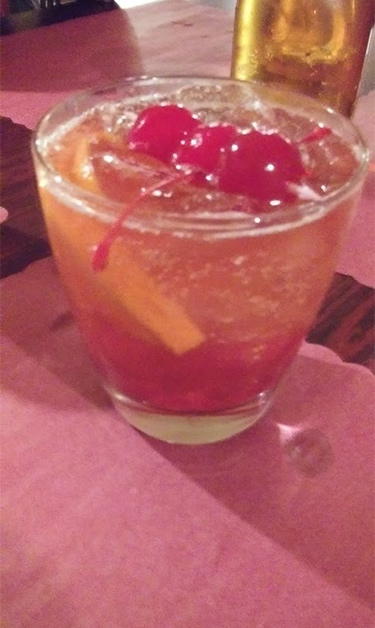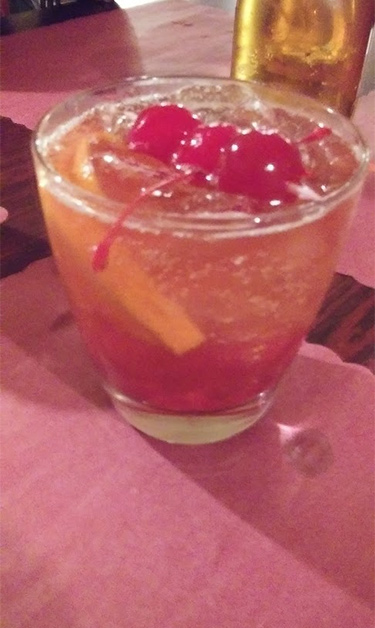 The Friday dinner options are beer battered fish (cod, from what I could tell) ($10.95 for three pieces, $2.25 for an extra piece, $13.95 for all you can eat), baked fish with melted butter ($11.95), beer battered lake perch ($13.95), beer battered catfish ($12.95), deep fried frog legs ($13.95), and fantail shrimp ($12.95). Each comes with coleslaw, rye bread, and a choice of homemade potato pancakes or french fries. I went with the all-you-can-eat beer battered fish with potato pancakes. I asked about clam chowder and was told that they were still working on adding things to the menu, and would soon have Pat's special recipe. I didn't ask if that was the same recipe that is used at Oak Manor, but if it is, that would be great.
Just like at Oak Manor, rye bread and coleslaw were brought out to the table before the rest of the meal arrived. The rye bread appeared almost identical to that at Oak Manor, and we were later told by Pat herself that the coleslaw was the same recipe that is used there. I could see that as being so, on account of their comparable creaminess, although I thought they did differ a little bit in flavor. Nonetheless, it was a pleasant homemade slaw.
The recipes for the pancakes and fish were not the same as those used at Oak Manor. Delicate in both flavor and texture, the melt-in-your-mouth pancakes were thin, with a buttery softness which verged on lip-smacking greasiness. They stacked up above what you'd find at most places, and gave their South Milwaukee counterpart a run for their money.
The fish was covered with an extra flaky batter that was thin and crispy. Flavorful, with a tad of sweetness, the long pieces of fish curled in such a way that new bursts of flavor could be found at each sinuous turn. The most notable aspect was how the batter enhanced the fish. Still of a respectable quality, the fish fillets didn't quite rise to the level of their batter, not being very hearty or flaky. In comparison, the fish at Oak Manor is smaller and meatier, with flakier fillets and a less flaky batter. Pat later told us that the Niche fish recipe was her old one from 25 years ago, dating from around the time that Oak Manor opened. After my initial three pieces of fish, I ended up having two more, which were brought out one at a time. The relish-and-mayo-centered tartar was freshly made, so much so that when we asked for more we were told it would be just a minute because someone had to make more.
Perhaps a quarter of the tables had people eating at them, but as there weren't many staff members, our waitress was putting in her full effort to stay on top of things, and we sometimes had to wait while she hurried between various tables. Still, she found time for funny quips, and her overall friendliness made us feel welcome. With a place being this new, it's hard to gauge how many people will be coming in to eat and how many staff should be on hand, and over time I'm sure they will find a rhythm.
Following our meal, we ended up talking to Pat, who thanked us for coming in and encouraged us to come back for their Wednesday fried chicken. She told us that while she also owns Pat's Oak Manor and a nightclub, District on Water, she doesn't have much of a hand in their operations, but that Niche is her "baby."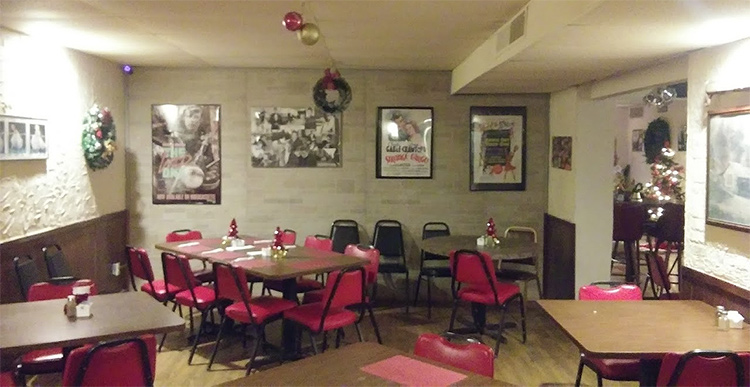 If you are looking for a new place in Milwaukee to try for a fish fry this new year, Pat's Niche Pub and Grub is the establishment to visit. Depending on how busy they are and how many workers are on hand, it's possible you may have to practice some patience. But this place shouldn't just be a quarter of the way full—it should be brimming with customers, and hopefully it is in no time.
I debated a bit as to if I should give this restaurant a "Recommended" stamp. For one, the restaurant just opened, and surely things will change in the upcoming months before a regular routine is settled into. For another, I wanted to make sure my rosy-eyed view of Pat's Oak Manor was not influencing my view of Pat's Niche. But they both have distinct, memorable fish frys, and this is noteworthy considering that both restaurants are named for and owned by the same woman. Maybe Pat's Niche Pub and Grub is not quite up to to status of its sister establishment—I do think the food, especially the fish, in South Milwaukee is a bit better—but I ultimately came to the conclusion that it stands high on its own. Things can only get better as time goes on. For one, operations will get smoother, and for another, that clam chowder will get added to the menu. Here's hoping that Pat keeps opening restaurants that serve fish frys all over Milwaukee.
Takeaways: I was drawn in by a sign; timeless ambiance; same owner as another awesome fish fry spot, but the menus are largely different; they open at 3 p.m., Tuesday through Sunday; happy hour takes place between 4 p.m. and 7 p.m.; you might get a free Budweiser in a bottle, but even if you don't, the tap beer in wide mouth mason jars is $1.25 during happy hour; still not satisfied? tap beers are only 50 cents this Friday; hand-muddled Old Fashioned at a reasonable price; they have a four-piece Wednesday chicken dinner for $8.95 and a Sunday spaghetti dinner special for $8.99, and the latter comes with a complimentary glass of red wine; flaky and flavorful beer batter; hand-mixed tartar; melt-in-your-mouth pancakes. RECOMMENDED