Caleb Westphal hasn't missed a Friday fish fry since 2013. Follow along with his never-ending adventures here.
The setting sun blinded my eyes as I turned off of Howard Avenue onto Loomis Road and into the parking lot of Grainger's Pub & Grill (3400 W. Loomis Rd., 414-282-9917), a place I'd last gotten fish at a few years ago. At just after 5 p.m., the whole parking lot was full, and I circled it a few times before I saw someone leaving. I wondered to myself where I would have parked if I hadn't found a space, as there didn't seem to be too much road parking in the area. (This question was answered when I left, when I found cars parked next to stalls, half on the grass, and completely on the grass.)
I took a seat at the square bar, situated on the edge of the main dining area. That area has a few high top and dining tables, as well as a fireplace. The walls and ceiling are both made of wood, and there are a few skylights. A pool table sits adjacent, and on the other side of the bar there is an area with a few slot games. The bartender told me that various additions and remodelings have been done to Grainger's over the years, and that the whole dining area isn't an original part of the building. She told me Grainger's had been a few different establishments over time, and that it is now owned by the niece of the person who originally changed it to Grainger's.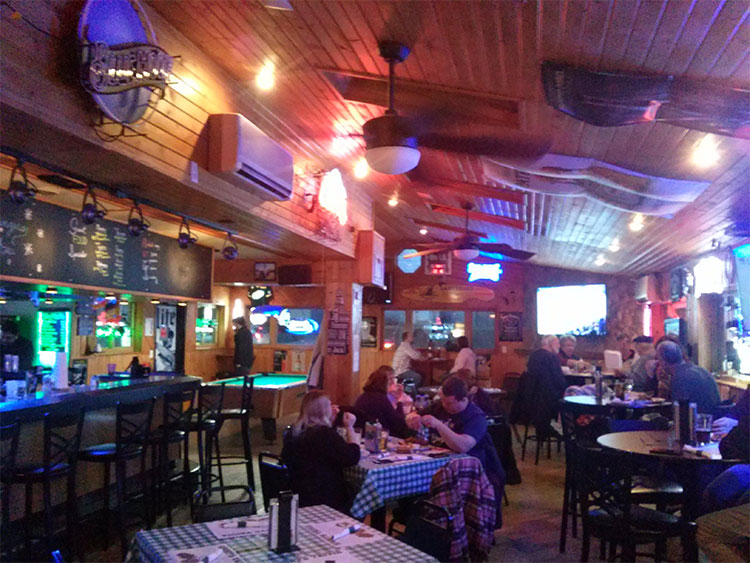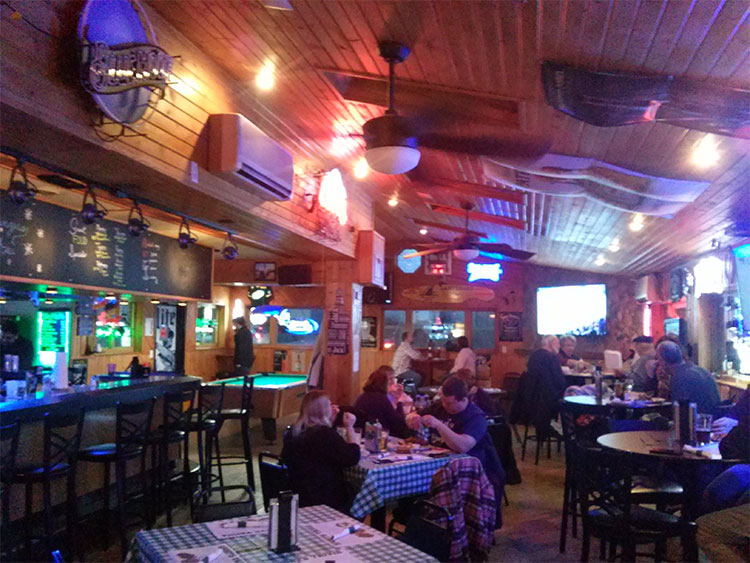 I had expected a rather boisterous setting, but people seemed to be talking in muted tones, and the mood seemed subdued. I saw a door swing open across the bar, and some people moving in a large open area behind it. I asked the guy next to me if there was more seating in the back, and he said it was a hall that could be rented out. He also told me he thought it was being used for a funeral that day. Apparently it was the subdued nature of the back room that had dampened the atmosphere where I was. I glanced up at the television above, and it was turned to news talking about the recent school mass shooting. Sadness. My thoughts drifted back to my reflections on death from a few weeks back. Sigh. I was ready for some fish.
I ordered a bowl of clam chowder and a cod fish fry. The chowder came with a little parsley and seasoning sprinkled on top, but this could not redeem it from its overall rather bland flavor. It was somewhat watery, and seemed a bit lukewarm, but this was probably partly because the chowder from the previous week was extremely hot, and almost beyond reproach.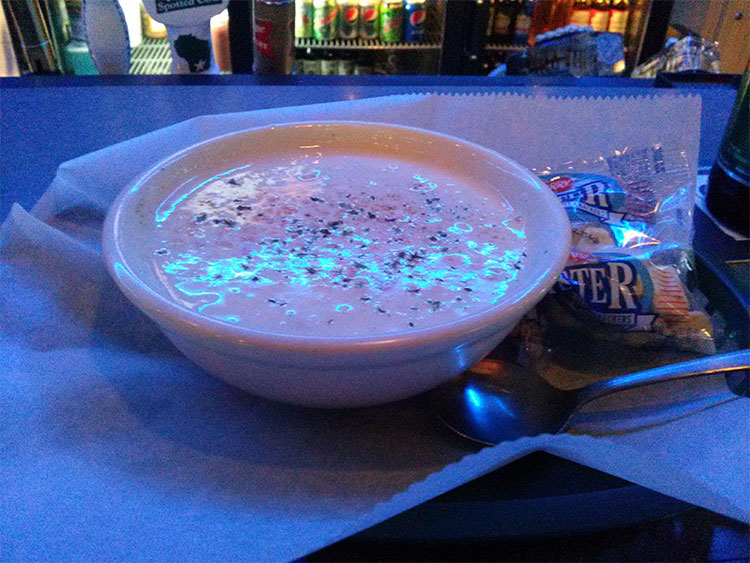 At $10.75, the cod fry at Grainger's is five dollars cheaper than the perch fry. Bluegill and walleye round out the types of fried fish available. I was given three average sized pieces of cod. Texturally, the breading was reminiscent of fried chicken, although not overwhelmingly so. There wasn't much for flavoring, beyond it being a little salty. Most of the flavor of the fish came when it was paired with the tartar, which had a large amount of pickle relish in it, giving it its sweetness. The homemade potato pancakes were the most satisfying part of the meal. They were browned and crisp on the outside, with a soft inside. The coleslaw had a very light cream, and a lot of what looked to be celery seeds, although most of the flavor came from the cabbage. The coleslaw was pretty mild overall though. The two-tone rye bread was of high quality, and was soft, thick, and generously buttered.
Even in the most subdued moments, a fish fry will stand by your side. It's the friend that never lets you down, and the lover that never leaves. It may not be a panacea for life's ills, but it is a balm of normalcy and stability in a sometimes haywire world. I sure hope they had a lot of fish frys available to eat in the back room.
Takeaways: Bar with dining area and back hall; average cod; lackluster clam chowder; pretty good potato pancakes; the atmosphere was pretty subdued, but if you go there on Sundays they have karaoke and you can get loosened up to sing your favorite songs by trying some of their 55 varieties of tequilas.