So here's the deal: If you're a City of Milwaukee resident and you currently have an absentee ballot, you can still return it to one of five drop boxes throughout the city by April 7. If you're using the postal service, your ballot must be postmarked by 8 p.m. on April 7.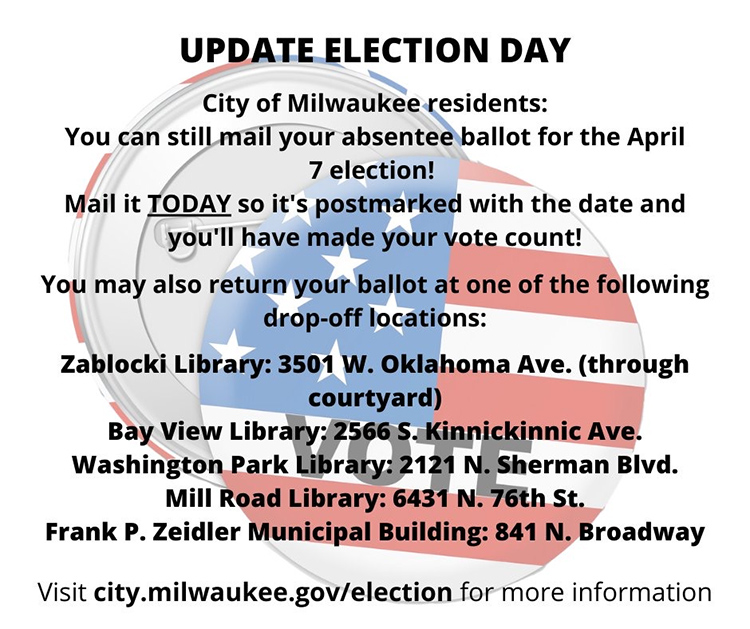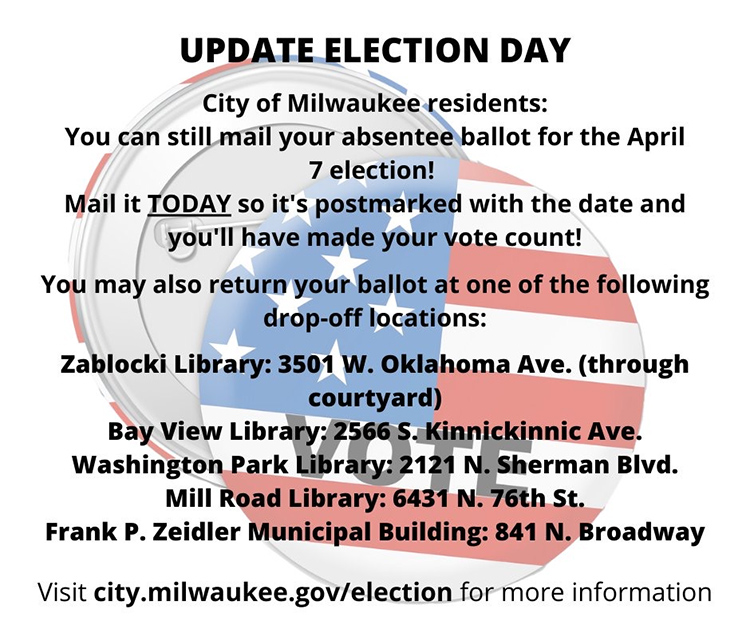 If you don't have an absentee ballot (and/or you requested one but it never showed up), you'll have to vote at one of five voting centers on Tuesday. If you want to protect your health and the health of others and still vote, you're out of luck. Sorry.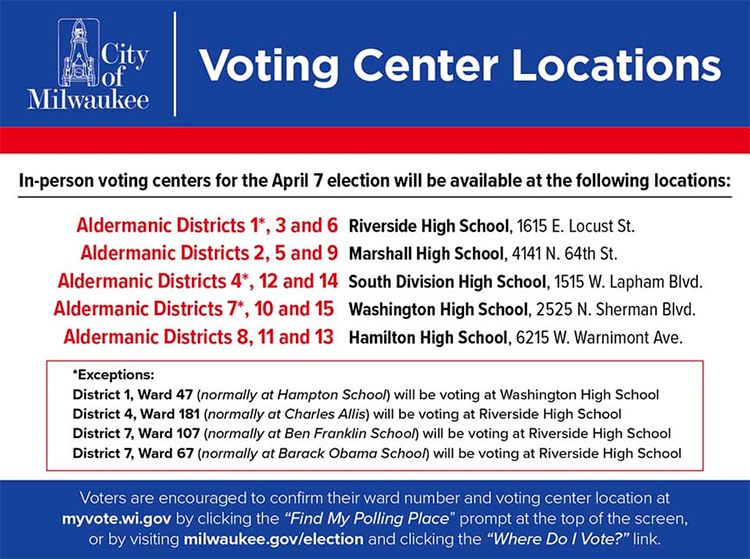 Here's a super-simple rundown of all the contested races. (Races with one candidate are not included.) It includes statewide, countywide, citywide, and district-specific races, as well as referendum questions. Find out what will be on YOUR ballot HERE.
PRESIDENT OF THE UNITED STATES – DEMOCRATIC; PRESIDENT OF THE UNITED STATES – REPUBLICAN
You already know who you're voting for here, so we won't bother listing their names.
STATE OF WISCONSIN
JUSTICE OF THE SUPREME COURT
Daniel Kelly (i) (conservative)
Jill J. Karofsky (liberal)
MILWAUKEE COUNTY
MILWAUKEE COUNTY CIRCUIT COURT JUDGE BRANCH 5
Paul Dedinsky (i) (conservative)
Brett Blomme (liberal)
MILWAUKEE COUNTY CIRCUIT COURT JUDGE BRANCH 29
Rebecca Kiefer (liberal)
Dan Gabler (conservative)
MILWAUKEE COUNTY EXECUTIVE
Chris Larson (Wisconsin State Senator since 2011)
David Crowley (member of Wisconsin State Assembly since 2017)
CITY OF MILWAUKEE
MILWAUKEE MAYOR
Tom Barrett (i) (Milwaukee Mayor since 2004)
Lena Taylor (serving fourth term as a Wisconsin State Senator)
MILWAUKEE CITY ATTORNEY
Grant F. Langley (i) (City Attorney since 1984)
Tearman Spencer ("Focused on defending the rights of consumers.")
MILWAUKEE COMPTROLLER
Aycha Sawa (current Deputy Comptroller)
Jason Fields (elected to the State Assembly in 2004)
MILWAUKEE CITY TREASURER
Spencer Coggs (i) (City Treasurer since 2012)
Brandon Methu (affordable housing developer)
DISTRICT-SPECIFIC
MILWAUKEE COUNTY BOARD SUPERVISOR DISTRICT 4
Andrea Rodriguez ("I am an educator and community organizer.")
Ryan Clancy (co-owner of Bounce Milwaukee)
MILWAUKEE COUNTY BOARD SUPERVISOR DISTRICT 6
Barb Schoenherr ("I have previously run for the Wauwatosa Common Council and lost after a recount by 4 votes.")
Shawn Rolland ("Will advocate for a fair share of funding for west suburb communities.")
MILWAUKEE COUNTY BOARD SUPERVISOR DISTRICT 11
Joseph J. Czarnezki ("Wisconsin state representative from 1981 to 1983, a Wisconsin state senator, from 1983 to 1993.")
Andrew Moriarity ("Teacher, coach, and air national guardsman.")
MILWAUKEE ALDERPERSON DISTRICT 1
Ashanti Hamilton (i) (President of the Milwaukee Common Council)
Vince G. Toney ("Doing what's right for the residents of his Garden Home neighborhood and district.")
MILWAUKEE ALDERPERSON DISTRICT 3
Nik Kovac (i) (serves on the Finance, Zoning, and Licensing committees)
Jacob Marek ("Supply chain solution developer with his role as an organizer for CleanMKE.")
MILWAUKEE ALDERPERSON DISTRICT 5
Nikiya Dodd (i) (member of Wisconsin State Senate from 2013-2017)
Nicholas McVey ("Public safety is the number one priority.")
MILWAUKEE ALDERPERSON DISTRICT 6
Milele Coggs (i) (member of Common Council since 2008)
Tory Lowe ("I serve my community through journalistic advocacy and activism.")
MILWAUKEE ALDERPERSON DISTRICT 7
Khalif Rainey (i) (member of Common Council since 2016)
Fred Royal (President of the NAACP Milwaukee Branch)
MILWAUKEE ALDERPERSON DISTRICT 8
JoCasta Zamarripa (member of Wisconsin State Assembly since 2011)
Justin Bielinski ("I've been proud to call the 8th District my home since 2007.")
MILWAUKEE ALDERPERSON DISTRICT 10
Michael Murphy (i) (member of Common Council since 1989)
Richard Geldon
MILWAUKEE ALDERPERSON DISTRICT 11
Mark A. Borkowski (i) (former Milwaukee County Supervisor)
Peter Burgelis ("Positive action is what is needed to make a difference in people's lives.")
MILWAUKEE ALDERPERSON DISTRICT 13
Scott Spiker (i) ("Help me help you to get what we're paying for!")
Patty Doherty ("I will fight to stop wasteful spending on projects like the streetcar.")
MILWAUKEE ALDERPERSON DISTRICT 14
Marina Dimitrijevic (member of Milwaukee County Board of Supervisors since 2004)
Jason Auerbach ("I plan to disrupt our current political landscape by working alongside the people and local business.")
STATEWIDE REFERENDUM
"Additional rights of crime victims. Shall section 9m of article I of the constitution, which gives certain rights to crime victims, be amended to give crime victims additional rights, to require that the rights of crime victims be protected with equal force to the protections afforded the accused while leaving the federal constitutional rights of the accused intact, and to allow crime victims to enforce their rights in court?"
MILWAUKEE COUNTY NONPARTISAN PROCEDURE FOR PREPARATION OF DISTRICT MAPS REFERENDUM
"Should the Wisconsin Legislature create a nonpartisan procedure for the preparation of Legislative and Congressional district plans and maps?"
MILWAUKEE PUBLIC SCHOOLS DISTRICT REFERENDUM
"Shall the Milwaukee Public Schools, Milwaukee and Washington Counties, Wisconsin be authorized to exceed the revenue limit specified in Section 121.91, Wisconsin Statutes, by $57 million for the 2020-2021 school year; by an additional $20 million for the 2021-2022 school year; by an additional $7 million for the 2022-2023 school year; and by an additional $3 million (for a total of $87 million) for the 2023-2024 school year and thereafter, for the recurring purposes of sustaining and expanding educational programming?"