An increasingly abusive relationship. A shift to militant far-right zealotry. The tragic and wholly avoidable death of a toddler son. The general showcasing of histrionic psychosis. These are not exactly orthodox platforms for comedy, but if Tim Heidecker has established anything at this point, it's that he's not an orthodox comedic mind. Perhaps most famous for his half of the eponymous work done in Tim And Eric Awesome Show, Great Job!, Heidecker possesses an irreverent and groundbreaking comedic sensibility that combines the absurd with the highly distressing. An incredible bizarro version of Heidecker that was created with fellow comedian Gregg Turkington was unfurled majestically at Turner Hall Ballroom Friday night.
To truly understand the duo's On Cinema and its myriad characters, sub-plots, twists, and nuances necessitates at least 12 hours of bewildered YouTube viewing. So when we say that when Italian ex-pats Axiom and Manuel of hard rock band Dekkar came out to introduce their "brother"—a bandmate and a beloved and unstoppable leader of the people by their estimation—you just have to trust us when we say this was about the most sane moment of the evening. What followed was a heartfelt and insistent pledge from a khaki-suited, gel-haired Tim Heidecker obliging each member of the audience to pledge at least $400 to his second attempt at a run to become San Bernardino's District Attorney in 2020. Once this wrapped, the first instance of anything movie related—or "on cinema," as it were—came to stage in the form of Turkington.
Heidecker's co-host in this bent universe is perpetually unhappy to the point of dead-eyed despondence for anything that isn't directly related to movies and popcorn. Once cinema enters the conversation, however, Turkington shifts into an equally disturbing version of himself built on excited hubris. There was a wry smile, a cocky comment, and, on this evening, a highly involved slideshow detailing not only the 1977 George Burns comedy Oh, God!, but also what every cast member has been up to since its release. (Mostly, as it turns out, they've died.)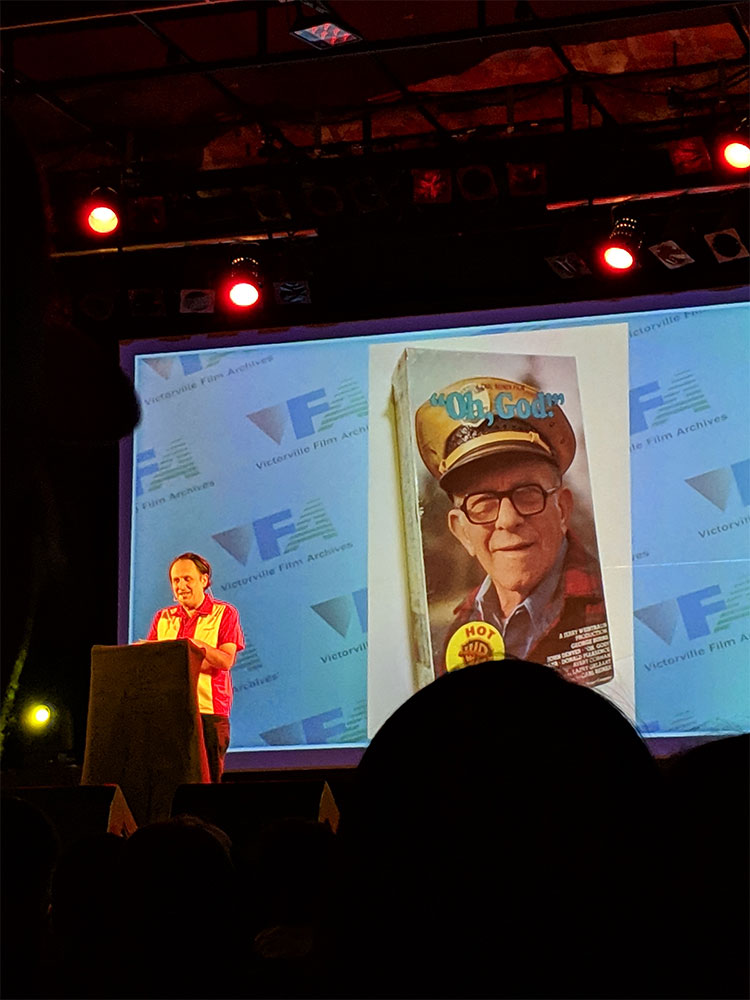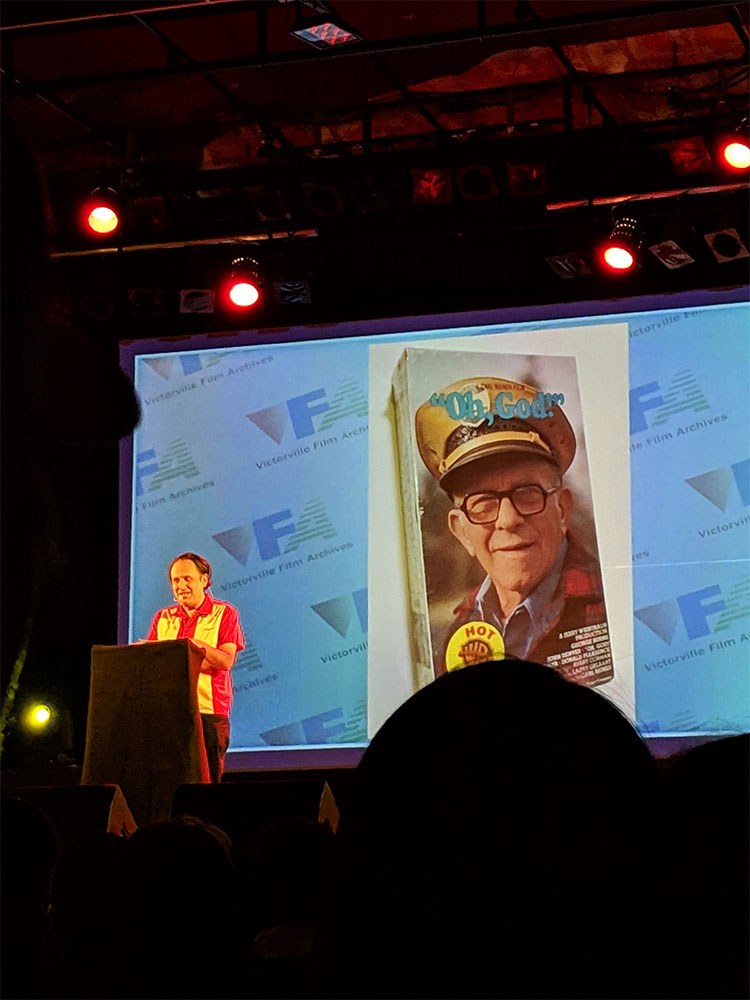 Next, Tim's intentionally intolerable hard rock band Dekkar took the stage. Dekkar is one of several instances where the character that is Tim Heidecker's version of himself plays an entirely different character. The pathetic, downtrodden, masculine rock caricature Heidecker trots out to lament his divorce or to eulogize his dead son Tom Cruise Heidecker Jr. is so actualized a role that the audience is forced to go from laughing at it, to hating it, to laughing at it again. The songs, even the Rolling Stones and Queen covers, are so maudlin and aggressively lame that the joke begets itself into a maddening and hilarious cycle.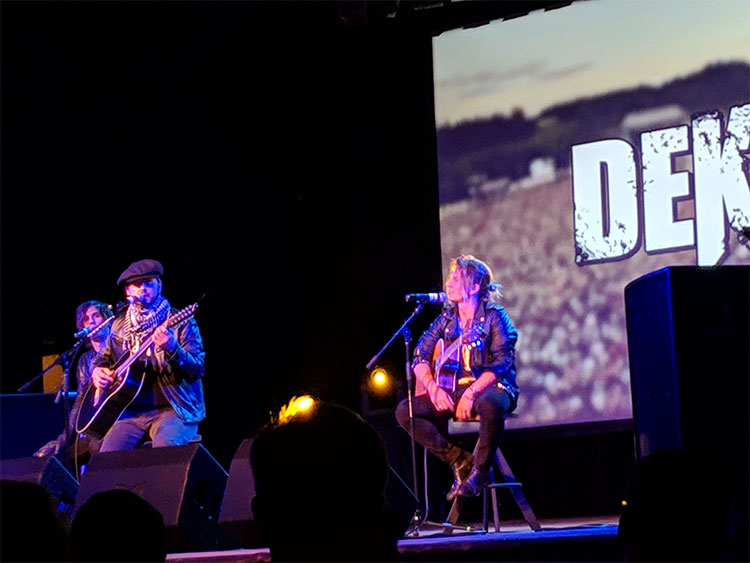 The next guest arrived in the form of Joe Estevez. If that name sounds familiar it's because he's part of the Sheen/Estevez family. In the On Cinema world, Joe Estevez plays the sweet, eager-to-please dope who's always forced to play diplomat to the shitshow that's constantly being thrust in front of him by way of Heidecker's madness. Another character played by Tim's character is the semi-literate MAGA James Bond ripoff named Decker. Estevez's character on Decker is President Davidson—intentionally cast as the C-list version of his brother's famous role as President Bartlet on The West Wing. Stylistically on point with the rest of the show, a poorly acted kidnapping and rescue by the patriotic dream team of Decker and Turkington's master codebreaker Jonathan Kington brought the house down before intermission. One final note before the break was a special On Cinema On Location segment featuring Miller Park, which was "famously" the scene of the 2004 Bernie Mac movie Mr. 3000.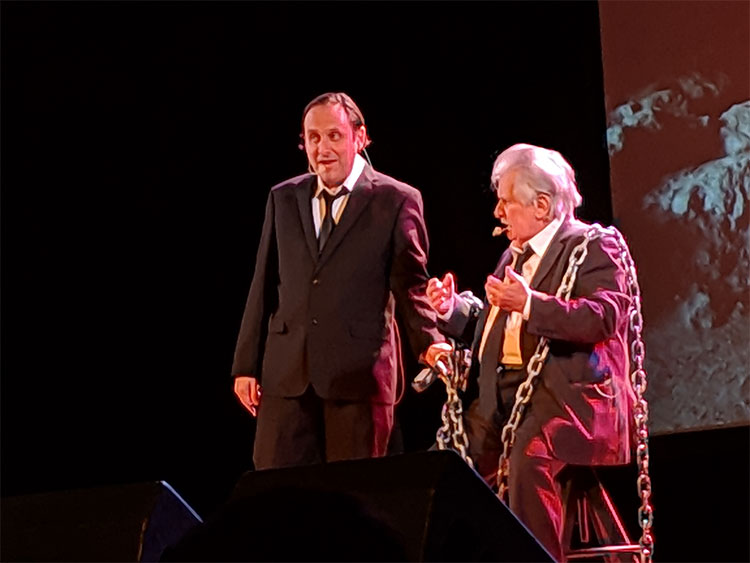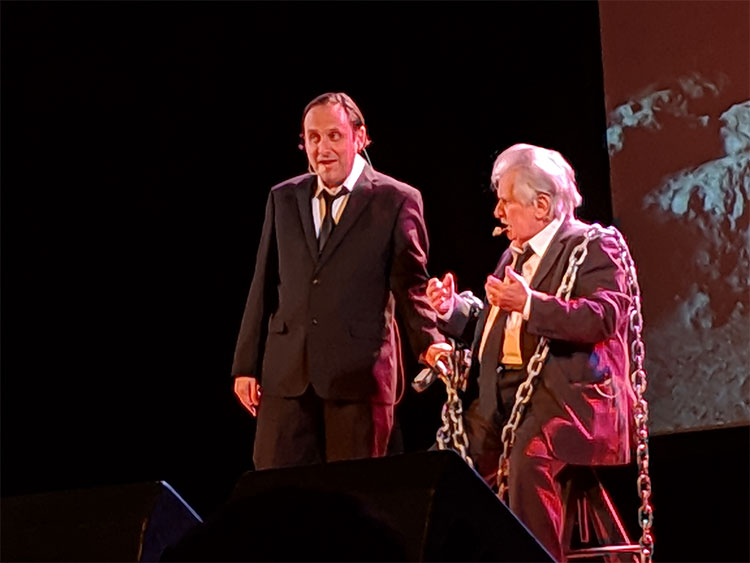 Following a 15-minute intermission, the On Cinema format finally began: two deeply incapable men who hate each other doing the worst possible job reviewing movies. Breakthrough, The Curse Of La Llorna, and Penguins all received the same thoughtless, pointless, and barely intelligible reviews from the two self-proclaimed experts. Tim, true to form, vacillated between ambivalence and hatred for almost everything Gregg had to say. Gregg, true to form, had a thin veil of smugness that did a poor job of masking the fact that he's a dullard. Oh, and in case you were wondering, each film garnered a perfect review just to drive the point home that anything that could be perceived as having a modicum of actual analysis was manifestly, ambitiously absent.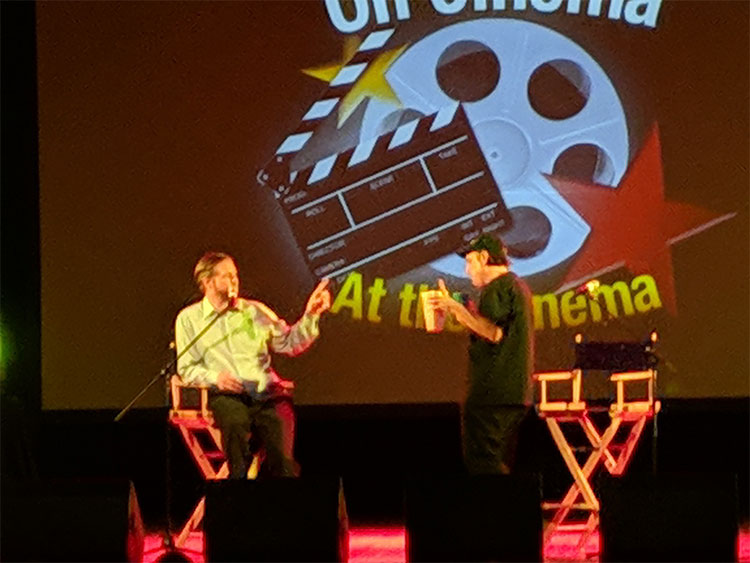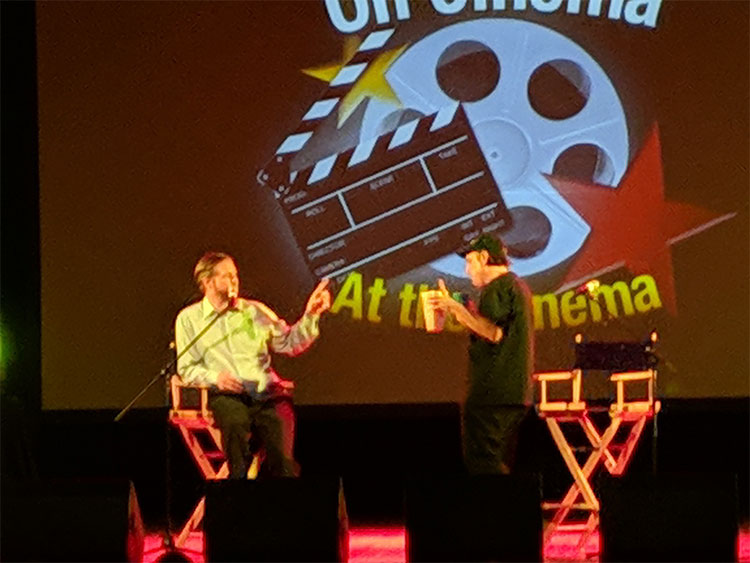 The evening wrapped with a game where audience members could attempt to stump Gregg's character in hopes of winning a gift certificate to one of Tim's all-time favorite restaurants, Carrabba's Italian Grill. The card started off as $1,000, was upped to $3,000, and finished at $5,000 (or as Heidecker said, "about maybe a year of Carrabba's.") When, inevitably, no one won due to a semantic misspeak by Turkington and one final blow-up with his co-host, Heidecker wrapped with a loud and proud anthemic sing-along to the right wing Decker original "Our Values Are Under Attack."
Essentially, On Cinema is a commitment to brilliant lunacy. There is no passive enjoyment of it and there also is essentially no point. Everyone is always wrong and the characters are detestable shithead idiots, but every glaring flaw belies the brilliance of the constructed mania set out before you. Characters playing characters, complex plots being crammed into 12-minute episodes, and the worst tragedies imaginable being hilarious footnotes in a world you'd hope to never enter but also can't take your eyes off of. For those who were there, you got it, and for those who are captivated by what's described here, we recommend starting now, because it's delightful, demented, brilliant, and truly hilarious.