Milwaukee Record launched on April 7, 2014. Since then, we've published more than 4,500 stories, reached millions upon millions of internet-weary eyeballs, and concocted all sorts of wonderful and ridiculous stuff. Now, as our fourth full year of existence comes to a close, we've rounded up some of the best stories we published in 2018. A huge thanks, as always, to our incredible ad partners and sponsors, our ridiculously talented writers, and our loyal readers. Thank you, thank you, thank you.
January 22
Milwaukee women DJs play out, speak up, and take over
"People think I'm going to come in with my laptop and play something fluffy or funny, like Journey or something," Norton says. "They assume that, just because I'm a girl, I don't know how to use needles and a headphone."
February 16
My cheesy valentine: A romantic, $150-per-couple dinner at Mars Cheese Castle
The kitchen ran out of food in the middle of serving our table, so I sat there for a while looking hungry as everyone else at the table ate. There was a sense that the entire restaurant staff was straining to level-up for this formal dining experience, accustomed as they were to casually spilling burgers and fries into plastic baskets and calling it a day. My husband made use of the gap by handing me a Valentine's card with the note, "Thank you for curating our beautiful life." This struck me as sarcasm, frankly.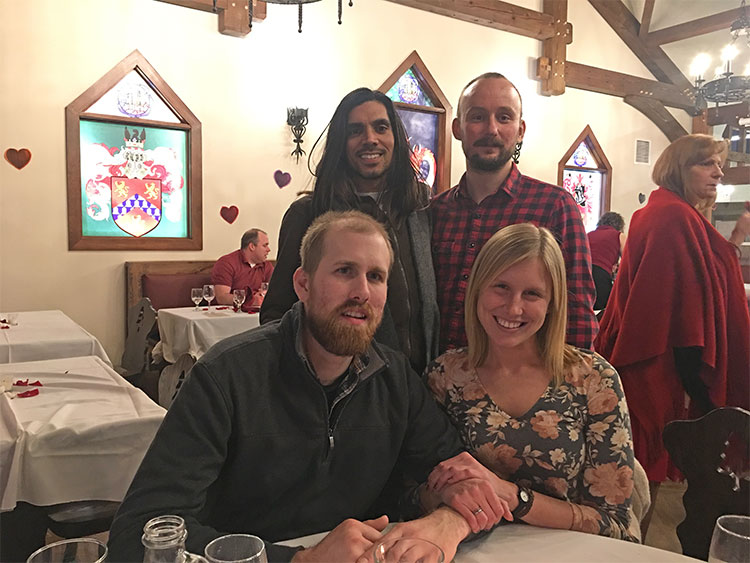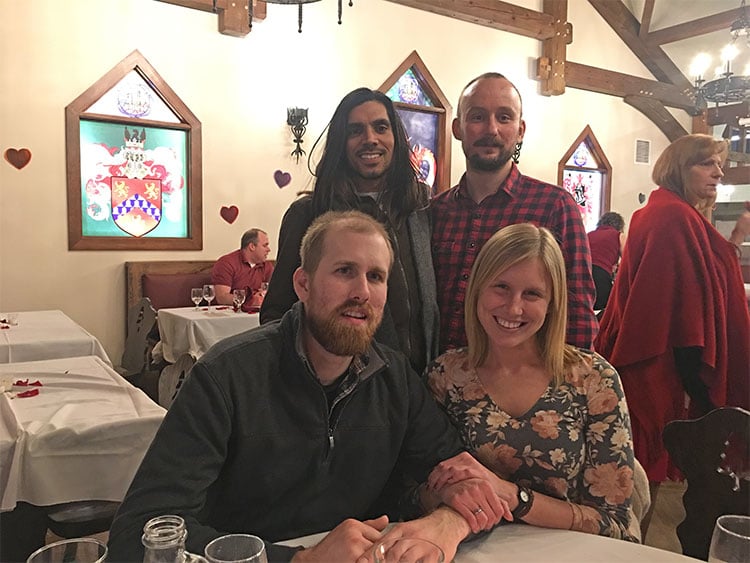 April 11
Milwaukee neighborhood posters, ranked
From 1983 to 1990, Milwaukee Department of City Development had a local graphic designer named Jan Kotowicz design a neighborhood poster for a variety of different Milwaukee neighborhoods. With funding from the U.S. Department of Housing and Urban Development Community Development Block Grant Program, the illustrator joined forces with local historian John Gurda to create a total of 27 dazzling posters with neighborhood history on the poster's reverse side. Each address in a specific neighborhood was mailed that region's poster free of charge as part of what Gurda called a "city-building initiative."
April 25
Bowling In Place #2: Holler House
We walked into the first floor bar at Holler House around 2 p.m. and received a warm reception from all 25-ish people filling the cozy space. There were two TVs above the bar, with the Brewers game on one and the Bucks game on the other. Four generations of Milwaukeeans in the room nearly spilled their chicken and scalloped potatoes after Giannis' Game 4-winning tip-in. And, bras. There are hundreds of signed bras hanging all around the bar, left lovingly by past visitors.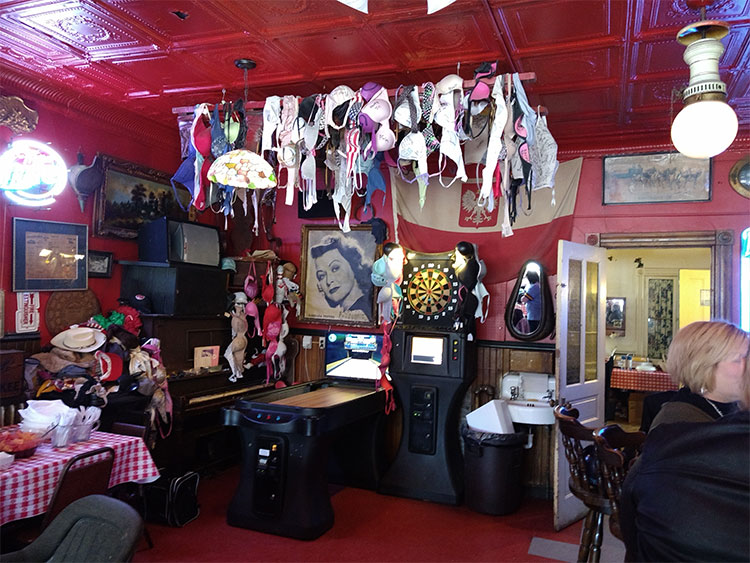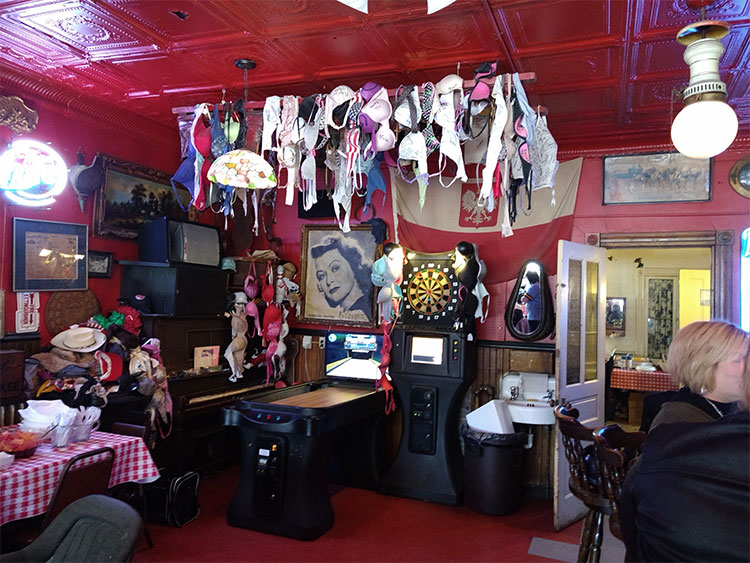 May 17
We went to the Oak Creek IKEA opening at 5 a.m.: A minute-by-minute report
6:23 a.m. – Everyone in line has run out of stuff to talk about, so we all start showing each other pictures of babies we know. Half the crowd sits on the ground. More people in IKEA dress shirts show up. TMJ4's Shaun Gallagher casually twirls his microphone like a cool drummer would as Naughty By Nature's "O.P.P." plays over the speakers. We've been here about 90 minutes and we realize that there are still twice as many people in front of us in line as there are behind us in line.
May 25
Our kingdom for the story behind this sad/weird squirrel grave we found in Lake Park
The sign—which, yes, was nailed to the log—read: "Directly beneath this log is a squirrel. He didn't have a name, but he was alone [in] this ravine and I didn't want to see flies and bugs eat his fucking corpse. R.I.P."
June 5
Shot For Shot With Chefs: Watch us have 17 shots and a pleasant discussion with Goodkind's Paul Zerkel
June 14
The catnap coziness of all the cats at the new Sip & Purr cat cafe, ranked
We arrived a bit early to sign our waivers, and grabbed a couple glasses of rose and a cheese board with seasonal fruit, candied nuts and bread. The young men behind the cafe bar were attentive, friendly, and more than ready to answer our rapid fire questions (Yes, they love cats! Yes, they've been busy! Yes, 11 cats have been adopted so far! Yes, they'll take our picture by the sign that says "Eat. Drink. Pet Cats"!)
June 18
We asked Randy from 'Trailer Park Boys' to eat, evaluate Vanguard's "Durty Burger"
"I've never had a burger like this, but I like it because it's spicy and moist. I love the pickles, lettuce, onion, sauce. It's perfect. It's the perfect burger in my mind. I approve. That's a Randy-approved burger right there. If it's Randy-approved, it's gotta be good."
June 28
New East Side poke place is literally a stone's throw from other East Side poke place. Let's demonstrate
June 28
Review: Nothing (formerly known as "Taped Music" and "Pre-Recorded Music") at JoJo's Martini Lounge
How pointless has it all become? As you'll notice in the image above, I found out that Summerfest doesn't even bother to list Pre-Recorded or Taped Music on its daily lineups anymore. Once symbolically reviewing an event that added nothing to the Big Gig, I was now actually reviewing something that didn't exist. Anyway, here's what I heard!
July 4
Honor, Service, Love: Remembering the life and heroics of Milwaukee's Lance Sijan
"In this time where individual pursuit is attempting to replace the values of family, commitment, service, integrity, and honor, this story must be told," Sijan Rozina says. "He became a beacon of light to people as they connected with him in his life, and 50 years later, we're still talking about him."
July 30
We went to Kwik Star, the bizarro version of Kwik Trip that only exists in Iowa
No, this successful hometown gas station isn't the first company to operate under two separate identities. Hardee's and Carl's Jr. have existed in regionally-specific harmony for decades now, just as the Hellmann's and Best Foods mayonnaise brands have long before that. But was a name the only difference between Kwik Trip and Kwik Star? In an effort to answer this question that consumed us, we gassed up at a Kwik Trip and drove almost 200 miles to the closest Kwik Star in the Iowa border town of Dubuque to find out for ourselves.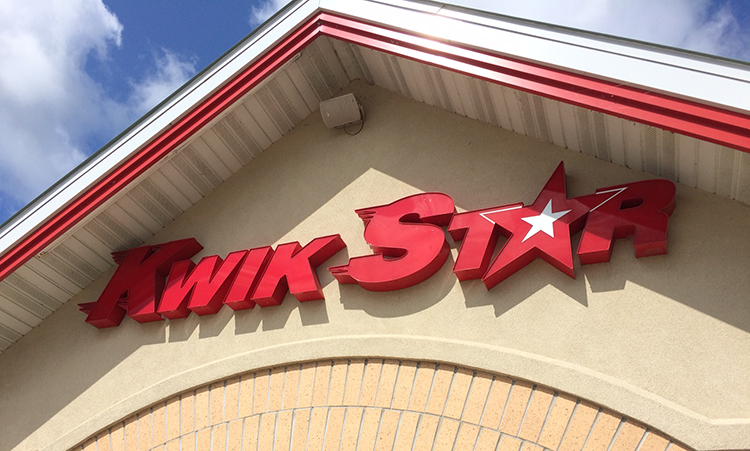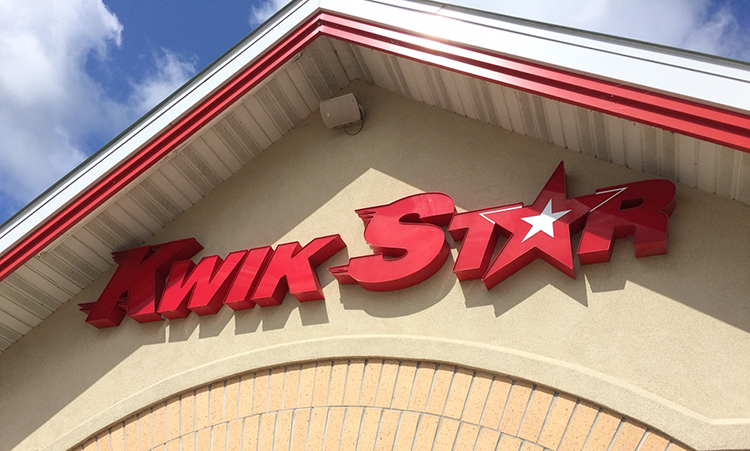 August 2
No dull moments: Exploring the two sides of the Horicon Marsh
It's easy to get sentimental about the Marsh. I grew up in Mayville, population 5,000-ish, and the Marsh was almost literally in my backyard. Thinking about it now brings back a rush of memories: fishing at my grandfather's hunting cabin with buckets full of bullheads, building ridiculously elaborate forts with my friends, sitting on my father's lap and steering the car as he took our family for a drive. Growing up, the Marsh was a simple fact of life, a place where generations of my family lived and played. It's still there today, as vast and immovable as ever.
August 2
The kids are alright: A look inside the curious practice of goat yoga
Sure, you have to be welcoming to the wildness around you, but that's what you signed up for. The goats will gnaw at your mat and nibble on your sandals alongside it. They'll step on your toes—they may even bound onto your back. You'll giggle initially as the first one relieves itself inches from your face, but, strangely, you get used to it. You may even wish it would have been you who went home with the day's prize—even if it's the byproduct of a pile of pungent pellets deposited squarely on the center of your mat.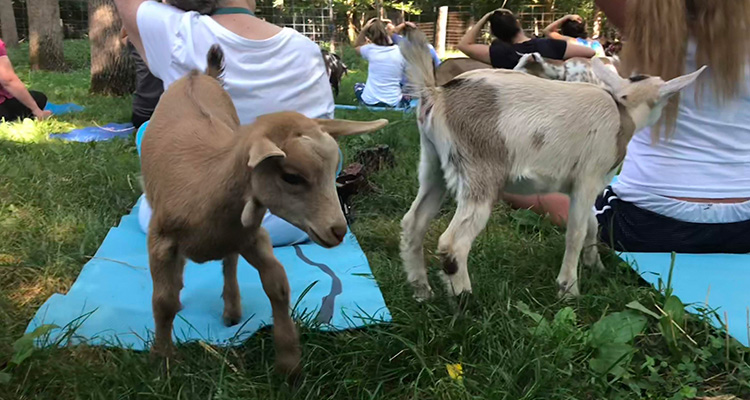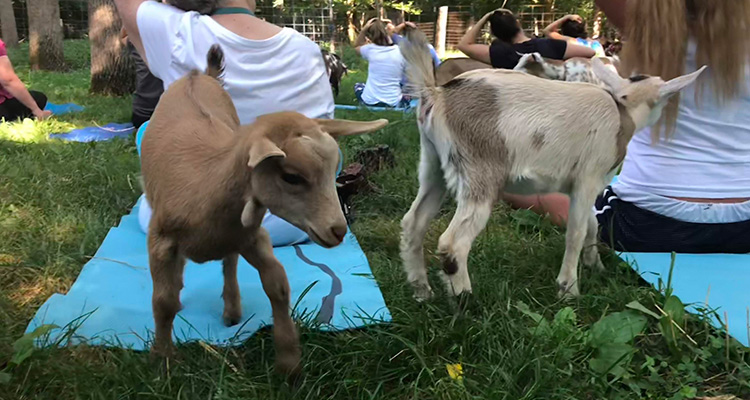 August 7
We tried and ranked all the State Fair's Milk House flavors…on the bleachers where those people had sex last year
Whether mixed with another flavor or consumed all on its own, we thoroughly enjoyed the Milk House's take on chocolate milk. We didn't even mind that we were drinking it during a mule show while sitting on the very same spot where two people boned in public a year ago.
August 21
We visited the last Blockbuster video store in America
On one display stand near the cash register there were Red Vines and Reese's Pieces and all that stuff, just as we remembered. On the next stand there were Clearance Sale DVDs available for purchase, also as we remembered. Then, of course, there was aisle after aisle of classic flicks available for rent. Titles like The 'Burbs and Cabin Boy and Fear And Loathing In Las Vegas brought us right back to 1999. Ah, nostalgia. This felt juuuust right.
August 22
Just a man and his squirrel: The story of "Peapod"
September 6
We spent the day playing vintage video games at every vintage video arcade in Milwaukee
For those of us who came of age around that magical 1983 calendar year, the arcade resurgence has provided something for everyone, all wrapped in a fuzzy warm glow of cathode-ray nostalgia. Certainly someday this craze will fade again, consoles will fall back into disrepair, and a sick Sinistar cab will be as rare as a magical white buffalo. But until then, we'll be hoarding quarters and tokens the way we did back when we accepted our paper route money in coins, visions of light cycles and ghosts dancing in our heads.
September 19
Battle of the 'Boygans: Sheboygan, Wisconsin vs. Cheboygan, Michigan
We recently travelled by Lake Express to Cheboygan, and by old Toyota Camry to Sheboygan, to record data and ultimately determine, once and for all, who's the better 'Boygan. The winner received a Milwaukee Record T-shirt, and the loser had to change its name to Alewife. All decisions here are final, so don't go trying to change our minds with Duke's Dogs or Schwarz Fish Company smoked salmon. No, wait—absolutely do that.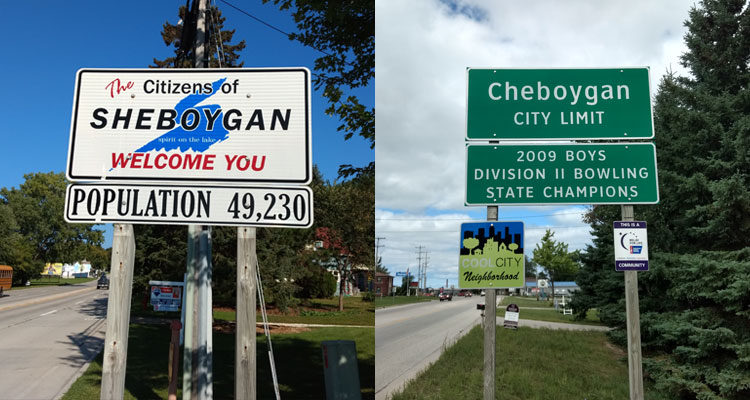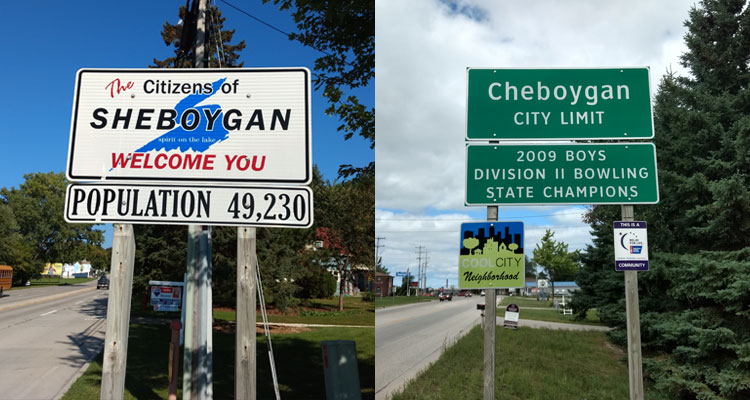 October 2
25 not-that-interesting facts about Milwaukee
8. "Uecker seats" is an anagram for "rescue steak."
October 19
We buried a free George Webb burger in a time capsule in the woods and will unearth it one year from now
We felt good about our impromptu time capsule. It had a picture of Uecker on the top and some Milwaukee Record stickers on the outside. We dated it. We sealed the burger in a ziplock bag. We double-bagged the entire box. We wrapped the thing in packing tape. We had failed to track down a shovel, so we dug a hole in the ground using the ice scraper from our car. We buried our free George Webb burger in a time capsule in the woods.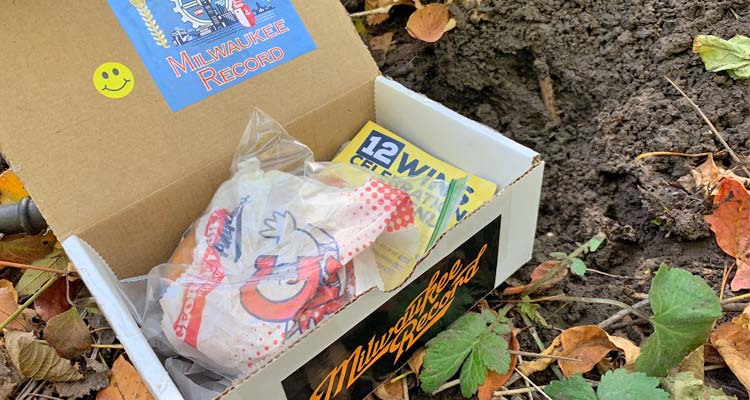 November 2
The streetcar's "Grand Hop-ening": A minute-by-minute report
11:19 a.m. – Apparently on break from harassing people at Planned Parenthood, a random dude accosts us with some hilarious anti-streetcar literature. We especially like the Rocky Horror-esque call-and-response sheet he's prepared for Mayor Tom Barrett's speech. "The streetcar will attract more millennials to the city. BOO!"
November 7
Deeper Than Rap: The beat goes on for Adebisi Agoro after his son's passing
"We have our time. I was hurt, crying, in a rage, but I had to channel it," Agoro says. "My son was all beauty. He was great. I can say with all my heart that I had the best child. I love him so much."
November 21
Requiem for a reluctant deer hunter
Oh god. There it is, dead, no more than 30 yards in front of me. What follows is a confusing, heady cocktail of emotions that blurs my vision and leaves my head swimming. Disbelief. Excitement. Confusion. Excitement again. Regret. Regret. So much regret. For the briefest moment, a harebrained scheme presents itself: When my brother inevitably calls wondering about the shot, I'll tell him I missed. I'll leave the deer where it is. Maybe I'll cover it up with some branches. Maybe I'll cover it up with some snow. I didn't do this. It didn't die. This didn't happen.