Sheboygan is a city in Sheboygan County, Wisconsin, on the shores of Lake Michigan.
Cheboygan is a city in Cheboygan County, Michigan, on the shores of Lake Huron.
Depending on whom you ask, the cities derived their names from the Ojibwe term for "the passage," "waterway between the lakes," "sewing needle," or "place of ore." Names and poor record keeping aside, these lovely cities share many other similarities. Both have an eponymous river, both have a great big light near the adjacent Great Lake, both have multiple gas stations, and both are home to NBA power forward Sam Dekker. (You wish, Chebs. On, Wisconsin!)
We recently travelled by Lake Express to Cheboygan, and by old Toyota Camry to Sheboygan, to record data and ultimately determine, once and for all, who's the better 'Boygan. The winner received a Milwaukee Record T-shirt, and the loser had to change its name to Alewife. All decisions here are final, so don't go trying to change our minds with Duke's Dogs or Schwarz Fish Company smoked salmon. No, wait—absolutely do that. Here are our findings:
MUSIC VENUES
There are a few nice venues in both towns, but we're going to compare the Cheboygan Opera House to the Stephanie H. Weill Center for the Performing Arts in Sheboygan. We've been to the Weill Center for concerts in the past and found it to be an extraordinary old venue. However, there was a guy outside the Cheboygan Opera House who aggressively confronted us and told us how beautiful it was inside.
Advantage: Cheboygan. (Please don't hurt us, Opera Guy.)
LIGHTHOUSES (OR WHATEVER)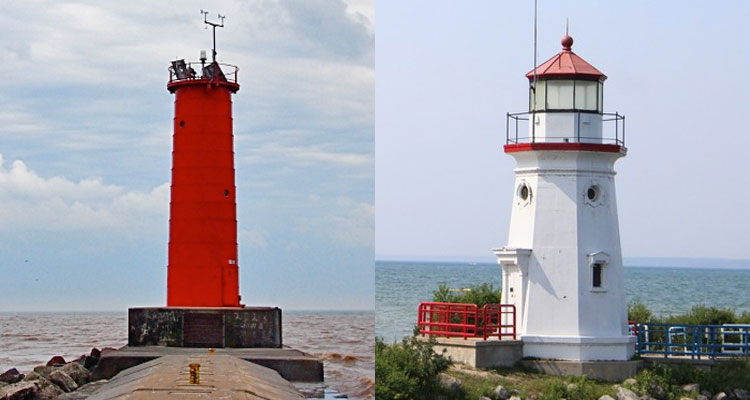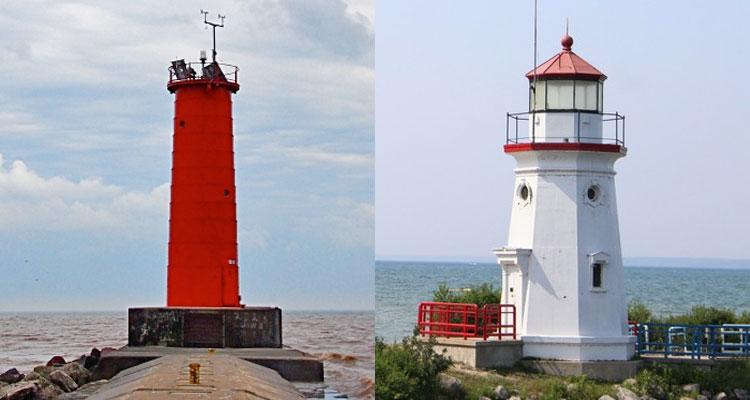 Both cities have what we've been calling "lighthouses," but this is apparently incorrect. The Cheboygan Crib Light looks like a small lighthouse, but because it doesn't have housing within its structure, it's not technically a lighthouse. The Sheboygan Breakwater Lighthouse is a big, actual lighthouse. We think.
Advantage: Sheboygan. (Not because their lighthouse is better, but because we don't appreciate being corrected.)
CITY LIMITS SIGNS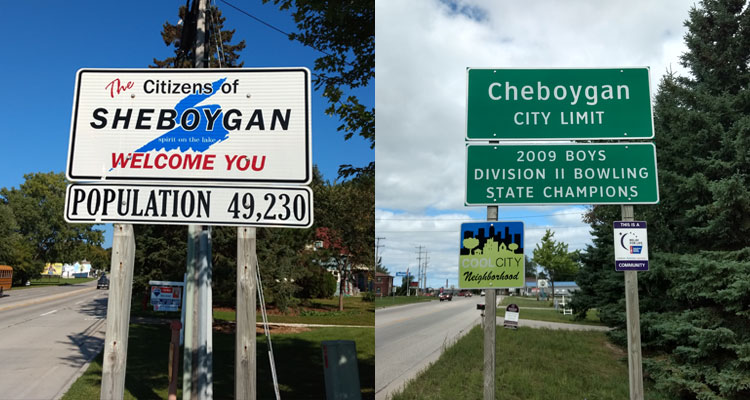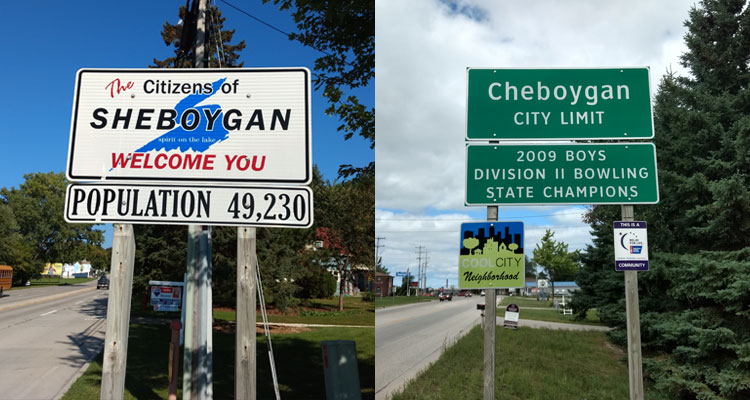 We realize there are multiple points of entry to both cities, so we may not have seen the best signs of this category for both. That said…come on, THE citizens of Sheboygan! Get over to Maple Lanes and practice a little.
Advantage: Cheboygan. (Where the CHAMPIONS live. *applauds*)
DIRECTIONAL SIGNS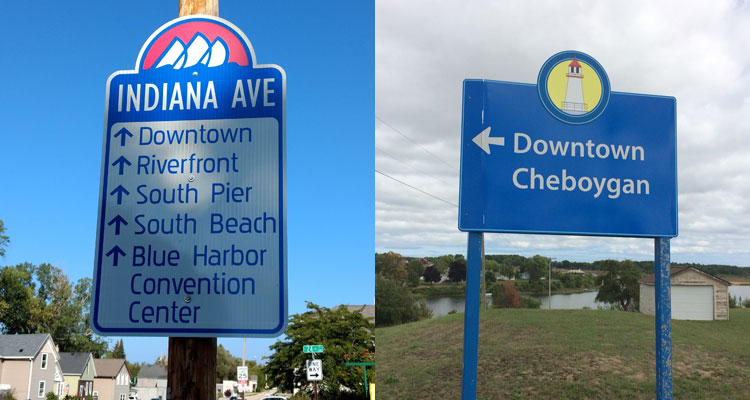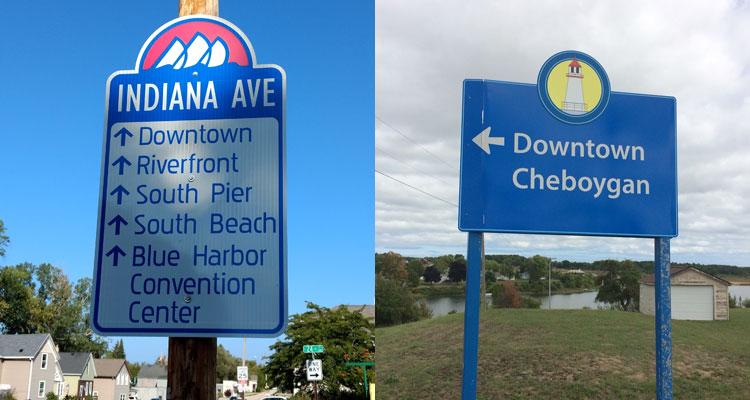 Like the city limits signs, people do notice these things! We don't, but we're sure some people do.
Advantage: Even. (Both sets are colorful, helpful and have a nice earthy flavor.)
WATER TREATMENT FACILITIES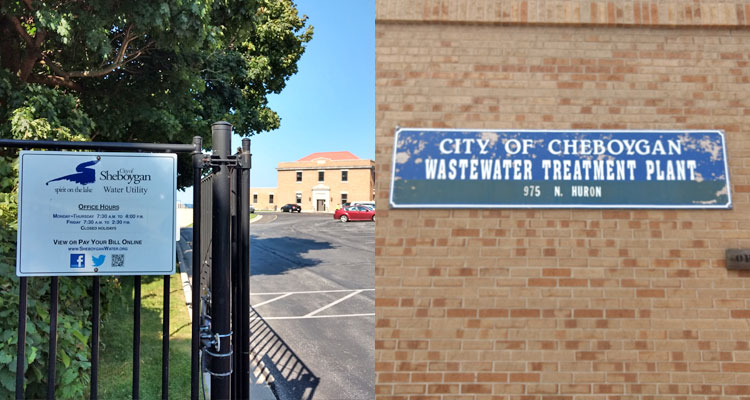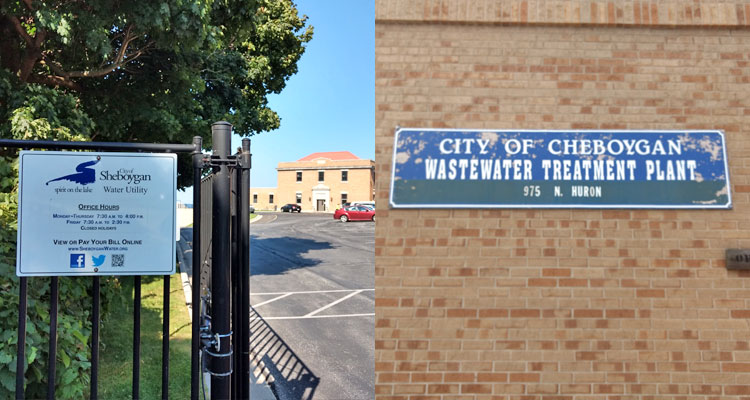 While the wastewater seemed equally treated in both cities, we can't help but notice whose facility is and whose facility isn't located directly next to Vollrath Park and a completely amazing disc golf course.
Advantage: Sheboygan. (Whose facility IS.)
NEWSPAPERS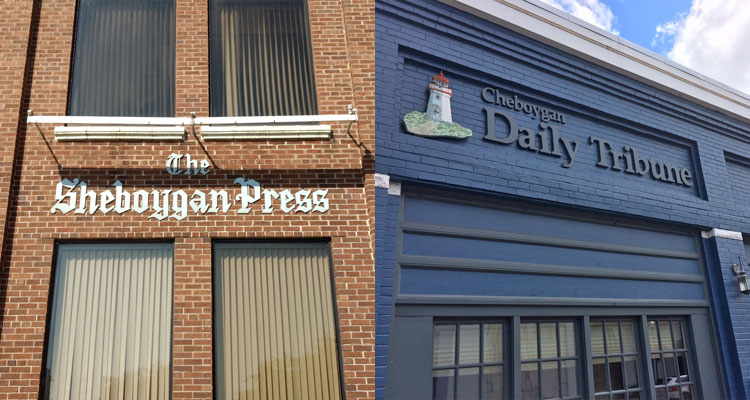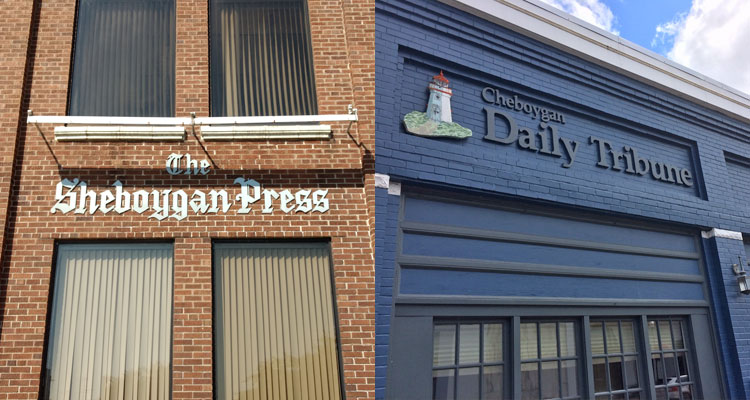 Cheboygan's Daily Tribune was founded in 1876. The Sheboygan Press was founded in 1907. The Sheboygan Press once published a photo of Milwaukee Record's Josh Hoppert swimming in Lake Michigan on New Year's Day. The Cheboygan Daily Tribune front page features an illustration of their Crib Light that we're not allowed to call a lighthouse.
Advantage: Sheboygan. (Couldn't Cheboygan put a little cot in there or something so we can all just call it a lighthouse without catching static about it?)
OTHER SIGNS FEATURING THE CITY NAME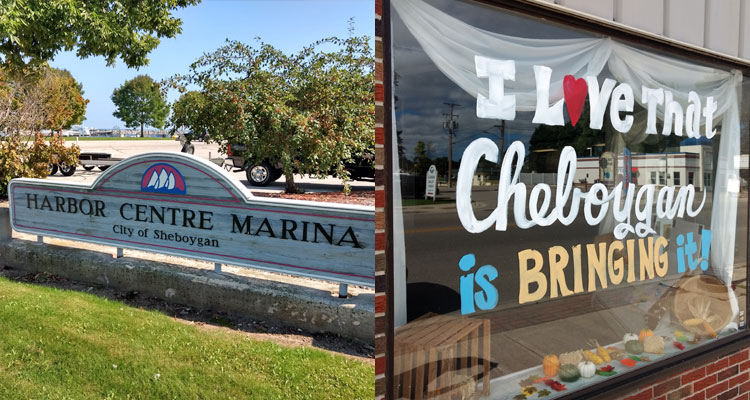 Driving around both communities, it's easy to see that local shopkeepers are proud to align themselves with the town they call home. This is awesome. Both cities have MUCH to be proud of. That said, only one city has a laundromat sign that we'd all love to have hanging in our homes.
Advantage: Cheboygan. (BRINGING it.)
BARS WITH SHEEP PUNS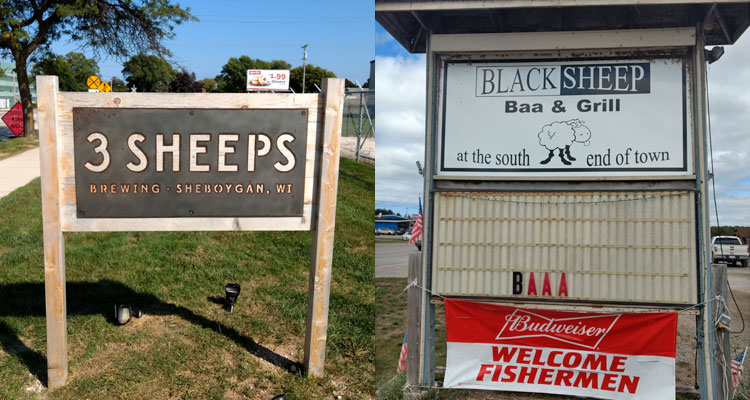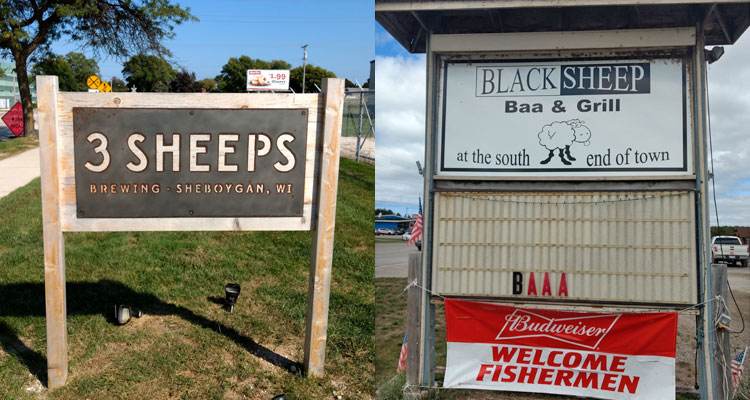 Fond as we are of food (too fond, really), it's tough to beat a Cashmere Hammer in 3 Sheeps' Taproom.
Advantage: Sheboygan. (Surprisingly few sheep at both places, though. Also, special shout-out to Cheboygan Brewing Company for the cool truck outside of their pun-free taproom!)
DAMS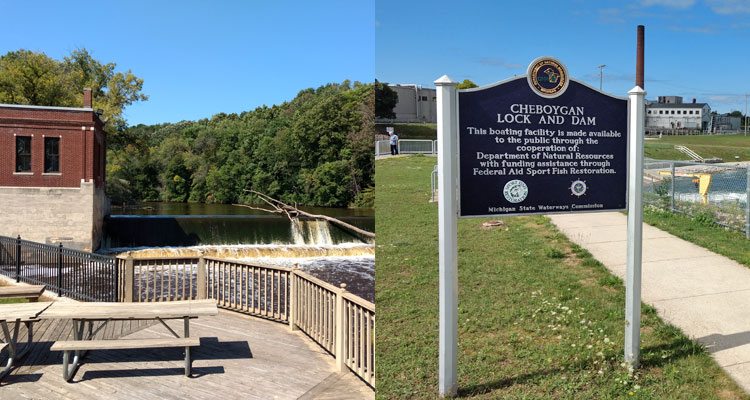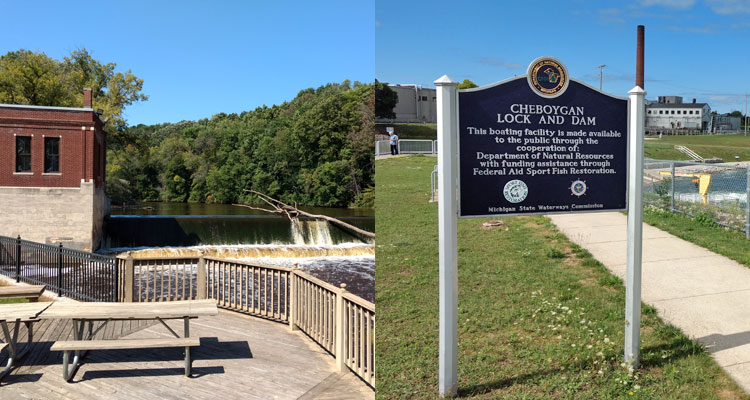 Would we seriously drive all the dam way to the dams in both dam towns just so we could make a bunch of dam jokes about the damn dams, a la Vegas Vacation? Never.
Advantage: Milwaukee Record.
CITY SERVICES BUILDINGS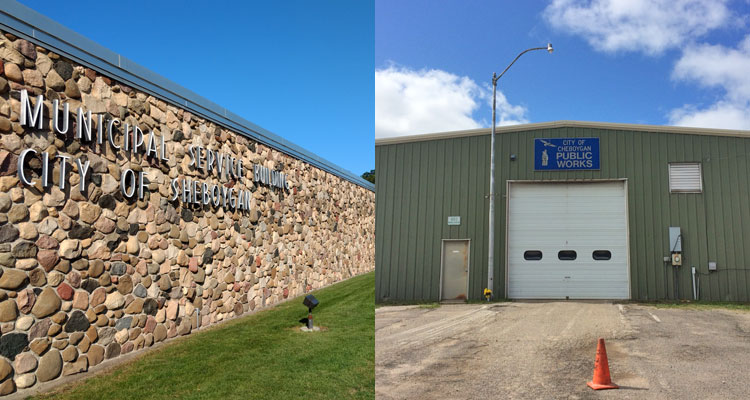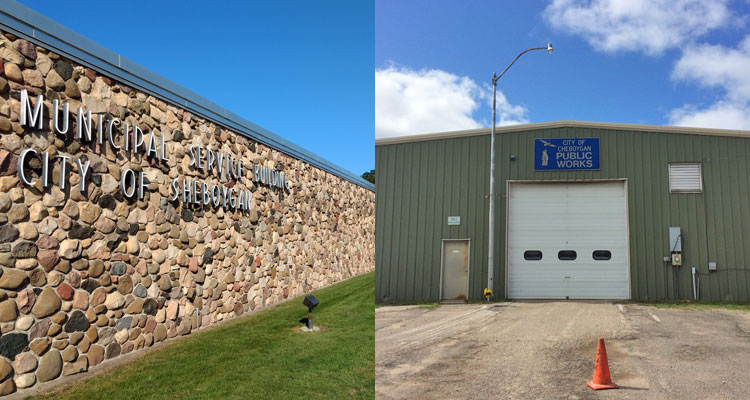 We feel a little bad for what we said about Sheboygan's city limits sign earlier, so this is kind of a make-up category. Nothing against the City of Cheboygan Public Works facility we happened to snap a pic of, but the Municipal Service Building in Sheboygan is just objectively cool-looking.
Advantage: Sheboygan. (There could be nothing but mustard stains and broken lawn chairs inside, but the outside looks sharp.)
VIEW OF A WATER TOWER FROM THE PARKING LOT OF A BURGER PLACE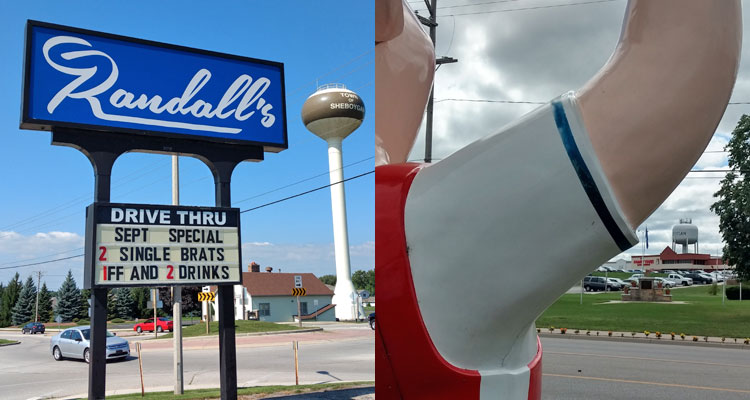 Our panel of judges spent more time on this category than any other. All agreed that Randall's offers better (butter) burgers than Big Boy, but all also agreed that the classic look of the Cheboygan water tower trumps the sexiness of the (Town of) Sheboygan tower. It was a tough and emotional decision.
Advantage: Cheboygan. (And we don't want to talk about it.)
FLAGS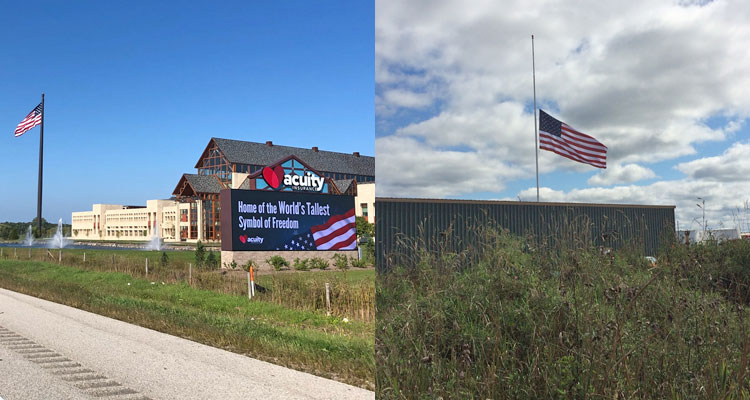 America. Ever heard of it? Cheboygan and Sheboygan have. Both towns have at least one enormous American flag, but only Sheboygan, Wisconsin has the granddaddy of them all. Acuity Insurance's "World's Tallest Symbol of Freedom" along I-43 can be seen from miles and miles away. It's 100 feet taller than the Statue of Liberty and 390 feet taller than the Statue of Patrick Cudahy. However, this category is called "Flags" and not "American Flags."
Outside the Cheboygan Wastewater Treatment Plant, we caught a glimpse and a bad photo of Cheboygan's flag. Does it follow the principles of good flag design? Probably not, but shut up. It's nice and informative and has the Crib Light on it. Sheboygan's flag has a big blue swoopy S on it.
Advantage: Cheboygan. (Sorry, America.)
Final score
Sheboygan, Wisconsin: 5
Cheboygan, Michigan: 5
(A tie. Sure beats losing.)