Summer in Milwaukee is the best; summer in the Midwest is even better. Join Milwaukee Record and Miller High Life as we search the city and beyond for the Spirit Of Summer.
When it comes to outdoor activities in the summer, Wisconsin has its bases covered. If you're into adventure, you can try your hand at rock climbing the bluffs at Devil's Lake. If backwoods biking is your thing, head north to hit the CAMBA mountain bike trails in the Nicolet-Chequamegon National Forest. If you're wild about water sports, a kayak trip along Lake Superior's Apostle Islands is hard to top. But if you prefer your outdoor exercise to be of the gentler variety, you're in luck, too. Just 45 minutes away—at a secluded farm in the woods outside of Burlington—lies an opportunity to harness your chi in the most adorable of ways: through goat yoga.
Goat yoga has been rapidly spreading in popularity throughout the country in recent years, attracting followers with the benefits of playfulness, calm, and connection to nature as the major factors that set apart this unique practice from more traditional concentrations. And also: you're surrounded by friendly, hoppy, bleating, curious little goats the entire time. What's not to love?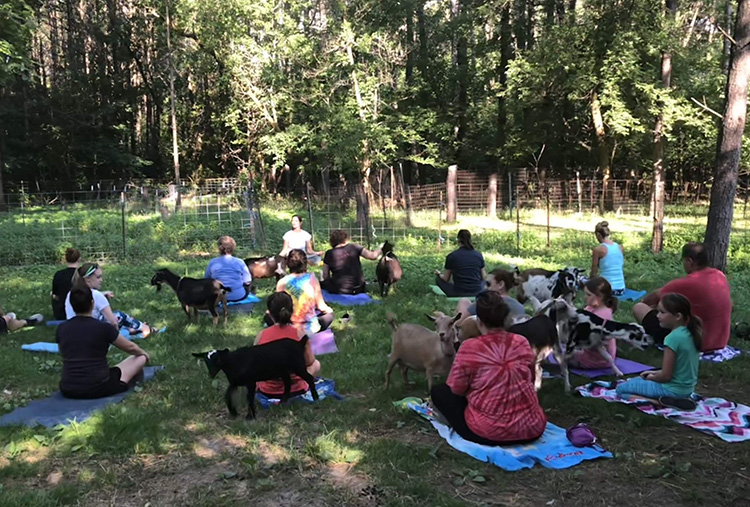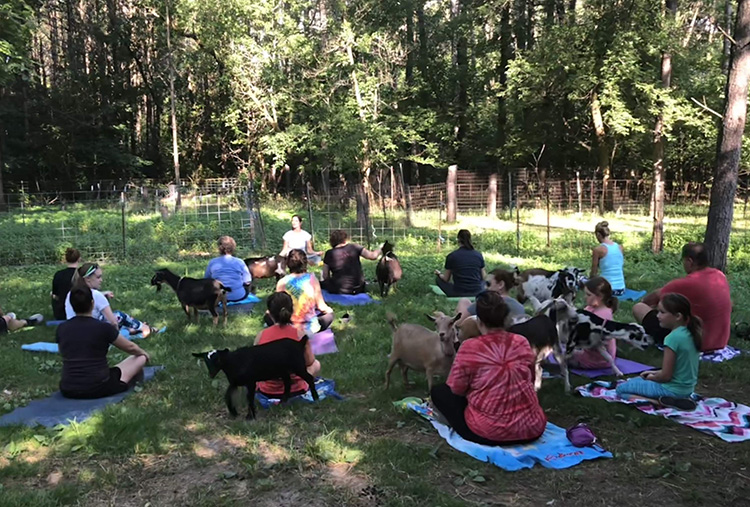 Burlington's Oak Hollow Acres is a small farm tucked away in a sleepy wooded area just off of Washington Avenue, and it's the closest place to practice your Flying Goat-us (sorry) in relation to Milwaukee. Abby Lippman started the goat yoga program in the spring of 2017 after breeding goats for nearly two decades. It's easy to see how much care she has for the species and how passionate she is about them—she even makes soaps, lotions, lip balms, and other all-natural beauty products using their milk to sell at the farm and local farmers markets. After deciding to start the program, she enlisted the help of Meghan MacCarthy, owner of Bearfoot Yoga Studio, also in Burlington, to be the peaceful guide for each goat yoga practice. Meghan's energy, sense of calm, and willingness to lead a couple dozen adults and children squealing in delight as a herd of goats trots freely through her class is truly a lesson in zen.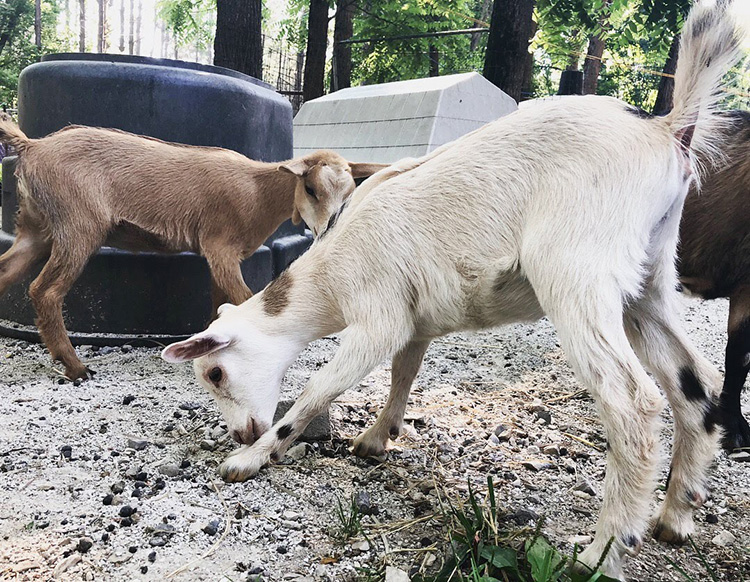 Upon entering Oak Hollow Acres, it's instantly apparent this place isn't a typical farm. Speckled chickens strut freely through the trees as a gaggle of geese waddles through a nearby field. A donkey brays somewhere in the distance. A sleepy, shaggy dog uses aluminum fencing as a rest for his muzzle. A freaking peacock is perched peacefully on the ledge of a giant trampoline. And, of course, there are the goats. All Nigerian Dwarves, some full grown, some just weeks old. Before even signing up for yoga, you can acquaint yourself with your future furried classmates on the Oak Hollow Acres website. And if you plan accordingly with their kidding schedule, you can be among the first to mingle with the newest kids on the farm.
Classes are held a few times a month, and fill up fairly quickly. Sign up online for $15 to reserve your space, then count down until the day you meet your goat with gaia. It's best to arrive early, if not to reserve prime space in the baby goat pen where each class is held, but to also ensure there's plenty of time to become familiar with your surroundings, say "hi" to your cloven companions, grab a handful of corn to tuck under your mat to feed the gregarious goats as they approach you, and sign up to win the coveted "poop prize," claimed only by the first yogi whose mat is defecated on during practice.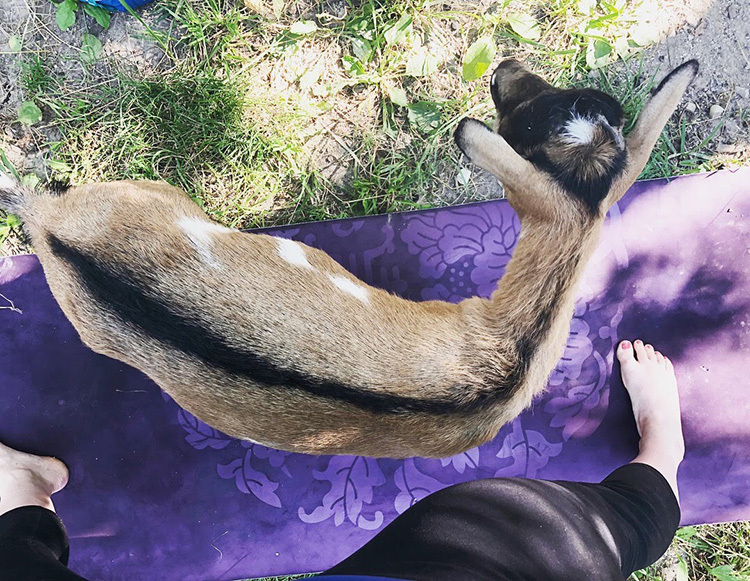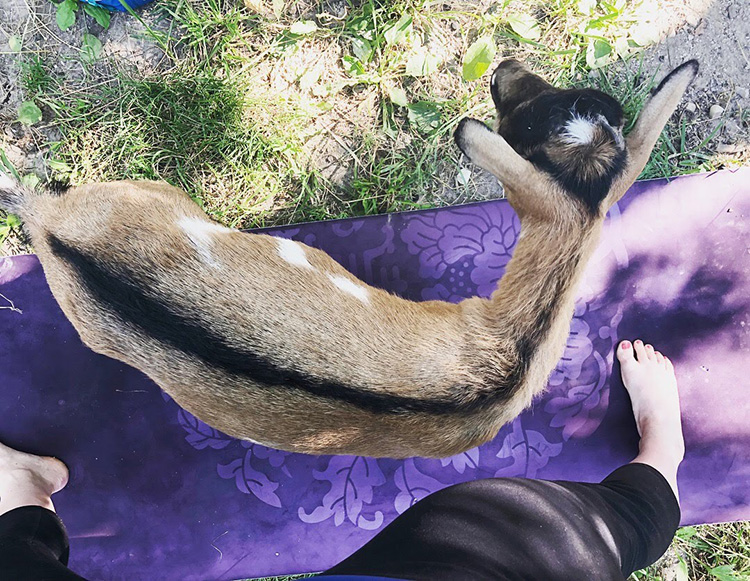 From the time you unfurl your mat on the ground, it's apparent that this will not be an hour of zen. Instructor Megan adds calm, assured guidance through a series of gentle stretches, postures, and balances, but in an assault on attention, her steady directives are no match for the constant stream of curiosity from the goats who flock around you. Through each phase of Cat-Cow, it's not uncommon to peek up only to be met nose-to-snout with a wild-eyed workout buddy. They're eager to sneak right underneath your Downward-Facing Dog, and are more than happy to boost your behind as you squat back into Chair pose. Good luck spreading into Warrior Two when an elder goat suddenly claims your mat as his resting place. And just try to lock yourself into Tree when a teeny twin babies are playfully bounding from the tops of their small shelters behind you. It's chaos. But the kind of chaos that washes your mind of any worry, anxiety, or stress that may have traveled with you. It's not peace you'll find on your mat during this class—it's play. And its infectiousness lingers.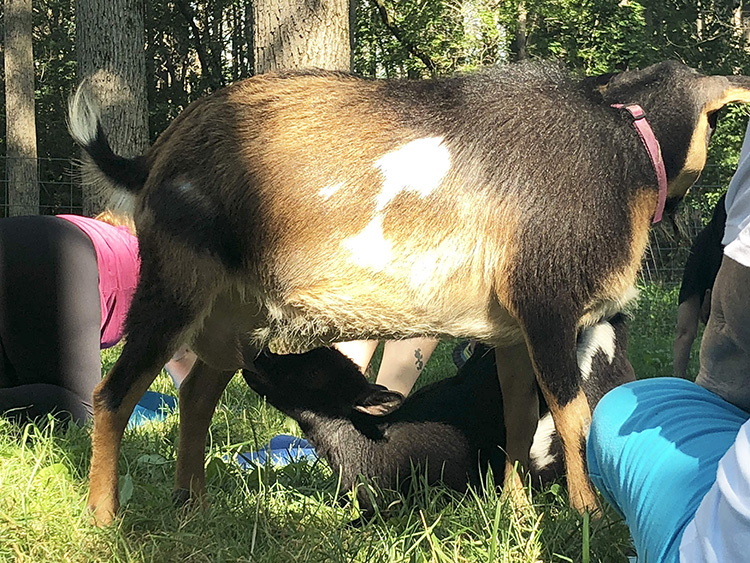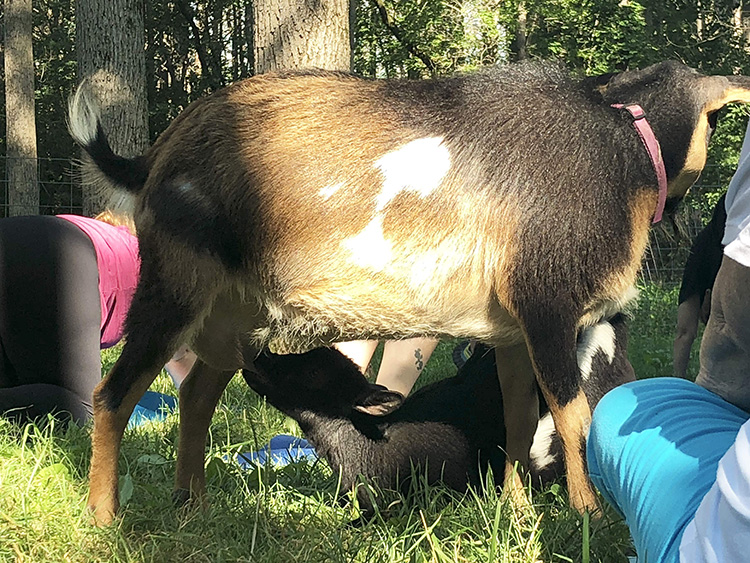 Sure, you have to be welcoming to the wildness around you, but that's what you signed up for. The goats will gnaw at your mat and nibble on your sandals alongside it. They'll step on your toes—they may even bound onto your back. You'll giggle initially as the first one relieves itself inches from your face, but, strangely, you get used to it. You may even wish it would have been you who went home with the day's prize—even if it's the byproduct of a pile of pungent pellets deposited squarely on the center of your mat.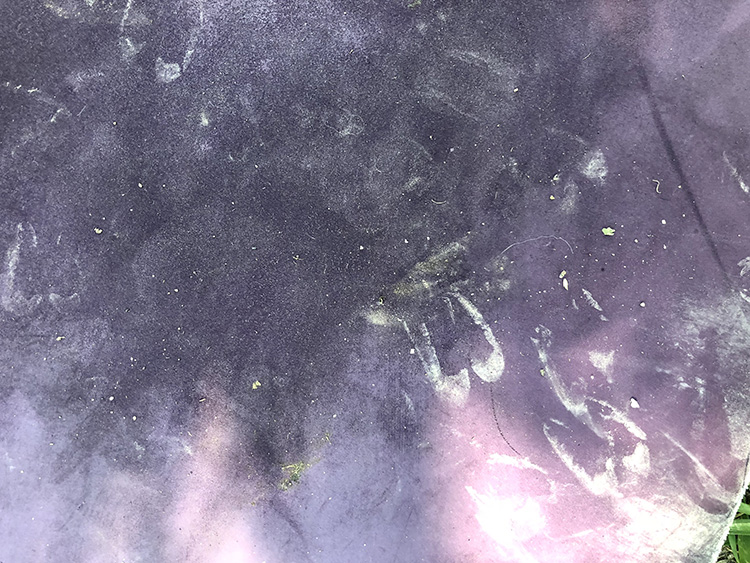 It's not Ashtanga, it's not Bikram, it's not Iyengar. You're not signing up for a workout, rather an unwinding—of rigidity, pretense, and any sense of self-consciousness. You smile. You stretch. You snap a few (dozen) photos. It's the sort of silly asana that might not help you lose pounds in the process, but shed weight from your soul, if even for the hour.