Kenosha's Mars Cheese Castle is many things to many people. To locals, it's a tourist trap infused with notes of ironic Wisconsin pride. For out-of-towners meandering through America's Dairyland, it's the last best stop to pick up some of the state's finest on the way back home to the hinterlands. To drunken Ren Faire patrons, it's an air-conditioned after-bar following a long day of mead and jousting that holds on to a bit of the ersatz Middle Ages vibe.
But has anyone ever thought it romantic?
The owners do, apparently, having concocted an intimate five-course, $150 per couple, surf and turf Valentine's Day dinner billed as "Love at First Bite." Allured by the prospect of spending the most amorous night of the year at a novelty cheese market, I convinced my husband and another couple we knew to sign up.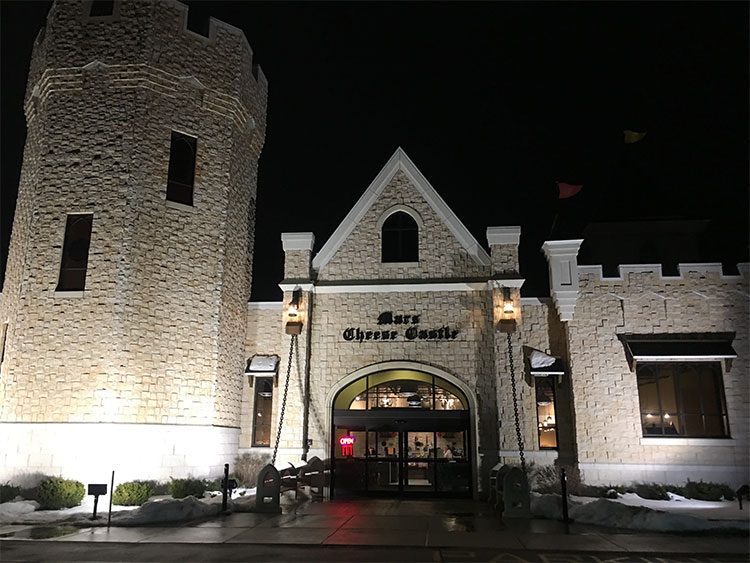 I came up from Chicago, while the other couple, Callie and Nick, traveled from Tosa. It was a reunion of sorts. The last time we were at the Castle together, Callie was about to fly off to Mozambique for a two-year stint in the Peace Corps. The food that day had been hot dogs, grilled cheese sandwiches, and potato chips served on paper plates. A serviceable meal to be sure, but not exactly destination dining for what now, years later, was supposed to the most sensual meal of the year.
That was before last year's expansion. To the owner's credit, Mars Cheese Castle has been significantly upgraded. My husband and I arrived to the majestic site of the castle's main entrance, its crenulations and automatic sliding glass doors basked in the resplendent glow of flood lights. The store was still open, but essentially empty, except for some people in the pub area and a bored teen behind the checkout counter. The remodel created a lot of new space, more than doubling the store's size to a gigantic 46,000 square feet. We wandered past a lovingly restored, just-for-show banquet table surrounded by wine racks. I bought curds to share with my FIB coworkers.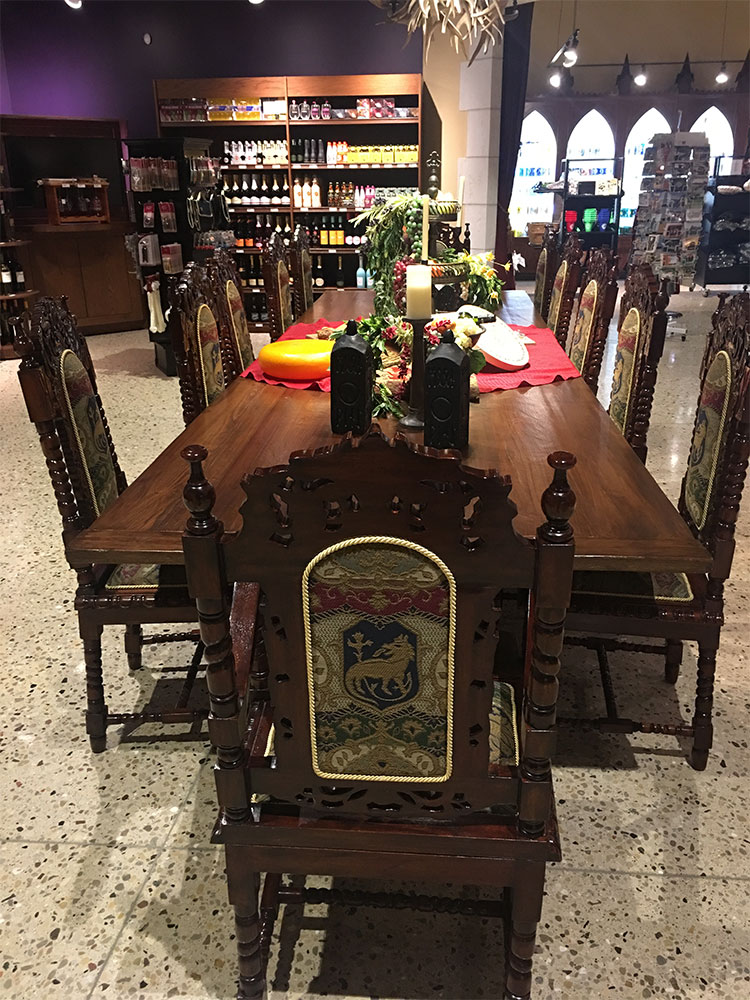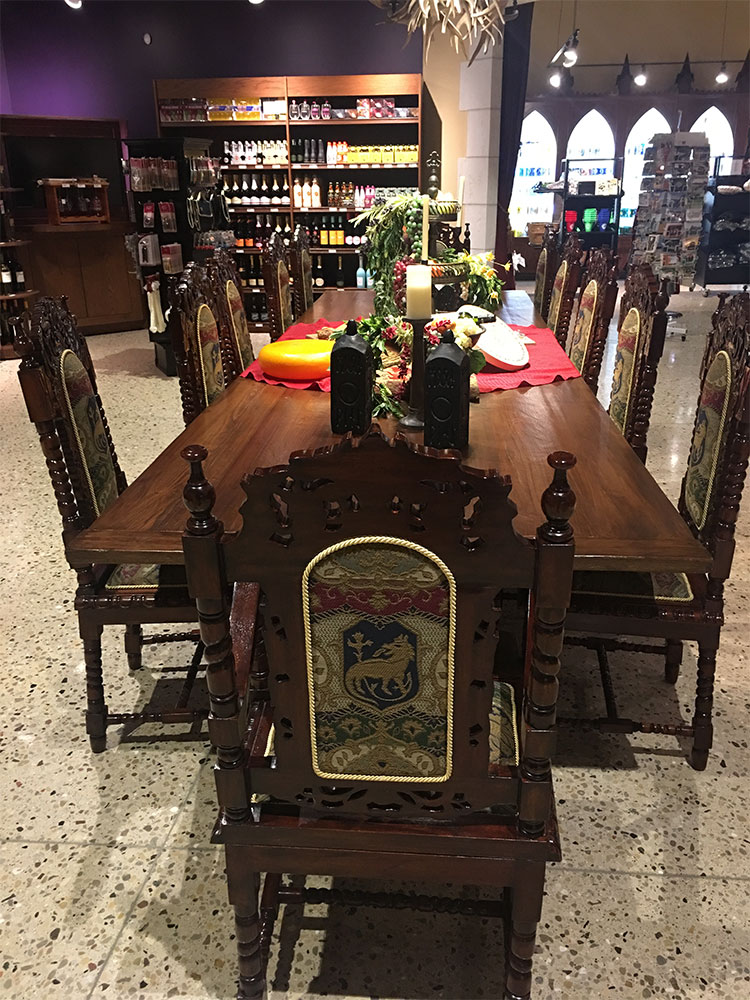 At 6:30 p.m., staff ushered us over to the actual dining area, underneath the pergola at the backend of the building. Normally, hungry customers that make it this far order from the menu at the service counter a few feet away, but this night the menu was prepped well in advance and we found our seats with the help of the general manager. Each table was set with squat candles, crimson rose-shaped folded napkins, and a dusting of actual flower petals. Little paper hearts dotted the space on the walls in between stained glass windows and iron wall lights. My husband described the atmosphere as gothic architecture and decor, subsumed by an industrial background, next to a mammoth Flemish-style crowd mural painted above a beer cooler. Nick just said it was like eating dinner at the supermarket.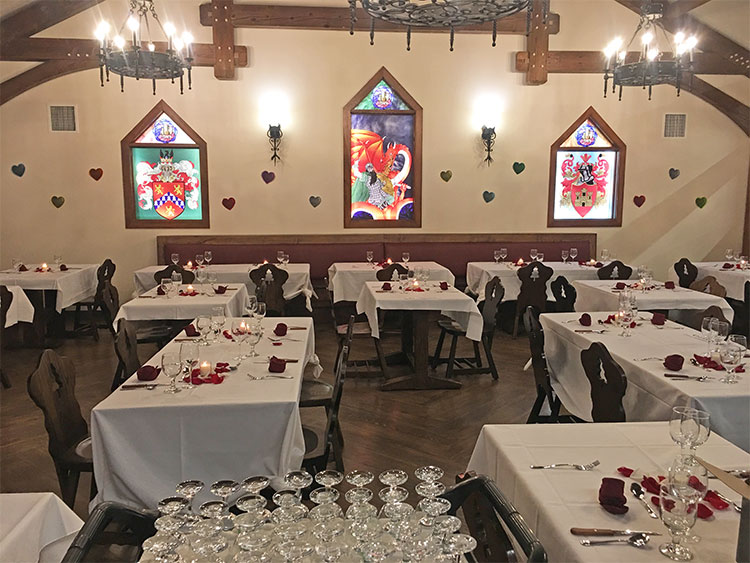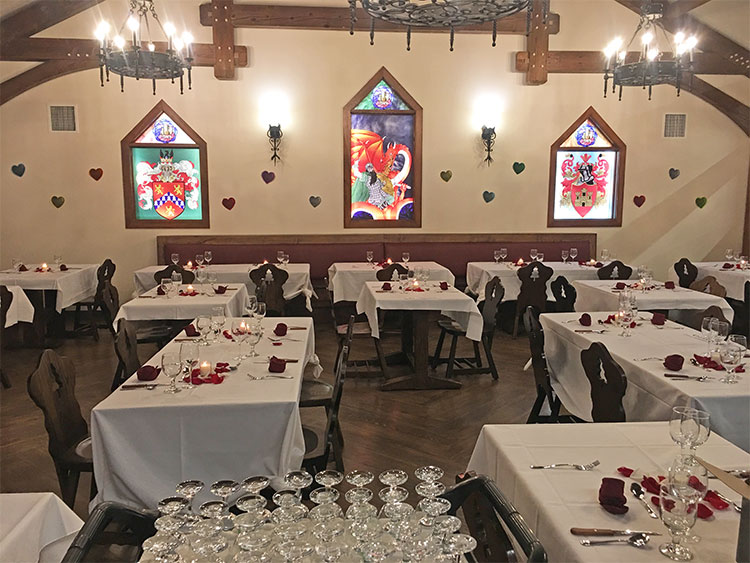 Our server, a pleasant middle-aged lady named Fran, told us it was the third fancy dining event at the restaurant since the renovation, following meals on Christmas and New Year's Eve. As strange as the Valentine's Day Cheese Castle concept is, it's easy to picture the other holidays working. Modern Christmas celebrations pretty much center around consumption and gut-busting food, and the Cheese Castle offers both in spades. And a boozy New Year's party with plenty of hors'oeuvres sounds like a blast.
We ordered drinks. Due to a not-yet realized mix-up, Fran let each of us select our own bottle of wine. Due to intentional planning on my part, I drank from both bottles while my teetotaling husband stuck to the complementary all-you-can-drink soda. Callie and Nick opted to split a growler of Riverwest Stein.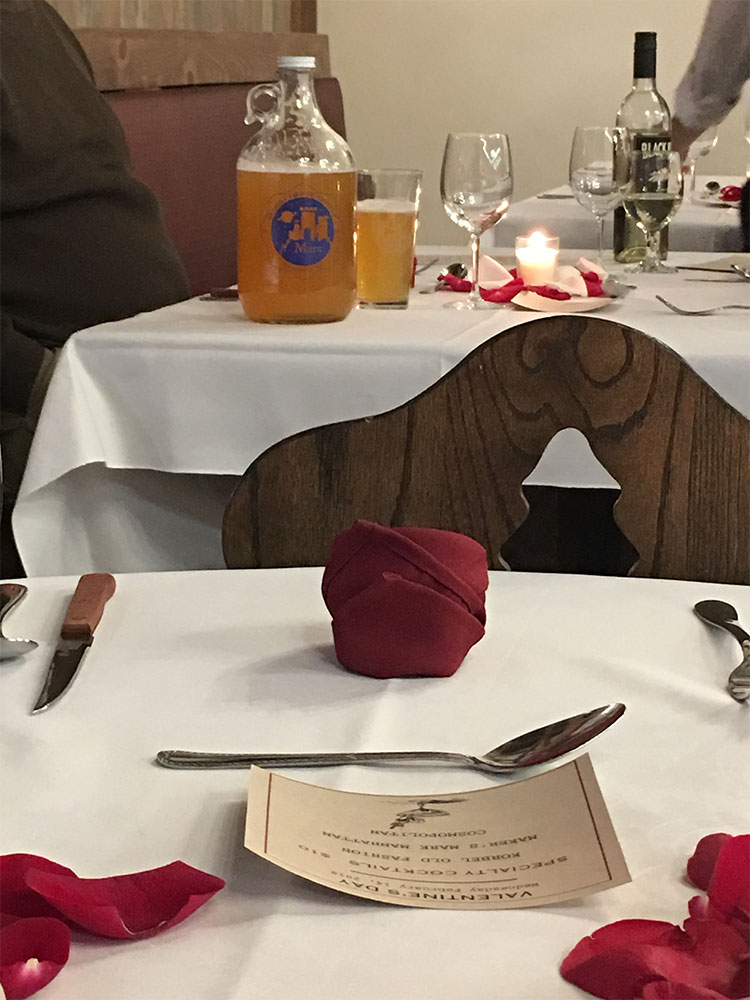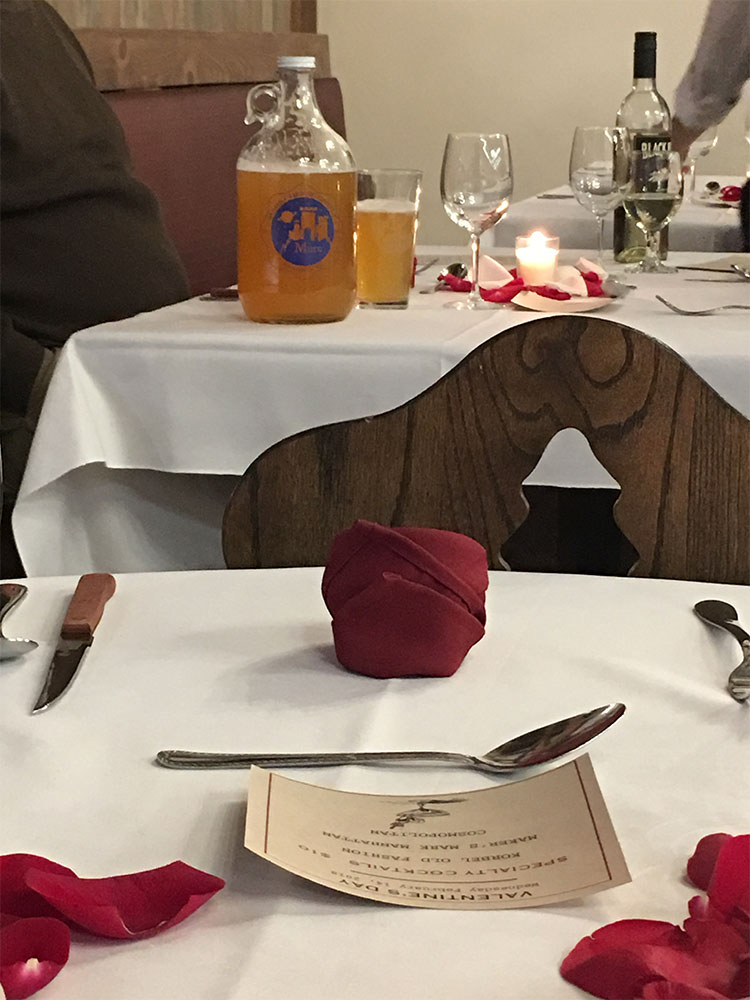 Soon, Fran arrived with the charcuterie board, and the meal began. There were no notes as to what cheeses were included, but each selection tasted fine, along with cured meat, candied almonds, olives, and bread dipped into Solo cups holding olive oil, and served on a plastic plate masked as formal china. Sadly, there was nothing gooey. Valentine's is a sexy holiday, and I wanted my cheese plate to drip.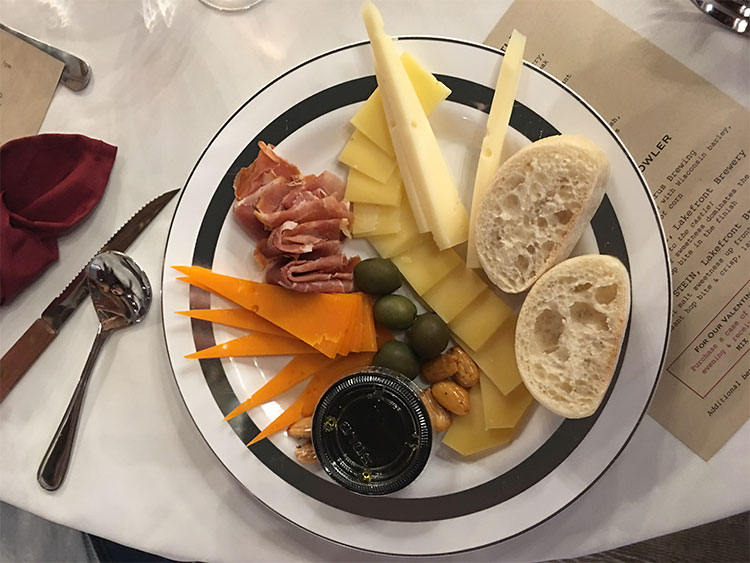 The first course was a spinach salad with carrots, pickled radishes, red onion, bacon bits, and a warm bacon vinaigrette, but strangle, no cheese. Munching on the leafy greens at that moment felt vaguely like eating lunch at the Whole Foods counter.
The flavor factor amped up considerably upon the arrival of the second course, which consisted of a French onion soup poured over a piece of bread and topped generously with gruyere and fontina. Good stuff. The kitchen ran out of food in the middle of serving our table, so I sat there for a while looking hungry as everyone else at the table ate. There was a sense that the entire restaurant staff was straining to level-up for this formal dining experience, accustomed as they were to casually spilling burgers and fries into plastic baskets and calling it a day. My husband made use of the gap by handing me a Valentine's card with the note, "Thank you for curating our beautiful life." This struck me as sarcasm, frankly.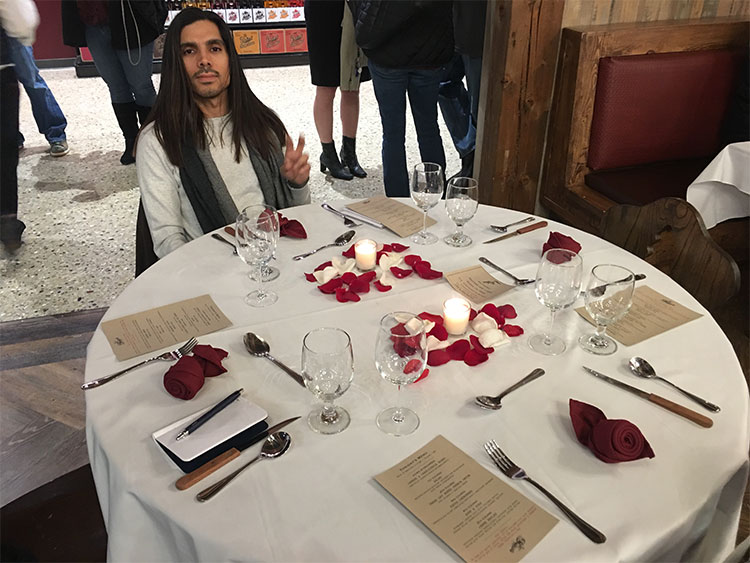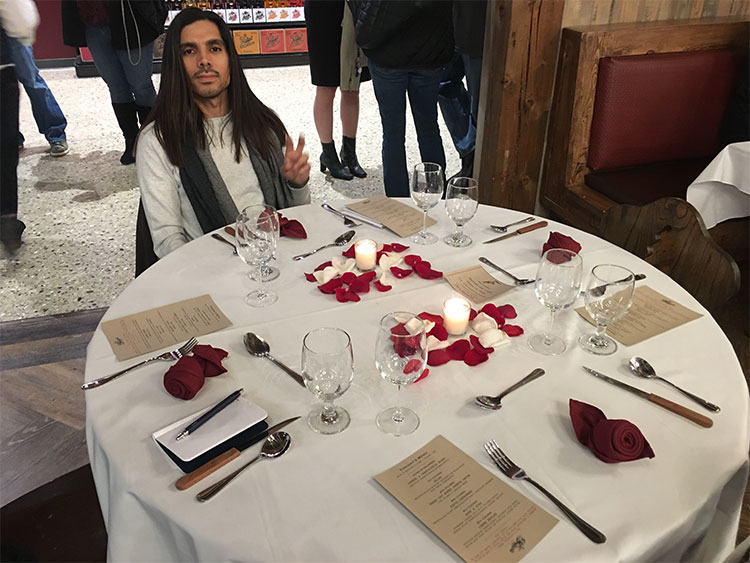 Next, Fran brought us some pasta carbonara. The noodles were thick and tasted like they were made in house, which was nice. By now, double fisting bottles of white and red was starting to affect my senses, and the whole event suddenly seemed more legit. It was the same experience I had had many times at "real" restaurants, if you could look past the grocery displays and focus on something like a stained glass window depicting a Viking locked in battle with a dragon. I had time to consider all this because it was taking a while to bring out the next dish. We were at the Cheese Castle, not White Castle, so we had to wait. I realized for the first time, there was no music playing. The whole crowd seemed to be lulled into a state of drowsy drunkenness that was pierced only by a scream emanating from the kitchen.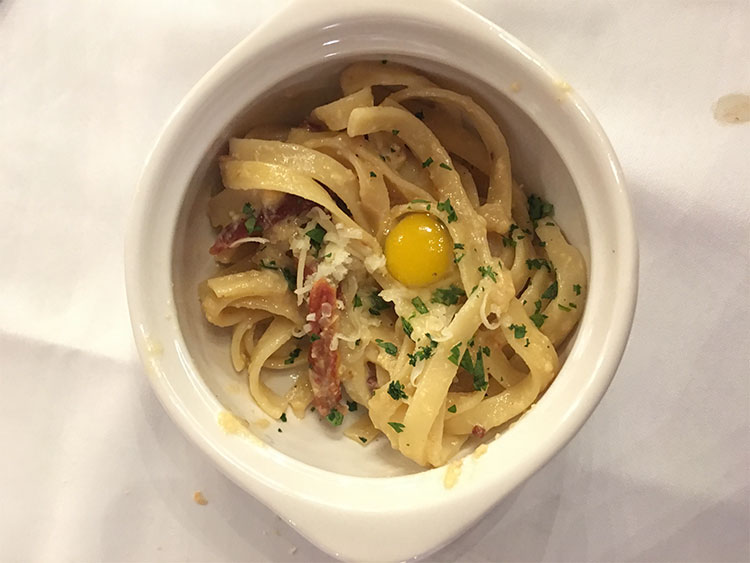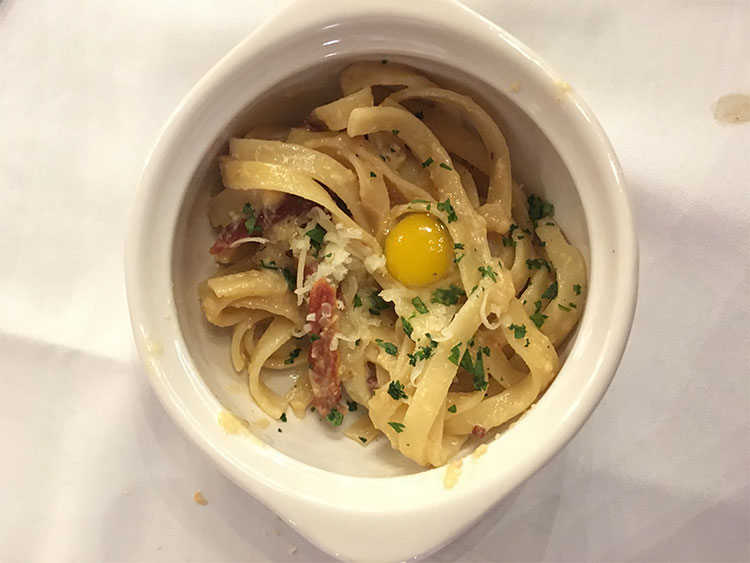 Whatever the yelling was about, it worked. The fourth course was the showstopper: champagne lobster tail with tarragon butter plated next to two cuts of chateau brion tenderloin and some roasted brussels sprouts. Having nibbled and sipped everything so far, it was refreshing to sink my teeth into something substantial.
Dinner was capped with a generously big oval pan of créme brulée, accompanied by a chocolate chip scone and a small flute of ice wine. Callie and my husband threw in the towel mid-course, so I happily finished their portions.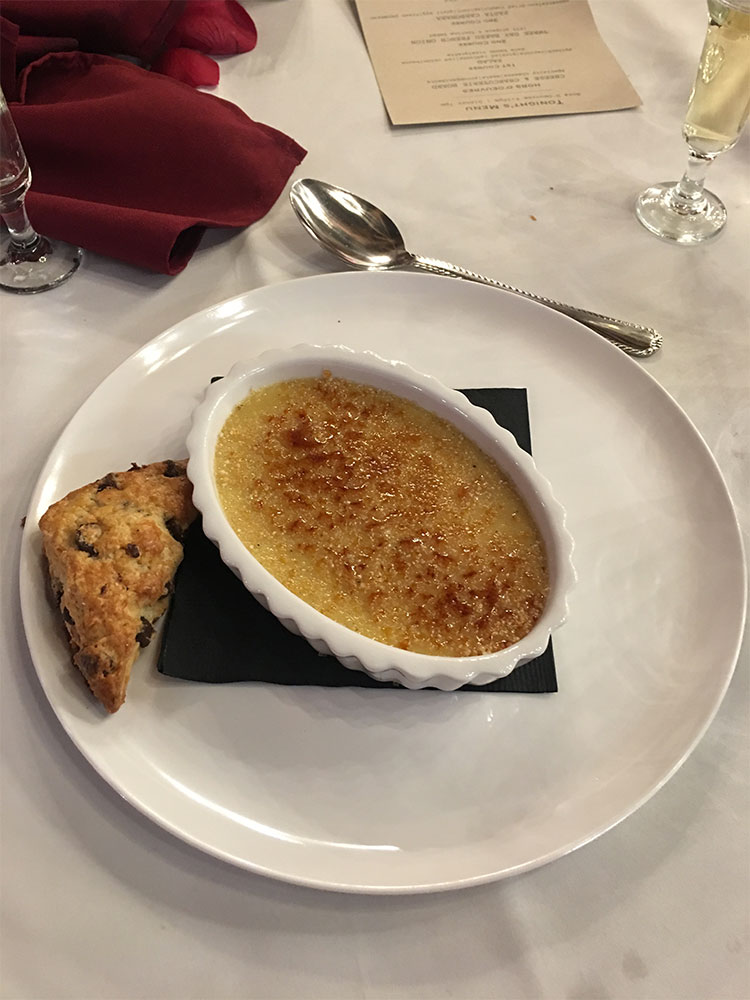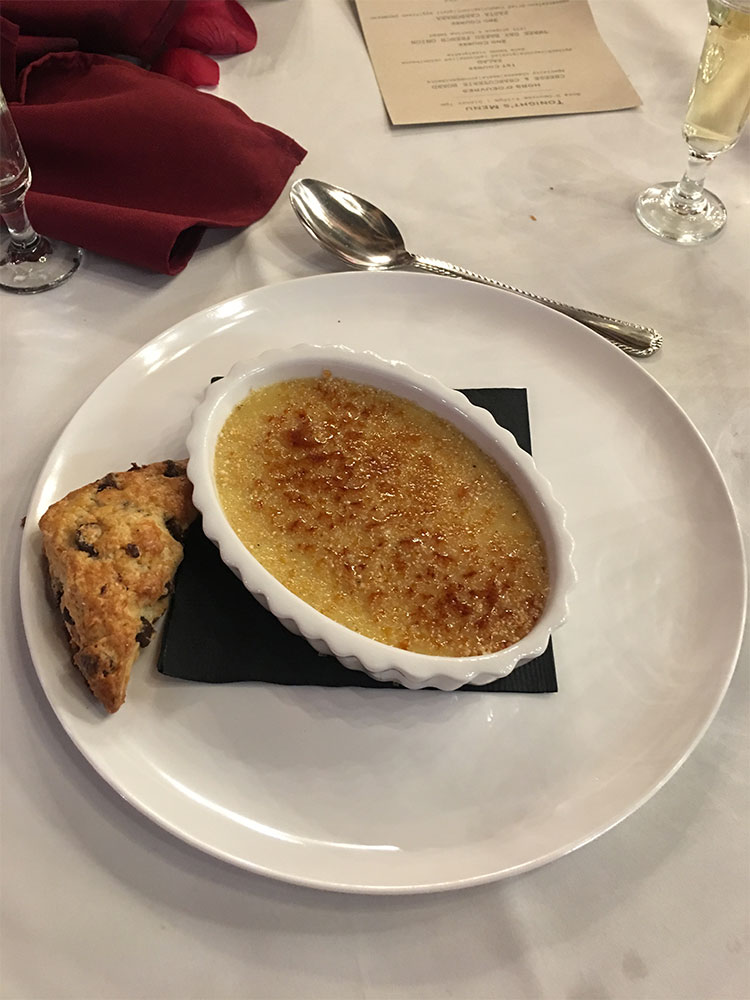 As we got ready to leave, we tried to tip Fran, but she said that gratuity was included and we weren't supposed to give her any cash. We left her $20 anyway, and hoped she pocketed it instead of donating it to charity like she threatened. Then we hugged each other by the shelves of crackers and went our separate ways, four cheeseballs charmed by a night of love and love handles.