At about 9 a.m. on Wednesday, May 16, 2018, IKEA opened a new store in Oak Creek, Wisconsin—the company's 48th store in the United States. We had been led to believe that, regardless of weather, the grand opening of an IKEA store would be quite the sight to behold. So, we woke up extra early, grabbed a pair of IKEA-appropriate yellow sunglasses and ventured down to the O.C. to get in touch with our Swedish side. Here is our minute-by-minute report.
5:01 a.m. – Approaching IKEA from the west on Drexel Avenue, we start to wonder what kind of crowd will be gathering at this early hour. Maybe 30-40 people? Maybe we'll all exchange names and become a small, tight-knit group of new best friends. Maybe we'll even be first in line! Nope.
5:05 a.m. – There are lengthy lines of cars on Drexel Avenue, 20th Street and the I-94 southbound off-ramp, all branching out like a spider plant from the IKEA lot. It's difficult to say how many cars are waiting, but we can say with absolute certainty that 94 percent of them are Kia Souls. We start to see cars filing into the lot and the Kia Soul directly in front of us shifts into drive. Here we go!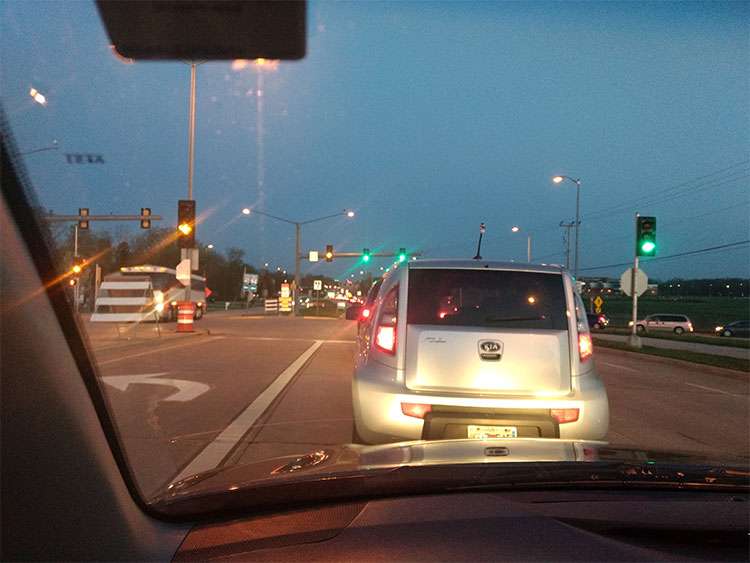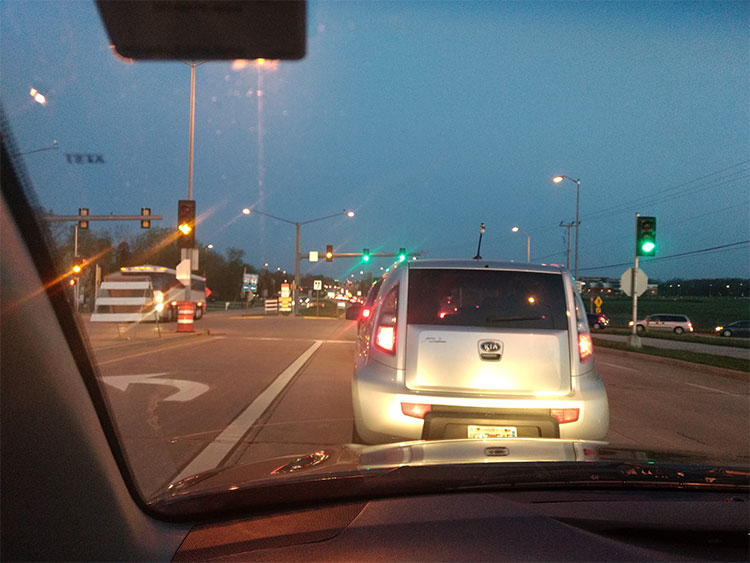 5:16 a.m. – We pull in and park in a spot very close to the entrance. Walking towards the building, we notice that there are tons of empty spots right up front with some kind of leaf/car logo on them. Those are for hybrids and other eco-friendly vehicles, it turns out. We park our hybrid 15 spaces away like suckers. Hope you're happy, environment.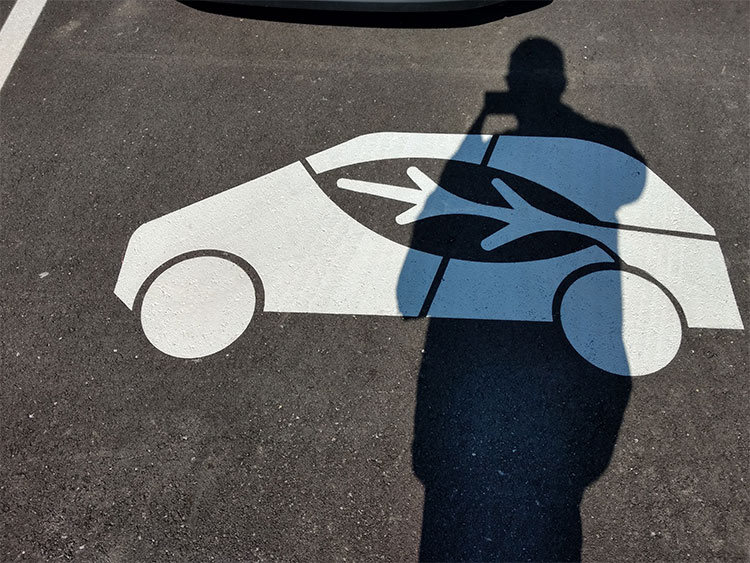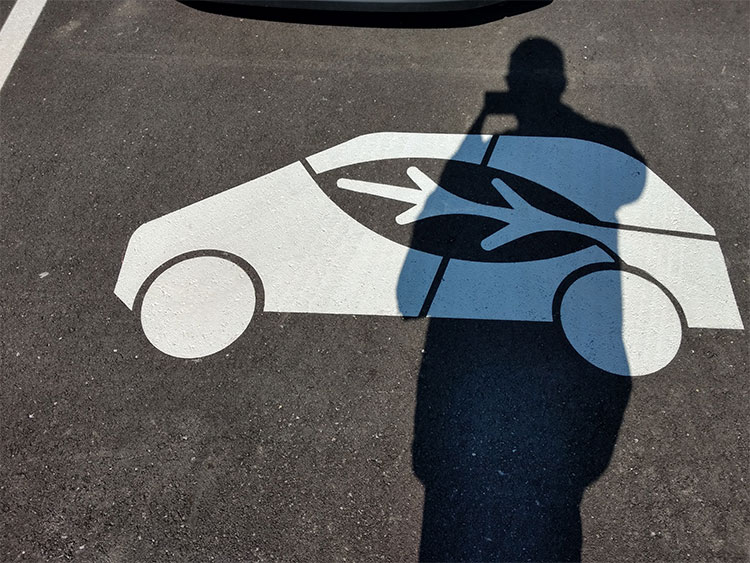 5:24 a.m. – There's a labyrinth of retractable belt barriers to the west of the main entrance. We get in line. We estimate we're around 500th in line, give or take. There are people of all ages and races waiting and talking about how much they love IKEA. We see lots of folding chairs, laptops, books and McDonald's breakfasts. There's also a big stage set up in the parking lot, just outside the entrance.
5:30 a.m. – A guy near us in line starts telling everyone around him all about Schaumburg, Illinois—home of the until-now-closest IKEA store. It's chilly out, and we're glad we brought extra layers. A band is setting up on the stage.
5:33 a.m. – An announcement goes out over a P.A. that there are outside-accessible restrooms available on the east side of the entrance. Everyone jokes: "Well, I guess I could've had my morning coffee after all!"
5:36 a.m. – A FOX6 remote team shows up and everyone starts cheering. Nobody cheered when we showed up, but whatever.
5:40 a.m. – Our neighbors in line mention that the first 1,000 people get a special gift and are also entered to win some big prizes. Fingers crossed that it's dinner with Stellan Skarsgard.
5:43 a.m. – Some newly placed signage indicates that it's The Toys setting up on stage. We explain to our Madison-based line neighbor who they are and what they play. She's excited. Also, she's buying a bookshelf for her office and she estimates that we're more like 400th in line.
5:55 a.m. – We notice a small group of folks handing out wristbands to people in line. A line neighbor with a Vietnam Veteran cap fields questions about his jacket-wearing dachshund while TMJ4's Chopper 4 flies overhead.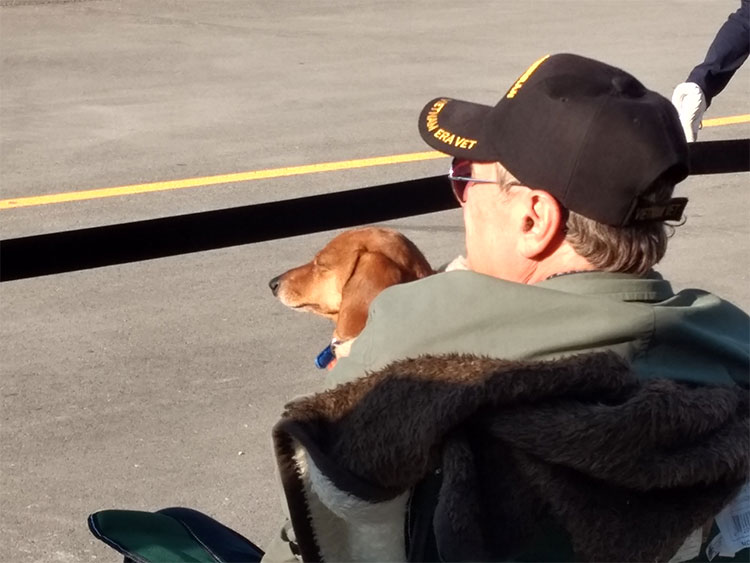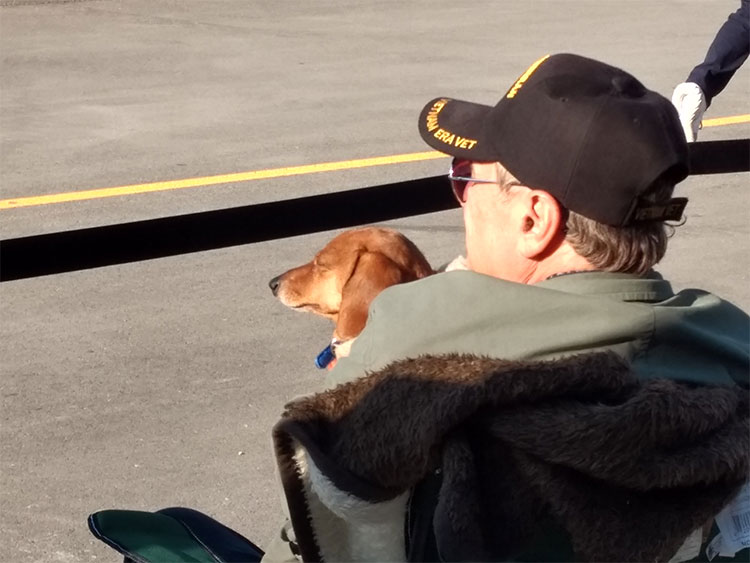 6 a.m. – We and our neighbors discuss the nice spacing of the line barriers. They're efficiently spaced, yet they offer enough room that you don't feel too squished. A couple drones fly over. The Toys do microphone checks and a nearby couple busts out a cribbage board. Is it open yet?
6:08 a.m. – We get wristband #0343. Our line neighbor's estimate of 400th in line was pretty close! The sun is coming up but it feels like it's getting colder.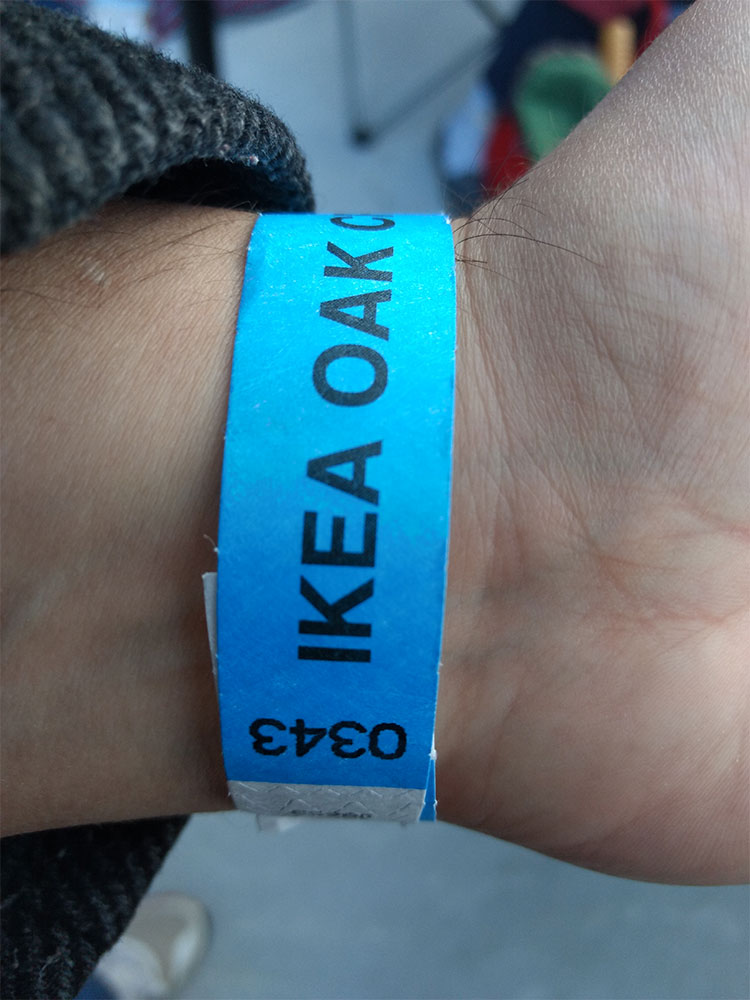 6:11 a.m. – A lady in an IKEA dress shirt walks along the barriers, greeting everyone she passes like she's the mayor or something. Wait, maybe she is the mayor. "Thanks for your service," she says to the man with the dachshund.
6:13 a.m. – The Toys play part of Pat Benatar's "Hit Me With Your Best Shot" for their sound check. Prerecorded music follows, which results in mild-to-moderate dancing for the next 45 minutes.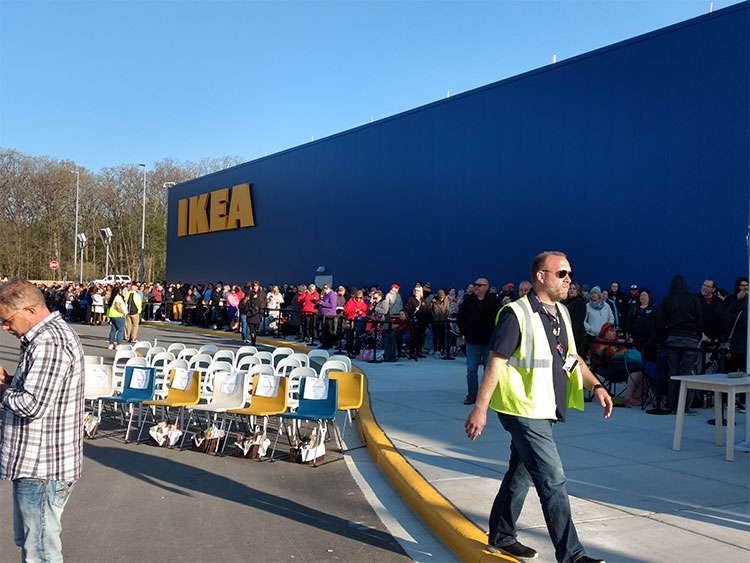 6:23 a.m. – Everyone in line has run out of stuff to talk about, so we all start showing each other pictures of babies we know. Half the crowd sits on the ground. More people in IKEA dress shirts show up. TMJ4's Shaun Gallagher casually twirls his microphone like a cool drummer would as Naughty By Nature's "O.P.P." plays over the speakers. We've been here about 90 minutes and we realize that there are still twice as many people in front of us in line as there are behind us in line. Maybe getting here early gives us better odds of winning the raffle prizes, like being a bad team in the NBA Draft Lottery? (Is this foreshadowing?!)
6:33 a.m. – The beat from Usher's "Yeah!" has been playing for what seems like three hours. Representatives in orange shirts and aprons are moving about the crowd with tablets, offering membership in the IKEA Family rewards program. Being single, is this like an On-Cor lasagna situation where Al will have to provide us with a family to take full advantage?
6:40 a.m. – We signed up for IKEA Family because what else are we going to do? They tell us there's a chance to win a $250 gift card. Plus, we'll get free coffee inside with our Family card. We don't like coffee, but hey, free's free. We also get a free jar opener.
6:45 a.m. – We're tired and cranky, but then "Rock With You" and "Billie Jean" by Michael Jackson and De La Soul's "Me, Myself & I" come on and we're happy again because we're not monsters.
6:50 a.m. – A photographer takes our picture twice, from two different angles. Is it the yellow sunglasses?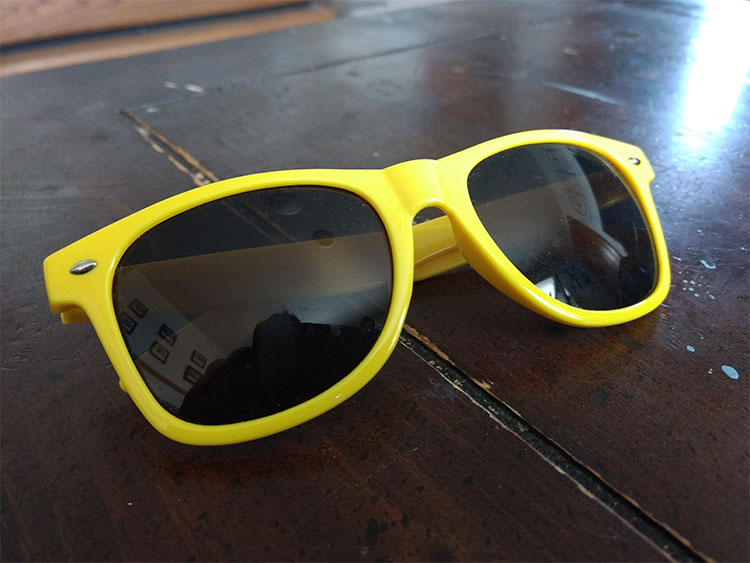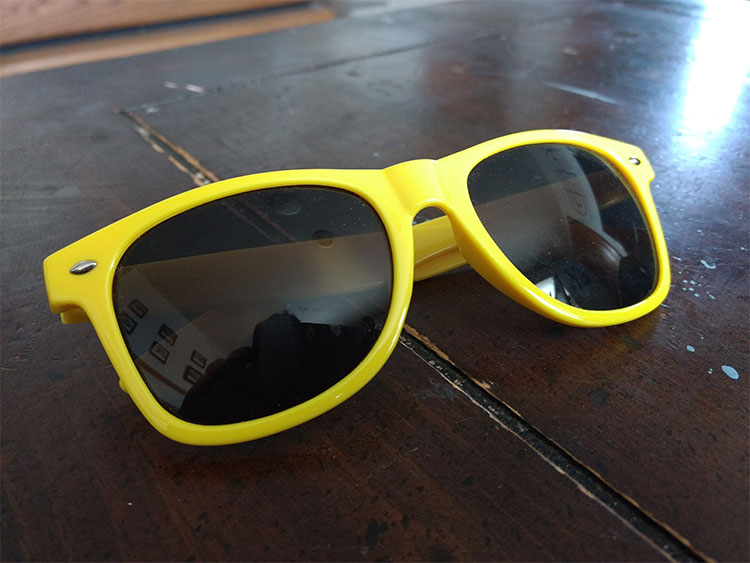 7 a.m. – We're making our next Words With Friends play against Midwest Death Rattle's John Dykstra (TOOK + NETT for 21 points) when The Toys begin their set. Speaking of, and fast-forwarding a bit, here is their complete setlist:
You Give Love A Bad Name – Bon Jovi
Born This Way – Lady Gaga
Shut Up and Dance With Me – Walk The Moon
Somebody Like You – Keith Urban
A Little Respect – Erasure
Hit Me With Your Best Shot – Pat Benatar
Always Something There To Remind Me – Naked Eyes
Too Much Time On My Hands – Styx
I Want You Back – The Jackson 5
Feel It Still – Portugal. The Man
Cake By The Ocean – DNCE
Summer of '69 – Bryan Adams
Shake It Off – Taylor Swift
Footloose – Kenny Loggins
So What – Pink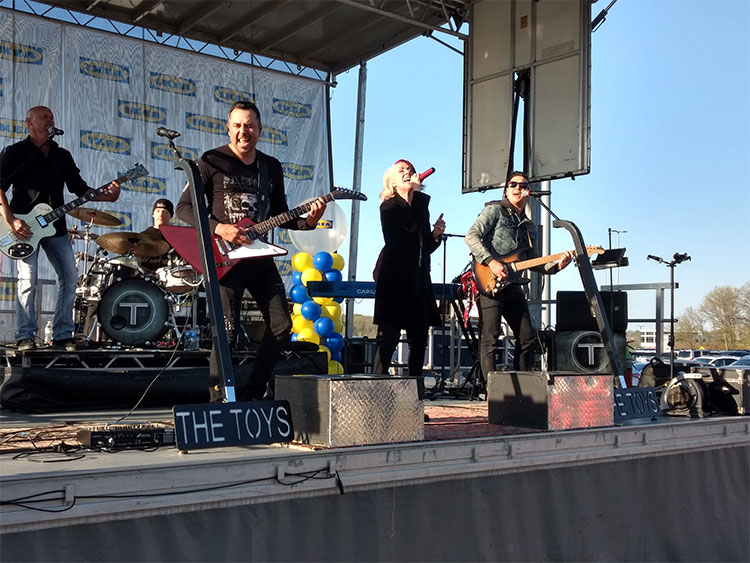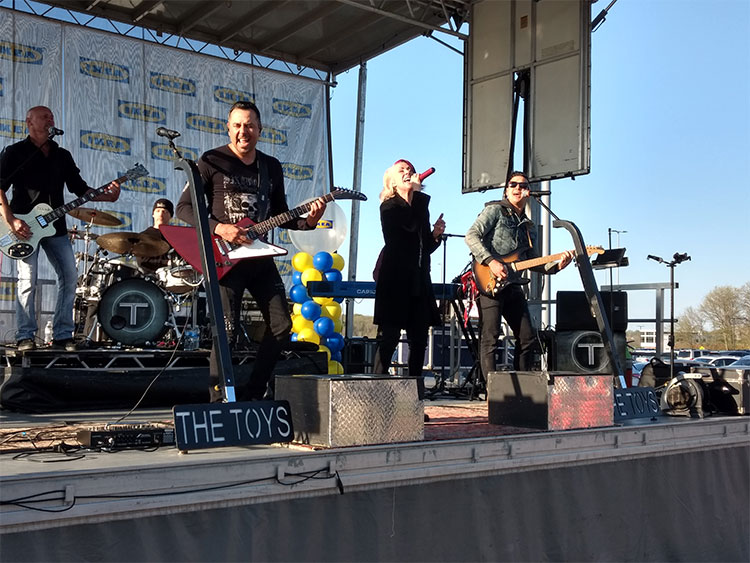 7:15 a.m. – Bernie Brewer and his army of Johnsonville Racing Sausages arrive to thunderous applause. Moments later, pleasant conversation is interrupted when one of the barrier belts snaps back to its base and scares the pants off everyone in our vicinity.
7:25 a.m. – Bernie makes his way through the crowd, taking pictures with absolutely everyone who asks. We ask a line neighbor if she'd mind snapping a photo of us with Bernie when he comes around. She says yes. Bernie walks away. Totally Bern'd.
7:35 a.m. – The actual mayor of Oak Creek, Mayor Dan Bukiewicz, walks down the line, giving out handshakes and thanks-for-comings. The lady in the IKEA shirt from before must just be the mayor of IKEA.
7:42 a.m. – Buffalo Gospel's Ryan Necci sends us a photo. Hysterical laughter. Barrier strap snaps again. We're losing our minds.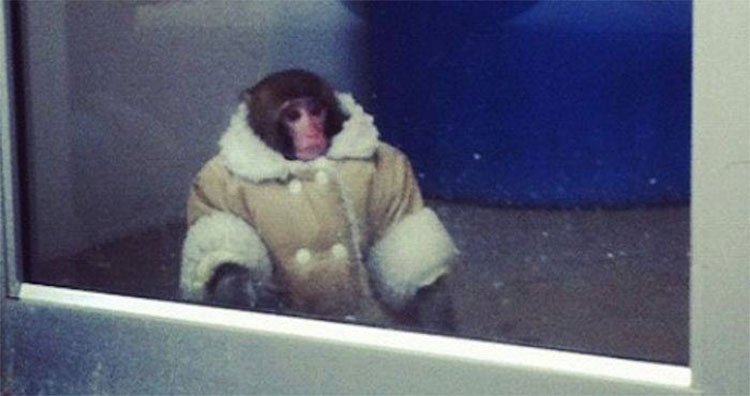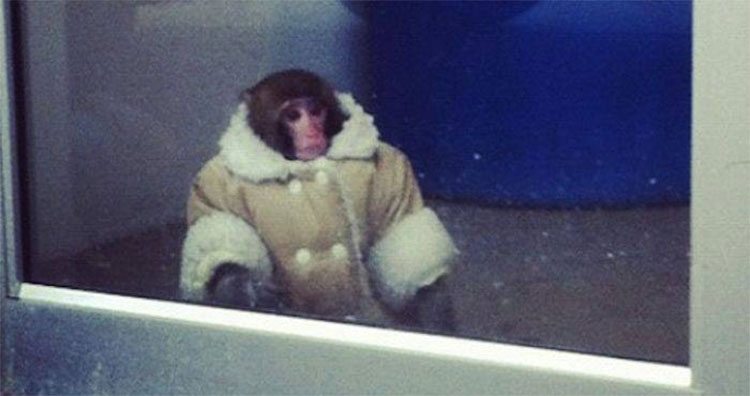 7:50 a.m. – The IKEA crew starts moving line barriers around to accommodate the growing crowd. It's really getting nice out now, too.
8 a.m. – The Toys wrap up their set. We happen to catch a glimpse of a page in a book that another line neighbor is reading. It's just a big image of the Howard The Duck movie poster.
8:08 a.m. – A representative for The Toys walks down the line and throws shirts into the crowd. We catch an XL ladies tank top with "The Toys" across the chest. New friend, Terry, is happy to take it off our hands in exchange for letting us photograph her for this article.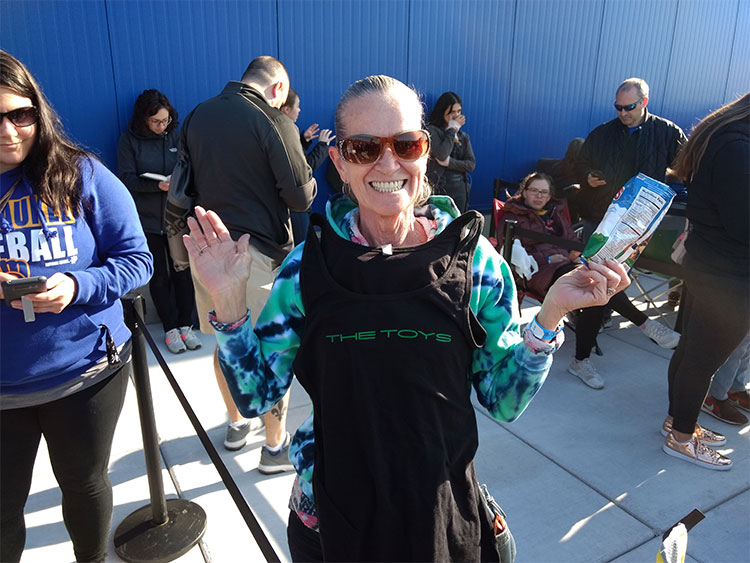 8:20 a.m. – IKEA employees armed with thundersticks parade past the crowd and towards the entrance. The festivities are officially beginning. Oak Creek IKEA Manager Samantha Gravina greets the crowd from a podium on the stage. A choir sings "The Star-Spangled Banner" as the United States flag is raised, followed by the Swedish flag with the Swedish national anthem and the Wisconsin flag with "America, The Beautiful."
8:33 a.m. – Monika Enqvist from the Swedish Embassy in Washington tells the crowd that Sweden invented the monkey wrench and has a feminist government, among other things. (Crowd goes "Woo!"). Mayor Dan Bukiewicz from the Mayor of Oak Creek's Office in Oak Creek talks about how rad the people of Oak Creek are and states that gender equality is very important. (Crowd goes "Woo!" again).
8:43 a.m. – IKEA USA Senior VP Anton van Dongen states how happy he is to be in the land of Harley-Davidson, Happy Days, Laverne & Shirley, breweries, and cheese. He also reminds the crowd that they'll no longer have to drive to Illinois to go to IKEA. (Crowd goes "Woo!" extra hard. For the record, we don't endorse anti-Illinois cheers.)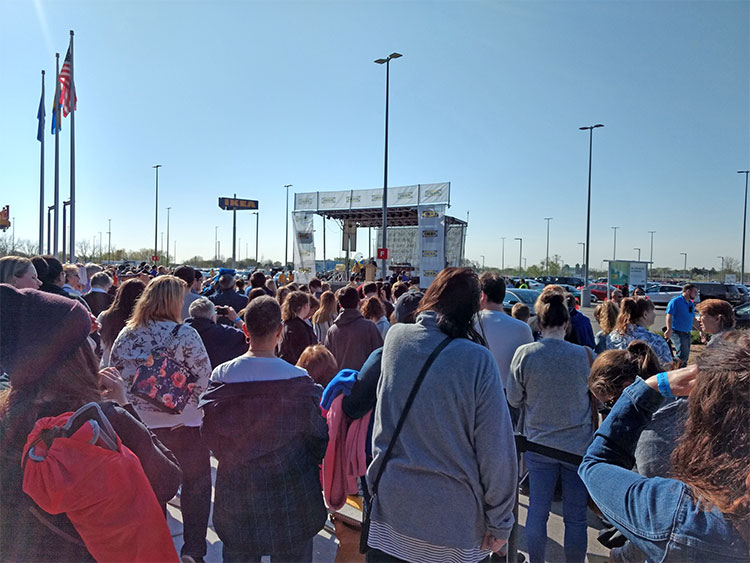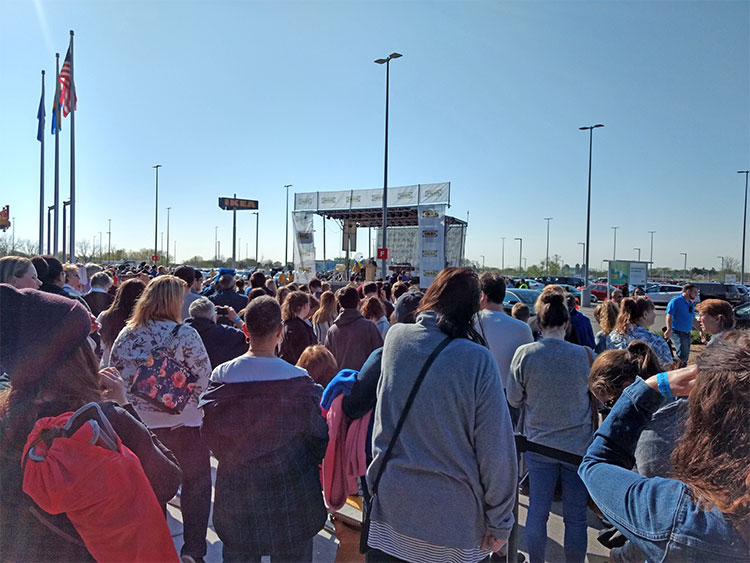 8:46 a.m. – Time for the big giveaways! There are gift cards of $500, $1,500, and $2,000 on the raffle agenda, so everyone is excited. Surely, the powers-that-be will reward those of us who showed up so, SO early by giving us one of these tasty prizes, right?
First number: 0800. For those playing at home, that's the number of the wristband given to the 800th person to get in line. "When did that person show up, like ten minutes ago?" we joke to our fellow $500 gift card losers. Whatever. Surely the next two will go to us early-arrivers.
Second number: 0938. That's the 938th person to get in line. Realistically, that person did show up like ten minutes ago. 936 people are bummed to hear the number and about 400 of them are borderline angry. $1,500 goes a long way at IKEA. Only one prize left.
Final number: 0919. Unbelievable. We sorta hope the winner is from Illinois to make up for before.
8:50 a.m. – IKEA dignitaries saw a log up on stage instead of cutting a ribbon, as that's apparently a thing.
8:53 a.m. – There's a big countdown from 10, followed by confetti cannons firing and the ceremonial blasting of "Let's Go Crazy" by Prince. The line starts to move! Weaving through the barriers while listening to Prince reminds us a little of the line up to Batman: The Ride at Great America.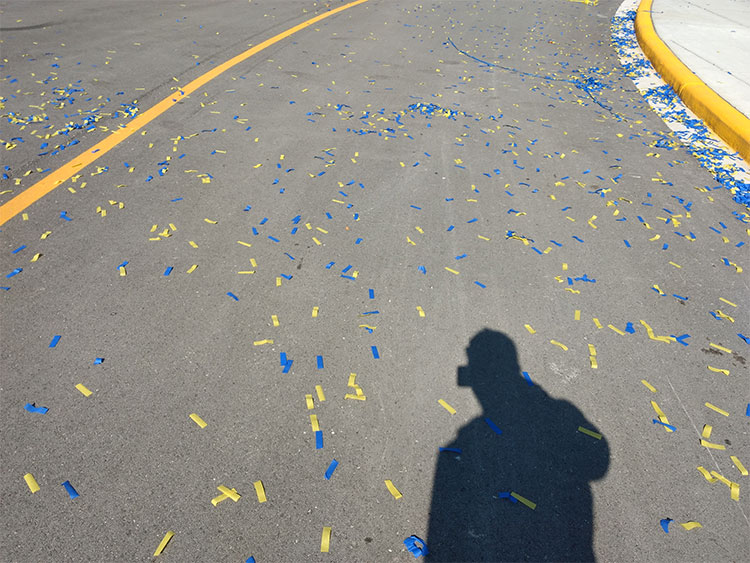 9 a.m. – Walking inside, the entryway is full of employees who are cheering and handing out gift bags to wristbanded customers entering the beautiful new store.
A customer pulls us aside to ask why we were taking such thorough notes all morning. She and her friends were theorizing about the James Bond-type work the guy in yellow sunglasses with a tiny notebook was obviously doing. "Just writing an article for Milwaukee Record," we tell her before walking away in slow motion towards those cinnamon rolls IKEA has.