Milwaukeeans work hard and bowl harder. Follow this monthly series to learn more about your favorite bowling houses and some new ones you'll want to visit.
If you're looking for Milwaukee, Wisconsin, you will find it at 2042 W. Lincoln Ave. Holler House (MCTS Route 53) was founded in 1908 by "Iron Mike" Skowronski, and it's the home of America's two oldest sanctioned bowling alley lanes. Mike's daughter-in-law, Marcy, still owns the joint and she knows a million dirty jokes. Visitors to this legendary house of bowling include Jack White, Larry the Cable Guy, Joe Walsh, Traci Lords, and now, Milwaukee Record.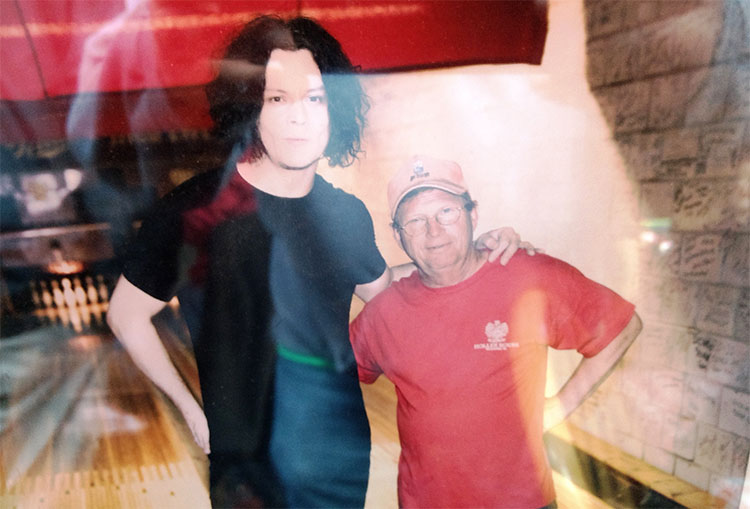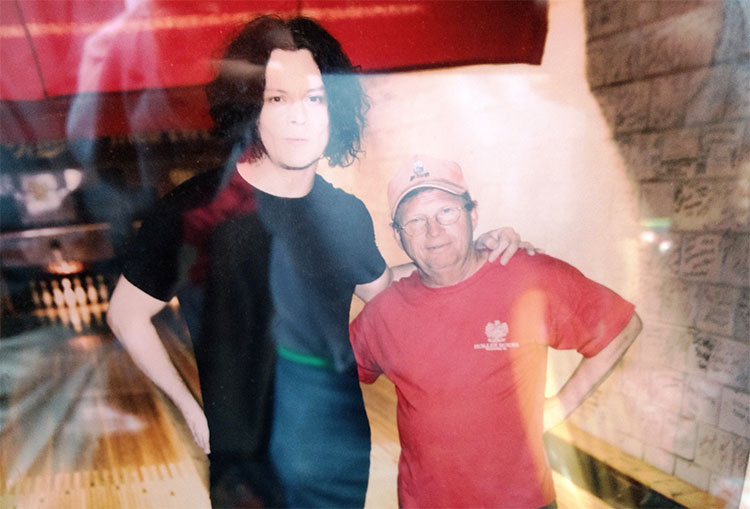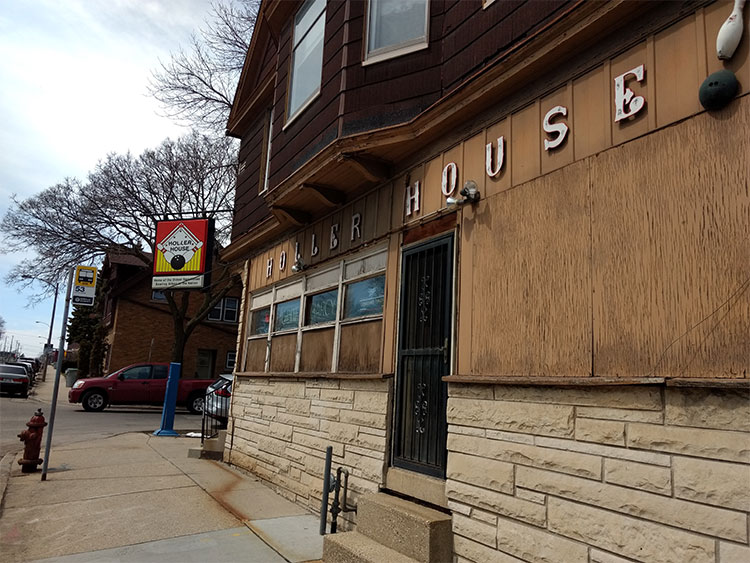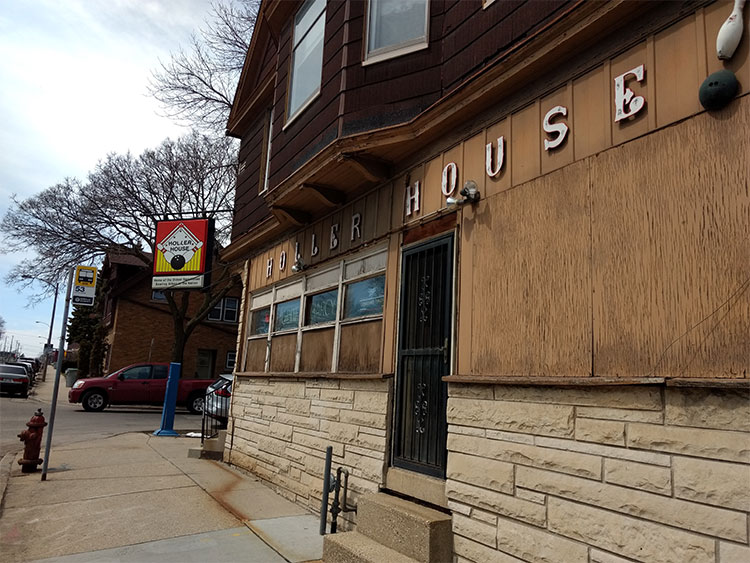 Milwaukee Record collaborator and buddy Andy Tyra is a league bowler at Holler House, and he was able to get us onto his team for a session this past Sunday. He warned us about two things before we walked in: one, be ready to eat, as there's always a huge spread set out for Sunday league bowlers and their families; two, the scent of Holler House will get into your clothes, in a good way. When you smell it on yourself hours after you leave the place, you'll immediately wish you were back.
We walked into the first floor bar at Holler House around 2 p.m. and received a warm reception from all 25-ish people filling the cozy space. There were two TVs above the bar, with the Brewers game on one and the Bucks game on the other. Four generations of Milwaukeeans in the room nearly spilled their chicken and scalloped potatoes after Giannis' Game 4-winning tip-in. And, bras. There are hundreds of signed bras hanging all around the bar, left lovingly by past visitors.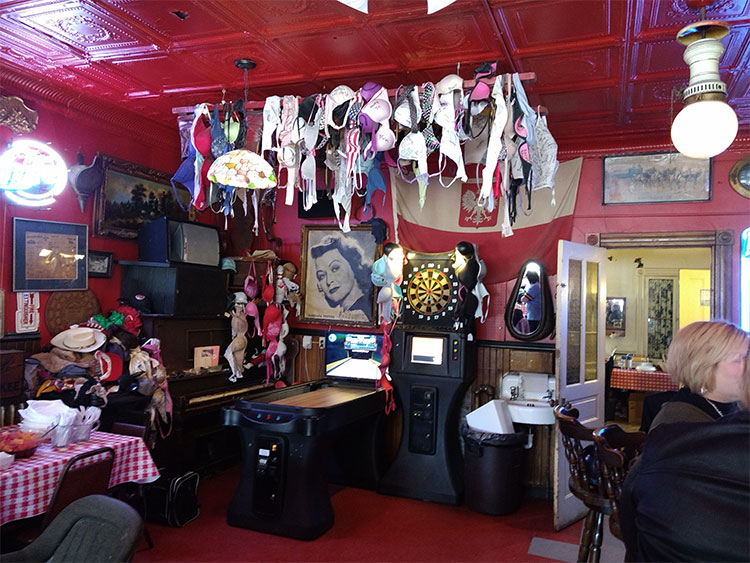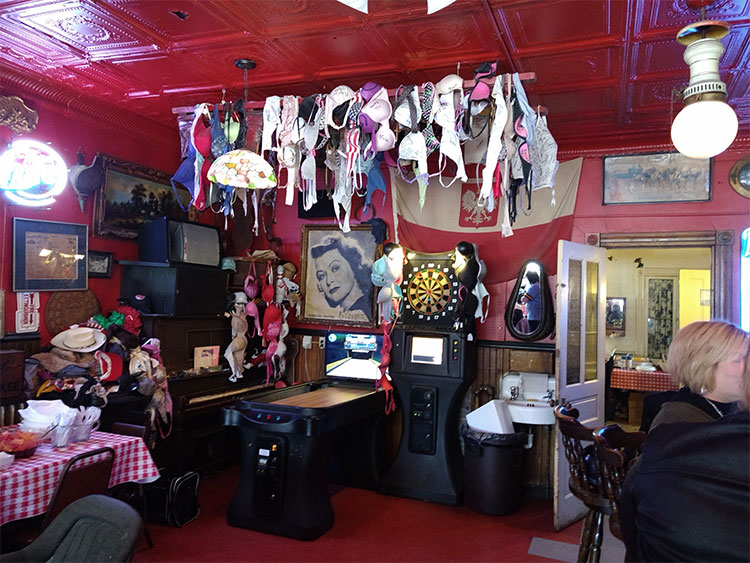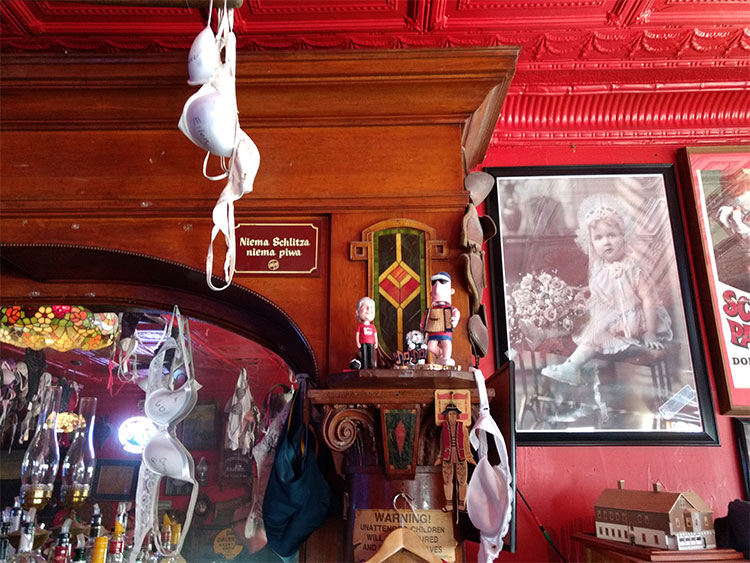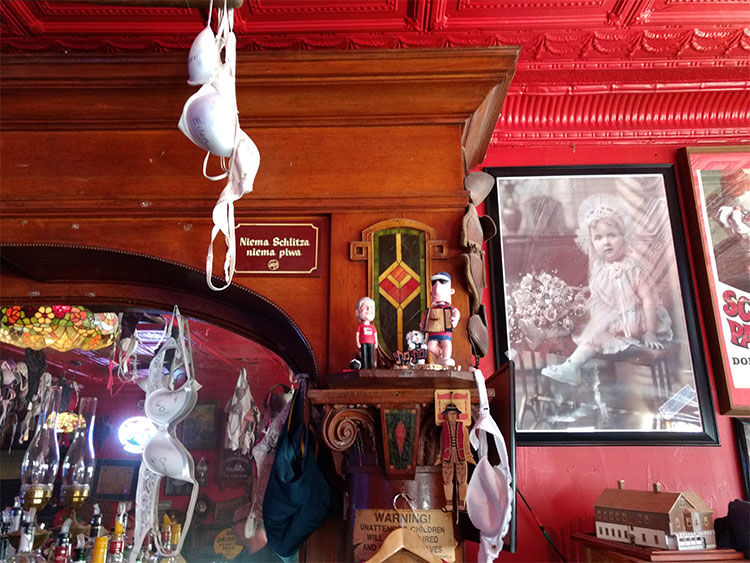 We bellied up to the bar and ordered pre-game Miller High Life in bottles from Marcy's son-in-law and bartender, Todd (pictured above with Jack White). Holler House offers fancier stuff, like Lakefront products, Stella Artois, and Schlitz—all in bottles. Not today, thank you. Today was for High Life.
The lower level, home of America's two oldest sanctioned bowling alley lanes, is the perfect combination of bowling alley and your southeast Wisconsin grandmother's basement. There are old trophies and signage, a rack of 16 old bowling balls, and a few mismatched chairs. There's one bathroom downstairs, but it's even with the foul line, so you have to coordinate your rest stops with the flow of the game.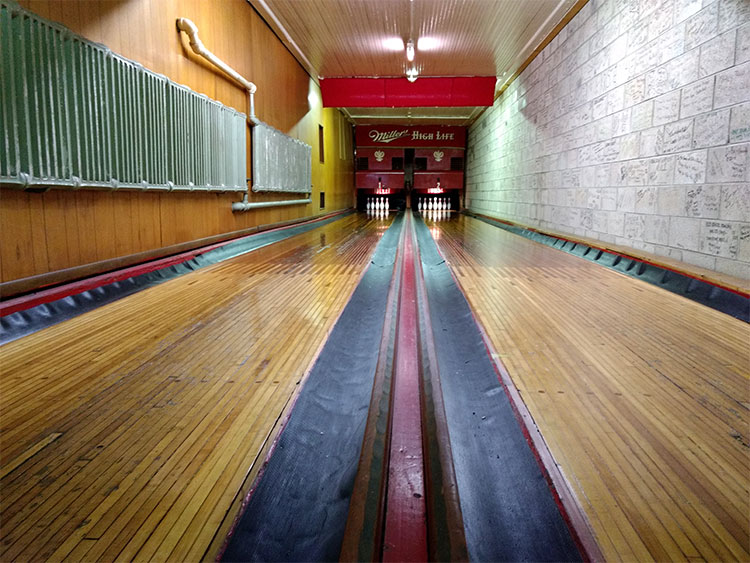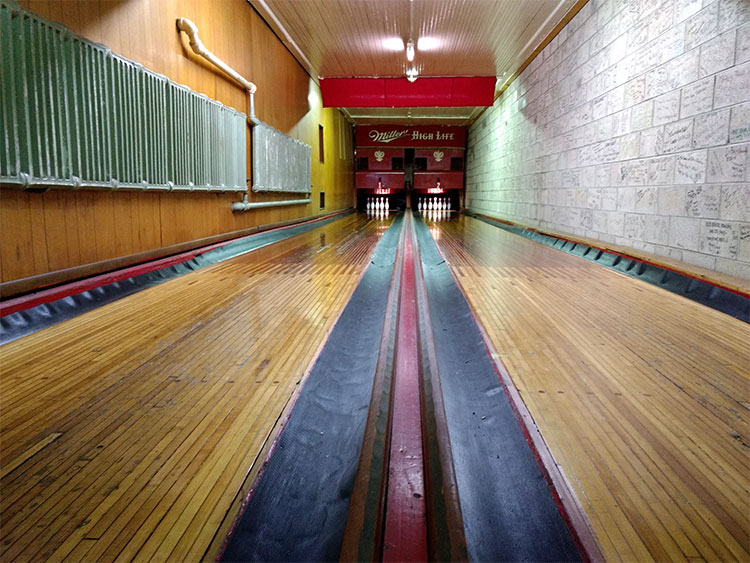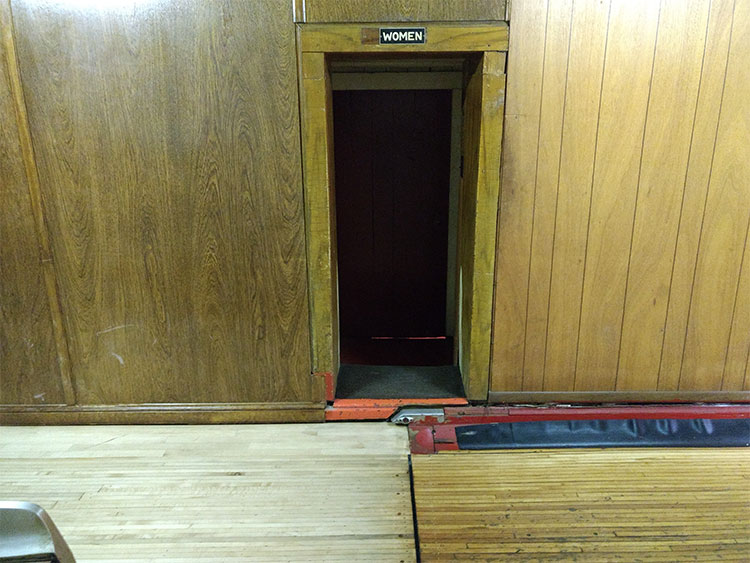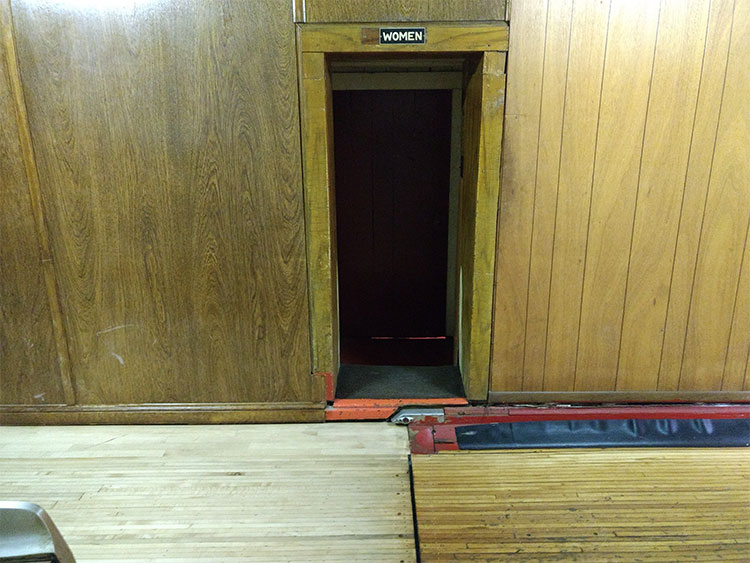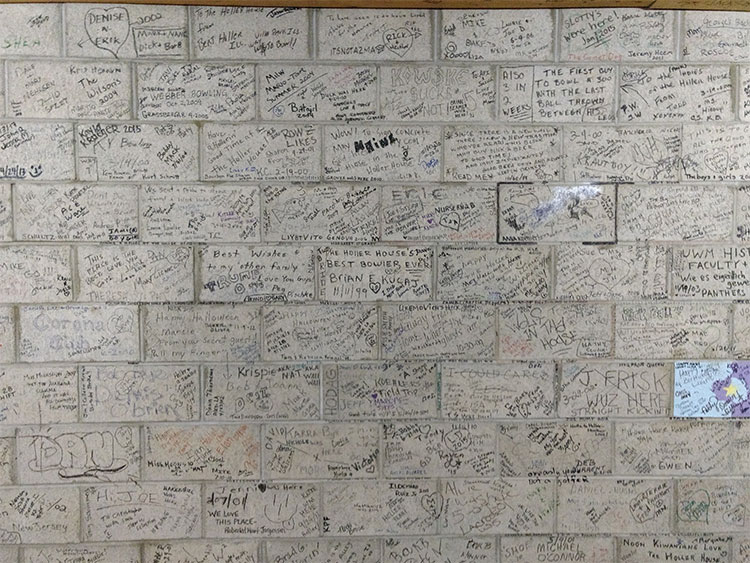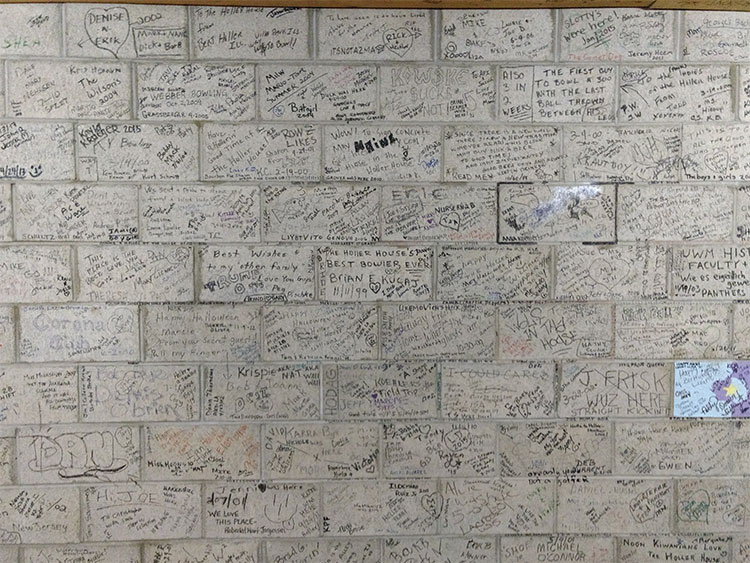 The bowling hardware is all old and beautiful and the cinder block wall on the right side is full of signatures from years of visitors. It's manual scoring, manual ball return, manual pin setting, beer frames, card games, high fives, and trash talk. So much trash talk. After a fella named Tom complained that his knee was acting up, another fella named Tom prescribed: "Why don't you use a four-pound ball instead of your usual six-pound?" No spectators downstairs, as there's really no room, but Todd did make frequent visits to make sure everyone was working with full beers. Milwaukee.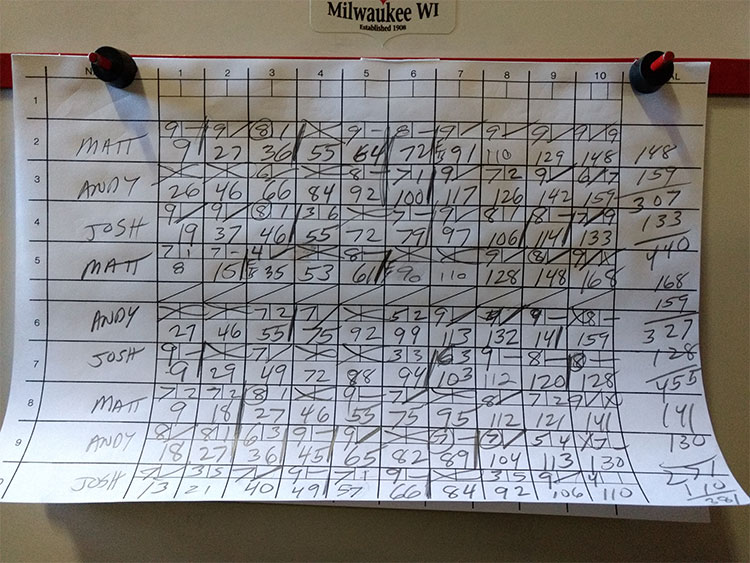 After three games of serious bowling action, we headed back upstairs for a few more laughs. Marcy's daughters, Sharon and Kathy, badgered us into eating all of the chicken, potatoes, fruit salad, and doughnuts left on the Sunday buffet. With full bellies and full beers, we sat down for a chat with Marcy herself, wondering if she might honor us with a couple of off-color jokes.
"Okay, I've got one," Marcy said. "Wait, do you know what Czernina is?"
"That's the soup with duck blood, right?" we replied.
"That's right. So, a woman is planning to make Czernina and she sends her husband out to get a live duck…"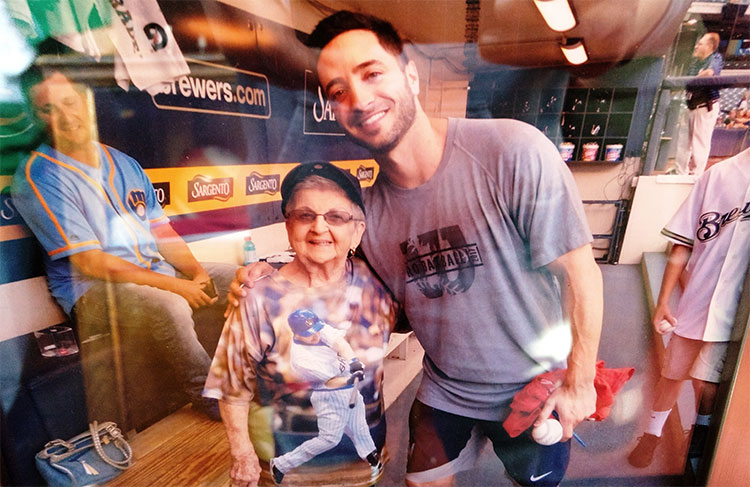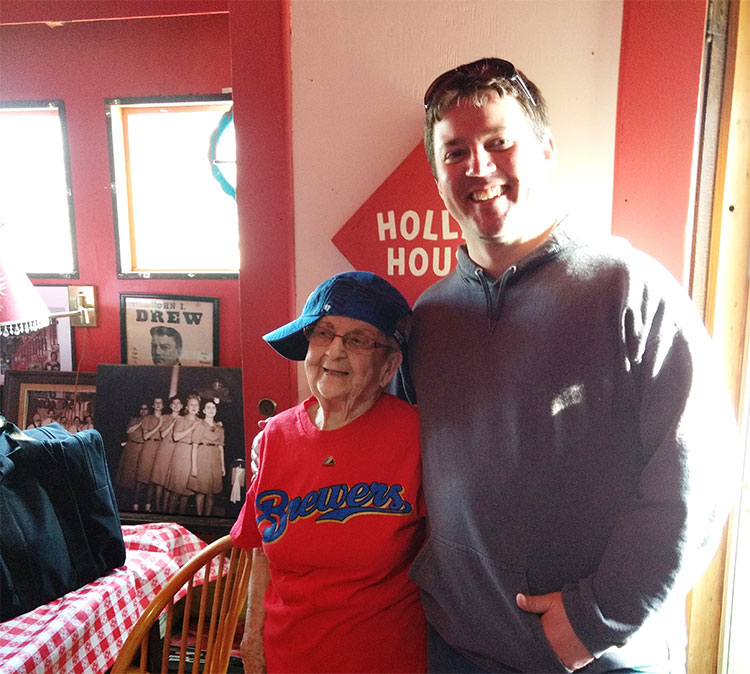 If you want the rest of the joke, you'll have to pay Marcy a visit yourself. She'll be the young lady in Brewers gear who looks just like Barbara Pepper from Green Acres. To prepare for your reservation-mandatory trip, here are some details:
Lanes: 2
Pins: 20
Open bowling: No (reservation only)
Bowling balls available for use: 16
One perfect purple ball with "RICK" carved in it: Yes
Automatic scoring: Certainly not (paper and pencil)
Automatic pin-setting: No, but the kid doing the setting was incredibly good. (Remember to tip!)
Total beer taps: 0
Food: Not really, unless you bring your own or are in a league situation that includes food.
Bathrooms: 3 (2 upstairs, 1 downstairs)
Jukebox: Yes (digital)
Televisions: 3 (2 upstairs, 1 downstairs)
Arcade: No, but there are a couple of games in the bar.
Bumpers: No
Wi-Fi: Yes
Glow Bowling: No
Old piano covered in bras next to an enormous portrait of Barbara Pepper: Yes
A beautiful scent that sticks to your clothes and makes you want to return later that day: Oh my, yes.
Punch line to Marcy's dirty joke: "Yeah, but this one's eating my popcorn!"