In case you've been an internet-free shut-in for the last year, vintage arcade video games are back in a big way. The arcade bar scene has been percolating nationwide for the last few years—Logan Arcade in Chicago, for example, has been thriving as a video game/pinball hot spot since it expanded into a full bar in 2014—and while vintage cabinets have been quietly popping up in Milwaukee in that time, it's safe to say that the arrivals of 1983 and the recently opened Up-Down MKE are a signal that classic '80s bleep-bloop boxes like Pac-Man and Donkey Kong are officially A Thing Again.
In fact, there are enough hot spots in the Milwaukee metro area that it's hard to decide which one to visit on, say, a muggy Sunday on a Labor Day weekend. So why not try to hit all of them and destroy our wrists and posture in the process? Milwaukee Record teamed with some of our gaming enthusiast pals—Game & Movie Podcast co-host and former game tech Anthony Schwader, and Red Letter Media Best of the Worst staple Josh Davis—and plotted to hit five locations either promoting themselves as an arcade or known for having a viable game room. Follow along as we make our way from Menomonee Falls to Walker's Point, playing four different Joust machines along the way!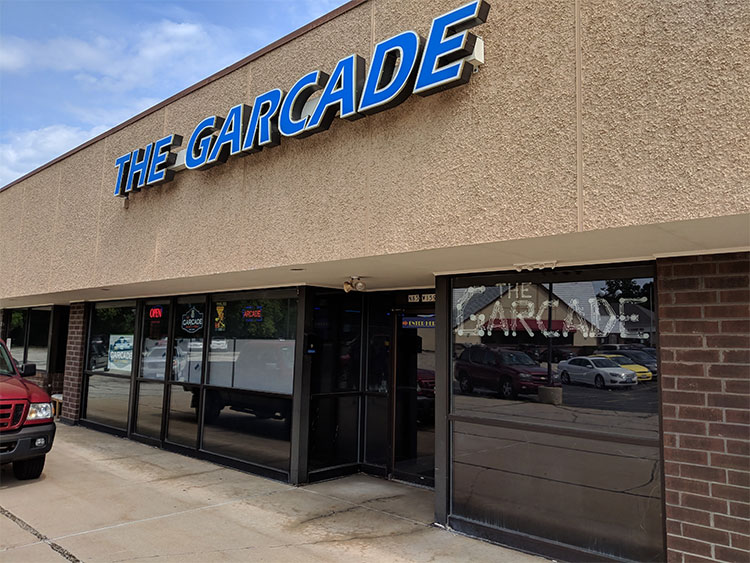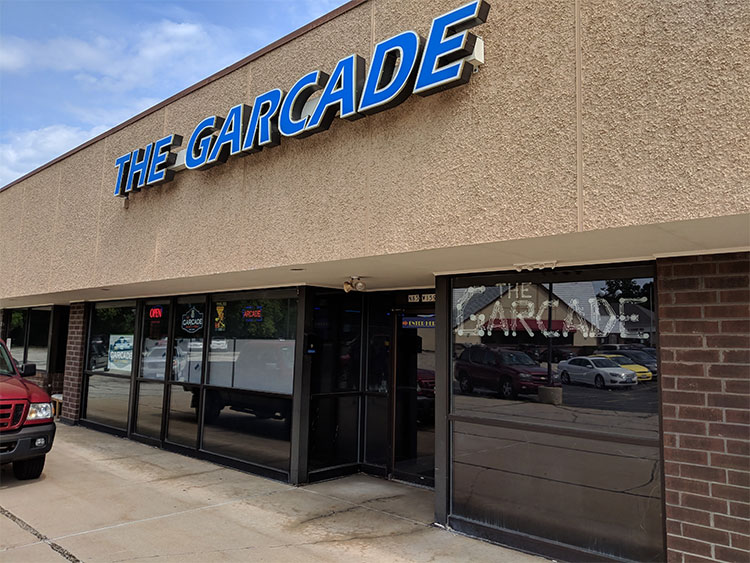 We began the day cruising north to the Falls to maximize our allotted time for The Garcade (N85 W15920 Appleton Ave.), the all-ages game room opened in July of last year. An arcade more in the vein of Illinois' Galloping Ghost, The Garcade doesn't serve alcohol, which was just fine for three nerds getting their gaming started at 11 a.m.. Besides, if we really did want to subscribe to the adage "It's always noon somewhere," The Garcade's $15 admission bracelet allows re-entry all day as well as free play on every game in the venue, so it's plenty easy to take a food or drink break in the middle of an all-day marathon. And boy howdy, it sure is easy to make The Garcade a six- or seven-hour destination.
The game selection is extensive and well-balanced, with over 100 machines rotated in and out for maintenance or just shuffled around the room to keep the layout fresh and help the repeat visitor stumble across a title they may have missed previously. We were stoked to get our Crystal Castles and Sinistar fix, two titles that are generally hard to find and weren't seen anywhere else the rest of the day. Nearly every game was in great shape (a copy of Kangaroo was a little fritzy but otherwise most maintenance-needy games were cycled out), and strategically placed fans throughout the complex teamed with the AC to keep everyone comfortable.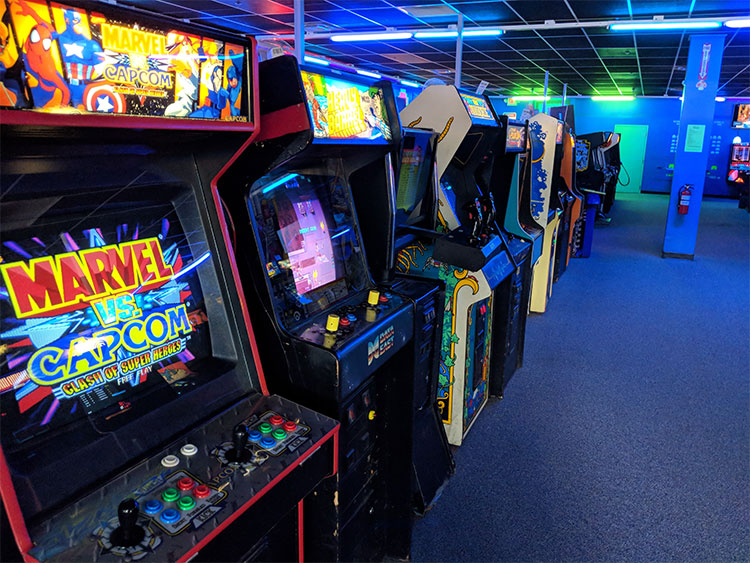 Tony was jazzed to find a Pump It Up: Exceed machine, a Dance Dance Revolution-style dance game originally developed in Korea, varying from DDR by putting the arrow panels in diagonal spots on the dance pad, rather than DDR's front/back/left/right spots. We were happy to get our steps in and our heart rates up before moving on to some classic pinball (an Apollo-Soyuz Space Mission machine was an old-school analog treat), that first round of Joust (#1 Daily Buzzard right out the gate!), and discovering a weird, 1988 military helicopter shooter game called Viper. The double-joystick control mechanism was slaved to the game monitor, which swiveled like it might in a sit-down flight simulator (which Tony theorized the stand-up version may have been adapted from). The ability to increase your chopper's firepower by shopping at "Crazy Ali's Weapons Warehouse" was also…something. But the most interesting find was Donkey Kong Remix, a 2015 reworking of the classic that remained true to the original engine while radically redesigning many of the boards. After 30+ years of standard DK play, we were so discombobulated on our first go that we racked up a cool 200 points before losing our last life. Sorry Pauline.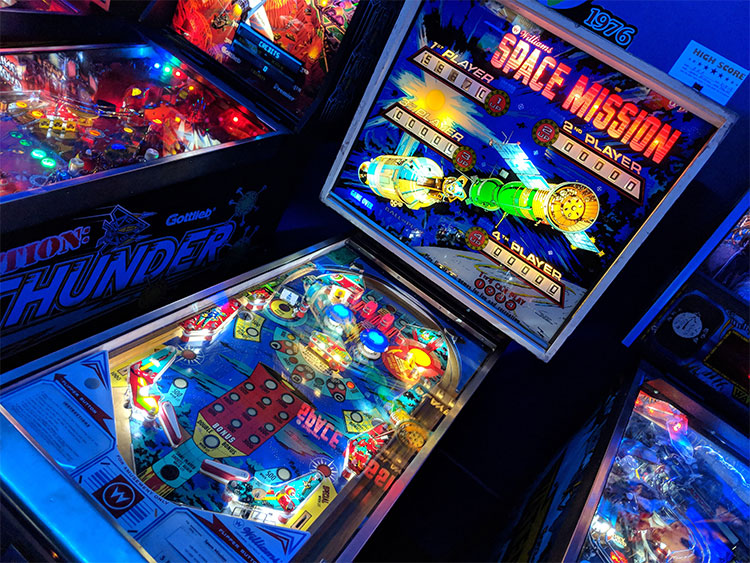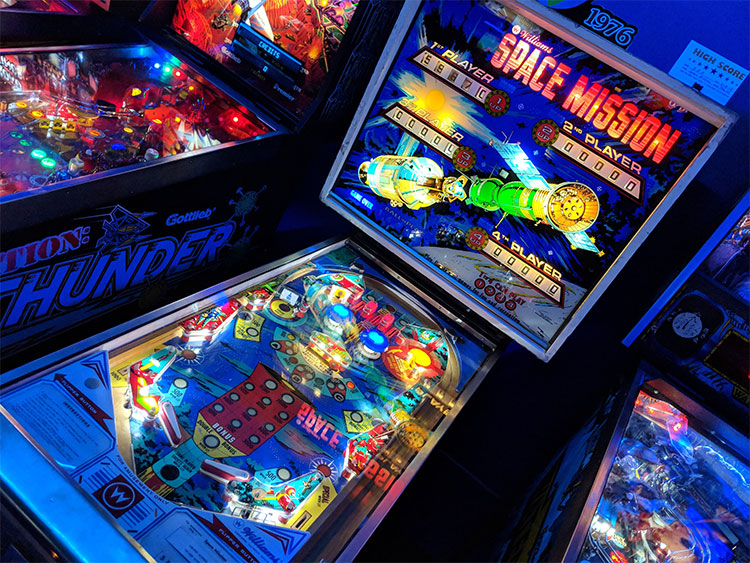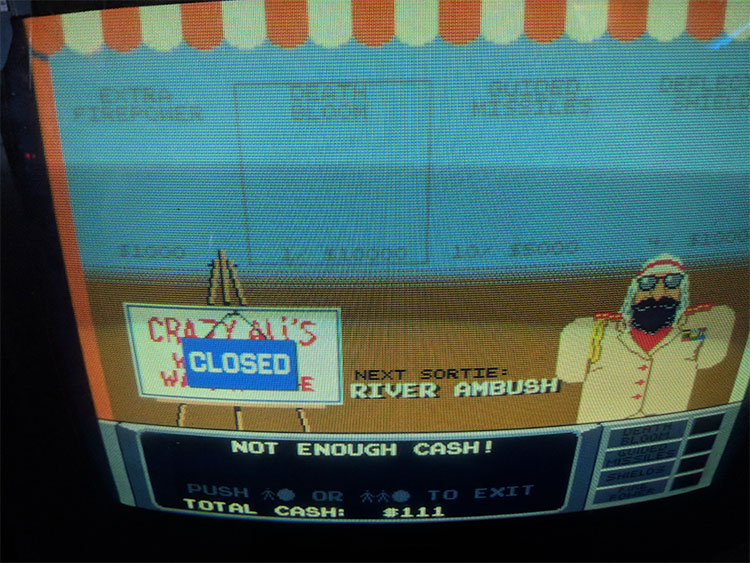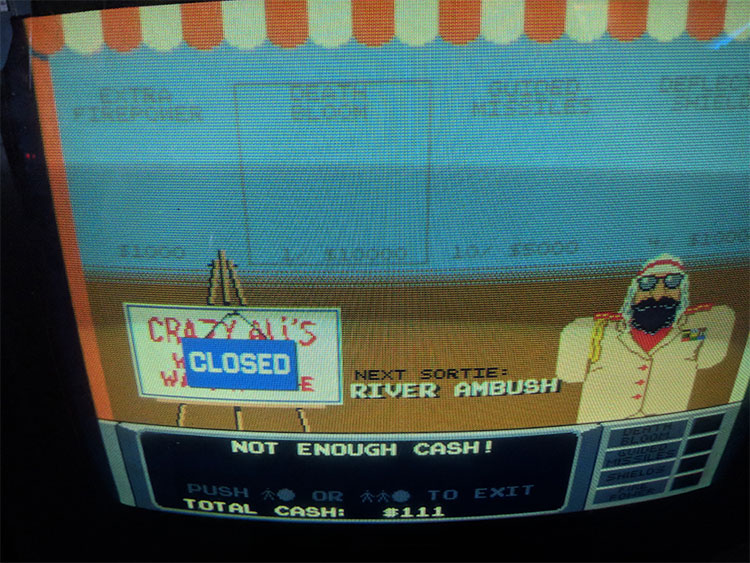 One welcome side product (or maybe an instigator?) of the current retro gaming revival is the plethora of game programmers designing new console games in the video arcade tradition. The Garcade boasts one of these in Cosmotrons, a vector-graphic style game (think Battlezone or Tempest) with a fun multiplayer button-based versus mode—and we call it "fun" no matter how many times Tony blew up our teeny little vector ships.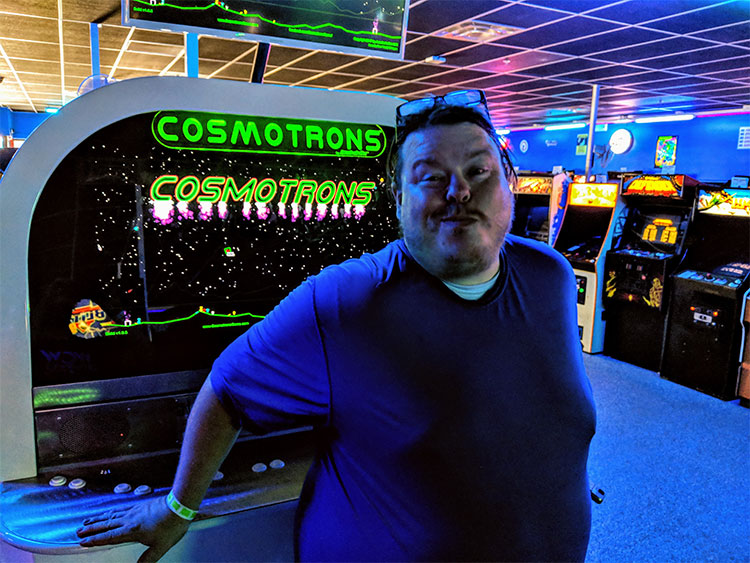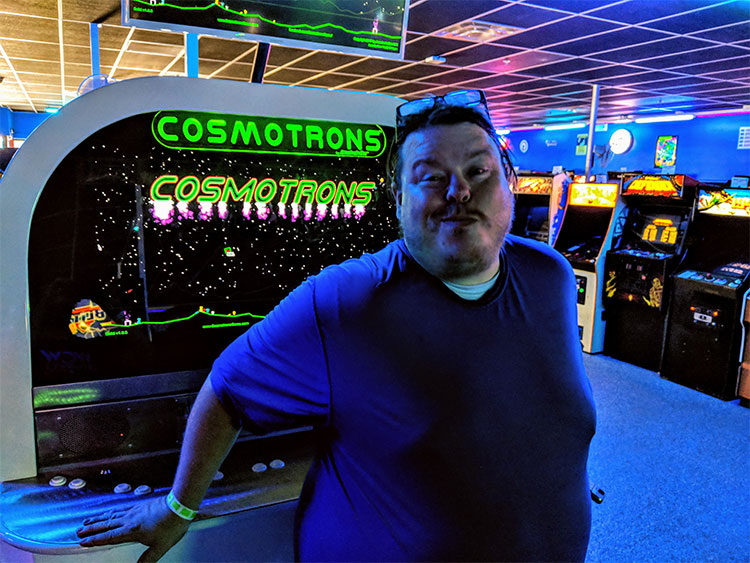 As stated earlier, The Garcade could have kept us occupied all day, but after two hours it was time for lunch, and while the door people reminded us that our wristbands were good until 8 p.m., we soldiered downtown to Ian's Pizza (146 E. Juneau Ave.). Ian's stocks about 18 video game consoles in its upstairs dining area, provided by Aftershocks Retrogames in Madison. As we settled in for a slice and salad, our pulses quickened as we spotted two machines we hadn't seen in years. The first was NARC, the ultraviolent 1988 "anti"-drug game that still raises the question "How did this get made in the 1980s?" Sure, the "Just Say No" campaign was in full swing, but slogans fly out the window the moment a kid thinks "Holy shit, my character just got lanced with a giant fucking syringe!" Obviously, we played it twice. Then, the three of us teamed up for a rousing game of Gauntlet. Not Gauntlet Legends, not Gauntlet Dark Legacy, not Look Who's Gauntleting Now…just plain old Gauntlet, and it was glorious—"Valkyrie is about to die" and all.
Any vintage arcade is going to require extensive maintenance—remember, many of these titles are fast approaching their 40th birthday—and a few of the machines at Ian's were in need of a little TLC. Frogger and Centipede were down, the Dig Dug joystick felt a little loose (but still controlled like a dream), and the Joust player 1 stick didn't register moving left. Still, no one's excitement was dampened, as several kids opted for a go at Track And Field, Toobin', or original recipe Mario Bros. instead. (Speaking of Mario Bros., the one at Ian's has its dipswitch set on a far easier setting than The Garcade's, where it's seemingly been maxed out. Three fireballs 10 seconds into the first Slipice round? Really?)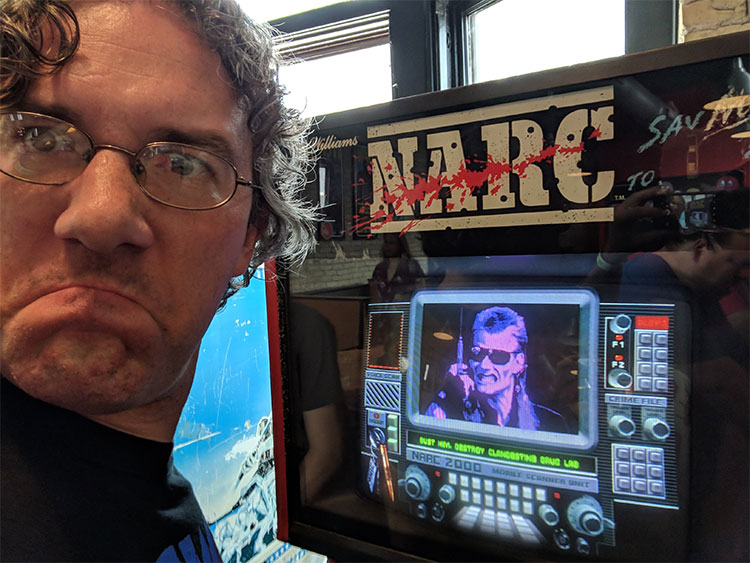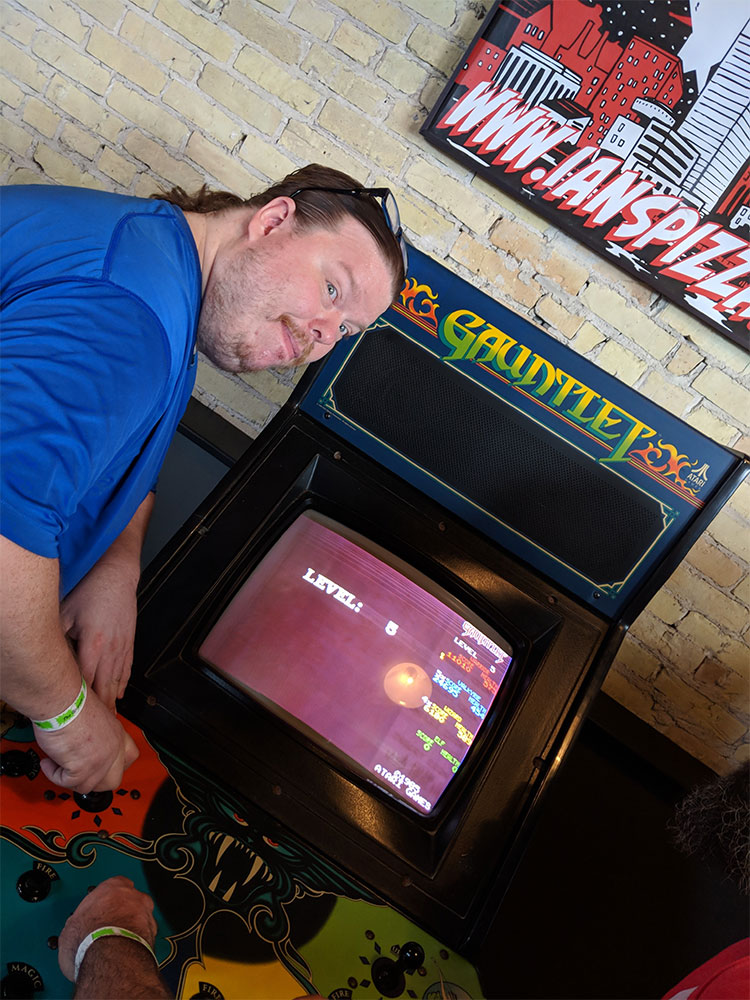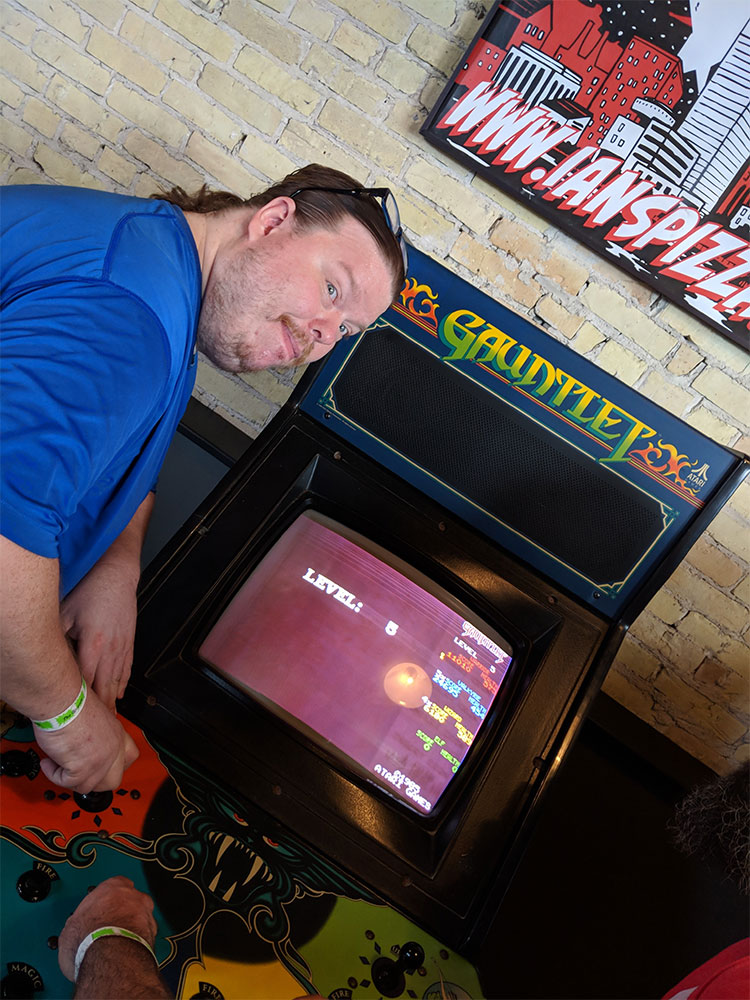 When we made our way the three blocks across the river to 1983 (1110 N. Old World Third St.), we caught ourselves stupidly trying to plug a quarter into Area 51 three or four times before remembering that this place uses tokens, dumbass. Things made more sense once we got our first drinks of the day into us—while we opted for a basic High Life, Josh enjoyed the "DK Cooler" (rye whiskey, bitters, ginger ale, $7), while Tony sampled and really liked the "Sonic and Tonic" (Brokers gin, Blue curacao, triple sec, tonic, $7).
Mitchell Novelties handles the maintenance of 1983's games, and overall they're in great shape, cycling games in and out monthly to keep things fresh and operational. Again, we're talking about some seriously old machines, so a pink tint to Elevator Action is nothing to sneeze at when the game otherwise handles like a joy. (Also, they had Elevator Action! Totally underrated deep cut!) 1983 also had what was surprisingly our first Burgertime sighting of the day, and it was in fantastic shape—much better shape than our actual Burgertime skills. A stray piece of molding blocked one of the ramps in the Indiana Jones And The Kingdom Of The Crystal Skull pinball game, but it was still less disappointing than its namesake movie.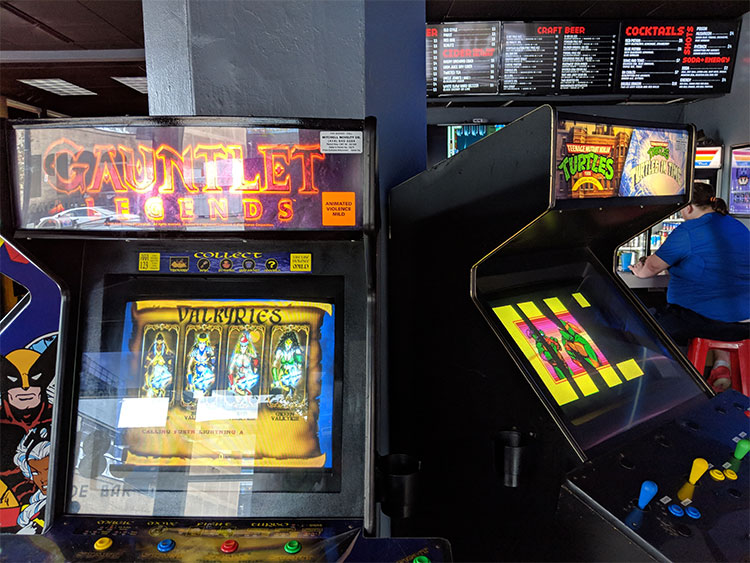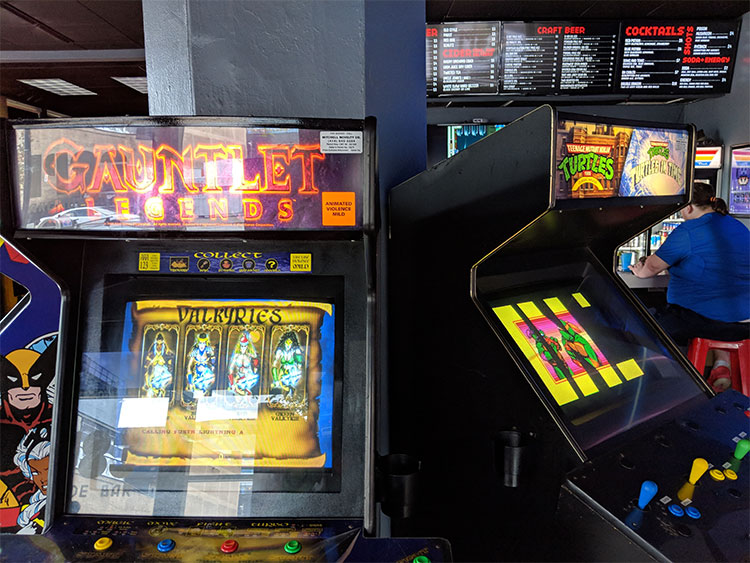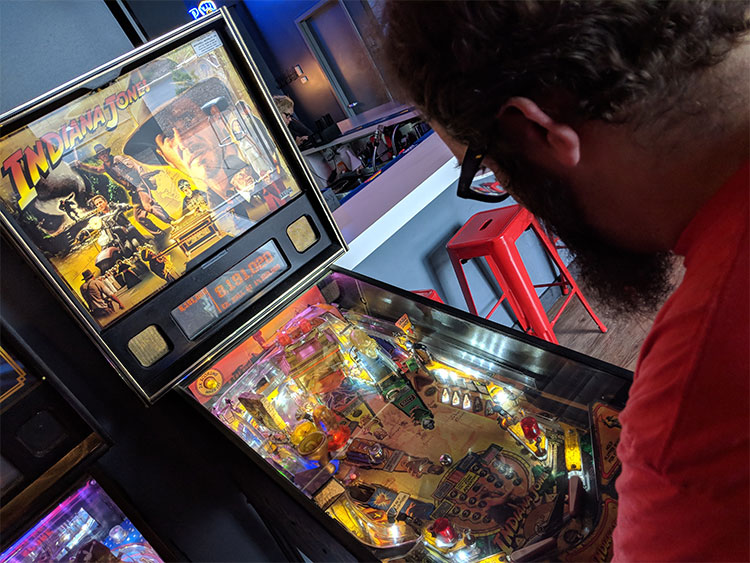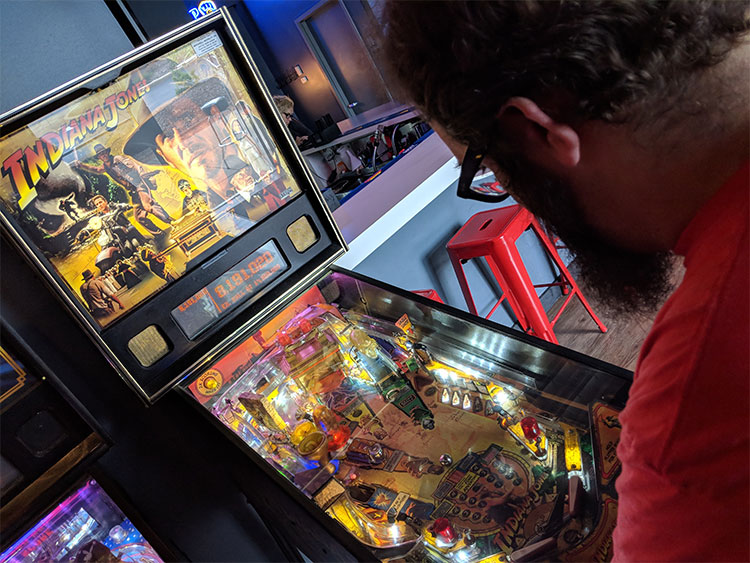 This was our second visit to 1983. The first was a stop after this year's Midwest Gaming Classic, when the bar was uncomfortably Saturday-night crowded; this afternoon, the only other customer in the bar was a lone patron working through some free-play classic NES at the bar. So while we enjoyed the unfettered access to Tetris, Double Dragon, and Tron (and another round on another great Joust machine), we were itching to get over to the new hotness where Water Street meets Brady. We finished our cocktails and made our way to Up-Down Milwaukee (615 E. Brady St.). Let's not beat around the bush: this place absolutely rules. Even with the bar slammed full of people on a sunny, humid holiday weekend, the vibe was positive and all-around electric. Loads of people took advantage of Up-Down's Sunday "Six Pack and a Pound" special, which provides 6 domestic tallboys, 80 tokens, and an Up-Down fanny pack (which we got to fit around our expanding middle-aged torso with some finesse) for $25. The three of us split one order; whether or not it's safe to let one person take that sixer on themselves will be a case for history to decide. (In fairness, no one in the building seemed unreasonably day-drunk, although people watching really wasn't our number one priority.)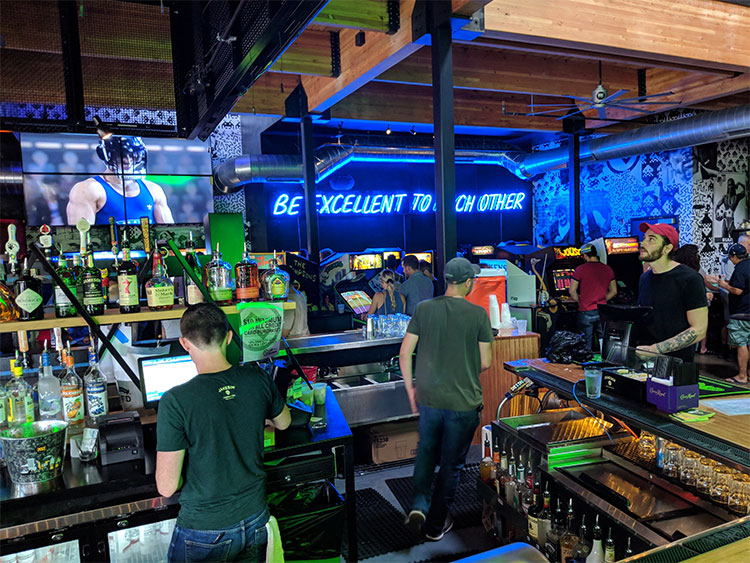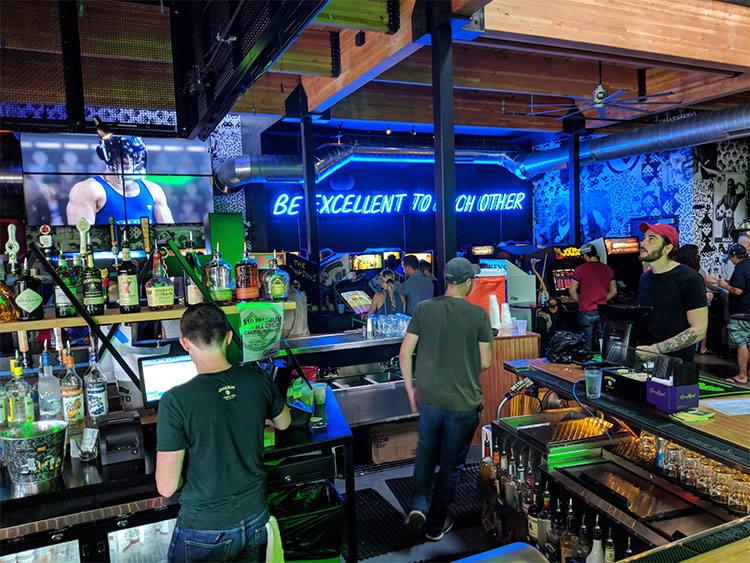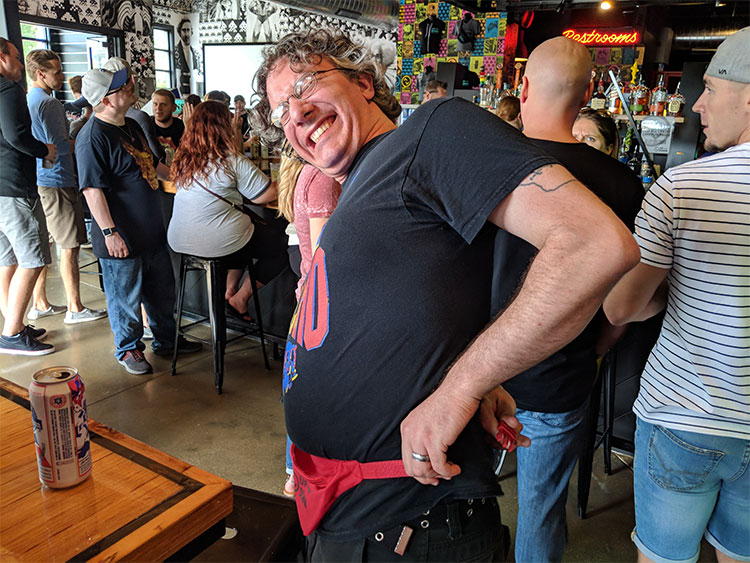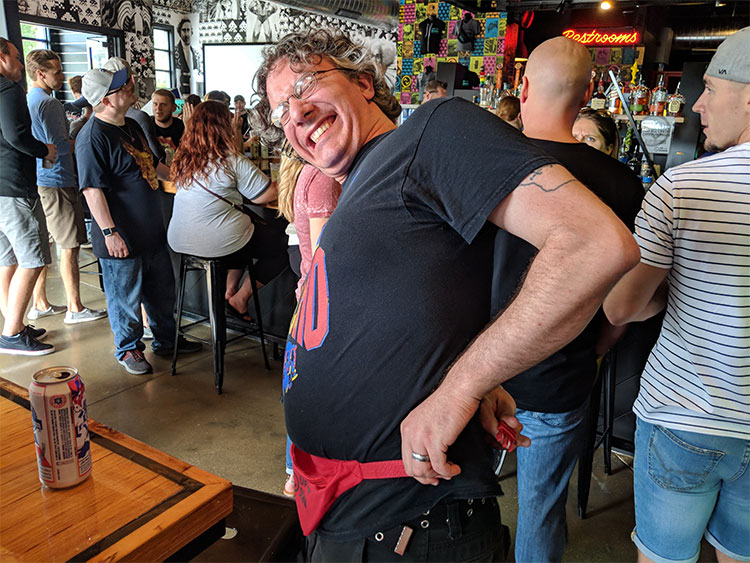 We spotted several familiar old games that we hadn't encountered yet during the crawl (Hello, Popeye! What's shaking, Punch-Out?), and a few intriguing head-scratchers (we had never seen a Dr. Mario arcade box before, but the game was basically a port from the NES). Thanks to that pound-of-tokens deal, we decided to burn about a dozen of them to capture the Tag Team Titles on WWF WrestleFest courtesy of the dynamic tag team of Mr. Perfect and Jake "The Snake" Roberts. Up yours, Legion of Doom!
Several of the day's stops prominently featured multiplayer consoles built for socializing—several X-Men and Teenage Mutant Ninja Turtles machines were spotted all afternoon. Up-Down upped the ante with the first BattleToads machine we'd ever seen in person, and a pair of modern party game insta-classics in Killer Queen and 4-player Pac-Man Battle Royale. Holy shit, this game is a must. We made several new friends chomping down on power pellets in order to devour the opposing Pac-Men of random strangers we happened across in the bar. Who knew Pac-cannibalism could be so exhilarating?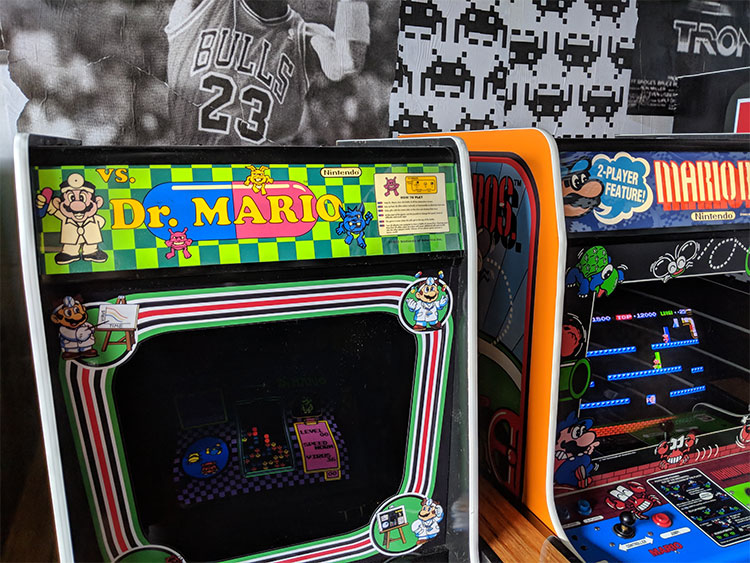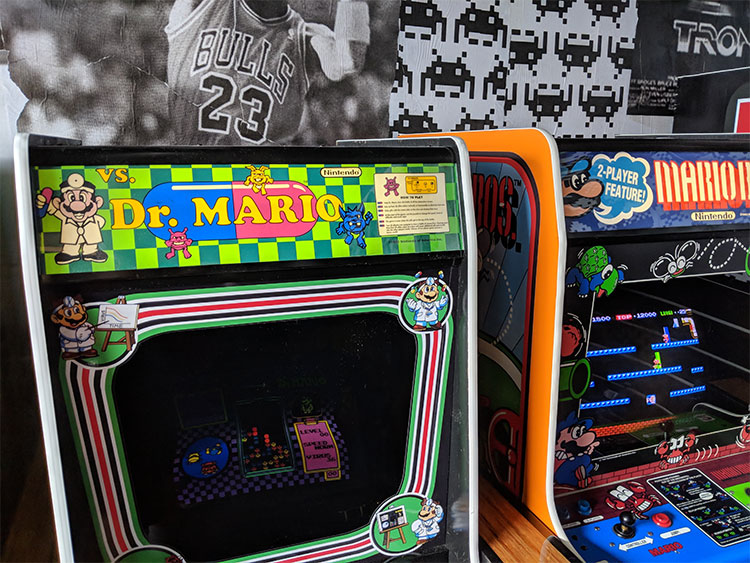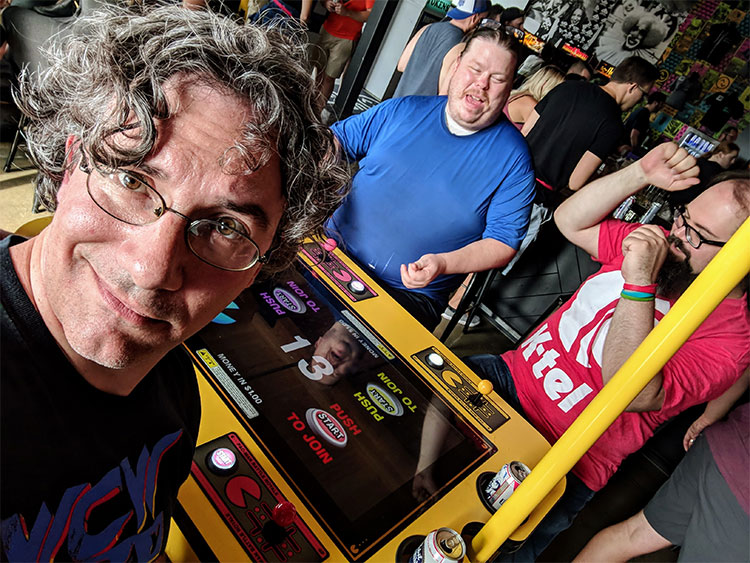 Before any of Milwaukee's new arcade bars unleashed their might on the populace, Hamburger Mary's new location at 730 S. 5th St. took advantage of the old La Perla's setup to turn one of the rooms into a gaming area, and while Up-Down and 1983 have since left them in the dust, Mary's still has a humble and respectable collection of classics all set to free play (except for their own Pac-Man Battle Royale, which is only fair). Josh had a go on one of the only Mortal Kombat machines we saw all day (although to be fair, we weren't looking that hard for them), and we had our second unexpectedly respectable showing on BurgerTime for the day. But really, you go to Hamburger Mary's for the food and the sass. The cuban sandwich and Beyond Burger (a vegan burger patty) were both excellent, as was the constant snark delivered by our delightful bartender, who eventually sassed us bitches into doing a shot of Fireball with him to cap off the day.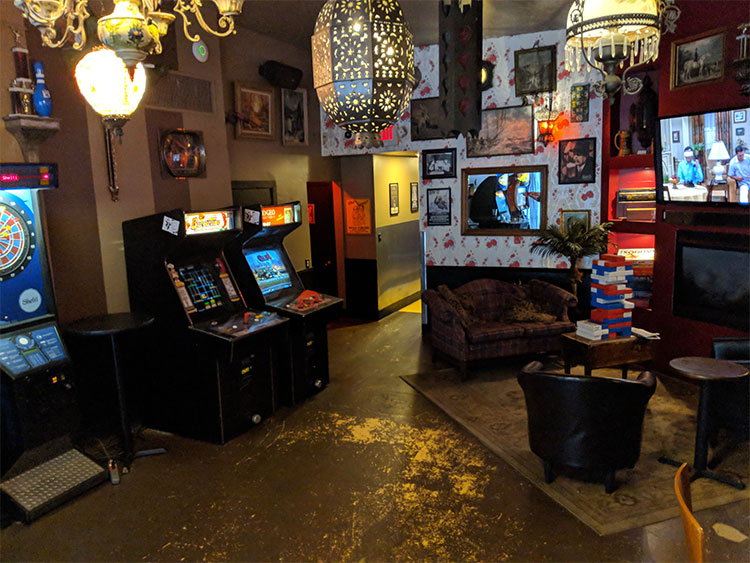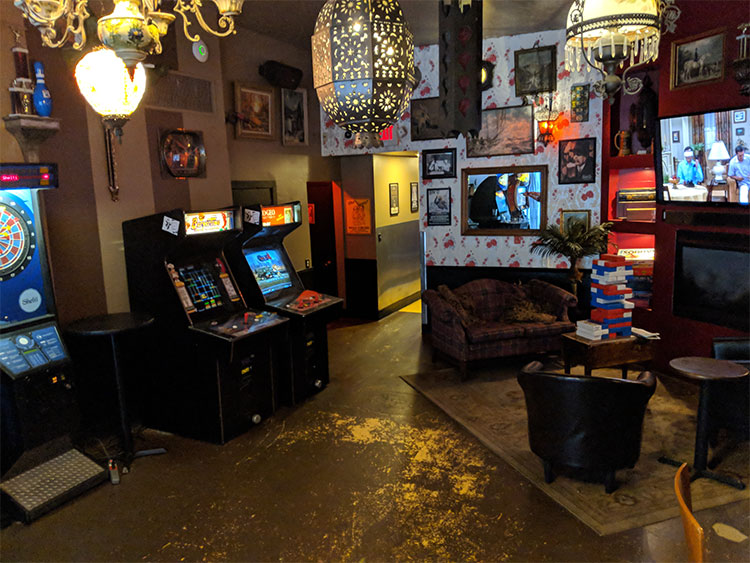 For those of us who came of age around that magical 1983 calendar year, the arcade resurgence has provided something for everyone, all wrapped in a fuzzy warm glow of cathode-ray nostalgia. Want to take down some specialty cocktails while spraining your wrist? 1983 and Up-Down are the place. Want to share the classic arcade era with the kids? Ian's and Garcade got you. Certainly someday this craze will fade again, consoles will fall back into disrepair, and a sick Sinistar cab will be as rare as a magical white buffalo. But until then, we'll be hoarding quarters and tokens the way we did back when we accepted our paper route money in coins, visions of light cycles and ghosts dancing in our heads.