It's an unprecedented and incredibly difficult time for restaurants right now. It's especially tough for restaurants in Wisconsin, where COVID-19 numbers are currently off the charts. Wanting to highlight local establishments who are keeping food quality high while also keeping its customers and employees as safe as possible, we're going to focus on restaurants that have completely shifted to carryout and/or delivery service in a series we're calling "Carryout Chronicles."
Since opening on a bustling Bay View corner in 2007, Classic Slice (2797 S. Kinnickinnic Ave., 414-238-2406) has offered Milwaukee mindbogglingly massive slices, specialty pizzas with great names like "Meatallica" and "I'm Feta Up!" in whole pie format, an extensive selection of vegan and vegetarian items, gluten-free options, and one heck of a lunch special. For the majority of that near-15-year span, the pizzeria has subsisted by serving customers in carryout, delivery, and dine-in capacities. However, the neighborhood pizza joint—like many other businesses in the city and far beyond—adjusted its way of doing things last March. And unlike many of its contemporaries in the culinary industry, they haven't gone back to their old ways just yet.
When Milwaukee bars and restaurants were allowed to reopen for in-person service last June, Classic Slice—citing few-to-no guidelines or notice to safely reopen and alleging city officials were using reopening as a means of distracting people from ongoing societal movements—remained closed for dine-in service. Beyond letting folks eat their carryout orders on two picnic tables situated along the building when weather permitted late last summer, Classic Slice has exclusively stuck to carryout and delivery, with no plans to go back to the way it was any time soon. Over the weekend, we braved the elements and made our way to Classic Slice to pick up some of our favorite pizza in Milwaukee to enjoy at home on a frigid winter night.
Policies And Procedures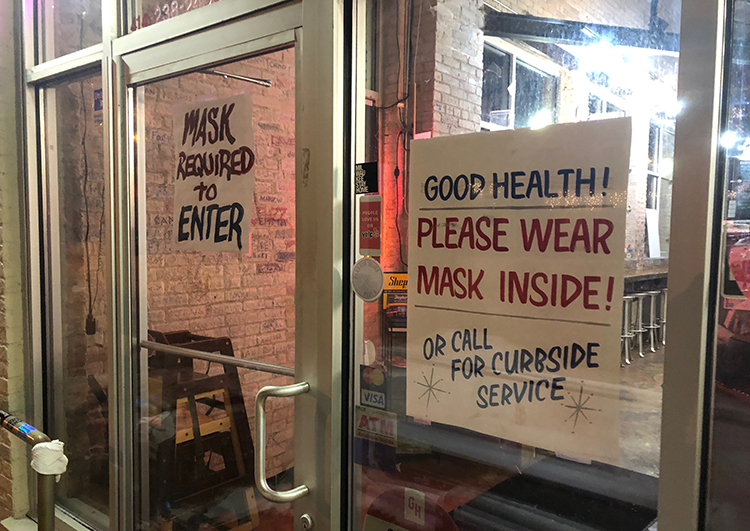 If you've read any of the other installments of this series, there's nothing too drastically different about the way Classic Slice does things these days compared to most of the other restaurants we've featured in other articles. Pick-up orders can be placed over the phone (call 414-238-2406) or online. Delivery orders can be made online as well (after 4 p.m.), and Classic Slice also okays GrubHub orders for delivery.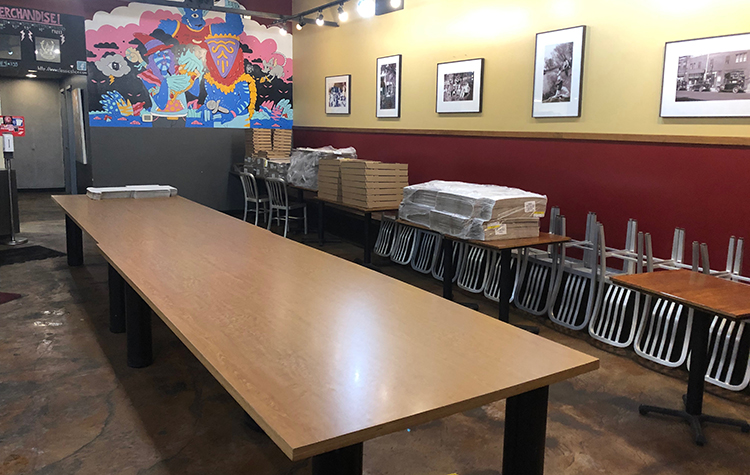 We placed a carryout order online and were given an estimated pick-up time of 45-60 minutes, which seems pretty standard for a Saturday night. Just after 45 minutes had passed, we were texted and informed our order was ready. After arriving at the restaurant, we masked up and went inside the establishment that looked noticeably different than our last visit in early 2020. With tables cleared and chairs up, there was no confusing this a dine-in restaurant. We walked up to the counter, gave the last name on our order, received our food, and left in under two minutes. It was simple. Those who don't feel comfortable going into the restaurant can also call when they arrive to have their food brought out curbside.
Carryout Quality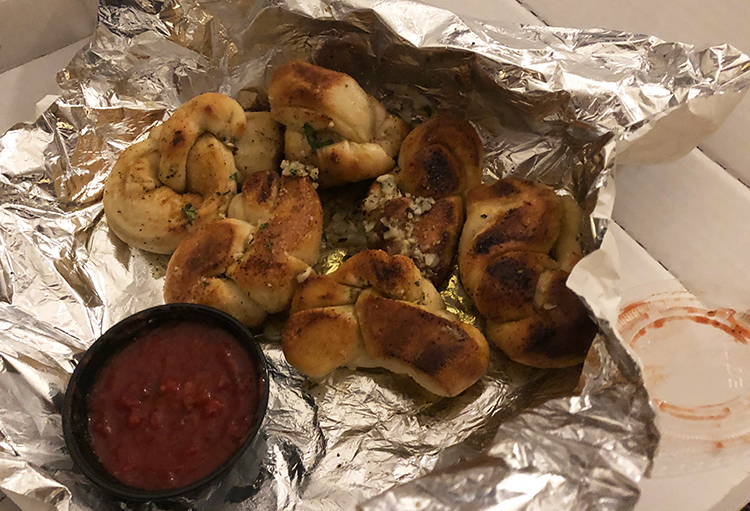 We started off with some Giant Garlic Knots ($8.50). The foil-lined box came with six fluffy clumps of twisted dough that were baked, seasoned, drizzled with olive oil, and topped with fresh garlic and Parmesan. With a liberal presence of herbs, spices, oil, and cheese, this savory starter was already great on its own, but the accompanying marinara dipping sauce made a great thing even better. We didn't realize how much we missed garlic knots! If fist-sized knots aren't your thing, customers can also order things like salads, ciabatta sandwiches, brussels sprouts, cheesy mashed potatoes, pesto balls, or calzones as either appetizers or pizza alternatives.
We urge you to explore Classic Slice's menu, which is rife with an extensive collection of high-quality ingredients and interesting specialty options. Customers can also build their own pizza, using literally dozens of cheese, meat (or meatless substitute proteins), veggie options, and crust as a template to craft your perfect pizza. We have built our own pizza before (and will again), but our decision to get Classic Slice recently was prompted by a very specific craving. Since early 2019, Classic Slice has offered Detroit-Style Pan Pizza. We love it, and it's been something we've had delivered three or four other times within the past year. The thick 9 x 12 rectangle features four sauce-drenched pieces of cheesy and carb-laden slices with crispy edges. There are only two toppings available—cheese or cheese and pepperoni—but that's fine with us. We went with the pepperoni version ($14), which had us like…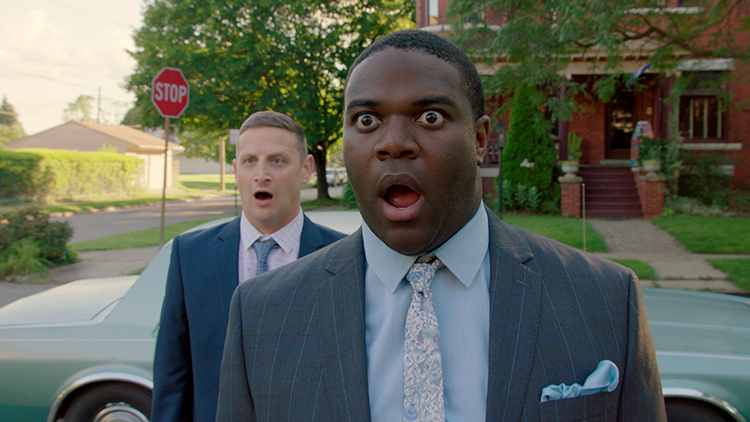 Other Info
Classic Slice is open for carryout between 11 a.m. and 10 p.m. every day. In addition to the appetizers, entrees, and desserts on hand, you can also wet your whistle with an impressive arsenal of local soft drinks, as well as a variety of craft beers. We didn't see this until after we placed our order, but Classic Slice appears to have Company Brewing's Milwaukee Record Re-Porter available right now. And we've mentioned it before, but we want to stress that Classic Slice is extremely vegan-friendly, with vegan cheese, dough, and sausage all available. Whether it's a place you miss or you're just looking to expand your pizza horizons here in month number 12 of a pandemic, place an order at Classic Slice soon.