Back in May, as we left Milwaukee Film's monthly member screening at the Oriental Theater, we noticed a small crowd assembled in the dusk on the sidewalk of Ivanhoe Place, the relatively quiet block that connects bustling Prospect and Farwell Avenues. We cautiously approached, wondering what had drawn this spectacle. Had something possibly gone wrong with an axe being wielded in an East Side bar? Had a pop-up ramen shop…popped up?
To our relief, the crowd was gathered for something so delightfully unfathomable that we were rendered momentarily speechless: the lights were on, and through the large and welcoming street-facing window, 10-15 adoptable kitties were making themselves at home for the June 1 opening of Sip & Purr, Milwaukee's first-ever cat cafe.
Fast forward two weeks, when we could finally get a 6 p.m. reservation in Sip & Purr's Cat Lounge, which, according to the impossibly friendly staff, has been booked solid nearly every available hour since opening. Sip & Purr is divided into two distinct sections. There's the Cat Lounge, which requires reservations, a signed waiver, and an admission fee that goes towards the care of the cats and "gets you one hour of smiles, snuggles, and fun." There's also the cafe side, which serves a simple but impressive menu of salads and shareable plates—many of them vegan and gluten free—along with desserts, coffee, wine, and other beverages. The Cat Lounge—cage free and full of places for both kitties and humans to relax—is viewable (and highly enjoyable to watch!) from the cafe side, but "no cat has ever stepped paw" in the cafe, so those with allergies or buzzkill friends who "aren't cat people" need not worry.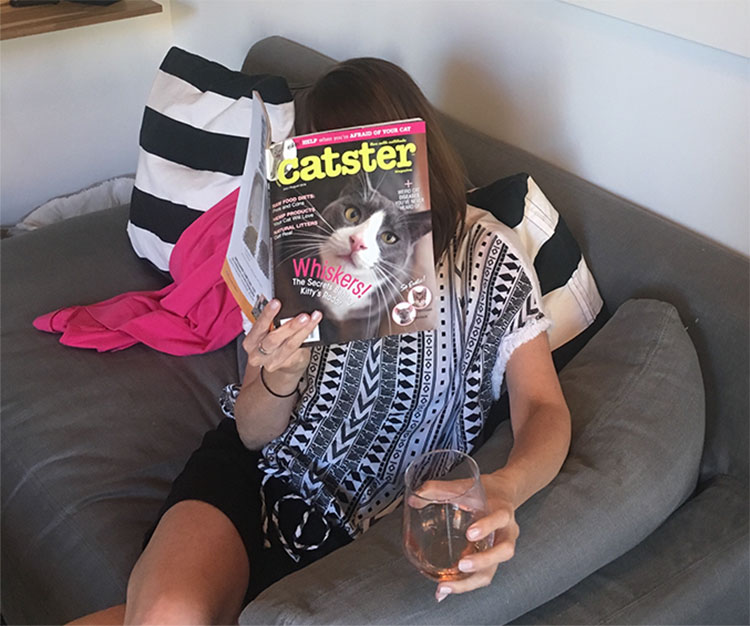 We arrived a bit early to sign our waivers, and grabbed a couple glasses of rose and a cheese board with seasonal fruit, candied nuts and bread. The young men behind the cafe bar were attentive, friendly, and more than ready to answer our rapid fire questions (Yes, they love cats! Yes, they've been busy! Yes, 11 cats have been adopted so far! Yes, they'll take our picture by the sign that says "Eat. Drink. Pet Cats"!) At exactly 6 p.m. our Cat Concierge, Megan, emerged from the Cat Lounge and announced that the reservations could enter. She quickly went over the rules and adoption information, and for the entire hour displayed a sincere advocacy and gentle protectiveness over the cats, while also being a bubbly, approachable, and well-informed leader to the human guests. Also, she wore amazing cat shoes.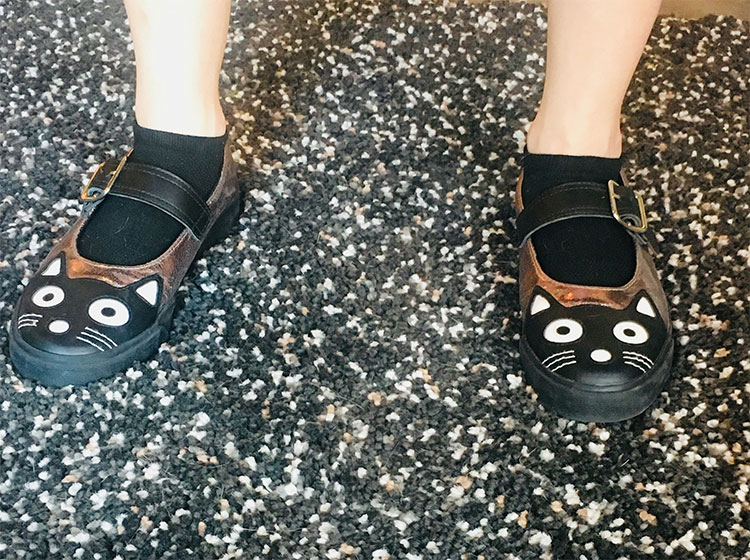 Now, on to the cats, who all arrived from Lakeland Animal Shelter and are available for adoption. We're not sure if it was the lazy summer evening, their regular post-dinner snooze time, or exhaustion from the love and affection of Sip & Purr's staff and recent guests, but most of the kitties were more interested in getting petted while they catnapped than playing with the many toys available. Fine by us! We doted on them and even stole a kiss or two of a couple pink noses. While all were thoroughly enjoyable and would make for wonderful companions (adopt them!), some were truer masters of the catnap. Here are our rankings of who was able to achieve the most maximum levels of blissed-out comfort during our visit.
10. Dante
A newer arrival to Sip & Purr, and a bit of a shy guy according to Megan. Dante is a sweetheart, but chose to chill underneath a table.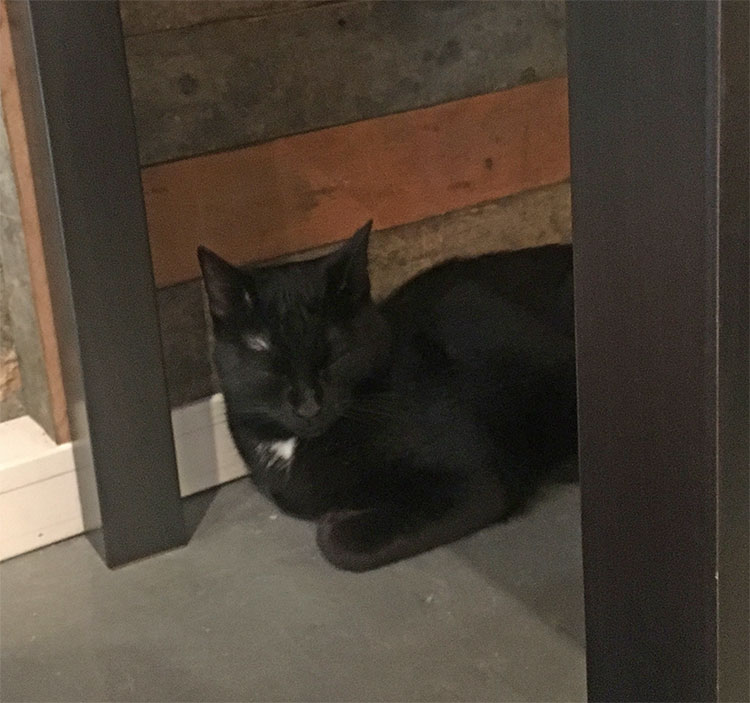 9. Harley
Also a newer arrival to Sip & Purr, Harley decided to forego the multiple cozy options for relaxing for a more spartan position on the floor—but well within reach of human loving!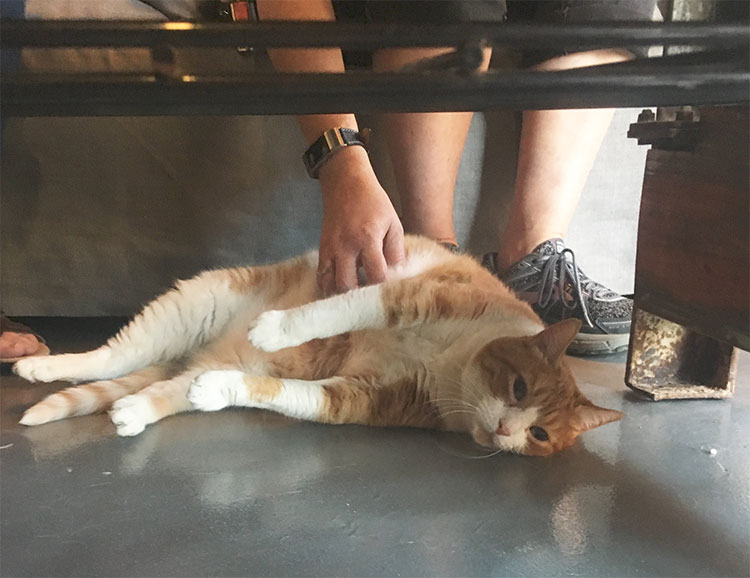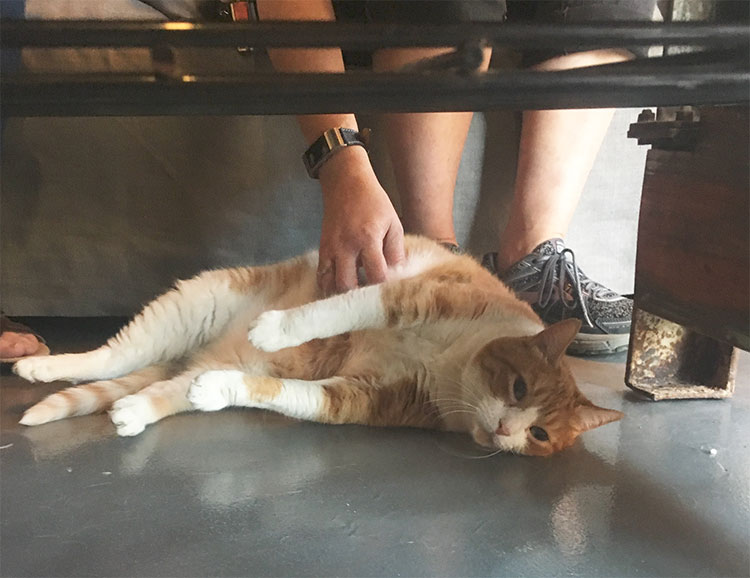 8. Valor
Valor, age 2, opted for a more traditional cat bed. He didn't move from it during our hour, but he did entertain an occasional toy.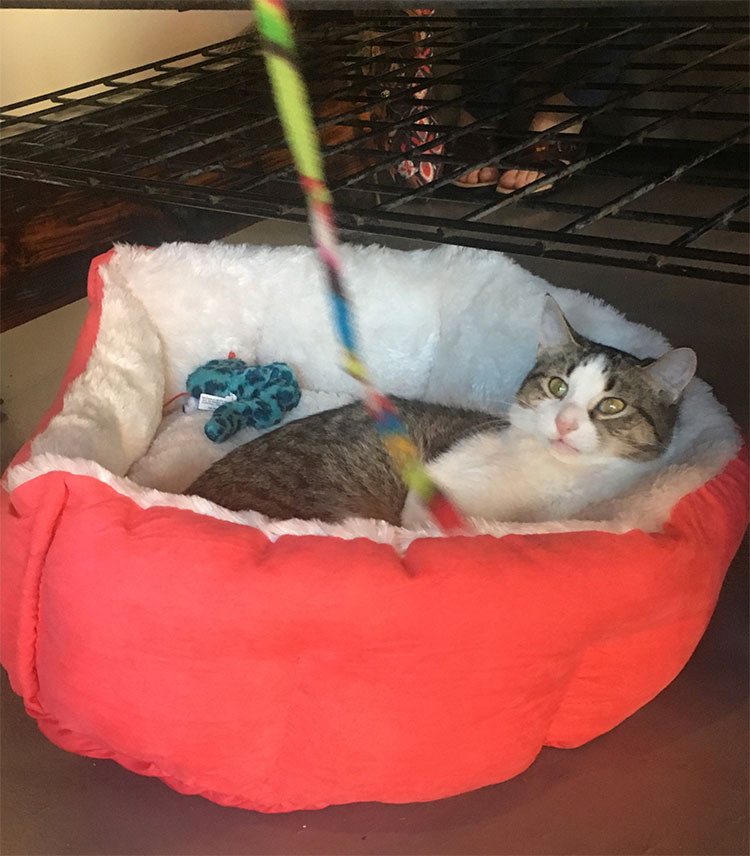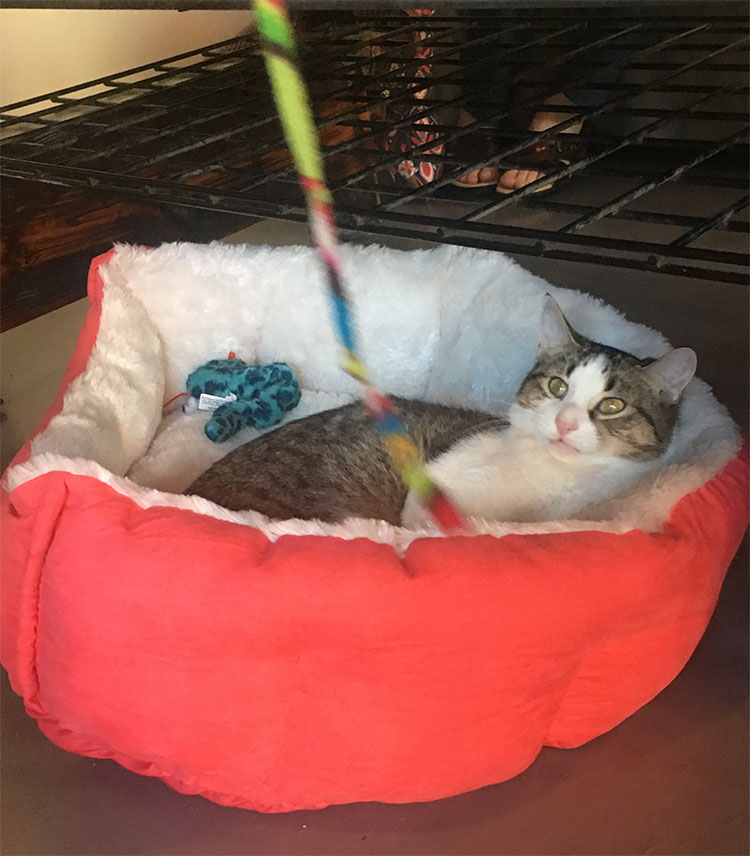 6 & 7. Dominic (left) and Julianna (right)
These two also chose more standard cat beds for their snoozes, but Julianna—5 years old but sooo tiny!—faced the wall, which was hilarious to us for some reason.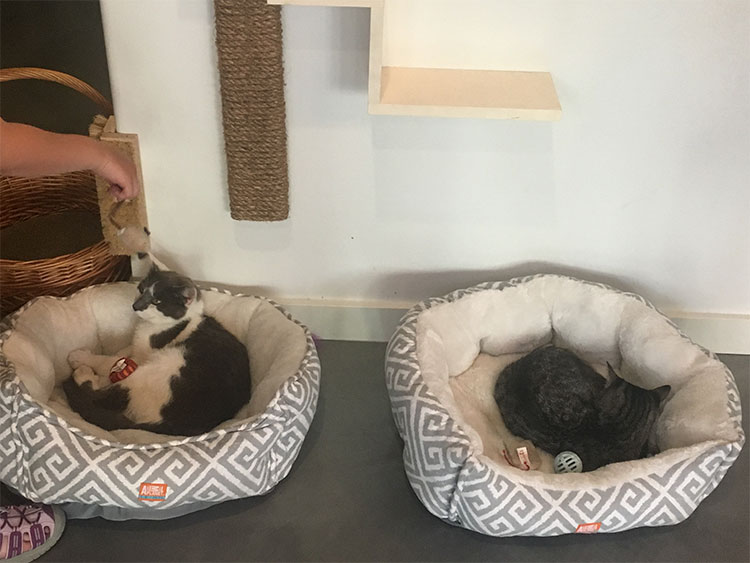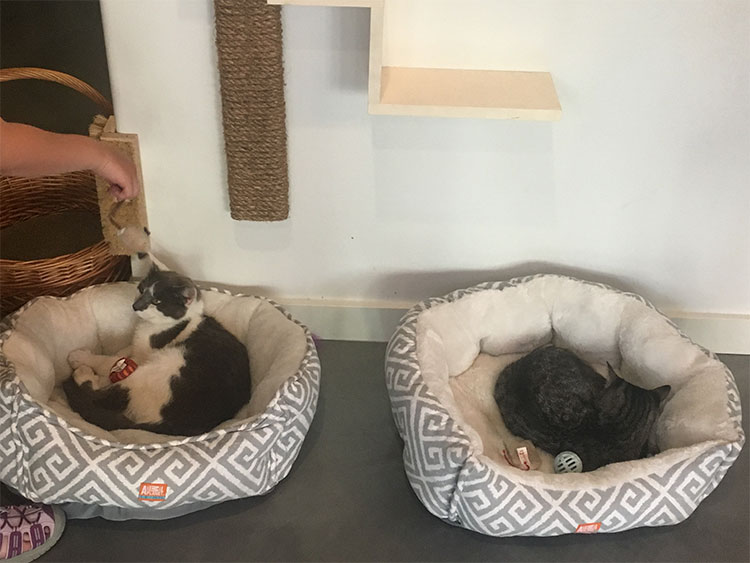 5. Ezra
Ezra, the youngest kitty at only 10 months according to Megan, is relaxing in a cat-sized human-shaped bed. We repeat. A CAT-SIZED HUMAN-SHAPED BED.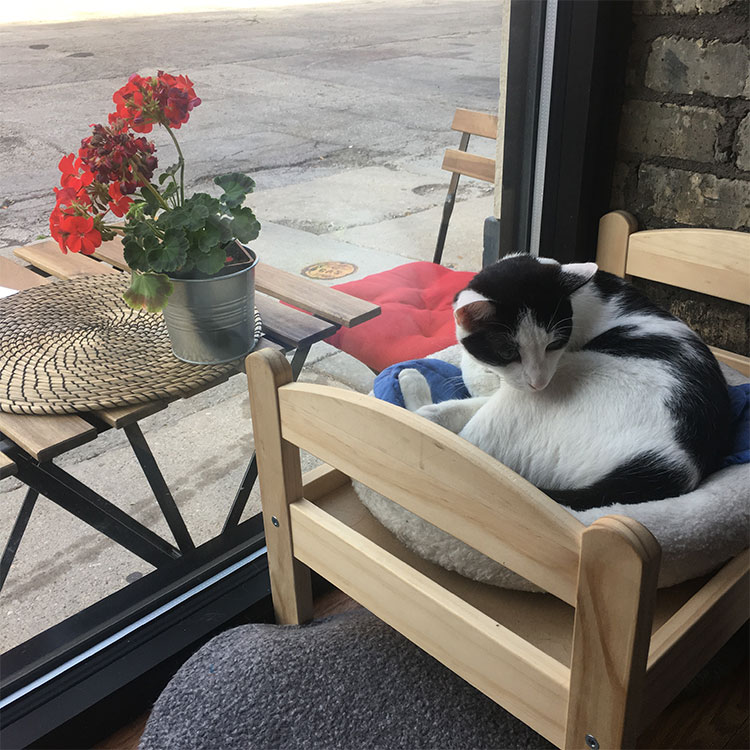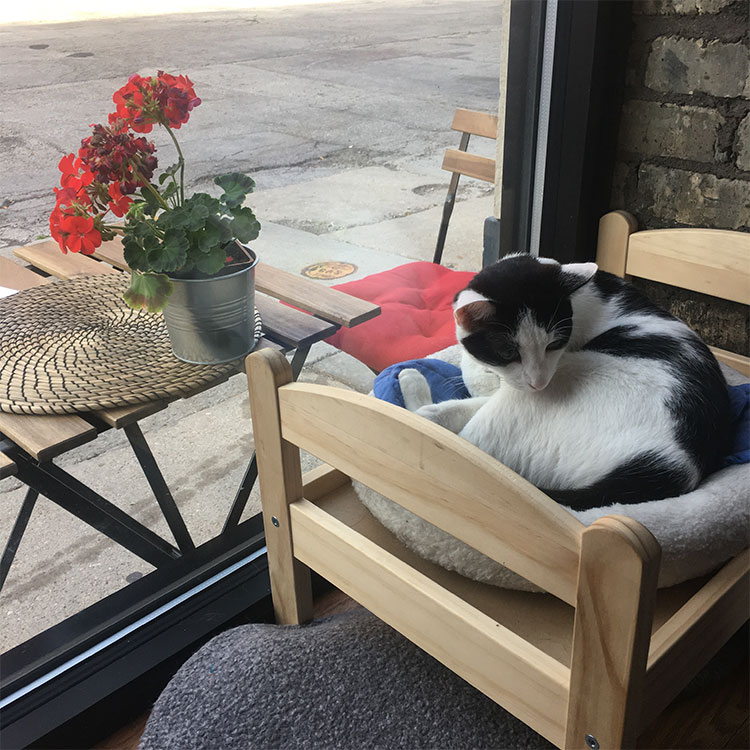 4. Patrick
This 3-year-old fellow is very sweet, but didn't budget from his comfortable cat tube affixed to the wall.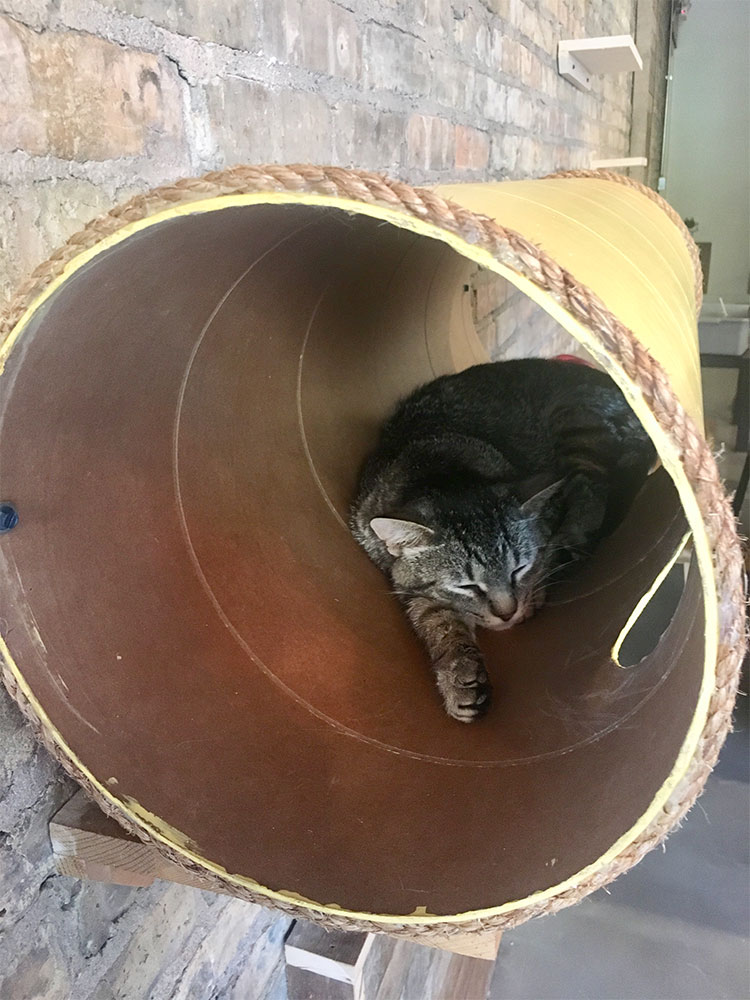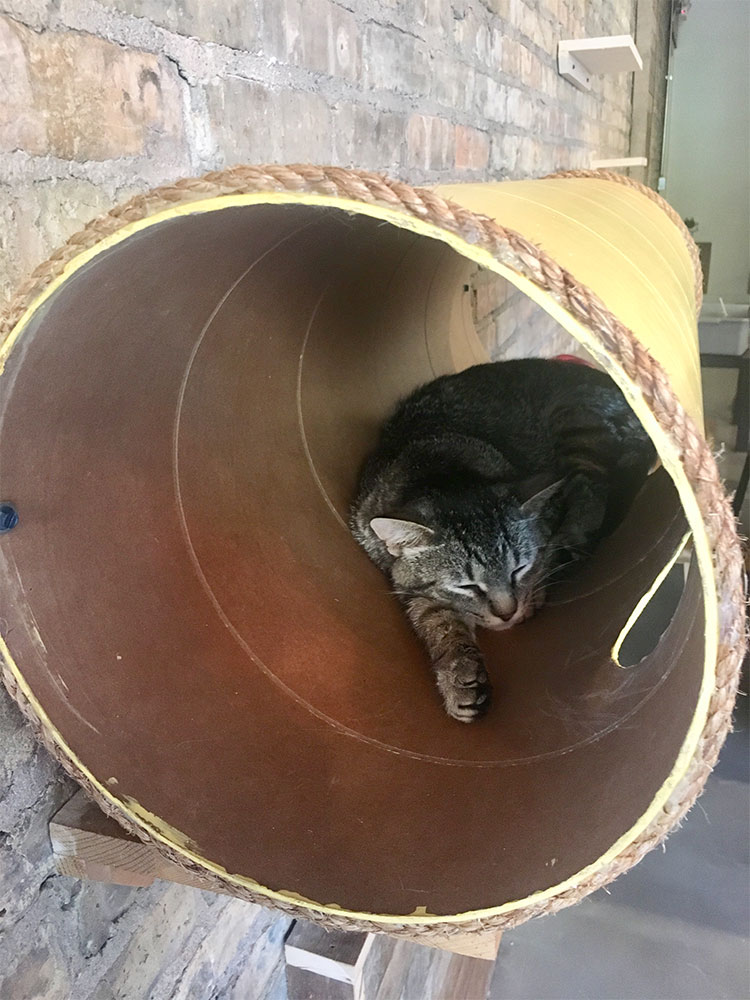 3. Jaxonnet
Jaxonnet is Sip & Purr's oldest current adoptable cat at 10 years, but that didn't keep this mature lady from picking a fun place to nap! She lounged for a full hour in a what can only be described as a cat tunnel fashioned to appear as a pair of clown's pants.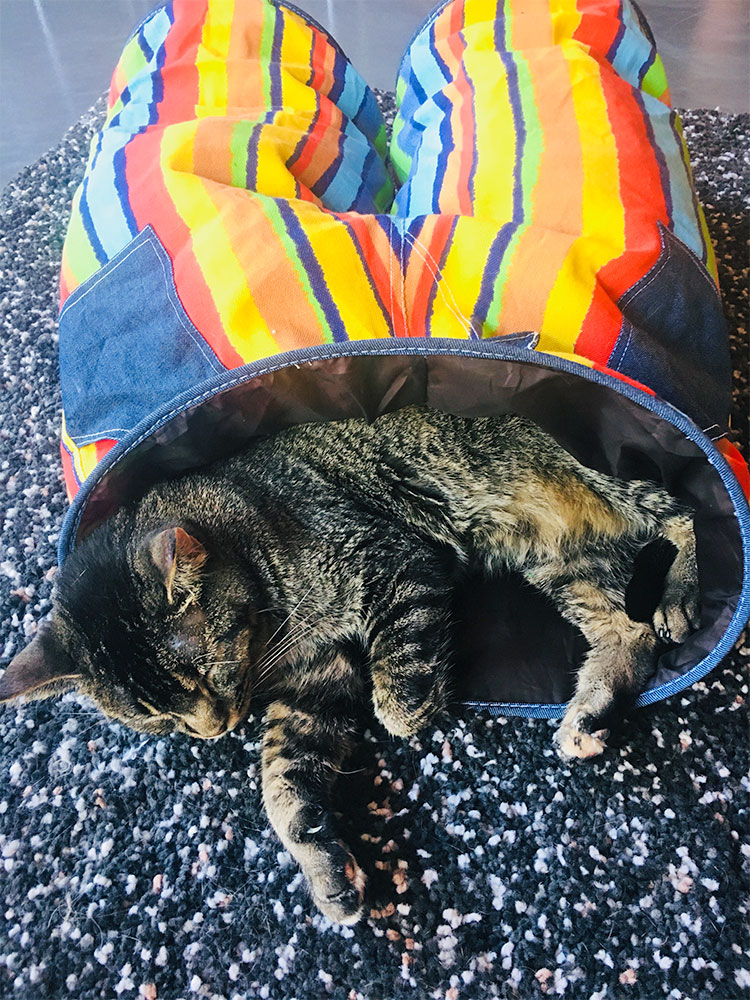 2. Sylvester
Lovingly described as the occasional grouch, Sylvester stole our hearts by combining our favorite things: orange cats and being glued to the television.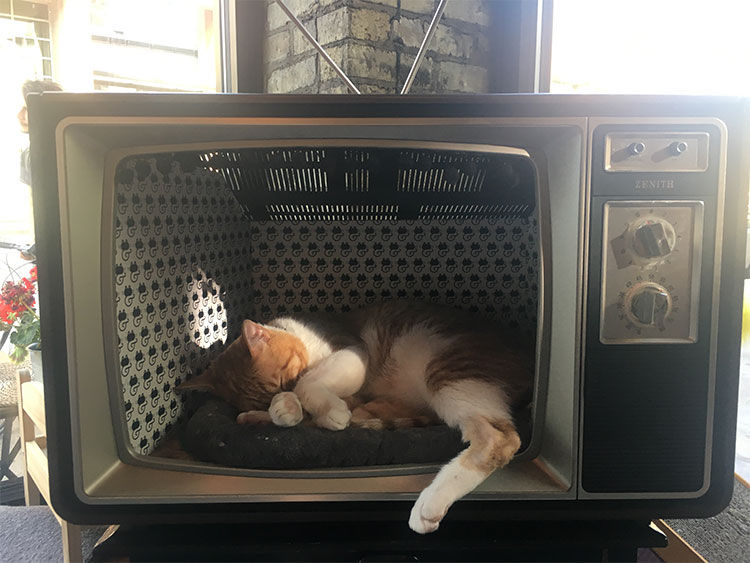 1. Tobias
No cat—perhaps no living being—has ever been as cozy as 4-year-old Tobias, who tried out a few different positions and even snuck a toy in his brown cocoon. Congratulations, Tobias!