Less than a decade ago, Milwaukee's restaurant scene—if you could call it that—was a spackling of stalwarts-turned-culinary linchpins. Most of these spots had clear and easily defined concepts (French bistro, rustic Italian, greasy spoon, etc.) which one wouldn't require an expansive food lexicon to interpret. As the country's great restaurant boom stretched past the metropoles into mid-sized cities like Milwaukee, so too did the field of choices. Enterprising and expressive minds set up shop with excited and hyper-focused lenses fixed on unique niche ideas.
As exciting as it was to see Milwaukee suddenly exploding with this level of ingenuity, it felt somewhat lost in the shuffle of individuality. It was still a novel venture to just open a damn restaurant. The last year saw a turning of the tide in that sentiment with the re-opening of Karl Ratszch's and the birth of DanDan, killing it with their interpretations on German fare and American Chinese, respectively. Adding to the list of modern chefs taking on classic concepts is Andrew Miller of Merriment Social, with his new vision of seafood at the sparkling new Third Coast Provisions (724 N. Milwaukee St., 414-323-7434).
The space: Be not afraid of the thematic porthole entryway. Third Coast's interior is not designed to appeal to one's plebeian understanding of nautical themes. The restaurant, which inhabits the space that homed the original Carnevor, is absolutely stunning. The bright dining room comes to life with a refined vigor and the all-too-rarely achieved opulence that happens when gold accents are implemented with grace. The two-floor dining area fits effectively into one large open room with the lower level and bar covering the first expanse of the room, and leading to a balcony that takes guests to the upper dining area. Assuming the intention was for diners to feel wrapped in a comfortable-yet-upscale vibe, the conceptualization was captured masterfully.
Milwaukee Record's food: The multi-bracketed menu has four categories that could all feasibly crouch beneath the "starters" umbrella. We aimed to bounce around the menu as ambitiously as our hedonistic gullets would allow, but finding a decent range of light fare proved—uncharacteristically, when compared to many seafood restaurants—difficult. The raw bar didn't provide many options that could showcase a particular measure of distinctive technique. As beautiful a thing as it is, a shucked oyster is just that. Beyond a mignonette or the light dabbling of some other sauce, it requires no preparation. Similarly, any take on a shrimp cocktail that removes it from the realm of the delightful tackiness it's lived in for decades would be borderline iconoclastic.
Going with the "show us what you got" approach to the menu, we started by plucking the "Milwaukee" option—pastrami, garlic, shallot, and beer—from the char-grilled oysters section ($23), and lobster potholes ($17) from a portion of the menu that was simply labeled "Small." The brine of the meaty oysters played well with the smokiness of the meat and char, but the heavy flavor all but mandated that one or two were enough for each diner. There was no refuge from said heaviness when we dug into the inexplicably named "lobster potholes," which translates to "escargot pans filled with lump crab, herb butter, and brioche." Misleading (or, more likely, unintentionally confusing) classification aside, the dish was delicious, and did well to satisfy the knee-jerk craving for egregiously butter-drenched crustacean that comes with the sight of an escargot pan.
A bottle of Gewurztraminer and half a pound of seafood done in the style of extreme comfort mood is a good way to set the tone for a lethargy-driven main course. Thus, we preempted the mains with an intermission crudo. The tuna came accompanied by a classic and simple pairing of jalapeno and avocado, serving as a nice cleanser. Following the crudo, we gave the shrimp and grits a whirl. Sadly, Third Coast's take on the Southern classic was the first swing and miss of the evening. The grits were mealy and the normally straightforward dish was hammered with vadouvan, which defeated the accompanying ingredients' less competitive flavors.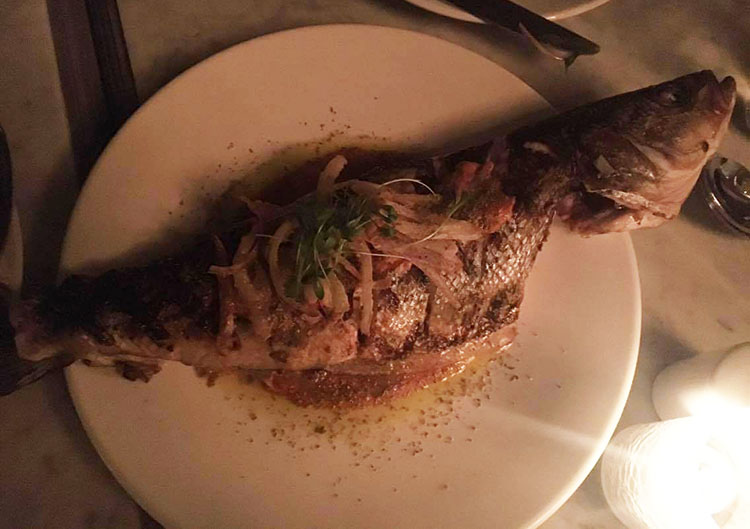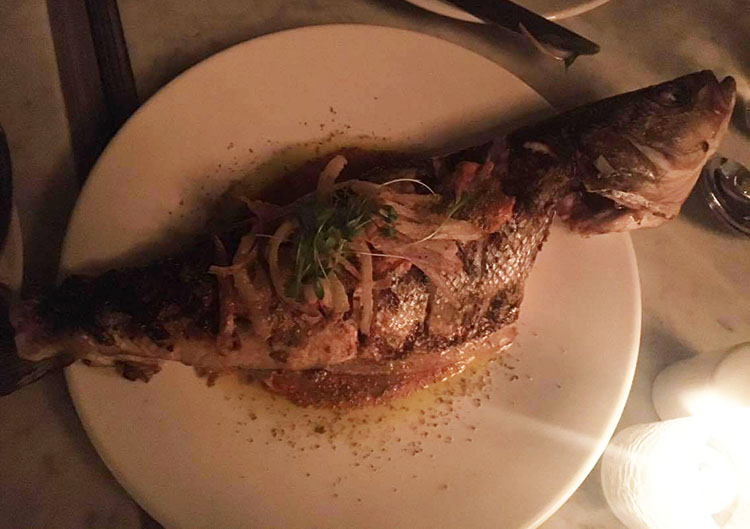 The menu bisects the main courses into dueling categories: "Fish" and "Entrees." The latter primarily features seafood that isn't specifically fish, as beef tenderloin is the lone exception. The fish of the day was a delicious whole roasted Baja sea bass that came with a romesco sauce, fennel pollen, onions, and lemon. We decided to close out our savory selections with a punch to our pancreas in the form of a lobster pot pie, the star of the evening. It's rare that something this hearty isn't a one-note snoozefest of a dish, but there was a certain balance with the pot pie that warranted special recognition. Beneath the fairytale phyllo dough, a truffle butter slathered phenomenon that stayed crispy even after being cracked and submerged into pie, was a trove of lobster meat and seasonal vegetables.
The big bold flavors to which we'd now grown accustomed at Third Coast were sadly concluded with a whimper, as we punctuated an otherwise solid meal with a lackluster dessert: a pretzel bread pudding. It's difficult to say if what fell off the tracks so dramatically with this dessert was execution or the unorthodox concept, but what landed at our table lacked the taste, texture, and temperature we'd anticipated when ordering.
The verdict: Third Coast is worth your time, attention, and money—assuming you've got those three things to spare. Still, there are some kinks to be worked out in terms of identity. There's also not a whole lot that feels "third coast" about whole roasted fish from South America. With these small gripes in mind, and though some of the flavors weren't what was expected, the overwhelming majority kicked a good amount of ass once they hit the table. Unique and surprising tastes are rarely executed as well as what is featured on chef Miller's imaginative menu. Yes, there were a couple of missteps, but the hits were solid enough to warrant a visit, and that doesn't even touch the remarkable service and unbelievably gorgeous ambiance.