A totally tubular game show host pumps up an already pumped-up crowd. Four teams slosh around in a super sloppy obstacle course stocked with buckets of popcorn, swimming pools of slime, and paper mache boulders. Audience members get blasted with silly string. Everyone does some soul searching about what it means to be a "winner," how the overwhelming need to succeed can lead to compromise, and why, after all is said and done, we all still need to play the game. Also: more slime.
No, it's not a particularly heady rerun of Double Dare—it's Winnerz Take All, the 10th annual spring production from the Highland Community Players. Led by Performing Arts Director Barry Weber, the Players are Milwaukee's one and only theater troupe of 4th, 5th, and 6th graders operating out of the gym of Highland Community School. Past Highland plays have drawn inspiration from the likes of David Lynch and Twin Peaks, Jim Jarmusch and Dead Man, and retro 8-bit Nintendo games. This year's hook? Eighties and '90s-era Nickelodeon game shows.
"The focus in our lifetimes, and especially now, is all on 'winning,'" Weber explains. "And not just winning, but especially not losing. In this play, you'll see that all the teams have different levels of hierarchy, and how they react to either going up or going down in hierarchy. I wanted to explore what we're willing to do, and also what behavior we're willing to excuse."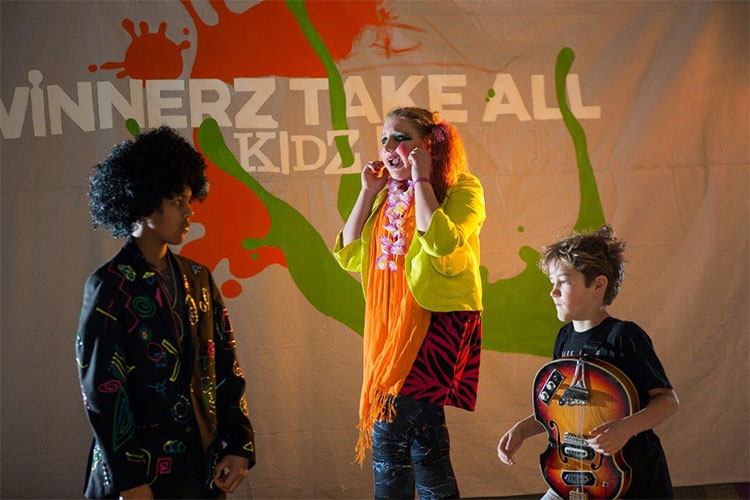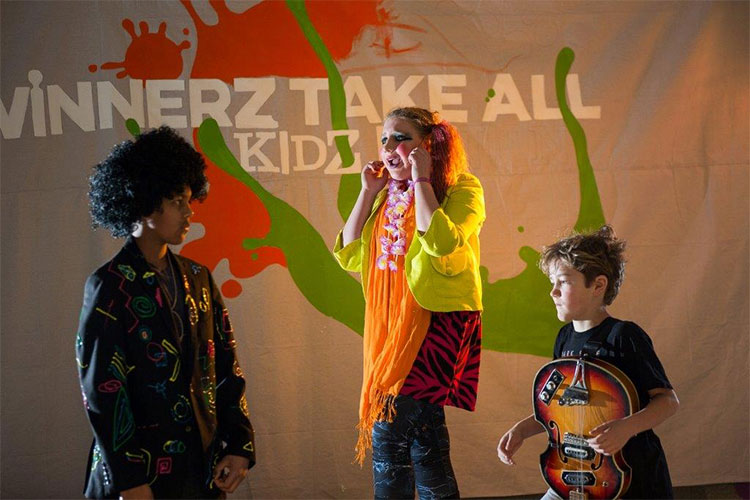 Similar to years past, Winnerz features a diverse cast (and crew) of grade-schoolers—all age 9-12—throwing themselves into Weber's mix of Xennial nostalgia and pre-teen concerns. Four color-coded teams with elaborate backstories hash it out over the course of three "episodes" of the titular game show. The long-dominant Gold Team grapples with its recent struggles against the rival Red Team. The Blue Team takes steps to becoming a new dynasty. The Gray Team struggles to win a single game. Meanwhile, scheming network execs keep an eye on the bottom line. Themes of privilege, fairness, cheating, and favoritism play out over a game show backdrop that's part Double Dare and Guts, part Legends Of The Hidden Temple and Video Power.
"It's a game show, and it's going to get a little messy," says Siri Reinbold, who, along with Ingrid Berner, plays a referee. "We've done other plays but we've never done a game show. There's a lot of slime and stuff. I'm kind of excited."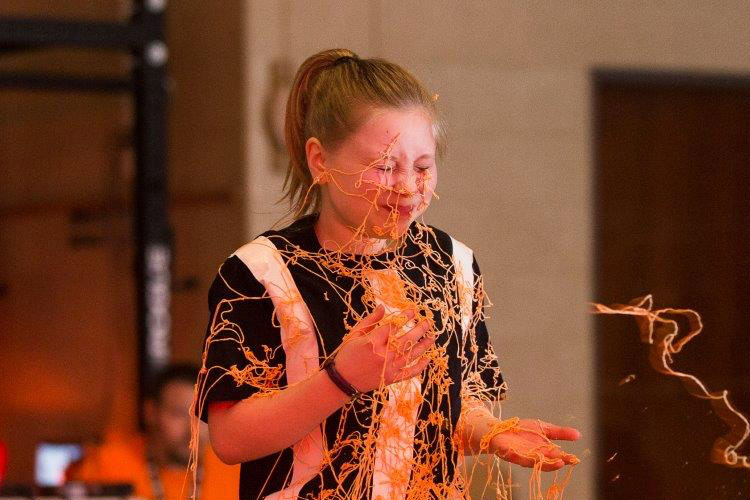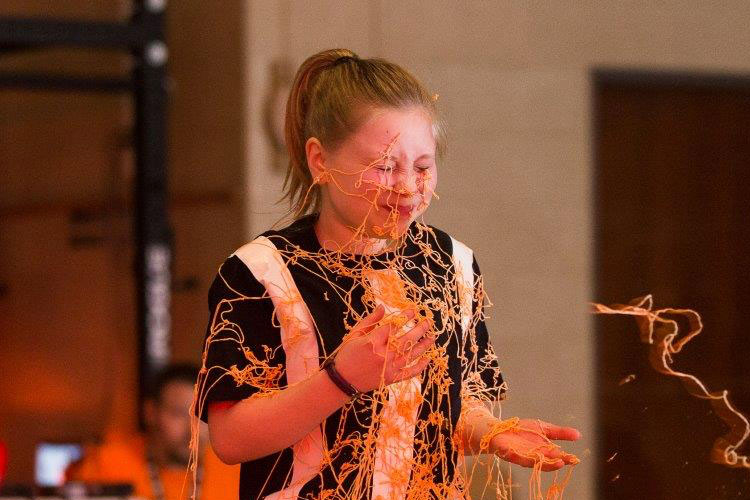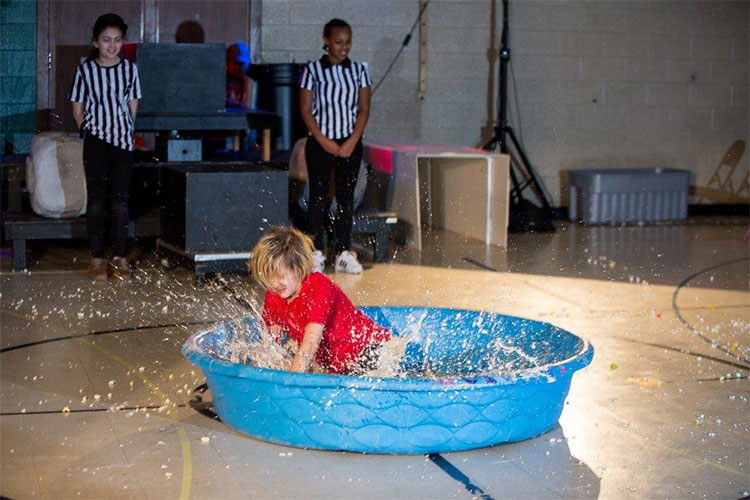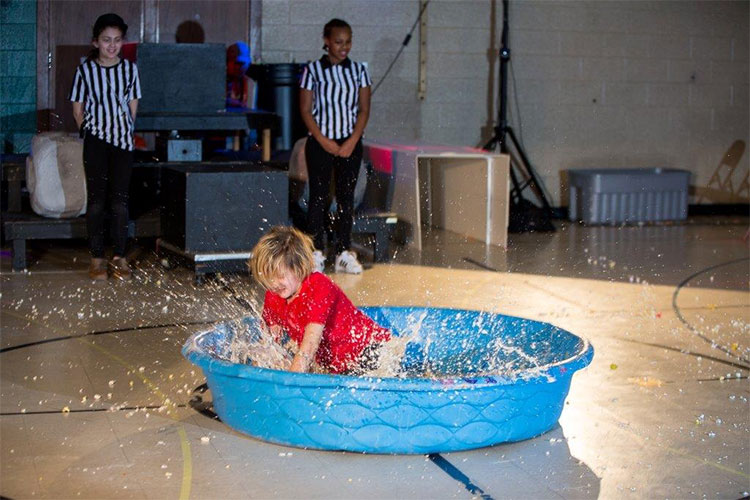 While previous Highland plays drew from unlikely sources, the productions themselves were relatively straightforward: performers performing on stage, audience members watching from their seats. That began to change with 2017's Quest For The Sacred Orb, which found the crowd playing an active, Choose Your Own Adventure-esque role in determining the play's outcome. With Winnerz, Weber has gone all in on audience participation, asking the audience to choose sides, root for their teams, jeer the other teams, and, occasionally, participate in the game itself.
"I thought we really hit something with last year's show," Weber says. "We didn't know how good it was until the audience came in and went completely insane. It was exactly what we wanted. Now we want to see how we can go even further."
To go that extra mile, Weber has added another element to the mix: professional wrestling. Trash talk, heel turns, and unlikely upsets all find their way into Winnerz' tangled web. "I guess I've realized how much professional wrestling still influences, at least the old stuff still influences, how I approach live theater," Weber says. "I think it's live theater at its best."
"Mr. Barry makes these plays so you get to interact with the crowd," says Skye Posey, who plays a Gray Team captain. "You can bring them on stage. That's what I think the best part is. You don't actually know who's going to win."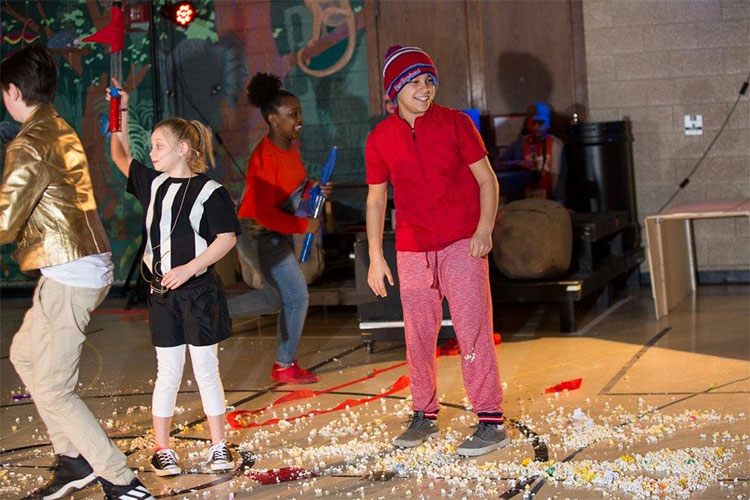 Once again, the inspiration behind Weber's kids play is straight out of mom and dad's misspent childhood (expect plenty of "Pump Up The Jam" and "Oh Yeah" on the soundtrack), but the themes and issues he injects into it are relevant to any pre-teen today. It elevates the material far above the usual kiddie fare sprinkled with occasional adult references, and turns it into something vital and thought-provoking. Also: it's a lot of fun watching a bunch of kids having a good time.
"I'm really into '80s and '90s hip-hop, and early 2000s," says first-year Highland Community Player Henderson Smith, who plays an announcer. "I have a bunch of Adidas stuff and I got shell toes for Christmas. Me and my dad bought the bucket hat and the glasses so I look like Darryl from Run-D.M.C."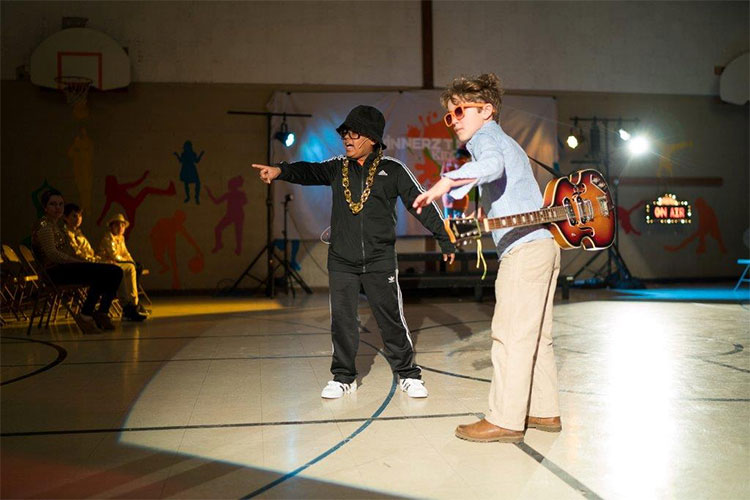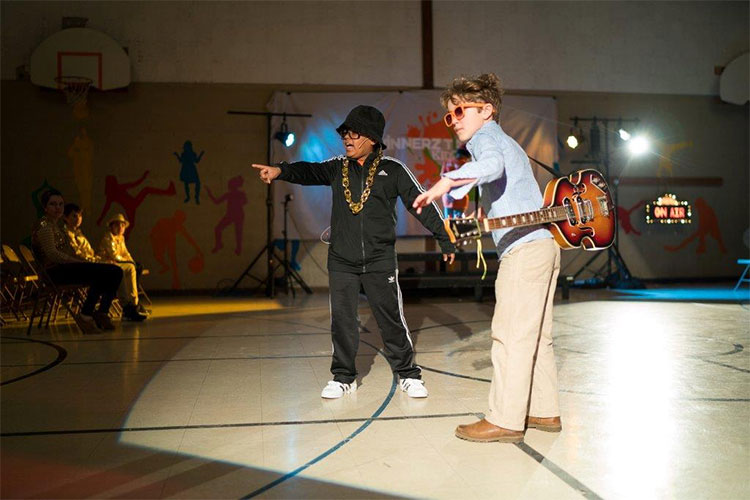 "Everybody plays" serves as Winnerz' tagline, but it also subs for Weber's—and Highland Community Players'—overall mission statement. For the 35-actor cast, different hosts, announcers, referees, and team captains pop up over the course of the three acts. Boys and girls of all ages and skill levels get a chance to sink their teeth into meaty roles. For the audience, the line between spectator and participant is blurred, resulting in an entire production that falls somewhere between play and actual game show.
"The audience is such a huge part of the show," Weber says. "They're volunteering to be a part of everything. They're helping to determine the ending of the show."
And what about all the silly string and swimming pools filled with slime and popcorn? "It's also just a chance to make a mess," he adds.
Winnerz Take All will be staged Wednesday, March 7 and Friday, March 9 at 6:30 p.m. at Highland Community School.