Assuming I eat a fish fry the day this article comes out, I'll have eaten a fish fry every Friday night for eight years straight. It's not something I set out to do, but I'm grateful for the opportunity to keep at it. I don't see myself stopping anytime soon, but as I've said before, someday there will be an end—to the fish frys and to life. It could be next week. It could be in 35 years. That's how the big game works. My one hope is that I go out with a smile, just like Paul Newman did when he got shot at the end of Cool Hand Luke. One last fish fry in the hospital bed, a smile, and they can roll me away.
But enough with the morbid ruminations, you're probably here because this is one of those "best of" lists where someone qualified tells you about the best they've experienced of such-in-such in the past year. This "best of" list is called "The best Milwaukee-area fish frys of 2021," and I'm qualified to write it because who the heck else are they gonna get? An actual food expert?
Like last year's list, this one is a little different from ones from previous years. You can blame the pandemic for that. Except for the fish fry I made for myself on New Year's Day, all of the fish frys I had from January through April were pickup/carryout frys. I started dining in restaurants again in May, returning to a bunch of my favorite spots and trying some new ones. It wasn't until late October that I fired the column back up. This list reflects these realities.
Being that I went back to so many places I've gone before—on account of the year's unique circumstances—I think some of them are worth mentioning here, even if they've been on "best of" lists from past years, or have previously been given a "recommended" stamp:
all helped get me through the early, colder months of the year. In particular, The Packing House drive-thru was a reliable and consistent go-to any time that I didn't feel like finding a new place to pick up from.
Some old favorites that I returned to after I began dining inside restaurants again include:
When I'm asked about the best fish frys in the Milwaukee area, I still usually rattle these three off as the holy fish fry trinity. Pat's Oak Manor might not have been as satisfying as it was during past visits, but it still was strides ahead of most places, and worth including here.
I not only went to Kegel's Inn and Pat's Niche Pub and Grub for pickup early in the year, I dined at them later in the year too. Pat's Niche didn't seem to have the same charm as it did when I first went in 2019—although the food was still great—and I found out not long after going this year that they were having some remodeling done. I'll have to stop back sometime in 2022 to get a better sense of where they are now. One other "recommended" place I returned to dine at was The Cellar Pub & Grill (Oak Creek), and once again I was pleased.
Three places that I had fish frys at this year that I haven't written about yet intrigued me, and I likely will return to them: Buckatabon Tavern & Supper Club (Wauwatosa), The Neighborhood Draft (Milwaukee), and Wegner's St. Martins Inn (Franklin). Maybe they'll get a full endorsement next year and end up on next year's list!
I can't say that any of the nine places that I've gone to since I restarted the column were exceptional, but all were worth a stop, and none were even close to lousy. "Recommended" and "honorable mention" fish frys are included on "The best fish frys in Milwaukee (and beyond)" list. It's a tough call to make, but I'll add seven of the nine to the list as honorable mentions, and include them as part of the best Milwaukee-area fish frys of 2021:
If it wouldn't have been for the second round of fish at TinCAN Roadhouse being subpar, they would have been more than an honorable mention, and been worthy of a full-throated recommendation. Some of the others were close, too, and Cozy Inn is worth a stop, even if it's not on a Friday and just for a drink.
Last Friday, on Christmas Eve, I made a homemade fish fry with my family. I plan on making another homemade one today, on New Year's Eve, having picked up a few pounds of lake perch from St. Paul Fish Company to deep fry in Miller High Life. I'm taking next week off from writing, but should be back for fish fry #419. Have a happy, productive, and safe new year!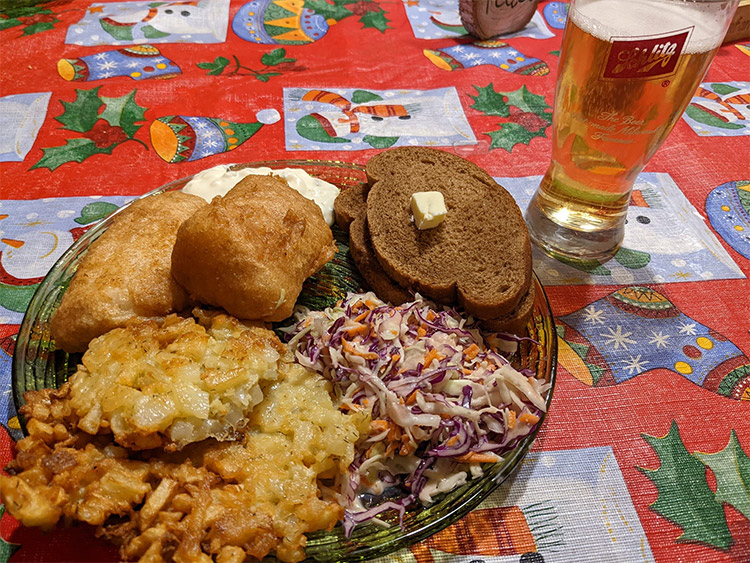 Exclusive articles, podcasts, and more. Support Milwaukee Record on Patreon.
---
RELATED ARTICLES