Caleb Westphal hasn't missed a Friday fish fry since 2013. Follow along with his never-ending adventures here.
Sunlight glistened off a red, 1960s-era Mustang convertible as I followed it up the on-ramp onto the Hoan Bridge. Being that I hadn't been on the bridge since before the pandemic reached our shores, the excitement grew as I made my way to its crest. It seemed like a typical day, traffic-wise, with nothing indicating to me that we were in the middle of a world crisis. As usual, cars whizzed by me even though I was going well over the speed limit. I rolled down the windows to let in what I hoped was some virus-free air. The Milwaukee skyline came into view, bringing the beauty of the city to me in a way I hadn't seen it in over two months. There's a lot of uncertainty these days, but here's one thing I know: Put me in a car climbing the Hoan Bridge on a sunny day with the windows down, with the Allen-Bradley Clock Tower to my left, Lake Michigan to my right, and the Milwaukee skyline out the windshield, and for that moment, there is no world pandemic; there is no sickness; there is no death.
This is especially the case if you also happen to be on your way to pick up a fish fry. Which, you better believe I was.
I was headed to Tess (2499 N. Bartlett Ave., 414-964-8377), a restaurant with an eclectic New American menu that is nestled in the city's east side, on the southwest corner of N. Bartlett Avenue and E. Bradford Avenue. Those who have lived in the city for decades may remember the brick two-story building being home to establishments such as the Corner Grill, Cafe Iguana, Miro's Serbian Cafe, and Norman's. It opened as Tess in 2002, being named for Tess Sardino, the grandmother of one of the original owners, Joe Volpe. Volpe opened the restaurant with Mitchell Wakefield, who now owns it with his wife, Ashley.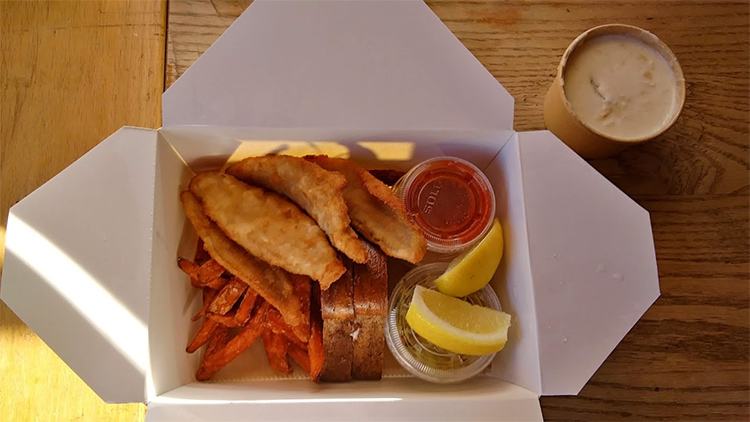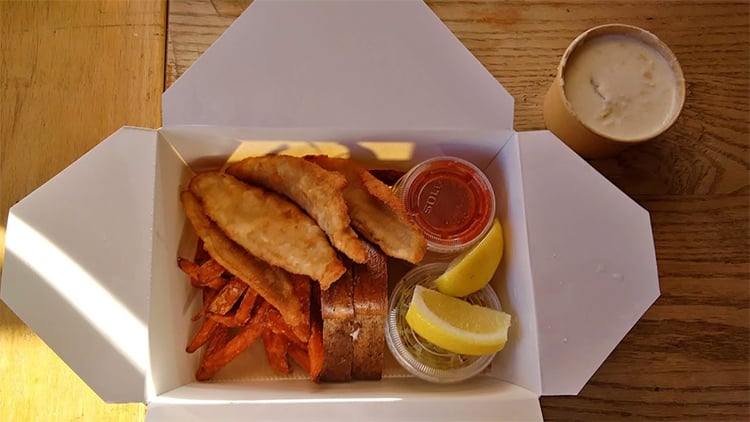 I had placed an order online earlier in the afternoon to be picked up at 5:30 p.m. Fish frys are available for carryout or delivery from 4:30 – 8:30 p.m., and orders can be placed online or by phone. Tess has two types of fish frys available: panko breaded lake perch and tempura battered tilapia ($16). Clam chowder is also available ($4 for cup/ $8 for bowl). I went with the perch and a cup of chowder.
I parked down the block when I arrived, so I could take a picture of the building from a distance and then walk up and get my food. A masked employee brought it out moments after I called to say I had arrived. On my drive home, I went down Water Street, and saw the heart of the city for the first time since that eerie last dine-in fish fry nine weeks prior.
After washing my hands 9 billion times, I was ready to dig in. (Sidenote: Remember to sing "Fish Fry Day" two times whenever washing your hands on Fridays.) The chowder was thick and creamy, and managed to be flavorful even though there didn't really appear to be any seasonings or herbs in it. An average amount of clams and vegetables were in it, but it seemed like there were a lot more since the potato chunks were so large. Overall it was a fine effort and worth the extra $4.
Tess keeps things pretty simple with their fish frys: you can choose either tilapia or perch, and both come with the same sides. I can't tell you anything about their tilapia, but the perch was outstanding. I don't often get perch, so I don't have a large pool of places to compare it to, but this might be the best I've had in the Milwaukee area. The only nearby place that I can think of that comes close to it is St. Paul Fish Company, and the only place anywhere that I'd for sure put above it is Wendt's on the Lake in Van Dyne.
The perch itself was full of flavor and appeared fresh. The breading gave the illusion as if it was about to crumble apart, but in reality it adhered perfectly to the fish. To top it off, the tartar was right on target with its flavor. Sweet and tangy, it had a thin consistency and not many pickle chunks, but had seasonings that gave it a lot of character. Perhaps the only real drawback on the perch was that there were only four fillets. A double portion option on the menu would have hit the spot.
Both Tess fish frys come with sweet potato fries. They were fried to a balance—not being overly soft or overly done. They had a small amount of large grains of salt on them, which appeared to be sea salt, not an everyday table salt. A piece of marbled rye was halved, buttered, and placed together like a sandwich. It was so thick it seemed like it was four pieces of bread on top of each other. The coleslaw was Asian-inspired, with sesame seeds in what appeared to be a rice wine vinegar base. The meal also came with "housemade ketchup," which was a chunky, stewed tomato or salsa-like concoction. I really couldn't figure out what to do with it.
Tess is one of those places that I've wondered about over the years but never set foot inside of. Although I'll have to wait a bit longer to do so, I've at least now gotten to try the food. If their perch is any indication of what their interior is like or what the quality of their other food is like, they'll be a place worth circling back to in the future. If you are hankering for some perch, I'd suggest giving them a try. Just like driving over the Hoan Bridge on a sunny day, it can make everything seem all right.
Takeaways: Excellent panko breaded perch that dips well into a sweet and tangy tartar; extra thick rye bread; Asian coleslaw; the potato is a sweet potato; I didn't know what to do with the ketchup.