Caleb Westphal hasn't missed a Friday fish fry since 2013. Follow along with his never-ending adventures here.
Well, here we are. At this point, things are moving so quickly that what may be true on one Friday may not hold true the next. This past Friday, most—but not all—bars and restaurants were still open and serving fish frys, albeit with workers and patrons having a heightened sense of awareness. Concern multiplied over the weekend as the number of confirmed cases of coronavirus in the country and state rose. On Tuesday, Governor Evers ordered all bars and restaurants closed except for delivery and pickup. As I now put my thoughts together about last Friday's fish fry on this rainy first day of spring, restaurants are still serving in this capacity.
I'm planning on getting a carryout fish fry this Friday (March 20), but if the availability of getting one changes in the coming weeks, I have about five weeks worth of fish in my freezer. As the rush on toilet paper was intensifying last week, I headed to Pick 'n Save and bought some cod. This Wednesday I stocked up on other groceries at Outpost and also bought more fish. If it comes to eating fish at home, what will my review of it look like? Will it finally be exposed that I have no business critiquing someone else's ability to make a fish fry as I can't make a good one myself? If I end up making the same recipe for weeks on end, will there even be anything worth saying about the food? Will the column turn into a reflection on what is going on outside my window and not on if I battered the fish properly? Who knows. We are in uncertain times, my friends.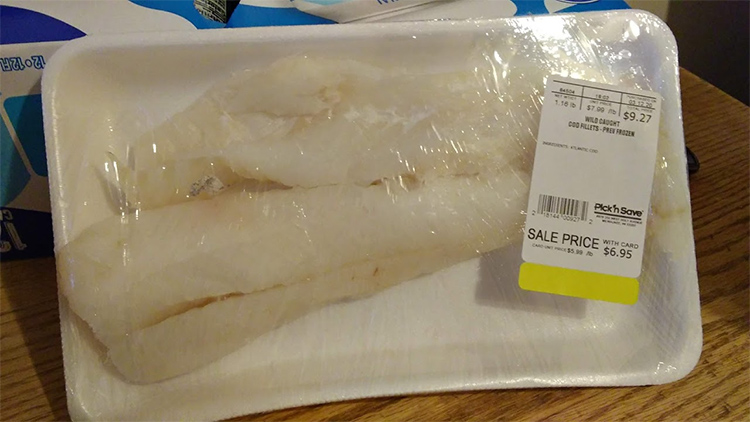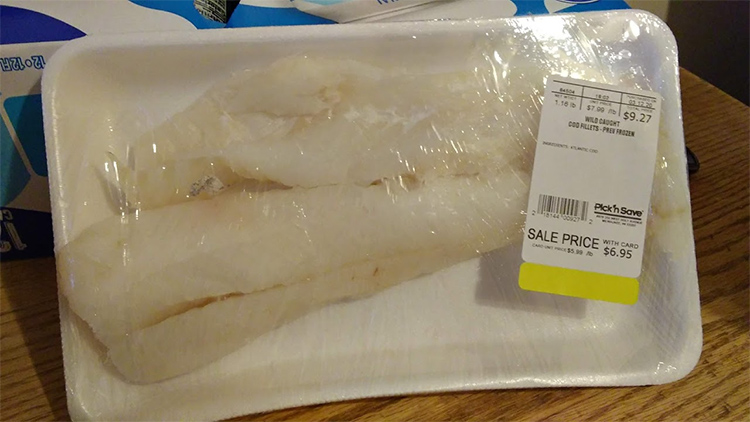 I've always imagined that one day I would get sick and not be able to eat a Friday fish fry, but I never imagined that it could possibly be on account of a world pandemic. In the past, I've also reflected on my own mortality, writing, "Never has death's finality struck me so deep as when I realized that at some time the Friday night fish frys will end." There are a number of reasons why my streak may end now. It might end because I can't buy any more fish, and it might end because I get the coronavirus, and it might even end because I die from the disease. But this I vow to you: I will press on as long as I am safely able to do so.
This past Friday, I took the Green Line to downtown. I hesitated, thinking about driving at first, but eventually decided I would make the commute my last on the bus for the time being. Upon exiting the bus, I found Red Arrow Park deserted. Some of the surrounding streets had a similar emptiness as I made my way to Flannery's Bar & Restaurant (425 E. Wells St., 414-278-8586). With my St. Patrick's Day plans canceled, I knew getting a fish fry at an Irish bar and restaurant the Friday before the holiday was the closest I'd get to celebrating it in public this year.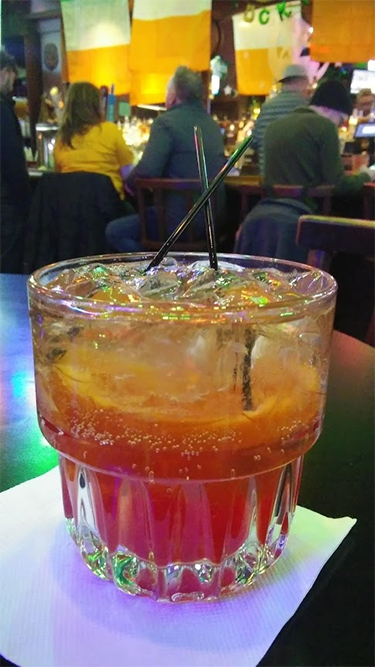 Although the streets weren't that busy, Flannery's was still rather full—although, it likely would have been a lot more full if it would have been a normal Friday. Soon after I was given a seat at a high top table near the entrance, I was brought a menu and given the opportunity to order an Old Fashioned. The menu listed beer-battered cod, either in "full" ($14.50) or "petite" ($11.50) sizes. The side options are salad, straight cut fries, waffle fries, or sour cream and onion fries. (At least I think sour cream and onion was the final option. Once I figured out there were no potato pancakes but there were waffle fries, my mind went straight to them.) Besides the usual fixings, each dinner is accompanied with a bowl of New England Clam Chowder, Cajun Clam Chowder, or a salad. I went with the larger fish fry with the waffle fries and New England Clam Chowder.
The Old Fashioned was muddled with cherry and orange, but was garnish free. Something seemed a bit lacking in flavor and perhaps a few drops of bitters could have done the trick. The chowder came out quickly and was thick, creamy, and flavorful. As I lowered my spoon into it, I immediately hit a large chunk of a red potato. All the potatoes were of a generous size, as were the pieces of clams and celery. A sl of bread of the French baguette variety came with the chowder.
Waffle fries. What can you say about them? There's isn't much that can be done to mess them up and most are similar to each other. These were on the mark in both texture and flavor, just how you'd want them. The two quarter pieces of marbled rye were a little bit on the tough side, but this wasn't because they were stale—they seemed slightly toasted. The coleslaw was fresh and crunchy with a light salad dressing coating. The dressing was so light that I wondered how so much flavor could be packed into the slaw. Three pieces of lightly-battered cod rounded out the meal. The batter was flavorful and the fish was meaty and thick. A thin, tangy tartar with minimal relish and what looked to be a bit of dill came on the side.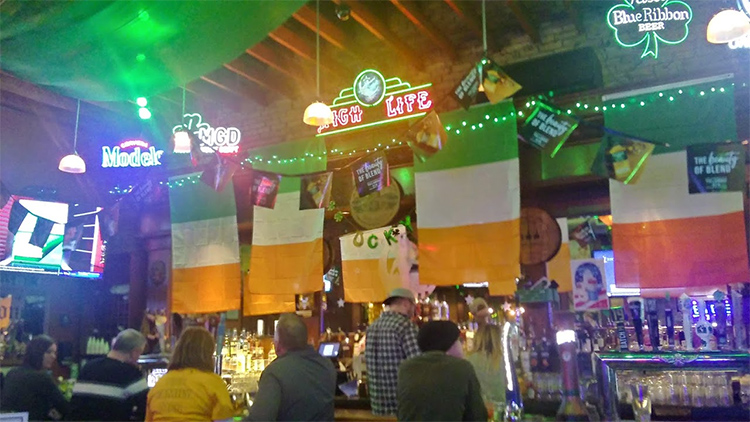 Halfway through my meal I ordered a beer—a tap of Pilsner Urquell. It came in a large mug and most of it was still left after I had finished eating. So I just sat there, drinking and looking around. Irish flags hung above the bar, and in the middle were displayed letters that spelled out "LUCKY." I started thinking about it. Lucky. Lucky. All these weeks of eating fish. All these years of eating fish. All these meals shared with good friends. How lucky I have been. How lucky I have been even if it all ended now.
But my vow to you is that I will try to stay the course for as long as I am able. When I was buying my supplies for potential stay-at-home fish frys, I forgot to pick up pickle relish for tartar sauce, and I don't feel like going back to the store right now. So, if anyone has an extra jar and wants to leave it at my doorstep, I'd be most appreciative. Also, feel free to use the comment section to share your fish and potato pancakes recipes or pictures of you eating Friday night fish frys in your homes with your families. We'll get through this. Take care of yourselves and each other. Enjoy every fish fry.
Takeaways: Excellent chowder with big portions of potatoes, celery, and clams; solid waffle fries; fresh, flavorful slaw; a tasty batter on a hearty fish; they currently have carry out service; there also is a Grafton location; be well, everyone.