In Search For The Perfect Packers Bar, Milwaukee Record contributor and Green Bay native Maggie Iken sets out to find the best Packers viewing experience Milwaukee has to offer. Catch up with Week 1, Week 2, Week 3, Week 4, Week 5, Week 6, and Week 8.
I went a bit out of my comfort zone this week and ventured out to Tosa. I checked with some of my Yelp Milwaukee buds for recommendations, because my knowledge of the area is slim to none. Walter's On North was one of the most frequently mentioned establishments, being described as a dark and dingy sports bar with friendly service. I plugged the address into my phone's GPS and was ready to explore uncharted suburban territory.
Maybe it was because it was a noon game, but Walter's was far from dark and dingy. It was very similar to the townie bars in Green Bay, which means the décor and set-up is at least 15 years outdated. The walls had framed jerseys from Tosa high school sports, banners of the bar's game day and happy hour specials, and Wisconsin team flags. There was a lot of stained glass, including small hanging lamps every couple of feet above the bar. There was wood paneling and carpet (yep, carpeting in a bar). But most importantly, there was an abundance of TVs. Anywhere you could sit or stand had at least one screen in eyesight. Walter's has no frills, but it doesn't need them.
The service was indeed friendly. The only employee not wearing Packers gear was wearing an Army Of Darkness t-shirt, which gained her the utmost bonus points. This was also the first bar in a while to have touchdown shots. They were a relatively unappetizing mixture of what I deduced was green apple Pucker and orange juice. Whatever, they were free.
My companion and I split several food and drink items. One of the Packers specials was $5 Miller pitcher; our order of High Life was more than four pints, and if you can do simple division, that's a damn good deal. We also ordered bloodies, as is customary when watching the NFL before sundown. The garnish had two different kinds of cheese (pepper jack and cheddar, I believe) so I was satisfied.
Moving onto the food. The two of us pretty much ordered everything we wanted off the menu. We got a cheeseburger with wedge fries. The burger was greasy, messy, and delicious. The fries were seasoned perfectly. We also got jalapeno poppers and wings. The poppers were my favorite (stuffed with cream cheese instead of cheddar). The wings were okay. The breading was really thick and they weren't spicy at all, but they had a lot of meat on them.
There were no prices listed on anything, except the drink specials. Minus the beer, the food and bloodies totaled $33. For the amount of food we had and how bloodies typically have an obscenely inflated price, this was on the cheap side. This alone makes me want to return.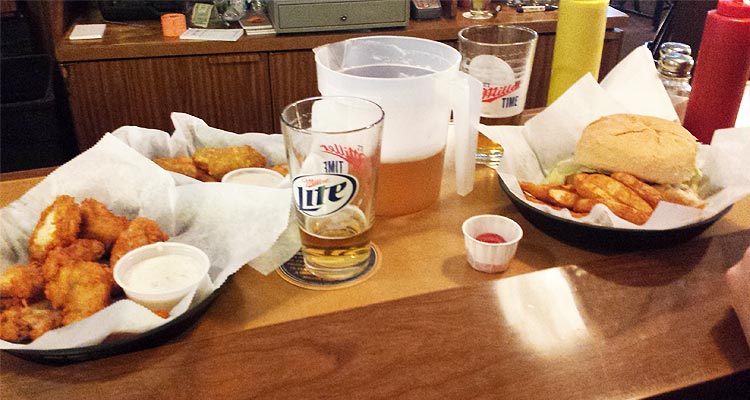 Some of the patrons were hilarious. There was a woman in her thirties who quoted the Wedding Singer, spoke in depth about how her favorite Target had changed its layout, and asked if her friend read the Buzzfeed newsletter, which she admitted to reading religiously. There were also three nerds in Panther apparel, who decided to sit as far away from Packers fans as possible.
And that brings us to the game. Ugh.
Aaron Rodgers broke his tablet in rage. Eddie Lacy wasn't as memorable as he once was. Richard Rodgers and Damarious Randall both stepped up, gaining a touchdown and interception, respectively. Everyone in the bar went nuts and yelled "RIP IT!" when Aaron Ripkowski had a single good play. Ha Ha Clinton-Dix got in a sideline scuffle with BJ Raji and Julius Peppers, for which he later apologized via Twitter.
I apologize for my play and sidelines issues. We are good just two emotional guys with heart and passion trying to find away to win. — Ha Ha Clinton-Dix (@haha_cd6) November 8, 2015
I will never disrespect a HOF player and a guy I've been watching since I was a little kid. Misunderstanding, I apologize to my packer Fans

— Ha Ha Clinton-Dix (@haha_cd6) November 8, 2015
The bottom line is that Green Bay's offensive line is garbage. It's been garbage since Mark Tauscher retired, and even then it was marginally above garbage. The O line is equivalent to the load of shit that clogs your kitchen sink because you don't have a garbage disposal, and proceeds to stink up the entire room, and you can't get rid of it because Drano is bad for the pipes, so you light a bunch of candles to distract yourself from the fact that you have moldy chili beans and potato skins taking up residence in the pipes. Green Bay should know by now that they need to be drafting guards and tackles. They don't need to waste draft picks on backup quarterbacks.
And who is play calling now in place of McCarthy? I'm going to need you to stop doing what you're doing.
At least next week the Packers are playing the Lions. I don't see how they could possibly lose, but if they do, I'll continue bitching about how I, a girl in her early 20s with no background in athletics, could do a much better job than literally everyone who is coaching and managing our team.