In Search For The Perfect Packers Bar, Milwaukee Record contributor and Green Bay native Maggie Iken sets out to find the best Packers viewing experience Milwaukee has to offer. Catch up with Week 1, Week 2, Week 3, Week 4, Week 5, and Week 6.
Coming back from the bye week, I decided to stay closer to my Bay View home and head over to Club Garibaldi. The venerable bar/venue is known for its wings, and I figured it would be a solid follow-up to Points East Pub.
Situated on the corner of Superior and Russell across from Palomino (and near Week 1 Packers bar alum Cactus Club), Garibaldi has a two-room set up. The first room is a bar with minimal seating and a lot of TVs. It's cozy, can be exceedingly loud, and has a bit of a small-town bar vibe. The beer list isn't too extensive, but any place that carries Lagunitas is good with me.
In addition to the wings, the back room is what makes Garibaldi an enticing Packers bar prospect. Typically utilized for live music (such as last year's Local Coverage event), the space is quite large. It's filled with enough tables and chairs to accommodate the number of fans who would come out if the Packers were playing the Super Bowl. There are two pool tables next to the sea of tables, which patrons can utilize during pre-game, time-outs, and other commercial breaks. Sunday night's game was projected on the back wall and was so large that I could see every detail, even sitting towards the back.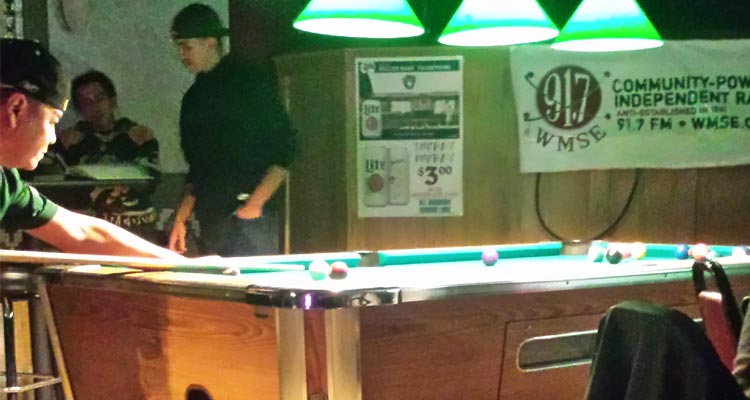 Thus far in my Packers bar search, I can comfortably say that Garibaldi had the best food/drink specials. There isn't any free food or touchdown shots, but there is a Sunday deal of six wings and a microbrew for $7. (On any other day, six wings are $5.50, so I chalked this up as being a great purchase.) The wings were flavorful and juicy, accompanied by a few celery sticks and a bleu cheese dipping sauce. To supplement the wings, my viewing partner and I split an order of tater tots ($4). This everyday price was also a great deal, and left the two of us full and satisfied.
Garibaldi was the bar closest to a true Green Bay viewing experience, which can be a bit of a double-edged sword. Green Bay natives are crazy because all we have are the Packers, bars, a mall, and some bowling alleys. If you take one of things away from us, we lose our worth. Fittingly, there was a table of men who resembled bulldogs sitting in front of me. One of the guys actually scared me. Like, I was legitimately scared for how he would react to the onslaught of effective offensive plays from the Broncos. He had a platter of wings and a pitcher of what appeared to be some sort of light beer in front of him. Every time the Packers failed to prevent a gain of yards, he swore at least every other word. If I had been around for the safety in the second half, I'm sure he would have flipped his table.
In full disclosure, I had to leave at halftime. I got a dog from the Wisconsin Humane Society on Saturday, and she does not like to be left alone. My downstairs neighbor had told me she had been barking off-and-on the entire time I was gone. My dog-mom parental-ness kicked in, and the game was dismal. When I got home, this was the state of the kennel. (At least the bed stuffing is green?)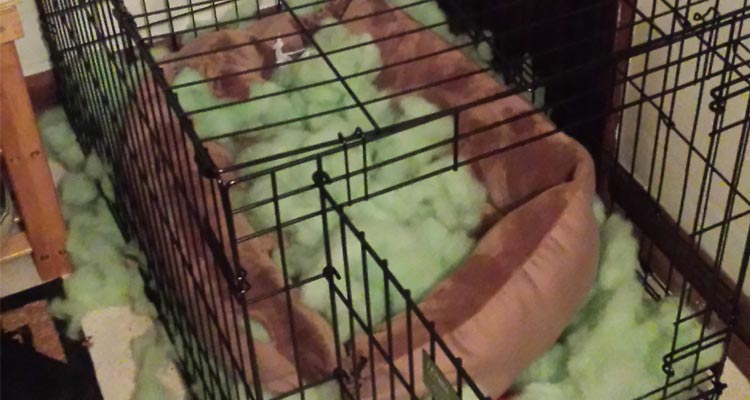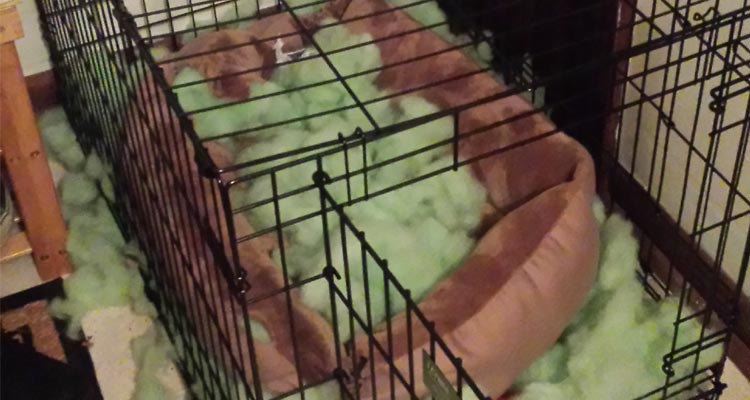 As anyone who was watching the games knows, this was a downer for Packers fans. I'm reluctant to give Chicken Parm Peyton the credit for the Broncos win, because as my viewing partner put it, "He's dead inside." I've never been a huge fan of either of the Mannings (but at least Eli is kind of a doofus who takes comical pictures), and I really didn't think Peyton did anything too exceptional here. The Packers' flaws were exposed in the 29-10 loss. The defense struggled, losing two cornerbacks (Sam Shields and Quinten Collins). Unsure of how long they will be out, Damarious Randall at least proved to be a promising player. Green Bay's offensive line also had a less-than-ideal performance, especially under the direct comparison to Denver's, which was actually successful in protecting the QB. Since Aaron Rodgers had too many Broncos rushing him (ending the game with three sacks), he was unable to pass effectively. The Packers ended the game with a bleak 140 total yards of offense. Hopefully, Green Bay can put this loss behind them and let it be the only one of the season.