In Search For The Perfect Packers Bar, Milwaukee Record contributor and Green Bay native Maggie Iken sets out to find the best Packers viewing experience Milwaukee has to offer. Catch up with Week 1, Week 2, Week 3, Week 4, and Week 5.
For Week 6 of my Packers bar journey, I was craving a standard Green Bay bar feel. I was looking for a bunch of people drinking a bunch of beer, eating a bunch of good bar food. Naturally, I ventured to Points East Pub.
To quote some random lady who was clearly not from Wisconsin, "This is so cool! Everybody is cheering for the game whenever the Packers do something good!" She sounded like she had never watched a game in her life, but her observations were not wrong. Forty-five minutes before kickoff, every seat in the bar was filled. Everyone was wearing a piece of Packers apparel, save for a couple of Bears fans and a group of Steelers fans. (Where did you come from and why are you here?)
The service was phenomenal. The place was packed and I got everything I ordered in an appropriate amount of time. Our bartender, Bill, was holding down the fort quite well, tackling the game-beginning rush with ease. To be clear, there was a good hour where none of the employees had time to breathe because it was so busy, but this did not detract from the quality of service.
If you have lived in Milwaukee for any period of time, you are aware of the cult that surrounds the wings at Points East. Well, they live up to the hype. They're spicy, but the good kind of spicy where you don't notice it until you've had two or three and then your mouth is on fire. My seat towards the end of the bar offered me a view of the cooking process of the famous wings. I couldn't give you an estimate of how many wings I saw served up, but it was a constant cycle of great smells and even better taste. At the request of my viewing partner, I also ordered some jalapeno poppers to compare to my creations from last week. I'm relatively new to the popper game, but this was my first time seeing a red jalapeno. The cheese blend was flavorful and they were served with sour cream. Despite the warning of spicy peppers, they were less spicy than the wings because of the mix of dairy and heat. I want to eat these wings and poppers every week. A+, Points East.
My drinks were appropriately priced. I mainly indulged in one of my faves, Lagunitas IPA ($4.25). I spied a small stash of bottles containing $2 shots. They all looked particularly dismal (vanilla bean, orange dream, etc.), but I went on to order the most appalling of the bunch: the Van Gogh PB&J vodka. I would never choose to drink it again. I also had multiple free drinks, which was one of the numerous highlights of the game. I ended up sitting next to the Lakefront Brewery sales manager, who bought me a Riverwest Stein. (Thank you, Kevin, for working for one of my favorite breweries, despite being a Bears fan!) Additionally, I received a free game-winning shot. Heart emojis everywhere.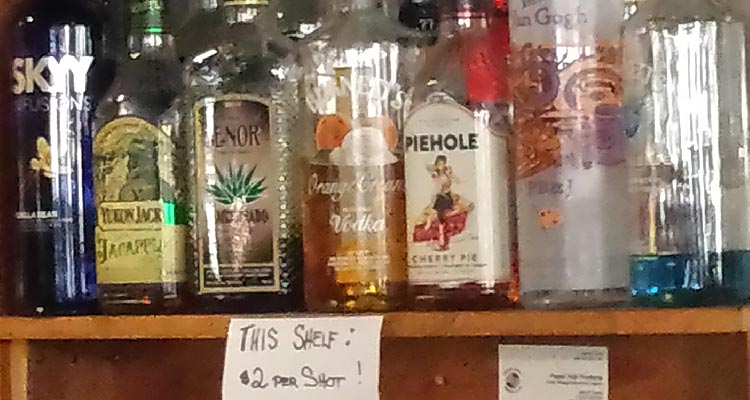 As for the game, I got what I wished for. Never again will I ask for a more competitive game. Texts from my mom included "#!$*&**#$@%%%%$@," "Think I just had a small heart attack," and "You got a more interesting game…" James Starks had a beautiful first quarter, including a 65-yard touchdown rush. Jeff Janis, my new favorite guy who I know nothing about, caught two clutch receptions totaling nearly 80 yards. While the Packers' defense had a few sacks and imperative tackles, they ultimately let the Chargers score far too many points. At least once during each San Diego possession, I felt as if the Packers should have been able to prevent a first down. I'm going to chalk this game up to Green Bay getting too comfortable. Hopefully this will be the wake-up call the team needs, telling them they are not invincible and that they need to continue putting effort into all of their games.
While I'm not quite ready to rank the bars I've been to over the course of this season, I can certainly say that Points East Pub is a grade-A establishment to watch a game. It's the kind of place that makes me a little sad that I have to migrate to a new bar every week. I am pleading with you to check out a game here (but arrive an hour early), and enjoy the experience.
https://www.youtube.com/watch?v=Y6BMHWEs2yI