In Search For The Perfect Packers Bar, Milwaukee Record contributor and Green Bay native Maggie Iken sets out to find the best Packers viewing experience Milwaukee has to offer. Catch up with Week 1, Week 2, Week 3, and Week 4.
Keeping with the brewery theme I employed last week with Company Brewing, I selected Brenner Brewery Company for Week 5. Brenner's Facebook event stated there would be a potluck, and if attendees followed the guidelines and brought a dish to pass, they'd get $2 off pints for the entirety of the game. I could not pass this up, except for one tiny detail: I can't cook for shit.
My mom tells all of our relatives I can't boil water (I can, but I burned a pot once), and there is a recipe for ice on the family fridge (for real, next to recipes for minute-rice and eggs). In Week 1, I devoured some super tasty jalapeno poppers at Cactus Club and I was inspired. Let it be known that last time I was tasked with anything pertaining to jalapenos, I itched my face and had red eyes for hours. Was I up to this task? Could I really follow the "easy" Rachael Ray recipe and make something that resembled edible sustenance?
I know this article is about Packers bar experiences, but I gotta gloat. I made food. And people liked it. I fucking hate Rachael Ray, but goddamn, she saved a sister here. I tweaked the recipe a little bit so I could call it my own. My poppers were gone by halftime. TAKE THAT, MOM.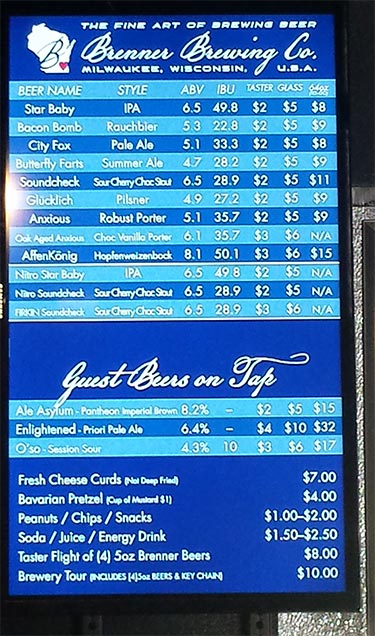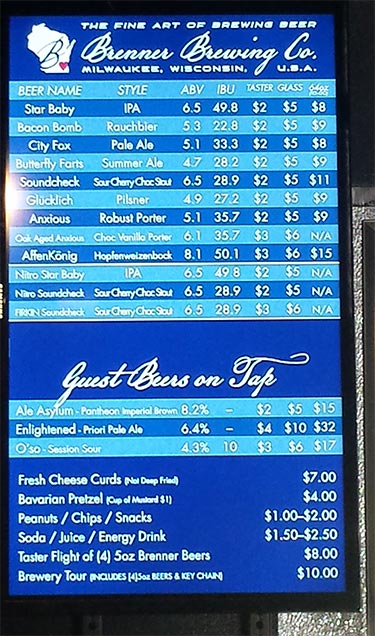 I was proud to bring my food to Brenner and add to the spread. By the end of the first quarter, the designated food area was stocked. Hot ham sandwiches, Swedish meatballs (I probably ate a dozen), a variety of chips, a cheese and sausage plate—the traditional fare. There's something that really makes me feel at home about a potluck. It's the welcoming reputation that Packers fans boast. You're automatically part of the Green Bay family when you wear green and gold, and the communal vibe at Brenner brought that to the 414.
I was pleased with my Brenner brews. I had been to the brewery before, but was not entirely a fan of the beer. A little over a year ago, I took the tour of the small space and had a sampler tray. Everything tasted a little sour—not in the way that old, nasty beer might be sour, but simply in the way of sours, which are my least favorite beer. After doing some research, I've found that a sour has a tendency of souring up your other beers. I'm going to chalk my last experience up to this; this time around, there were no sours on the menu and all of the beer was on point. I managed to consume a Star Baby IPA, Bacon Bomb Rauchbier, Butterfly Farts Summer Ale, and Anxious Robust Porter before tapping out. All were $5 a pint prior to the aforementioned potluck discount, and I would drink all of them again. Brenner, whatever adjustments you made have served you well.
Back to the tour: it is totally worth it. Tours typically run Mondays, Thursdays, Fridays, Saturdays, and Sundays. There weren't any tours going on during the game, but everyone in the state should have been watching football anyway. The tasting room, where the game screening took place, is open daily and has growlers available for purchase. Within the past year, the brewery has begun bottling its beer and has six packs on site and at several local liquor stores.
Behind the bar was guest bartender, local Yelp celeb, and pizza blogger Rick Rodriguez. My glass was never empty and there was no shortage of fantasy football talk. The game was projected on one of the walls, as well as screened on two fairly large TVs. One of my favorite unique accommodations was a beanbag toss game. This turned halftime into a competition of drunkenly throwing sacks of beans into a hole, instead of impatiently waiting around for the real game to start up again.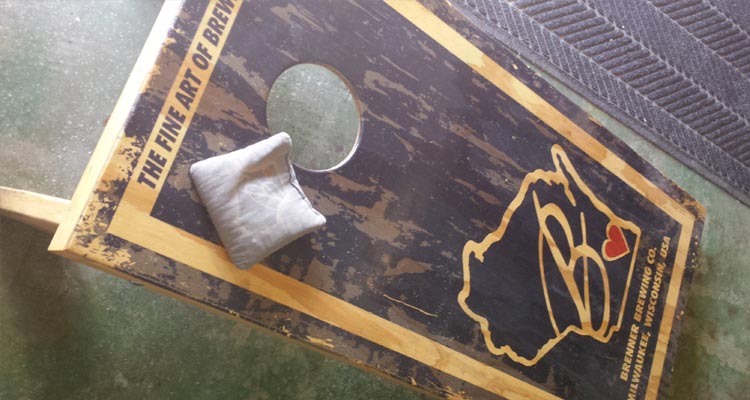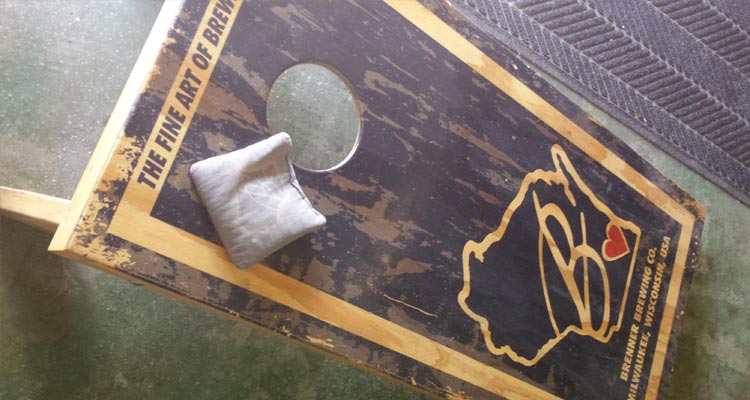 As for the game, it sucked. This was the saddest win the Packers have chalked up in a while. I am so spoiled by being a Packers fan with a 5-0 start that I'm legitimately upset about how boring the games are. I'm reluctant to wish that the opposing teams step it up a little, but this will get unbearably boring by Week 8. The only things I got excited about were Ty Montgomery's touchdown against the Rams' snoozing defense and Clay Matthews' vicious sack of helpless Nick Foles. St. Louis running back Todd Gurley is proving to be a terrifying opponent, and possibly the only threat on that team. Oh, and I'm just going to ignore Aaron Rodgers' mishaps.
Despite a disappointing display of athleticism, the level of hospitality at Brenner Brewery was high. The low-key setting, superb beer, and filling potluck made this location feel a lot like watching the game with my family. I can't wait to actually head back home and show off my newfound cooking skills. In short, I dug this.