If you missed his four combined tackles and his three-yard reception in the preseason, or you didn't pay attention to the Packers special teamer who covered up a kickoff for no gain against the Bears in week one, you might not recognize the name Aaron Ripkowski. Though the rookie fullback hasn't quite made a name for himself on the field this season, the hefty late-round draft pick will soon—for better or worse—become a fan favorite among Packer Backers. It's inevitable. In the same sense that Wisconsin has been enamored with John Kuhn since 2008, the statistic-averse portion of Green Bay's fan base will surely be unable to resist falling for the veteran back's younger, also-bearded, and immensely "scrappy" backup. Here's why.
1. John Kuhn isn't getting any younger.
Having turned 33 earlier this month, KUUUUUUUUHN is OOOOOOOOLLD, at least in NFL terms. He's now the second oldest Packer—younger than only 35-year-old Julius Peppers—and the eldest offensive player. Having to lead the way for Eddie Lacy and James Starks or protect Aaron Rodgers has surely taken a toll on the fullback's frame throughout the years. In April, Kuhn signed a one-year deal for the veteran's minimum following a down (yet astoundingly still Pro Bowl?!) season with his lowest snap count in five years, a mere 92 rushing yards, and utter ineffectiveness on the goal line during the NFC Championship game. This season could be Kuhnie's swan song, and some have speculated that Green Bay's uncommon decision to carry two fullbacks when many other teams have none on their roster was done so the veteran role player could groom his replacement. What are Ripkowski's qualifications, you ask?
2. He has a beard. A red beard!
Generally speaking, Wisconsin sports fans are obsessed with follicle anomalies. Remember when Rodgers had a mustache for a few weeks a couple years back? Of course you fucking do. Nobody's going to forget that shit. Former Brewers closer (and still-devoted Milwaukee Film Festival donor) John Axford's career finally took off once he sported a handlebar 'stache similar to the one ex-Brewer Rollie Fingers made famous. Clay Matthews has long blonde locks and, now, his new teammate is turning heads with his blazing red beard. Sure, Ripkowski never plays and looks like, uh, this (below). Sadly, the beard he sprouted in training camp will still be enough to make him a fan favorite. Before season's end, your unmarried aunt will inevitably call him a lumberjack between bites of braunschweiger before anointing herself "Mrs. Ripkowski."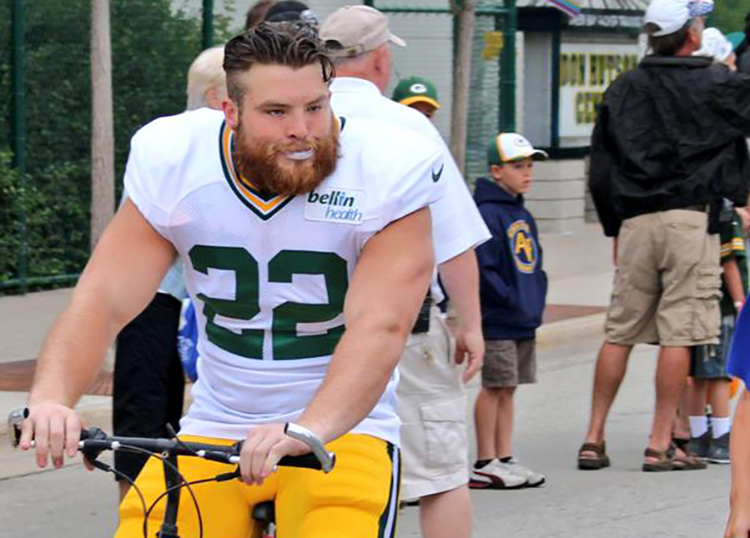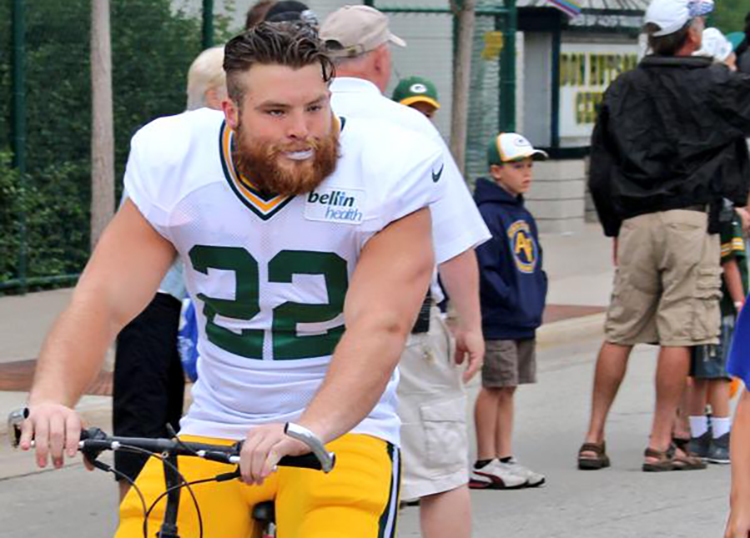 3. Ripkowski is conducive to nicknames.
With our state's population estimated to be somewhere between 100 and 127 percent Polish, the Ripkowski surname should play well among Packers fans. There are likely Packers fans with personalized Ripkowski jerseys who have never heard of the player. According to his team bio, the fullback and special teamer's preferred nickname is "Rip," but we're all smart enough…or at least perpetually drunk and bold enough to think of something better. Perhaps "KOOOOOOOW" as a similar-sounding ode to his predecessor (and the unofficial state animal) would work. Does "Big Aaron" or "New-Kuhn" have a ring to it? If we put our heads together, there's no reason to think we won't come up with the perfect terrible nickname to yell in Lambeau Field as a much more deserving goal line carrier is sent back to the bench.
4. He isn't particularly good at football.
If forced to hazard a guess as to why Kuhn is a fan favorite, the reason can probably be reduced down to the fact that he shares so many similarities with most fans. He's a white person who weighs about 250 pounds. He didn't attend a good college and he wasn't drafted by an NFL team. Since no Packer Backers who fit that criteria will ever play a snap in the NFL, vicariously piling their hopes into the semi-capable hands of this flawed hero is the best they can do. They're rooting for an amplified representation of themselves. It's the same reason Scooter Gennett is lauded by Brewers fans and why Bucks fans lost their shit when Earl Boykins checked into games.
After minimal play in just two games, it'd be unfair to say that Ripkowski won't be a good NFL player. In fact, his special teams play has been praised early on. However, the sixth-round selection was a walk-on at Oklahoma, and he wasn't a full-time starter until his senior season. His substandard combine numbers earned him a pre-draft grade of 5.0 (out of 10) which equates to a "50-50 chance to make NFL roster." Here's what his draft profile said about him.
"Old-school blocking back who will have a hit or two each game that wows the crowd and gets his teammates fired up. He often charges in head-first and with a lowered head, so his success rate can vary greatly from game to game. Lack of pass-catching background hurts his chances."
He was projected to be taken in the last round of the draft or not at all. Ripkowski is listed as being one inch taller and four pounds lighter than Kuhn. If you want to buy low on a new favorite player before Kuhn goes, this guy seems like a safe bet.
5. He makes up for his on-field shortcomings with moxie, scrap, grit, and heart.
Without seeing him play much, you can be sure this guy's a gamer. Chances are he's put together with a combination of scrap iron, dirt, and elbow grease. Is he tough as nails? Maybe! Creature? Yes, he's literally been called a creature by people. Does he possess a bunch of "intangibles" that are actually just cliches that vaguely translate to "He's a slow dude we'd rather see score than Eddie Lacy for some reason," that some fans will eventually reference? Absolutely.
Invest in Ripkowski replica jersey futures now.