Caleb Westphal hasn't missed a Friday fish fry since 2013. Follow along with his never-ending adventures here. This week: Tally's Tap & Eatery.
Cigarette smoke drifts to the ceiling above a bobbed hairdo as Bessie Smith's voice emanates from a phonograph. The woman at the table has a drink in hand. Could it be a Brandy Old Fashioned Sweet? It's Friday night, after all, and we are in Milwaukee. It's the spring of 1929, before the Great Crash, and what a decade it's been. No one drank, but everyone drank. Fairbanks, Pickford, Crawford, and Garbo flickered on screens. Harlem had a Renaissance. The Lost Generation put pens to paper. First Harding had a heart attack, and then Cal came along and hasn't said much of anything. Jazz has been the soundtrack to it all.
While smoke and Smith fill the air, a few miles away in West Allis, Henry Mertz is still in a euphoric mood. Three days ago he received a permit to construct a large Mediterranean Revival building. What will the future bring? He will etch his name in capital letters above one of the entrances, and the building will become known as Mertz Block. When it opens, Henry Mertz will have a real estate and meat business in it, and it will also be home to a tea company, a bakery, a hardware store, a pharmacy, and apartments.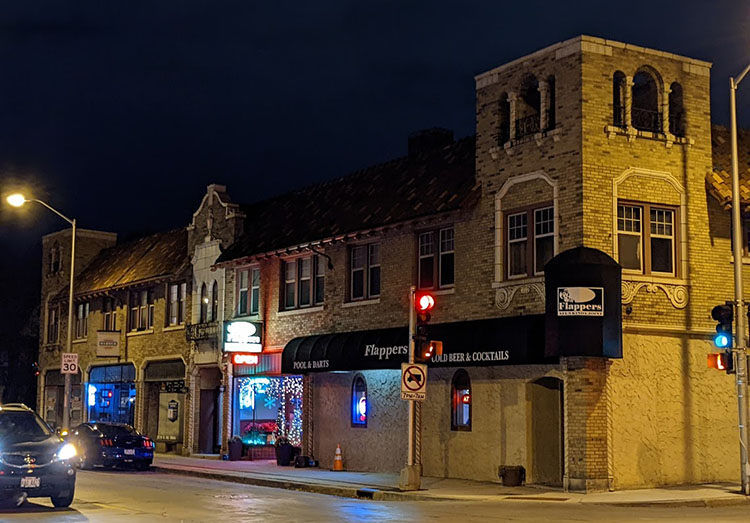 Today, the building still stands on the southeast corner of Becher Street and 76th Street, and Mertz's name is still etched on it. When Prohibition ended, Mertz began operating a tavern in the part of the building where the hardware store and real estate business had been. Over the years, a number of other taverns have called the spot home, like Virgie's Tap, Barney and Rose's Tap, and then just Rose's Tap.
Adjacent to the tavern, on the far west side of the building, Atwood Pharmacy was an anchor for decades. But beginning in the sixties, the corner storefront became home to restaurants, with establishments like Imberger's Sausage Kitchen, Eugene's Delicatessen & Seafood Restaurant, Cesar's Villa Restaurant, and Filippo's Pizza calling it home. From what I can tell, the tavern and restaurant storefronts were combined sometime in the early '90s, when the Becher St. Bar and Grill was there. You better believe they served all-you-can-eat fish frys.
Seventy-six years after the woman with the bobbed hairdo sat drinking somewhere in Milwaukee and Henry Mertz got the green light to build Mertz Block, Mark and Carolyn Silber, owners of the Fin 'N Feather on Loomis Road, opened Flappers (7527 W. Becher St., 414-431-4381) in the old Mertz building. They named their bar after the flappers of the 1920s who eschewed social norms by smoking, drinking, and cutting their hair short. A handful of years later, Sue Der began operating the kitchen at the far end of the building—the kitchen all those other restaurants utilized after Atwood Pharmacy left the building. The kitchen got a new name: the Kitchen.
No flappers were present when I walked into Flappers last Friday. The place was largely empty at first, and the only indicators of the theme were the establishment's name, the signage outside, and a sign hanging inside. I took a seat at the end of the slightly-crescent bar and asked about food. The bartender gave me three different menus and told me that, to put in my food order, I had to walk through two rooms. I ordered an Old Fashioned and looked over the blue menu, the only menu that matters. 

If an Old Fashioned is made fairly well, there isn't much that needs to be said about it, because everyone in Wisconsin knows what they are supposed to be like. Muddled, topped with cherries, and in a classic glass, that was the case here.
Seafood options at the Kitchen at Flappers are fried cod (three-piece/$12), baked cod or Cajun baked cod (four-piece/$13), lake perch ($14), bluegill ($14), and fried shrimp (10-piece/$11). Potato choices are homemade potato pancakes, crinkle fries, tater tots, Cajun fries, or Cajun tots. Soup can be chosen in place of a potato, and for two dollars, more onion rings, sweet potato fries, fresh veggies, side salad, side caesar, or fresh fruit can be picked. A fish sammie with fries ($10) is also available, as is clam chowder ($3 cup/$5 bowl)…sometimes. Thoughts of fried cod with pancakes and a cup of clam chowder filled my mind as I navigated past tables and a pool table, to the third room, where I found the counter to put my order in.
I went back to the bar to wait. On one hand, a warmth radiated from the place. The lights, decorations, and red walls sparkled like a wrapped Christmas present—perfect for a Black Friday fish fry. There was lots of space, the bartender was welcoming, and the vibe was generally chill. On the other hand, amid this, a group of boisterous guys came in and sat at one of the tables behind me, and one of them was speaking so coarsely that if a real flapper would have walked in, she might have knocked him off his barstool.
It was taking what seemed like forever, and I slowly sipped a beer I ordered after I finished my Old Fashioned. Granted, there were only two people working the kitchen, but not many food orders were coming out. About a half hour into my wait, the guy I had ordered from came out and told me they were out of clam chowder, and asked if I wanted broccoli cheese or stuffed pepper soup, or if I wanted a refund. I'm sure those other soups would have been great, but I had chowder on the brain, so I asked for a refund. I was also a little confused why it took a half an hour to find out there wasn't any chowder. But it really wasn't a big deal. This is life, and I'm just here to roll with it. A few minutes later, I was brought three dollars and two cents.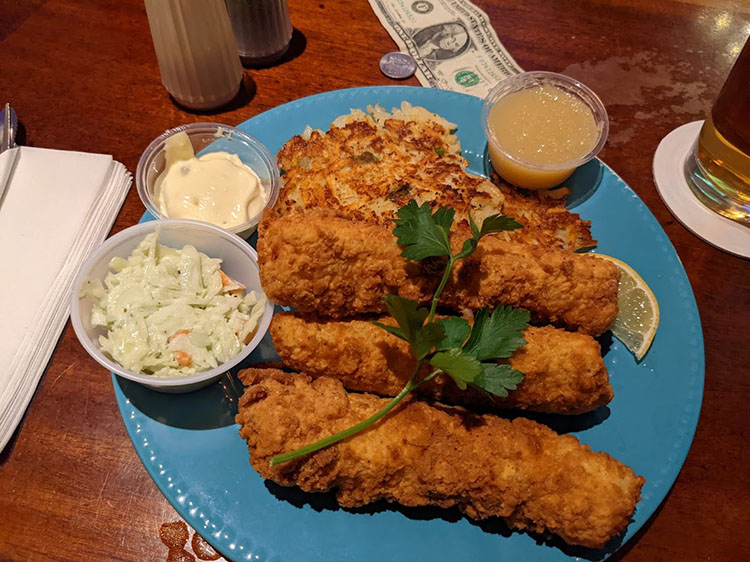 At around the 45 minute mark, the food came out. The fish had a uniqueness that rested in its breading. Although mild in flavor, the not-far-from outstanding breading was thick and textured, almost being its own entity. Beneath it were chunky cod loins that wouldn't be described as overly flaky or fantastic, although they were satisfactory. Cutting through the breading and cod together was like slicing into a healthy slab of meatloaf, or maybe some Beef Wellington. The tartar was of the thicker, mayo-based variety—the kind that sticks to whatever you dip in it.
Cumin, or maybe some chili powder, brought an extra allure to the potato pancakes, and gave them a hint of heat as well. (Or maybe some of the Cajun seasoning was used?) Other than that, they were very much like hash browns, and were lightly done and easy to cut through. Both the rye bread and the coleslaw were rather standard: the rye was a lighter marble, and the slaw mainly consisted of cabbage, with a couple carrot chunks and a dash of seasoning.
Does West Allis have more fish frys per square mile than any other part of the state? Maybe not, but if someone told me they did, I'd probably believe them. Flappers is likely one of many West Allis joints that flies under the radar, not often garnering much attention. But it's rather charming and cozy, and their kitchen called "The Kitchen" dishes out a respectable fish fry. Now if we can get every bar to have a walk up counter that serves fish frys, we'll really be onto something.
Takeaways: Built in the Jazz Age and named for the Jazz Age; known for being "A fun kinda joint!"; there are three different colors of menus, choose wisely; to order you have to walk through a few rooms to a walk up window; memorable, substantial breading on fish; the potato pancakes tasted like a bowl of chili; the guy who took my order called me "partner" no less than four times throughout the evening, but did once call me "bud."
Exclusive articles, podcasts, and more. Support Milwaukee Record on Patreon.
---
RELATED ARTICLES