Caleb Westphal hasn't missed a Friday fish fry since 2013. Follow along with his never-ending adventures here.
"If I don't make it through this, I hope the entrance to the pearly gates looks just like the entrance to Steny's fish fry pickup area. I'll cruise in slow, follow the wands, and partake in my first otherworldly meal. But, if I do make it through this madness, I'll someday have to make it back to Steny's and get some of those potato pancakes with another fish fry. I'll meet you at their bar first, and we can raise some Old Fashioneds in the air and toast all the things we will never take for granted again."
That was April 2020, when collective uncertainty was at its peak but hope remained in hearts. Since then, I haven't gotten sick or died from COVID-19, and the fish fry streak hasn't been broken. As much as I want to stand on the top of Steny's bar with an Old Fashioned in hand and shout "Nice try, pandemic!" I know I must be less cavalier. Great strides have been made with vaccines, but the threat of a virus that can cause bodily harm—and upend a Friday fish fry streak—is still very real. In this country, millions have gotten sick and hundreds of thousands have died. Intransigence to science, civic duty, and a shared sense of purpose persists. If the past 19 months are any indication of the future, there is no clean break back to what was before, no demarcation into a post-pandemic period, and no V-E Day or V-J Day with dancing in the streets.
But while the Champagne bottle stays on the shelf, I will once again raise an Old Fashioned, not in a dramatic fashion, but while imbued with reverence for the sparkle of life amid continued uncertainty. I write this knowing full well my own faith in these words has often waned. Have I already forgotten those things I said I'd never take for granted again? Have I returned to my old grumbles? There might not be a Victory Day, but we must soldier on despite the losses, despite the pain, through this life that leads to certain death. And I will also soldier on to look for more Friday night fish frys in towns and cities, and along country roads near and far.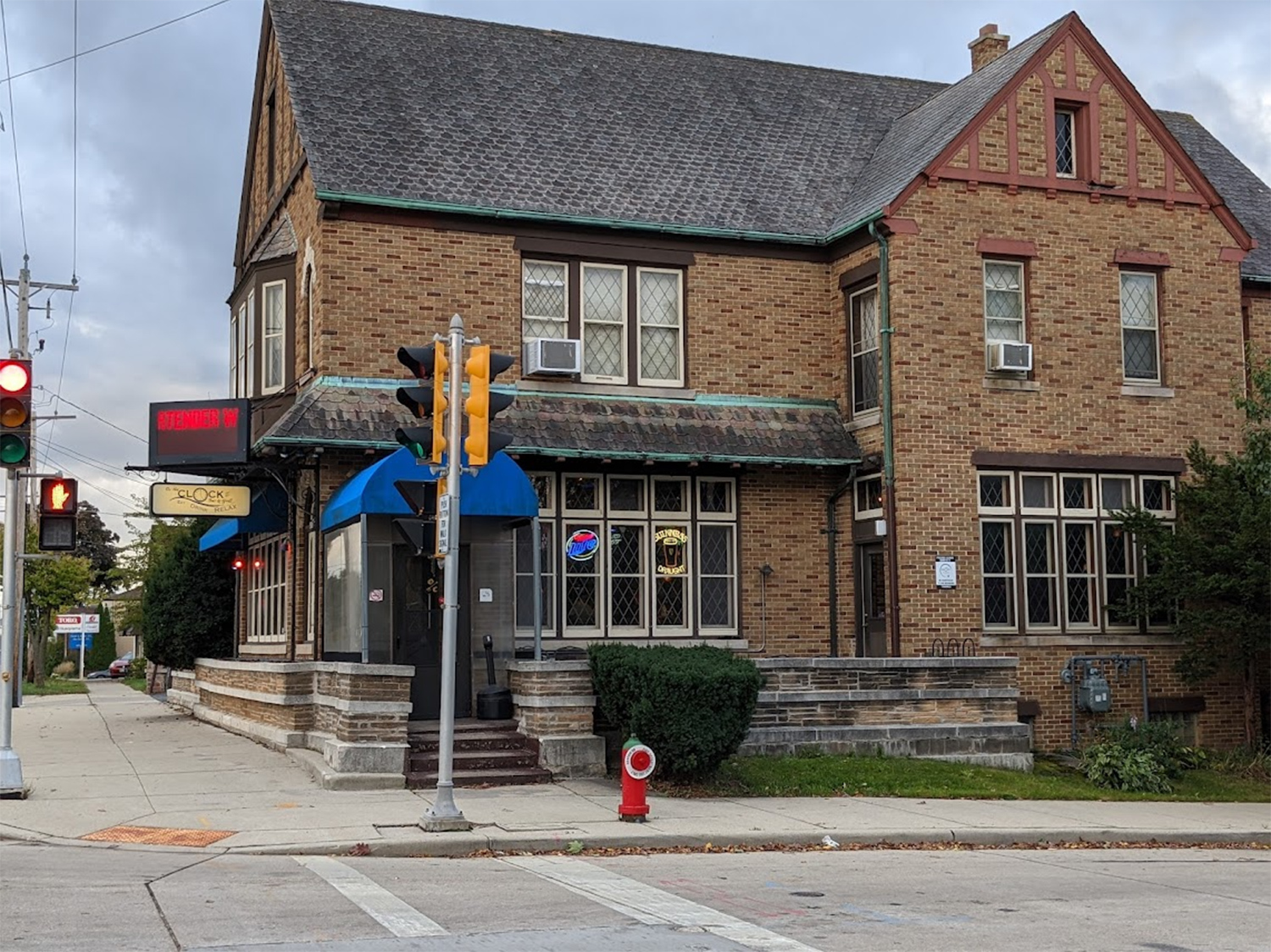 Staying within Milwaukee's city limits for the first fish fry back at this column was a conscious decision, and the all-you-can-eat fry on the menu at On The Clock Bar & Grill (4301 S. Howell Ave., 414-744-2383) is what brought me there. I've been there for fish once before, either in 2012 or 2013, but I can't remember much about it. Actually, I can't even remember if the place was called Off The Clock or On The Clock at the time.
Although the building at the southwest corner of S. Howell Avenue and W. Bolivar Avenue has been standing for approximately 118 years, it has had just four owners. Roman O. Huelsbeck, and then his son, Charles N. Huelsbeck, ran it as Huelsbeck's—or Huelsbeck's Sample Room—from the time it was built until 1965. There's an "H" inside the glass window of the front door that attests to the Huelsbeck name. Roland Krueger then purchased the building and ran it as Krueger's, selling beer and sandwiches until July 1978, when he sold it to 28-year-old Robert Krause, who has owned it since.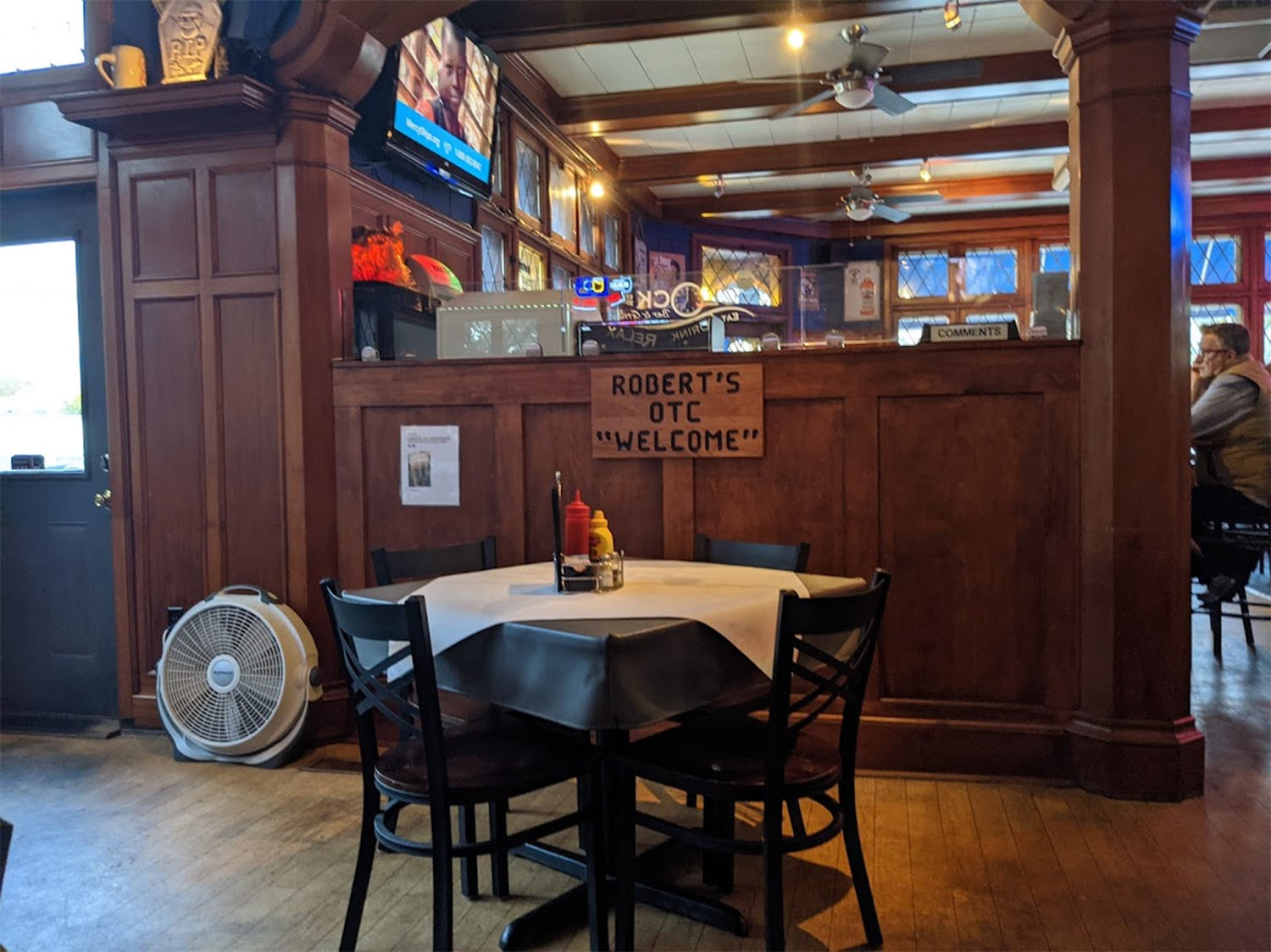 Krause called his establishment Robert's—or Roberts, without the apostrophe—and served up sandwiches and many kinds of soups. (Krause's mother, Catherine, had a hand in making the soups for a quarter century. Before passing away early this year, she beat COVID-19 last year at the age of 102.) In 2009, Krause changed the name of the business to Changes, but change came again about a year later when he closed the restaurant. Krause then leased the building and it opened under new management as Off The Clock Bar & Grill, and was in operation until the summer of 2013. Krause once again took over the restaurant reins, and has run it as On The Clock Bar & Grill since October 2013.
It was relatively empty inside On The Clock when I walked in around 4:45 p.m. this past Friday. A waitress greeted me and gestured that I could sit at one of the high top tables in the front room, where the bar is located, but also seemed to leave the back dining room open as an option. The latter was more to my liking, with its double tableclothed dinner tables, and I took a seat at the table near the middle of the room, next to a glowing faux fireplace. After a moment, a new waitress arrived, and I ordered an Old Fashioned—sweet and with brandy, as is the norm.
"Eating alone too?" a guy at the table across from me asked, before saying something to himself about all the loneliness in the world, and something about how his wife was working at the moment. When my Old Fashioned arrived, he ordered himself one too. No one is really alone with an Old Fashioned, I suppose, especially if they are about to be joined by a fish fry as well. The drink was fruity and fizzy, with a fruit muddled bottom and fruit garnished top. In between the fruit, an overabundance of ice cubes had banded together to form some sort of super ice chunk that was protruding out the top, looking like it was trying to knock off the garnish and escape.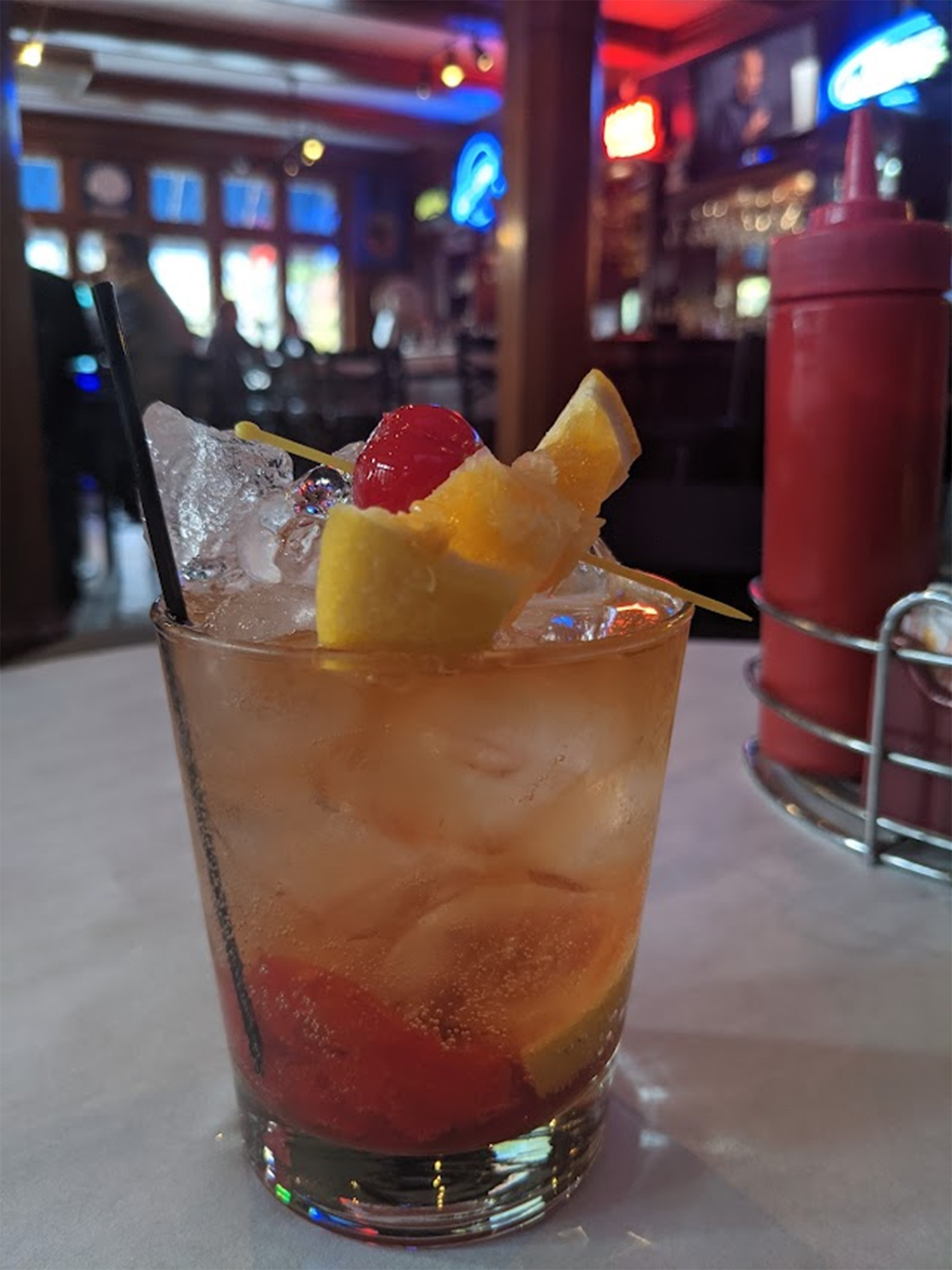 On The Clock's fish and seafood options are fried, blackened, or baked cod ($10/twelve ounce or $13/all you can eat—fried only—from 4-8p.m.); perch ($11.50/four piece); walleye pike ($13.50/two piece); shrimp ($12.50); seafood combo ($13.50/one each of perch, walleye, and cod, and two shrimp); tuna steak ($12.50); and lobster wrap ($12). All come with rye bread, coleslaw, and a choice of potato—except for the tuna, which just has the slaw and potato, and the lobster, which comes only with fries. Of note, gluten free breading is available for the fish, even more of a rarity in Milwaukee than all-you-can-eat fish.
Potato choices are homemade potato pancakes or hand-cut french fries. Actually, there may be other choices too, but when I was making my order I lost all my self-control and immediately asked if there were homemade potato pancakes, and never bothered to ask about other options. What kind of attention to detail did you expect after 16 months away from this?
Naturally, I ordered the all-you-can-eat cod with potato pancakes. Clam chowder was also available ($2.50/cup or $4/bowl), and I ordered a cup of that as well. The chowder had a thin, broth-like base, with very small pieces of carrots, celery, onion, and clam, that perhaps had been brunoised or chopped with a food processor. The flavor and texture were balanced, not striking out far from the parameters of what is expected of clam chowder.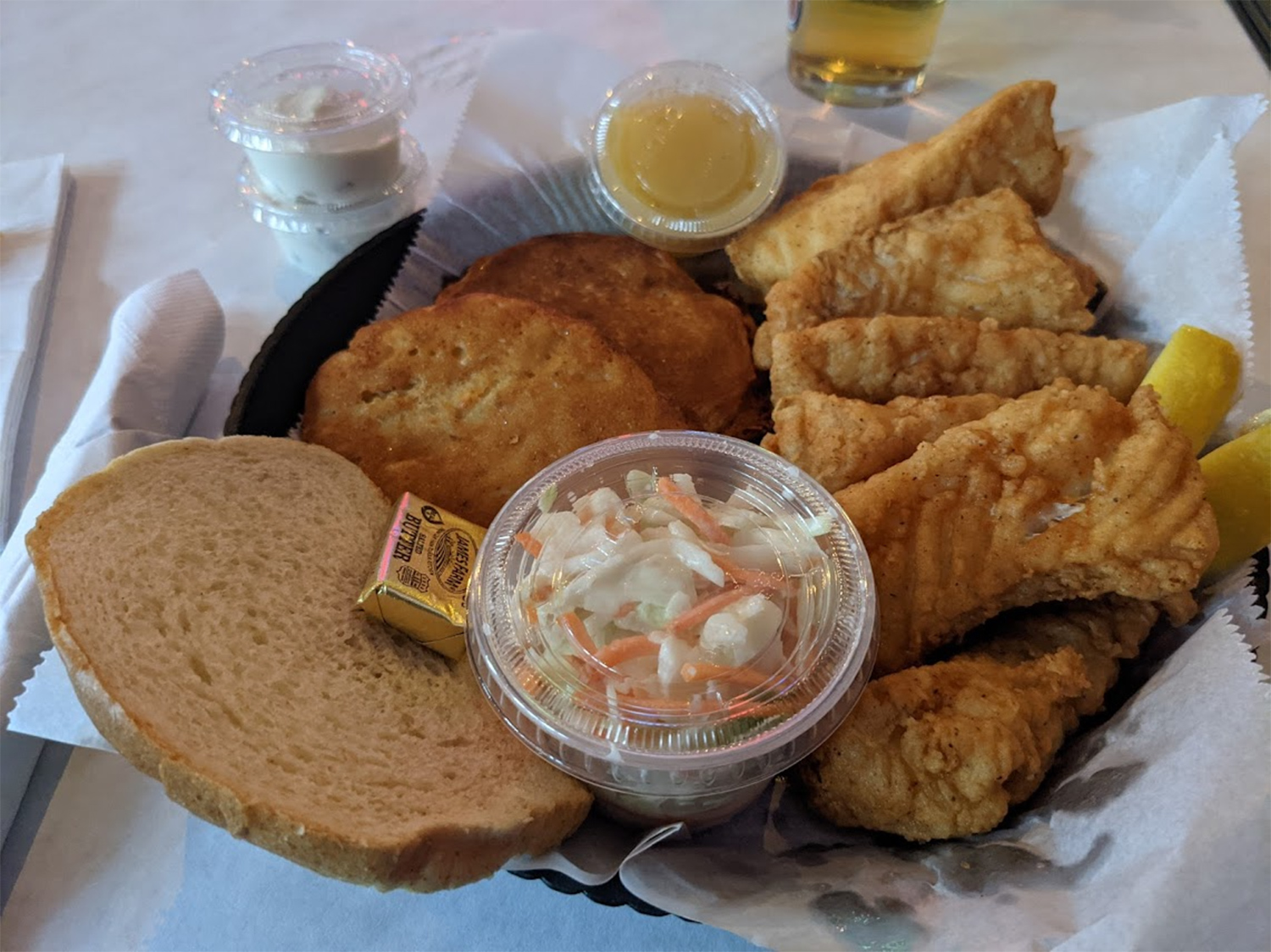 It wasn't long before the rest of the food came. Six pieces of cod leaned on each other, filling up one side of the plate. A thin breading covered their hearty morsels, giving them a ribbed appearance. The fish was relatively mild in flavor: the breading had enough seasonings to be seen, but not to be heard loudly. What can be said of all the fish I ate here is that it was consistent (except for one piece that was a little rubbery at its end, but not enough so to derail this observation). Relish-heavy with small red bell pepper chunks sprinkled in, the tartar—of which there were two containers at the start—also was mild, but with enough sweetness and tanginess to peek through and get noticed.
The potato pancakes looked like…pancakes! They were smooth and relatively soft on the outside, except for being a little crispy on the edges, and could be cut through with ease. Inside they were reminiscent of mashed potatoes, being compact without having any stringiness. Slivers of onion gave them added life. Overall they were unique in an appealing way.
The coleslaw looked standard and basic, which I suppose it was, with its no-frills carrot and cabbage, but it had a good crunch like it was fresh. It wasn't overly creamy and didn't have pepper or other seasonings—but like the chowder, fish, and pancakes, it had balance and consistency. A common piece of light rye bread came along for the ride.
"Do you want a reload?" At first I thought my waitress was asking if I wanted a refill on my draft of High Life, but, of course, she was talking about fish. I still had two pieces on my plate. "Ah, maybe just two more. It gets hard to tell how many you are going to need, you know?" I responded.
Moments later, I was brought a basket with FOUR pieces of fish and two more tartars. As I finished up my first six pieces and moved onto the fresh ones, I heard another waitress tell a table that had recently been seated that the fish frys start out with four pieces and then more can be ordered if you get the all you can eat. Now, I was at ten pieces of fish, folks. Half a school of the little buggers had swam onto my table. I'm no mathematician, but I think the table next to me was being undersold.
I started to sweat. How was I going to eat the last two pieces? Fish aren't supposed to be taken home from all you can eat! You know the rules! But it wasn't my fault. I didn't order these last two! I remembered what a friend had told me 217 fish frys ago, when he saw someone hadn't finished their fish: "Those fish died for nothing!" These fish had to be rescued and taken home so they wouldn't die in vain. But would taking them be allowed? It was about then that my waitress returned, and after first asking me if I needed MORE fish, she graciously offered to box up the two pieces I still hadn't touched. Yes, I did finish them by the time the night was over.
If you're no stranger to fish frys, the one at On The Clock Bar & Grill likely won't be your first choice, but it likely won't be your last either. A thread of balance and consistency wove its way through my meal, the potato pancakes were memorable, the fish kept coming, and the staff was friendly. It didn't take long for that fireplace to warm me up, even if it was fake. I'll raise an Old Fashioned to that. It always feels good to be home.
Takeaways: Reasonably priced all-you-can-eat fish in the Milwaukee city limits—and you'll get all you can eat; gluten free breading available; lots of consistency; somewhat memorable potato pancakes; there are probably more potato options but you don't need them.
FISH FRYS SINCE DECEMBER 2020
#364 Good City Brewing (Farwell Avenue)
#365 Home (Christmas Dinner, Wisconsin-sourced bluegill and crappie from bro-in-law)
#366 Home (New Year's Day)
#367 Lulu Cafe & Bar
#368 Tess
#369 The Packing House Restaurant
#370 Pat's Niche Pub and Grub
#371 Wonderland
#372 Steny's Tavern
#373 The Packing House Restaurant (Friday Fish Fry Day)
#374 Dairyland (Zocalo Food Park)
#375 Frida at Crossroads Collective
#376 Kegel's Inn
#377 St. Augustine of Hippo Parish
#378 The Packing House Restaurant
#379 Pat's Niche Pub and Grub
#380 Palomino Bar
#381 Fool's Errand
#382 Sandra's on the Park
#383 The Packing House Restaurant
#384 Pat's Oak Manor
#385 Clifford's Supper Club
#386 Pat's Niche Pub and Grub
#387 Randy's Neighbor's Inn
#388 Mark's East Side (Appleton)
#389 Walleye Weekend
#390 Buckatabon Tavern and Supper Club
#391 Clifford's Supper Club
#392 The Cellar Pub & Grill
#393 Dino's (Dodgeville)
#394 Parnell's Place (Oshkosh)
#395 The Landing
#396 The Packing House Restaurant
#397 Landmark 1850 Inn
#398 Camacho's Family Restaurant
#399 Pat's Oak Manor
#400 Dorf Haus Supper Club
#401 The Neighborhood Draft
#402 Wegner's St. Martins Inn
#403 Clifford's Supper Club
#404 Kegel's Inn
#405 Philly's on 4th Grocery & Deli (Fond du Lac)
#406 Pat's Oak Manor
#407 Randy's Neighbor's Inn
Exclusive articles, podcasts, and more. Support Milwaukee Record on Patreon.
---
RELATED ARTICLES