Caleb Westphal hasn't missed a Friday fish fry since 2013. Follow along with his never-ending adventures here.
For the past three years, I've gone on a morning hike at Lapham Peak on March 27. Last year I followed my hike with a burger at Nite Owl, an all-you-can-eat fish fry at Clifford's Supper Club, and an ice cream drink at At Random. March 27 isn't a normal day for me—it's my birthday. I had plans for the same hike again this year, of course, and had invited some friends out for a fish fry at Clifford's and a vinyl dance party in my basement. But the winds of change blew in and forced me to cancel the meal at Clifford's and the basement dance party. I even canceled my annual hike at Lapham, and spent my morning walking around Humboldt Park instead. But there was one birthday event I refused to cancel altogether: a Friday night fish fry.
My roommate doesn't often come up in this column, and if my memory serves me, he hasn't joined me for a fish fry since I went to Allgauer's Bistro & Pub In the Park last May, where the fish was all you can eat, but only two small pieces could be ordered at a time. But now my roommate is the only person who can join me for a fish fry. Knowing that it was my birthday, he likely didn't want to see me get one alone, and offered to drive us to pick one up. We settled on Steny's Tavern & Grill (800 S. 2nd St., 414-672-7139).
Since opening in 1985, the family-owned business has become a staple of Walker's Point and is well-known throughout the whole city. During these atypical times, they quickly adapted to serving curbside pickup food orders. and are currently open 11 a.m. – 8 p.m., Wednesday through Sunday. A fish fry ($15) with either french fries or potato pancakes is all that is on their Friday food menu, but they have also been selling Bloody Mary and beer growlers and six packs of beer on Fridays. On their first Friday of curbside fish, March 20, they sold 1,010 fish frys, about five times their usual output. Of particular note, 50% of the money from their fish fry sales went to their laid off workers. On the day I went, 50% of the money went to their workers as well as to Mike Romans, owner of Romans' Pub, who is battling cancer. It appears Steny's will continue to give half of what they make from fish fry sales to their out-of-work employees in the upcoming weeks.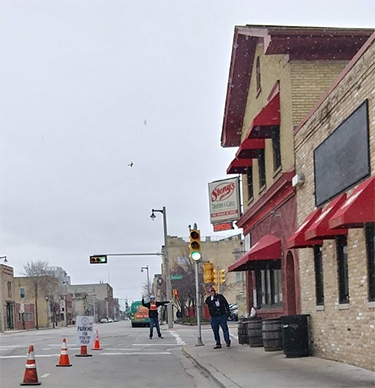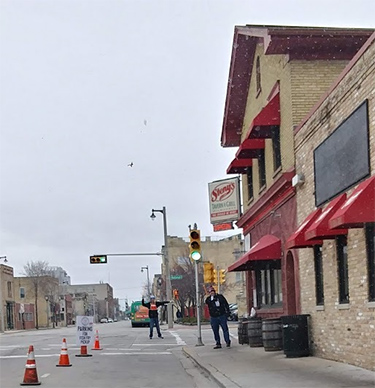 On our drive to Steny's, I spotted windows open at multiple bars, where workers were selling to-go drinks to people on the sidewalk. As we approached our destination, heading north on S. 2nd Street, two employees with marshaling wands beckoned us to the side of the road. It felt as if we were in a plane arriving at an airport, but we were in a vehicle arriving to pick up a fish fry. The employees enthusiastically guided us past some cones and a sign that said "parking for fish fry pickup," and directed us around the corner onto National Avenue.
It was shortly after 4:30 and I had expected a longer line and wait, but someone immediately came to my window and took my order with the same enthusiasm that those directing traffic had been displaying. I requested two fish frys and asked if the potato pancakes were homemade, an important question even during a pandemic. I was told they were, and that they were great, but unfortunately there were none left. I had to settle for french fries. The worker took my debit card and stuck a piece of paper to the windshield. They also asked us what we were going to do with the rest of our night. After I failed to come up with an answer (I should have just said it was my birthday), they said we were going to go home and watch Tiger King (we didn't). They then told us to pull forward.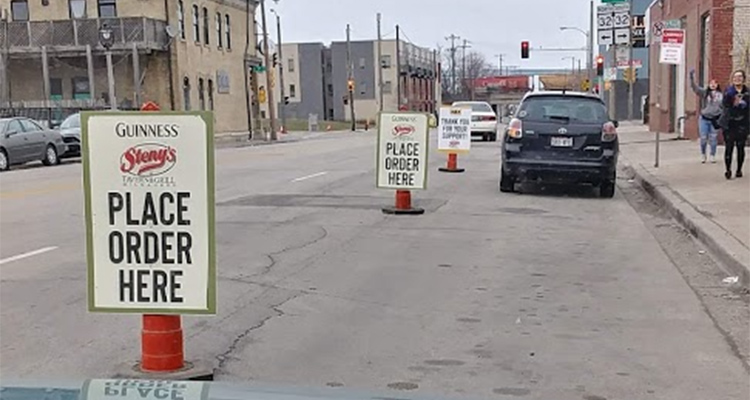 It all happened so quickly that by the time I tried to get a picture of the open window on the side of the building that workers were running back and forth from, we were too far ahead. I should have rolled down the window and stuck half my body out the window to snap one, but we are living through a blasted pandemic and I didn't want to freak anybody out by doing so. Moments later we were given the fish and told to move ahead again. I put the bag of fish at my feet and held my hands in front of me, not knowing what to do with them, as in every other situation when I've touched a new object in the past two weeks I've immediately washed my hands. I looked behind us and saw there was a small line of cars forming. Within a few minutes I was given my debit card back. "That was quicker than McDonald's," my roommate quipped. We were about to find out the food was also much better than McDonald's.
We got home, I set the food on the table, and washed my hands. I took the food out the bag, opened the container it was in, and took a picture of it with my camera. I washed my hands. I moved the food to another plate and threw away the carry-out container. I washed my hands. I got some ketchup and a beer out of the refrigerator and opened the package of plastic utensils that came with the food. I realized the ketchup from the fridge was pretty much empty and used the ketchup packets that came with the meal instead. I washed my hands. I cracked open the beer.
I've had Steny's fish fry before, last on August 28, 2015, but I don't recall it being as good as what I had this time around. I was pleasantly surprised by the three pieces of beer-battered cod. Both the texture and the flavor of the batter were on point. It was light but crisp, with the perfect thickness. It covered the fish well, but could also be easily cut through. There was a distinct beer flavor, but it wasn't overpowering. Underneath the batter was a thick, meaty fish. The tartar was imbued with a tangy zip of flavor and had crunchy and relatively large pickle chunks mixed in it.
Despite being rather cold and on the brink of being burnt, the hand-cut fries were delicious. I couldn't pinpoint what made them so appealing. Was it the oil they were fried in? Was it the salt they were covered with? Was it the fact that it had been a full week since I had eaten something that I hadn't cooked myself? The coleslaw was crunchy and extra creamy. Mainly consisting of cabbage, it was rather mild, with no noticeable pepper or other seasonings. The final piece to this week's fish fry puzzle was a standard half piece of marbled rye bread.
If you are looking for a takeout fish fry during this pandemic, Steny's is a fine choice. The staff is enthusiastic and efficient and the cod is better than what you'll find at many places on a Friday when there isn't a pandemic. In addition, a large portion of the proceeds from fish fry sales is being used to help employees who are out of work, exemplifying how there are some things that are more valuable than profit during this crisis: fellow human beings.
Although there is a struggle to find toilet paper, paper towel, soap, hand sanitizer, and other provisions across the country, in Wisconsin there is no struggle to find a fish fry. In fact, there are people on the side of roads directing vehicles to places where there is an abundance of them. Think about it. The world is teetering on the brink of collapse and people are using marshaling wands to direct vehicles to fish frys. Have you seen people directing vehicles to toilet paper? I didn't think so.
If I don't make it through this, I hope the entrance to the pearly gates looks just like the entrance to Steny's fish fry pickup area. I'll cruise in slow, follow the wands, and partake in my first otherworldly meal. But, if I do make it through this madness, I'll someday have to make it back to Steny's and get some of those potato pancakes with another fish fry. I'll meet you at their bar first, and we can raise some Old Fashioneds in the air and toast all the things we will never take for granted again.
Takeaways: Steny's has curbside fish fry pickup from 11–8 on Fridays, or until the fish runs out (do not call ahead); there is a pandemic but you wouldn't be able to tell it from the enthusiasm and efficiency of the staff; still, you may want to go early in an attempt to avoid a long line or the running out of food; there was no awkward waiting around—it was quick and easy and felt safe; they are currently giving 50% of the money from their fish fry sales to their laid off employees; here is their regular fish fry menu for when we are out of this mess; I washed my hands a lot; good fish with an even better batter; zippy tartar with crunchy pickle bits; the fries were decent, but the potato pancakes were all gone; my birthday wasn't a complete waste.