Caleb Westphal hasn't missed a Friday fish fry since 2013. Follow along with his never-ending adventures here.
I'm not one to visit Hilton Garden Inns or to seek out fish frys at restaurants inside of them, but put ALL YOU CAN EAT PERCH on the menu and I'm there. Can you find all-you-can-eat perch at other locations in Milwaukee besides Allgauer's Bistro & Pub In The Park (11600 W. Park Pl.; 414-359-9823)? Maybe. But I don't think I've come across it at any of the places I've been to since I started writing this column, and I can't think of anywhere else that has it off the top of my head. So, last Friday I set off for Allgauer's, a restaurant located inside of the Hilton Garden Inn in the Park Place business park, on the far northwest side of the city. You know the area, it's where those two 12-story office buildings—One Park Plaza and Two Park Plaza—rise near the Highway 145 and Highway 45 interchange.
With its carpeted floors, padded booths, and high, sun-lit ceilings, Allgauer's has the aura of elegance. But at the same time it also feels a bit sanitary and stale, and you also sort of get the feeling like you are inside of a chintzy Vegas hotel restaurant. In the front room is both a bar area and a dining area, where televisions were turned on to the NFL Draft as my friend and I walked in. We ended up heading to the back: a quieter dining area where not even music could be heard overhead.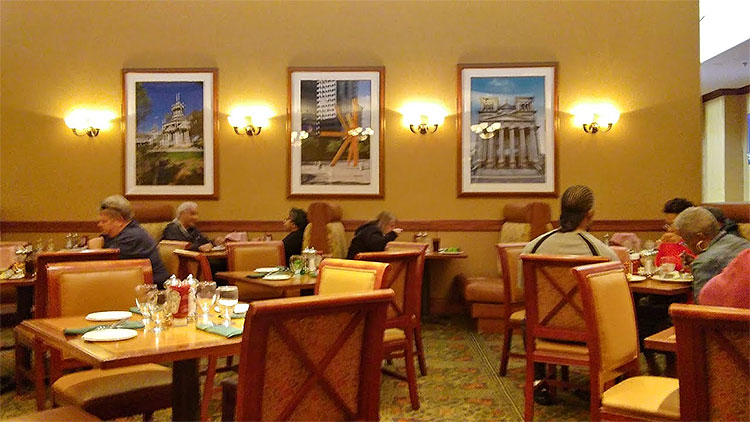 There is one fish option on the menu at Allgauer's, but there are three fish choices within it. Not only is all-you-can-eat perch available, but you can mix and match between all-you-can-eat walleye and cod as well. The price is $13.95 for adults and $7.95 for children ages 4-9, and it comes with a choice of house salad or the "Best You Ever Had" New England Clam Chowder, as well as homemade coleslaw, french fries, homemade potato pancakes, applesauce, and rolls. Although the fish is all you can eat, you are only allowed one or two pieces of fish with each reorder. The potato pancakes are all you can eat as well. Taps of New Glarus are "only $4" when paired with a fish fry. I naturally chose the chowder over the salad, ordered an Old Fashioned before getting a Spotted Cow, and chose the perch—to start.
The muddled Brandy Old Fashioned Sweet was $8 and came in a Gibraltar highball glass. It was overly citrusy, too much so for my liking, to the point that it felt like I was drinking a "sour" not a "sweet." A basket with a pretzel roll and white roll came out. I thought about asking if we could have more rolls, but I held off knowing that unlimited fish was where I wanted to invest my hunger. Nothing really popped with the chowder, but it was fine. It had a moderate amount of clam with large chunks of potato and celery. The celery notably still had a crunch to it.
The first plate came with two pieces of perch, one potato pancake, some filler fries, cinnamon applesauce, a lemon slice, creamy coleslaw, and tartar. The potato pancake was lightly browned and had a rather bland flavor, although some fresh green onion was in it. The perch was excellent, with a light breading covering flavorful fillets. The tartar matched the fish perfectly. I ate the perch in three or four bites, and it was probably gone within a minute after the plate arrived. That's when the game began—the game to constantly try to get more fish.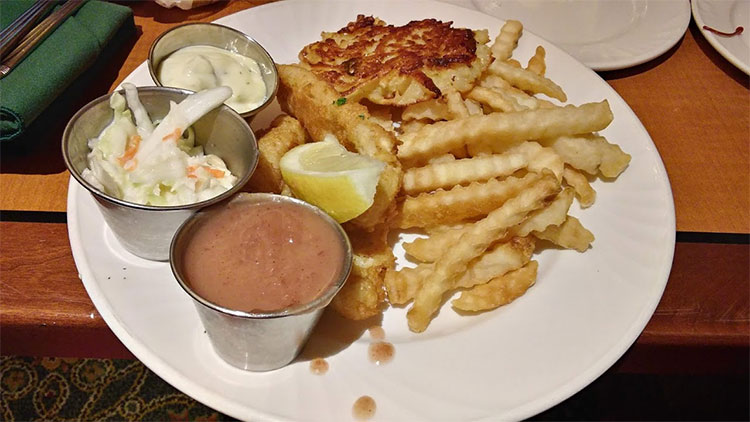 Each time my waitress checked up on me, I ordered more fish. First I ordered a second round of perch; it was just as good as the first round.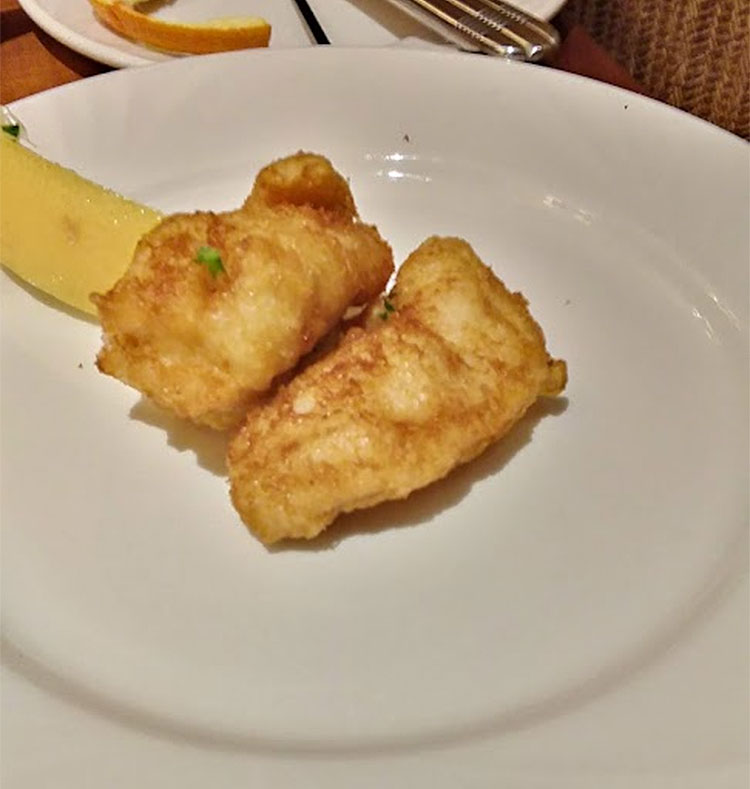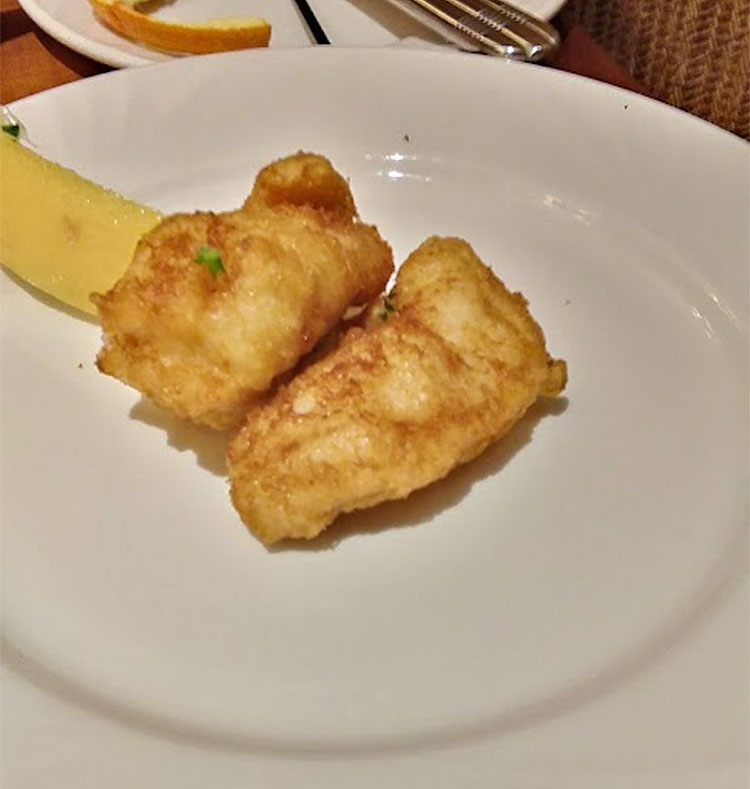 Then I ordered a round of walleye with another potato pancake…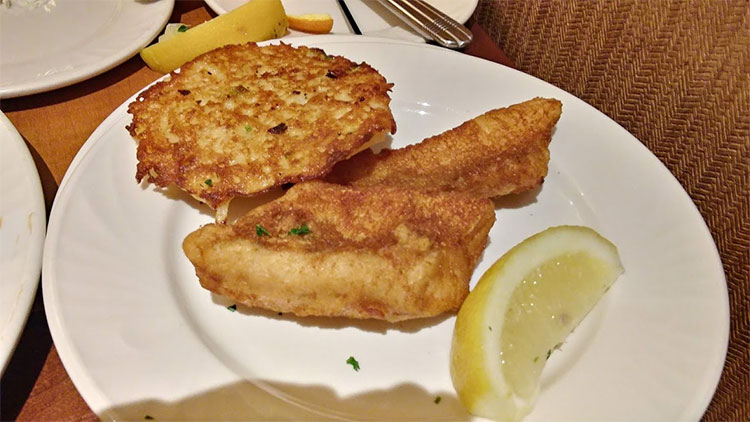 …followed by a round of cod. The breading on the walleye and cod seemed to be the same as what was on the perch, although the perch wore it better. The walleye and cod pieces were also small like the perch. I found a few small bones in the walleye and the cod was a little rubbery.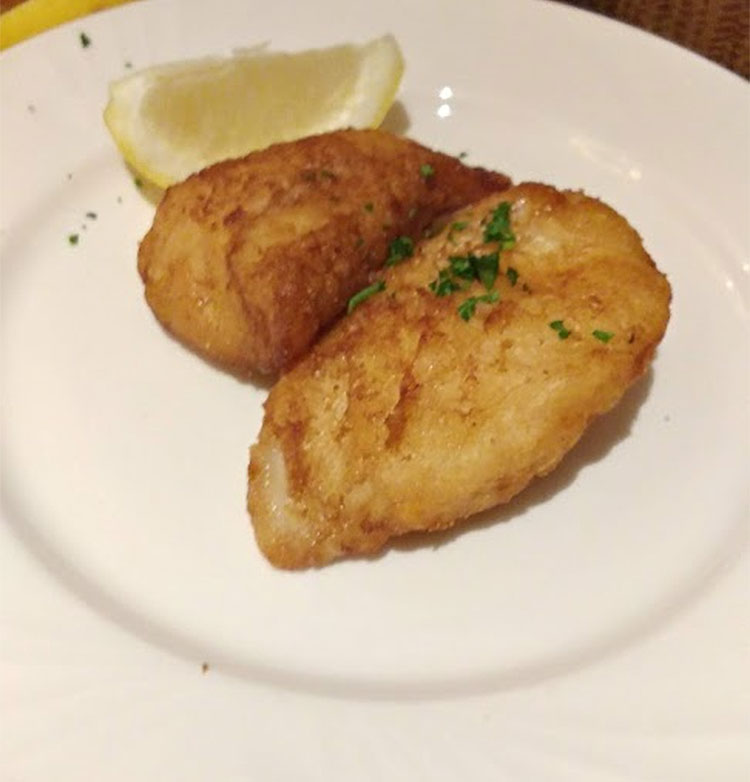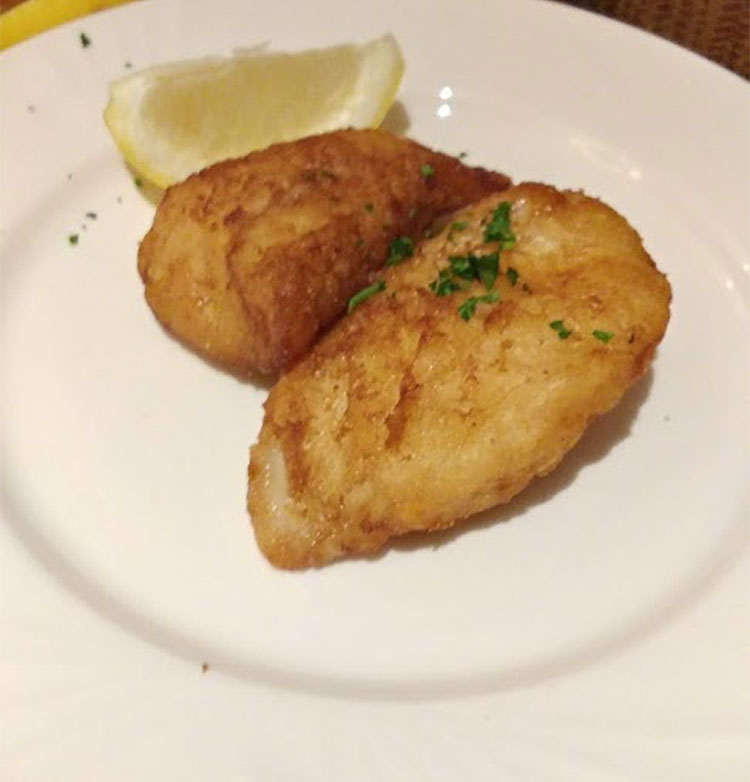 Then I finished off with two more pieces of perch, which were just as good as the first ones I had. In total, I had 10 pieces of fish.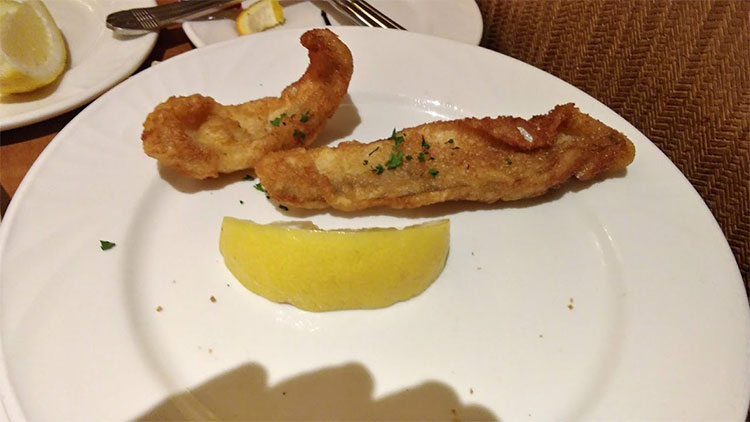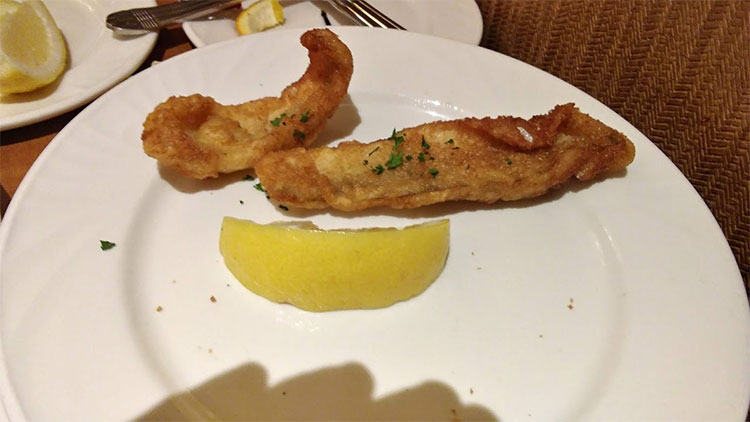 This fish fry was satisfying, but there are a few things that you could do to make the experience better for yourself if you try it. First, stick with the perch. The pieces I had were markedly better than the other types of fish I tried. Second, as soon as you are brought a plate of fish, order another plate of fish. Since you are only brought two pieces of fish at a time, you must be vigilant in getting more fish. I didn't do this, which left me with spare moments with no fish on my plate, staring in the direction of the kitchen, hoping my waitress would walk back out. Third, don't forget to check how much tartar you have left when you are ordering more fish, otherwise you will be brought more fish but be out of tartar and will be waiting around again not eating fish. If you stick to these tips, you should be able to have yourself a pretty awesome all-you-can-eat perch fish fry at Allgauer's Bistro & Pub In The Park.
Takeaways: all-you-can-eat perch, walleye, and cod; interesting location; great deal for the fish fry, but you sort of have to work to get your money's worth, because you are only given two pieces of fish at a time and the fish are small; pricier drinks—$8 Old Fashioned and $7 Spotted Cow unless you order it with a fish fry, then it's $4; milder potato pancakes, which are also all you can eat; filler fries; the applesauce was cinnamon flavored; high marks for tartar and perch; the cod and walleye didn't really do it for me.