Caleb Westphal hasn't missed a Friday fish fry since 2013. Follow along with his never-ending adventures here. This week: Dugout 54.
January 2022 will mark 10 years of me calling Milwaukee home. While fish frys have always been part of my life, it wasn't until I moved to the Cream City that they became a semi-weekly and then weekly ritual. I can't remember what my first Milwaukee fish fry was, but it might have been either Tracks or Klinger's East, since my first Milwaukee neighborhood was Riverwest. (I've recounted the importance of these Riverwest fish fry locations before.) But there is one other spot that factors large into how the fish streak got started.
Starting about a year after I moved to Milwaukee, from January through June 2013, I was a student teacher at an MPS high school. Shortly after starting the student-teaching stint, some of my fellow student teachers at the high school and I began going to Burke's Irish Castle on Fridays on a regular basis to decompress from the week and to get fish frys.
Located at the northeast corner of 54th and Bluemound, across from the Calvary Cemetery and Mausoleum, in the Story Hill neighborhood, Burke's was in operation from 2012 through December of 2015. The building, built around the turn of the 20th century, had previously been home to Derry's Pub, owned by Derry Hegarty from 1972 until his passing in 2011. After Burke's closed, the Vecitis family opened Dugout 54 (5328 W. Bluemound Rd. 414-259-1200) at the location. I was last in the building for fish fry #56 in January 2015, meaning I've never gotten fish there since it has been Dugout 54. This past Friday I returned to the spot that was so instrumental in priming me up for so many consecutive Friday fish frys.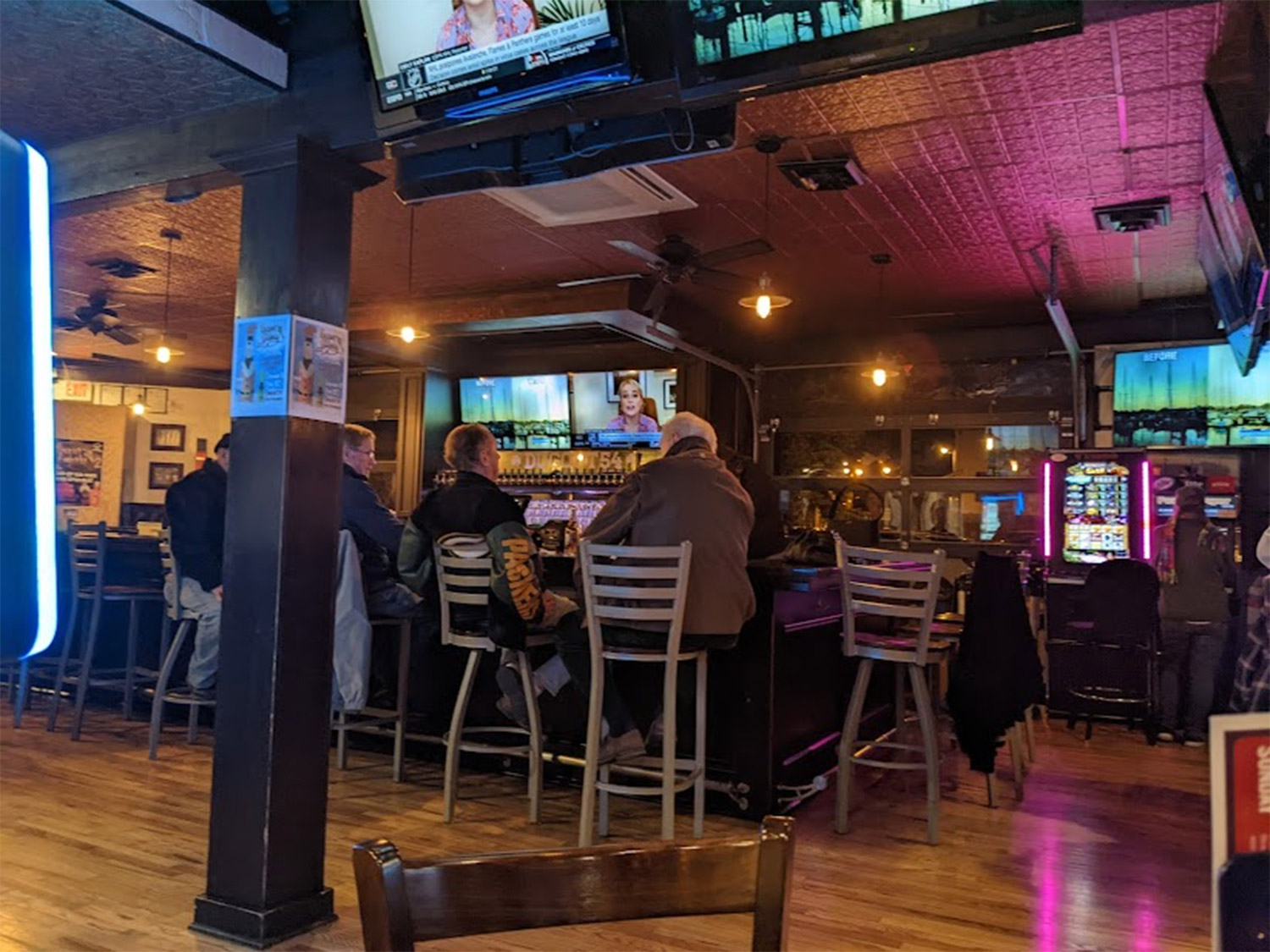 There were just a half dozen or so people at the bar and a few small groups eating at the high top tables beyond it when I walked into the main entrance of Dugout 54 shortly before 5 p.m. I walked past the bar and set my coat on a chair in the completely empty dining area, and walked back to the bar to order a drink. Despite Long Island iced teas being $4 on Fridays, I ordered my usual, and took it back to my table with a food menu. The Old Fashioned was fixed up to be muddled, but wasn't muddled, with bitters, a few cherries, and a thin orange slice left untouched at the bottom of the glass. That was the most memorable aspect of an otherwise typical Brandy Old Fashioned Sweet.
It wasn't apparent if anyone was coming around to take food orders, and I hadn't asked if anyone was, so I went back up to the bar to put in my order. Dugout 54's Friday fish choices are beer battered cod ($12), baked cod ($12), Cajun baked cod ($12), panko crusted perch ($15), and blackened salmon ($16). They also have a "Seasonal" fish, about which the menu says: "Our latest greatest! Please inquire…" I failed to inquire. Side choices are seasoned french fries, homemade kettle chips, waffle fries, sweet potato fries, onion rings, a seasonal veggie medley, potato pancakes, a side salad, or clam chowder. I ordered the beer battered cod. When I asked if the pancakes were homemade, the eyes of the guy taking my order lit up a bit, letting me know they were before he even answered. So I went with the pancakes, and I ordered a cup of clam chowder ($3) on the side.
Minutes later, a hot saucer was transferred to my hands and I lowered it onto the table and examined it from a distance and photographed it. Its contents were quickly identified to be that of New England clam chowder, a soup regularly eaten here on Earth. Flavorful and rather viscous, the chowder was flaked with cuts of fresh parsley and filled with soft vegetables and comparably chewy clams. Since the first saucer of clam chowder descended from the heavens centuries ago, humans have rightly been in awe of its powers to calm rumbling stomachs in a flavorful way before a meal, and like many before it, the chowder at Dugout 54 did this for me.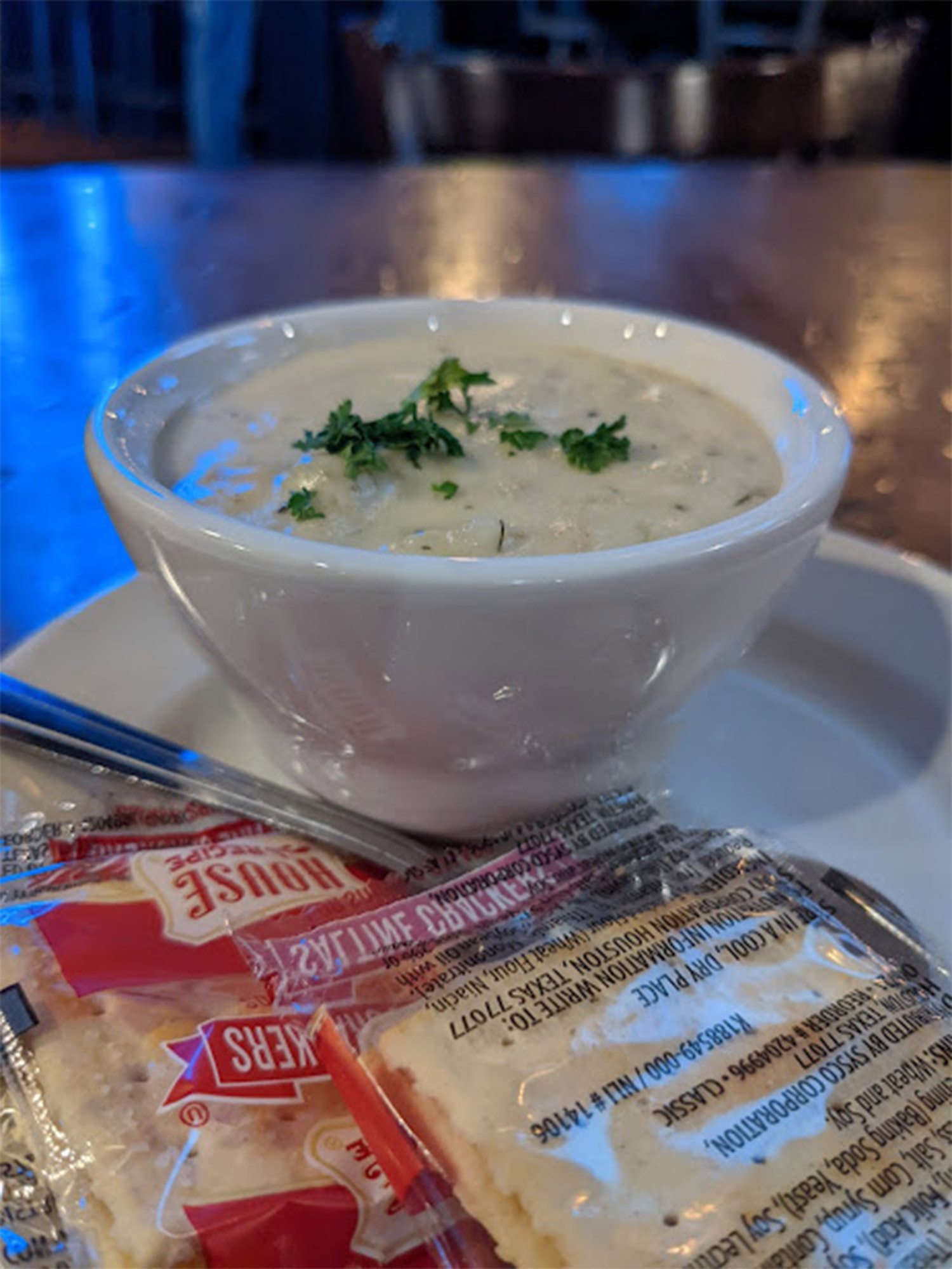 The menu listed the cod as being both beer battered and hand breaded. At first this seemed contradictory, but perhaps it wasn't. The batter was thin, but durable and crunchy. Seasonings were noticeable, as was the faint taste of beer. The three pieces of cod it covered were satisfactory but not uncommon. For those who are fans of dill, the tartar at Dugout 54 is for you. It was perhaps the dilliest tartar I've ever had, to the point that it overpowered the relish, making it barely noticeable, and it almost overpowered the fish too. This could be a turnoff for many, but could be paradise for the chosen few.
Like the tartar sauce, the coleslaw came in a small paper cup. Cold and fresh, it had relatively large chunks of green cabbage, as well as some carrot and red cabbage, but no added seasonings, as far as I could tell. The crusty rye bread was light in color, but not in taste.
Someone is messing with me, because at my previous fish fry the menu said potato pancakes, and I was given one pancake, but this week the menu said potato pancake, and I was given two pancakes. Their crisp and well-done exterior contrasted with their moist interior, which had small green bits that must have been green onion, although there wasn't a strong onion flavor. For some reason I was charged an extra dollar for the pancakes, even though they were listed as one of the side choices and I saw nothing about an upcharge on the menu. Although, maybe I missed something.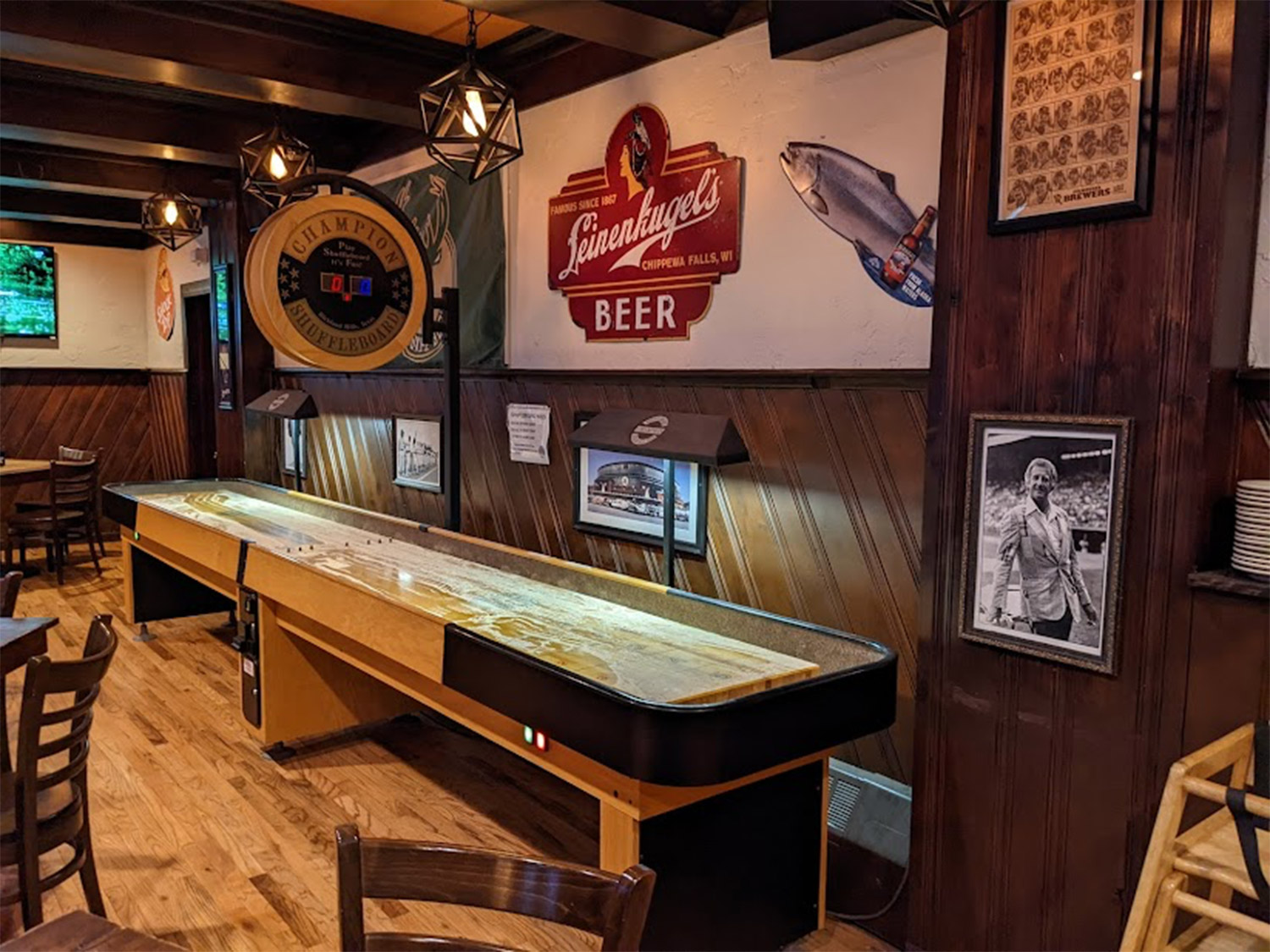 With as fine of a meal as Dugout 54 offers, I thought more people would have been there at 5 p.m. on a Friday, even with the pandemic beginning to accelerate again. Dugout 54 is also much more than a restaurant. They offer 32 beers on tap, host comedy shows, and run shuttles to Brewers games. Besides the main room I was in, there is another room to its east with a bar and banquet hall, as well as another bar in the basement. But if a meal on a Friday night is all that's needed or desired, it's unlikely Dugout 54 will disappoint.
Takeaways: Noteworthy pancakes on account of contrasting interior and exterior; the cod is apparently both beer battered and hand breaded; the dilliest of tartar sauces; paper cup tartar and slaw; $4 Long Island special on Fridays, but you can get an Old Fashioned for $4.50, so why not do that, eh?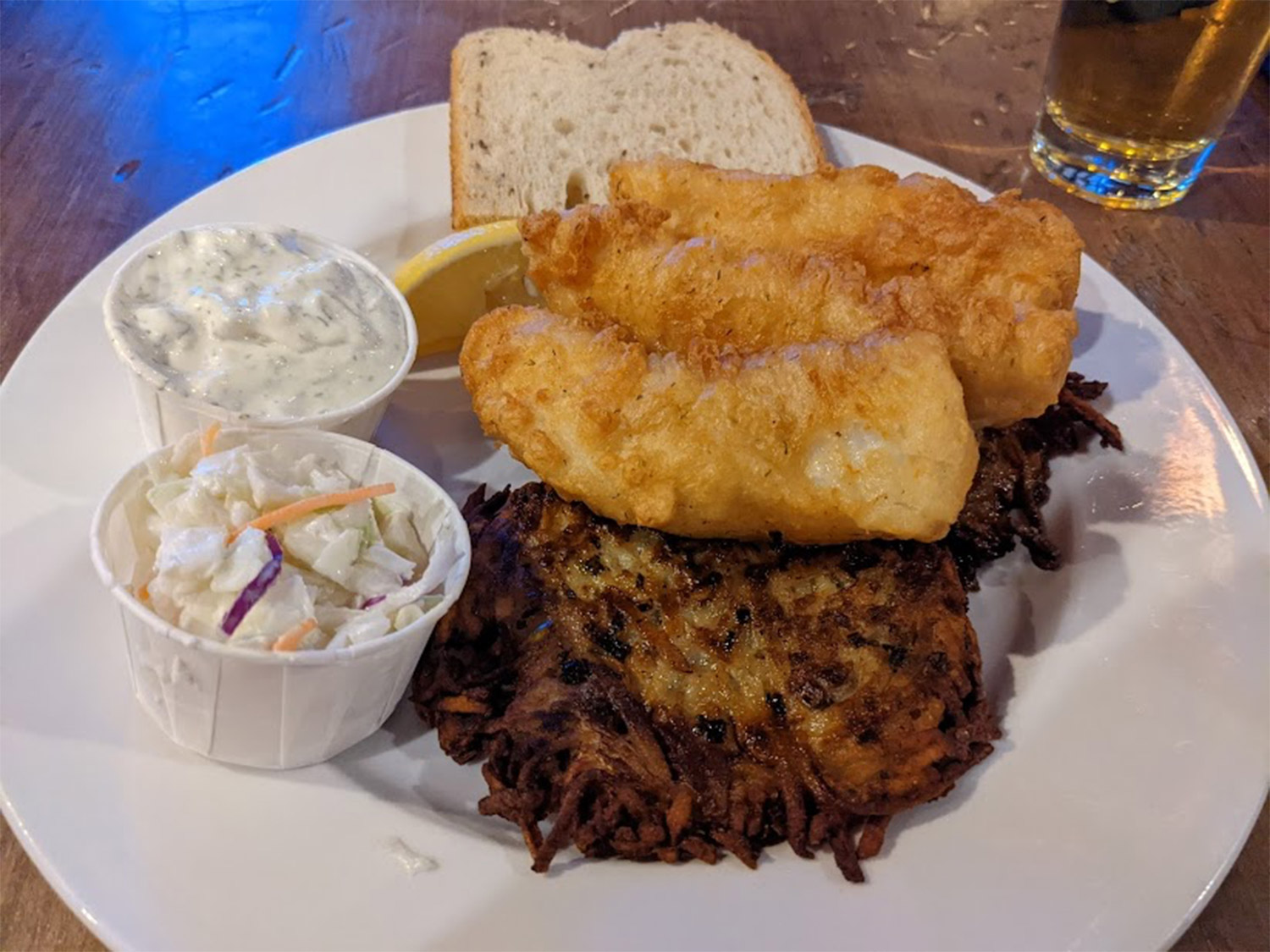 Postscript: In early November, a friend and I went to the Cozy Inn in Oak Creek for fish, and were told a party for the owner, John Sagan, was being held on December 17 in honor of his 90th birthday. After I went to Dugout 54, I drove home, my friend picked me up, and we headed to the Cozy Inn. We arrived at about 6:35 p.m., not knowing how much later the party would go since the bar usually closes at 7 p.m. After ordering a beer, I ran into two of my first cousins once removed, who I don't know all too well, and who frequent the bar regularly—something that was unbeknownst to me the first time I was there.
Eventually, John came out from the back room and waved to the crowd, who cheered him for his 90 years. Shortly after John had exited, likely to rest after an evening of partying, the bartender called last call. It couldn't have been any later than 6:50. Not long after that the lights were dimmed.
I spotted Joyce, John's daughter, and my friend and I walked up to her. "Do you remember us?" I asked. She sure did. The gratitude she expressed to me for writing the article was of the most genuine kind. She said she had been wanting someone to do a story about her dad as he approached 90. By some random chance I had wandered into his bar weeks before his birthday and ended up doing just that.
With probably just five minutes left before bar close, Joyce got the attention of everyone left in the bar and told them I was the one who had written the article about her dad and the Cozy Inn. Then she bought a shot for whoever wanted one. The shot glasses were lined up on the bar, and my friend and I took down a tequila.
"You really can see the impact your articles can have," my friend told me as we were sitting in the car, getting ready to drive away. The whole experience was one of the most moving and rewarding moments of writing this column. Most of the time I'm writing about what's in a potato pancake or what kind of fish a place offers, but every once in a while humanity comes to the forefront. And isn't that what fish frys are really about anyway? They are about community and family and tradition and refusing to give up on the belief that a meal served by salt of the earth folks is worth a hell of a lot more than all of the food in the money cluttered fine dining restaurants in the world.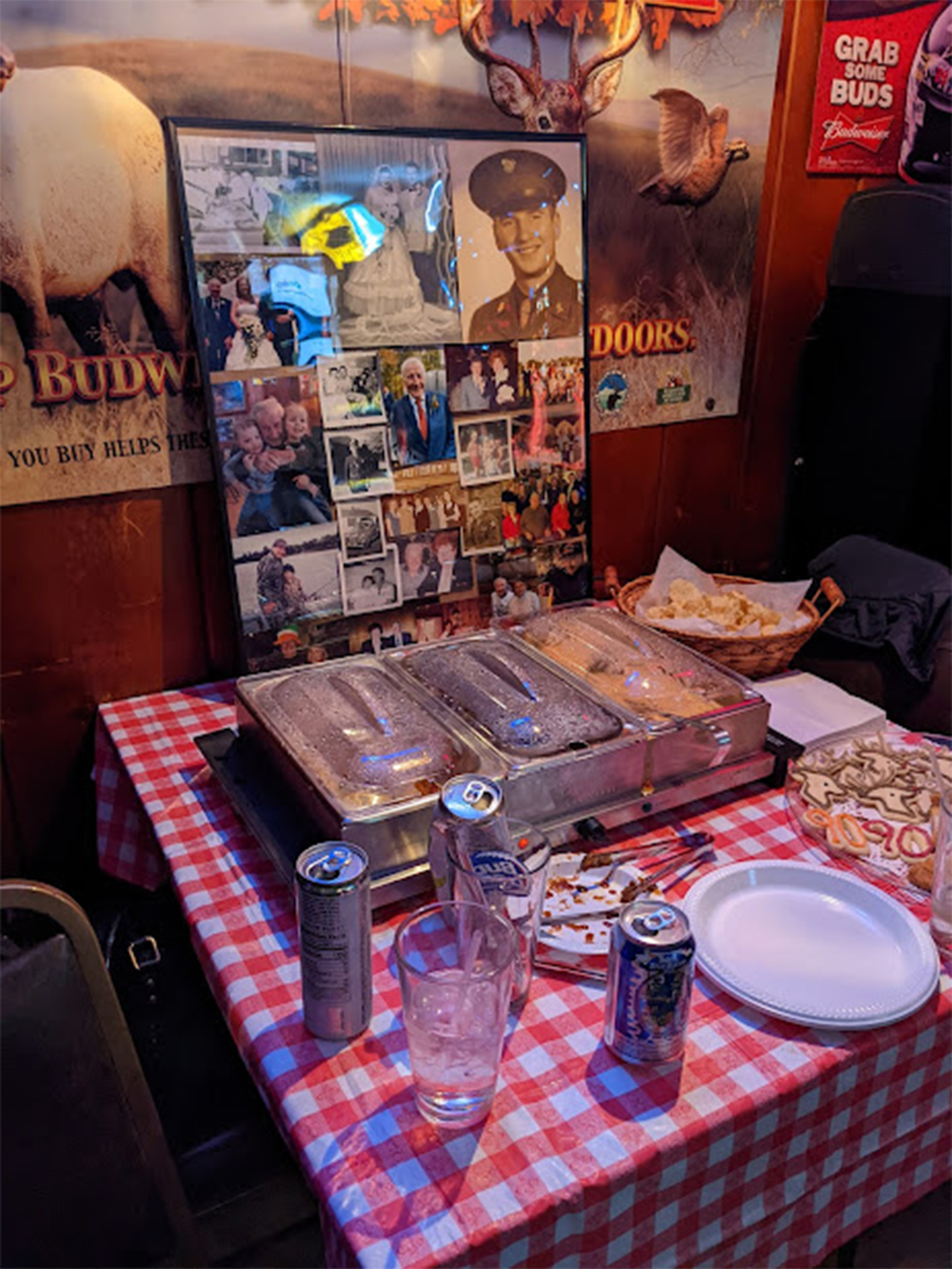 Exclusive articles, podcasts, and more. Support Milwaukee Record on Patreon.
---
RELATED ARTICLES