Caleb Westphal hasn't missed a Friday fish fry since 2013. Follow along with his never-ending adventures here.
I was taking part in a conversation, sort of. My bandmates and I were sitting at a high top table at Klinger's East, having drinks while waiting for our dinner table to be called. I was trying to focus on what we were talking about. I find it hard to concentrate on any sort of discussion while waiting for—or while eating—a fish fry. My eyes dart around the room. I fidget. Anyone who is talking sounds like Charlie Brown's teacher. Perhaps it's because I'm trying to concentrate on not missing anything pertinent to the fish fry. Or perhaps it's because I am in such a state of elation that I can no longer function on a normal level. This particular Friday had added excitement, as there was a rock and roll show to be played after the fish fry. I was floating.
While sipping down an Old Fashioned (non-muddled, booze-heavy, cherry and orange slice, classic tavern-style), and trying to focus, I kept turning to the side to look towards the bar. Behind it was a lady who was dipping fish fillets into a beer batter and dropping them into a fryer. Beyond her I could see a guy who appeared to be getting coleslaw from two large containers. I was mesmerized. Conversation. Deep fryers. Fish frys. Rock and roll. Kurt Vonnegut wrote in A Man Without A Country: "And I urge you to please notice when you are happy, and exclaim or murmur or think at some point, 'If this isn't nice, I don't know what is.'" These are the moments he was talking about.
Eventually, our table was called, and we were led from the Packer-colored bar/arcade front area, past the long wraparound bar, through the main dining area with tables with green and white checkered tablecloths, to the back dining room. There are just three tables in this room, and there is yet another room attached to it, with just one table, perfect for a private family meal. "Drinks cost three times as much in this back room," our soon-to-be server joked. "How much are they in the far back room," I quipped. It turned out our server was Sue Klinger, who has owned Klinger's East with her husband, Glen, since 1976. She told us it was about 1980 when they got their deep fryer and started doing fish frys. After all these years, it is apparent that her work still brings her joy, and that she has great pride in the food they serve.
The building was built 70 years before Klinger's East opened, in 1906, which ironically is the same year that the building that houses nearby fish fry competitor The Tracks was built. It appears it has pretty much been a tavern throughout most of its existence. It was Eugene's Tavern in the '50s, Club Rendezvous in the '60s, and the Mousetrap Tavern in the '70s, before becoming Klinger's East. And why "Klinger's East" and not just "Klinger's?" Glen's parents, Glen and Patricia Klinger, once owned Klinger's Tap, which was located at 3702 N. Richards St.
As we were perusing the Friday menu, Sue suggested that their "fish fry" ($11) may be a good choice. She explained that it came with two large pieces of Alaskan pollock, which were "higher in omega-3's than cod." Now, I take a daily fish oil supplement, but omega-3's are not really on my mind when I am eating fried fish, and I think it is pretty funny to imagine them hiding underneath all that beer batter. Nonetheless, Sue was correct, Alaskan pollock is higher in omega-3's than cod.
Other entrees on the Friday menu include a junior fish fry ($9.50); perch ($12.50); smelt ($9.50); catfish ($10.50); jumbo shrimp ($12.50); a seafood platter with shrimp, scallops, pollock, and flounder ($13); a ribs and fish dinner with a half rack of ribs and a piece of fish ($13); and a ribs dinner ($16.75 full rack/ $10.50 half rack). Potato sides include pancakes, waffle fries, or french fries. Perch or pollock sandwiches are also on the Friday menu, as are a handful of appetizers, including smelt. Chowder or chili are available by the cup, bowl, or quart. A piece of pollock can be added to anything for $2.50 and can be purchased on its own for $3.50. I went with Sue's suggestion, the two piece pollock. As the pancakes weren't homemade, I chose waffle fries. It was around 7:30 p.m., and to my dismay, they were out of chowder (the ribs were also gone).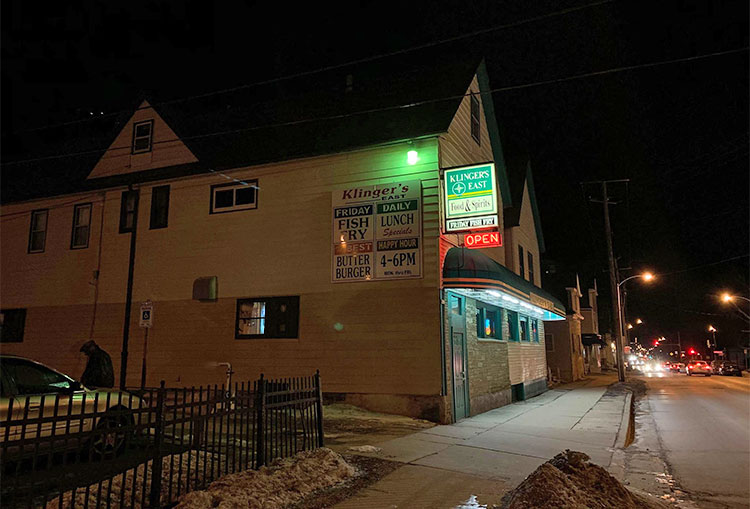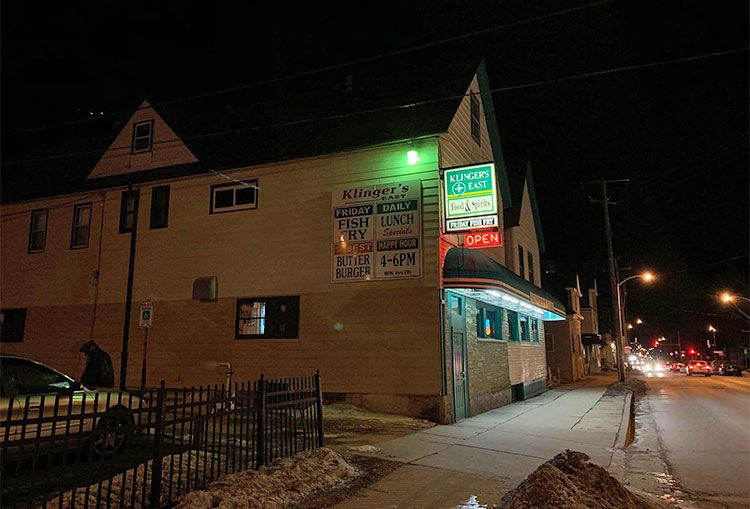 The fish was definitely the highlight of the meal. The long pieces curled with character, with their homemade quality shining through. They had what I will call a good grease, with a commendable beer batter that was light and thin. I couldn't help myself from ordering a third piece. That tartar was in a bottle on the table, allowing for as much to be used as needed (an old bottle was swapped out for a fresh bottle right as we had sat down). There weren't any obvious characteristics that stood out about it, but it was a trusty companion to the fish.
The coleslaw came in a small container, and there was just enough of it for it to wave and say, "Hi, I'm here!" It was extremely creamy and was made almost entirely of white cabbage. It's been quite some time since I've had waffle fries. These were of assorted sizes, cooked how they should be, and had a slight amount of seasoning to them. The marbled rye was acceptable, but nothing stood out about it.
After the third piece of fish and the taking down of the final swigs of a glass of Miller High Life, the meal was complete. Klinger's East has an above average fish fry, which is on account of their fish. It's not breathtaking or earthshaking, but it is steady, steady as the four decade old establishment with a twinkle of nostalgia in its green and gold walls. And that makes you feel good. Good enough to make you say, 'If this isn't nice, I don't know what is," as you walk out the door.
Takeaways: The lightly beer battered pollock was the standout of the meal; a never-ending bottle of tartar; pollock has more omega-3's than cod; they were out of chowder and ribs…it was already like 7:30 p.m…but still; the coleslaw was present, the bread was okay; the waffle fries were pretty great, but there weren't any homemade potato pancakes; Klinger's East has been serving fish frys since Jimmy Carter was president, so it doesn't need a damn website or a Facebook page; there was a guy working there who was wearing a shirt that said, "Yo Fish, Bite Me"; Friday fish frys are served from 11:15 a.m. to 2 p.m. and 4:30 p.m. to 9 p.m., and you can go there on other days of the week for others specials such as burgers, or you can stand outside of the place during Locust Street Days and hear Sigmund Snopek III sing about fish frys and see him throw beef sticks in the air.