Let's just get this out of the way: the weather was pretty lousy for Locust Street Festival of Music & Art 2018. It was cold (low 50s), it was cloudy (the sun was entirely absent), and it rained for a good chunk of the day. Not a pouring rain, mind you, but just enough to get everything/everyone wet and miserable. Crowds were noticeably thinner, and memories of 2017's hot-and-sunny installment were enough to make even the most devout Milwaukeean wonder why the hell we all still live here.
But whatever, because the fest went on, and you know what? It was pretty great. What follows, then, is a waterlogged and increasingly sporadic (thanks to it being a one-writer deal) minute-by-minute account of the 42nd annual Locust Street shindig.
11:37 a.m. – Ald. Nik Kovac gives his customary "We took on City Hall and we won!" speech to kick off the 1.8-mile Beer Run/Walk. Yes, Locust Street Festival celebrates all that is good and drum circle-y in Riverwest, but it also celebrates the time the Common Council voted against widening Locust Street between Holton and Humboldt in order to route more traffic to UWM. Kovac gives a shout-out to his wife and infant child, announces the start of the race, and we're off! A multi-colored mass of umbrellas and ponchos slowly makes its way up the street. (Hey, there's Leo!)
11:49 a.m. – The first serious runners of the Beer Run/Walk begin crossing the finish line near Tracks. "I feel terrible," says one woman.
12:08 p.m. – Locust Street Festival staple Sigmund Snopek is posted up outside Klinger's, wearing a white Klement's smock and singing along to his own pre-recorded tracks. Like, singing along with the actual songs, vocals and all. He's performing with himself, essentially, creating moments where the live Sigmund says something like "You tell 'em, Siggy!" to the recorded Sigmund. "Mother Nature has been cruel to us today," Snopek says after finishing up that "Fish Fry" song of his, "but we shall overcome!" Sure enough, the rain seems to die down a little.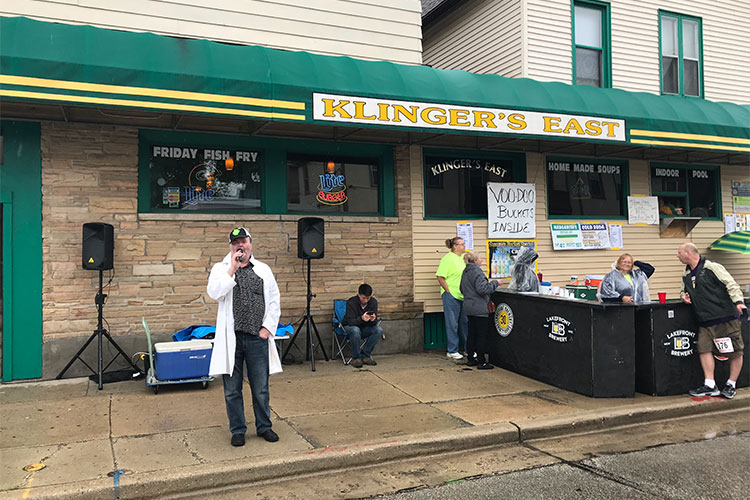 12:34 p.m. – Over at the Riverwest Public House tent, Negative/Positive continue to prove that they're not just a great "kid band," but that they're a great band, period. Set staples like "Dressed In Black" and "Papercuts" sound rock-solid and focused, and each player sounds like a seasoned vet. Also, thank god the Riverwest Public House tent is a tent, because it's still raining.
12:45 p.m. – Rain or not, Lovanova is positively cooking on the Lakefront Brewery Stage. "This song is about my favorite Edgar Allen Poe story," says frontman/organist Paul Kneevers. "It's called 'Tupac And The Pendulum.'"
12:51 p.m. – The Thai chi demonstration must go on!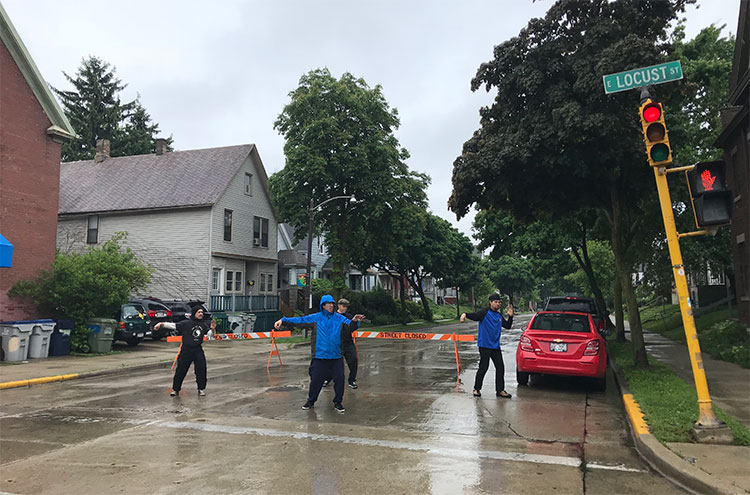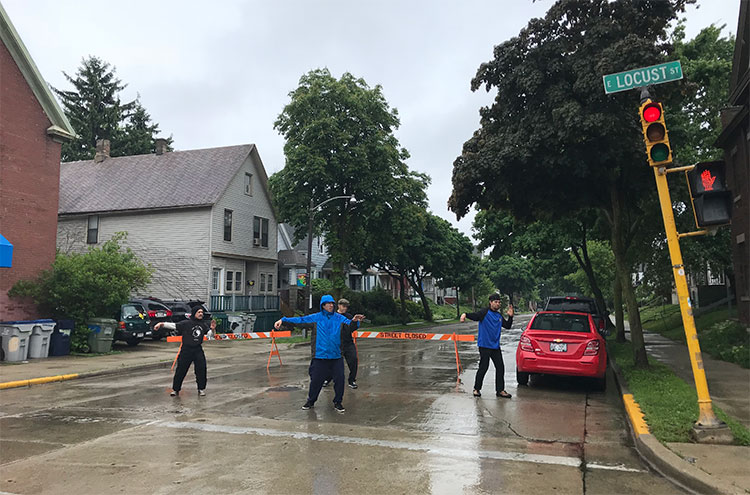 1:10 p.m. – Milwaukee Music Mayor Jay Anderson is milling through the soaked and shivering crowd with a big grin on his face. "What's different about this year's crowd?" he asks. "Everyone knows each other. It's just the neighborhood. It's great."
1:17 p.m. – The terrific (and loud) Detenzione hits the Riverwest Public House Stage like an atom bomb. Even for folks normally adverse to scream-y hardcore, the group's precision stomp and—dare we say—danceable groove make them easy to enjoy. Hell, just take a cue from the Riverwest Co-Op Bananas:
1:33 p.m. – Sixteen minutes later, Detenzione is done. Even with great bands, abbreviated set times are the best.
[nearly one-hour gap due to rain and running into friends who are also braving said rain]
2:25 p.m. – Mahmoud Amira is playing outside Klinger's, and the still-doing-his-thing Sigmund Snopek is passing out bags of Lay's potato chips to the crowd. Moments later, he throws out a bunch of beef sticks.
2:58 p.m. – The final moments of Taj Raiden's set at the Riverwest Public House tent are thrilling, invigorating, and hilarious. "Thank you all for rocking with me!" Raiden says.
[nearly two-hour gap due to watching a "Don't Stop Believin'" sing-along that doesn't really take off, chatting with more friends, and unfortunately checking out someone's set before this article appeared today]
4:23 p.m. – WMSE DJs have been spinning all morning and afternoon inside the Public House, and photos of last year's festival (by photographer Joe Dean) have been for sale as well. Such warmer, sunnier times.
4:32 p.m. – Goddammit, we just missed Soup Moat.
4:35 p.m. – Best motorized skateboard of the day, two years running.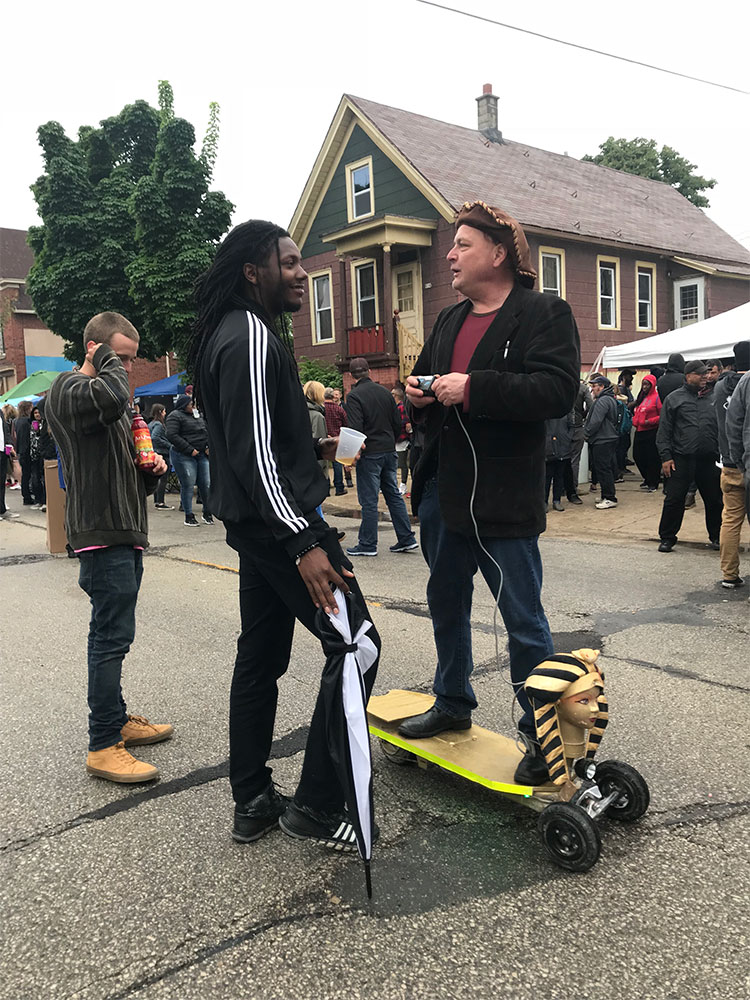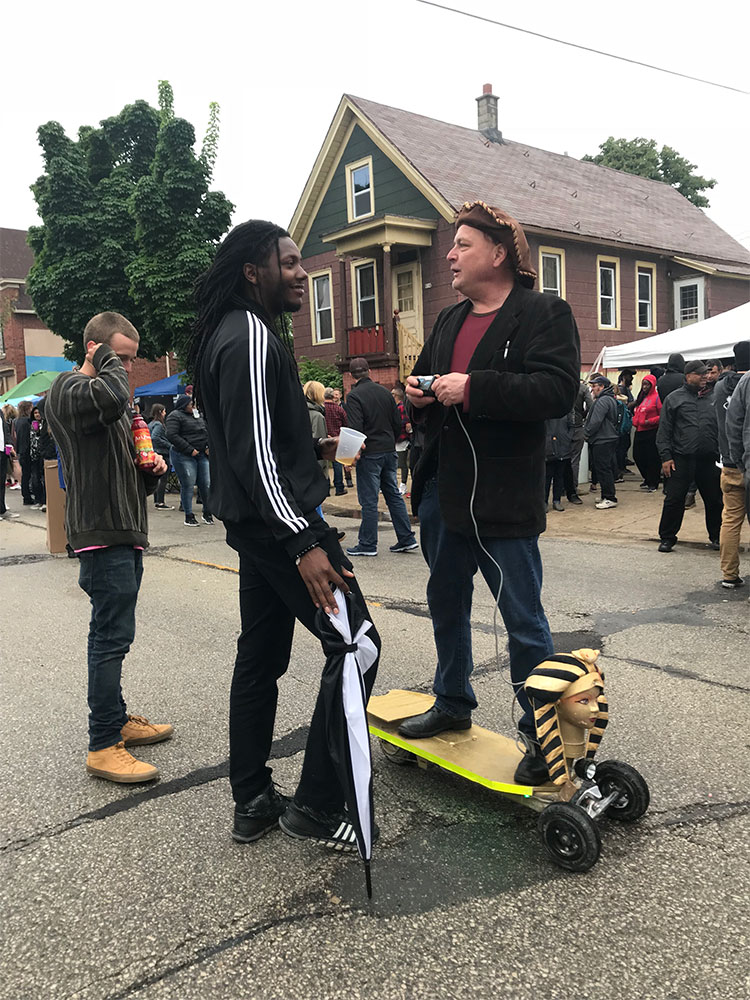 [nearly two-hour gap due to walking over to Foundation with some wonderful friends and hatching a ridiculous new podcast that may or may not actually happen]
6:12 p.m. – The groovy-ass sounds of Lauryl Sulfate And Her Ladies Of Leisure waft from the Riverwest Public House tent. The ladies' next song is about the "feminist power of the selfie," and it's great.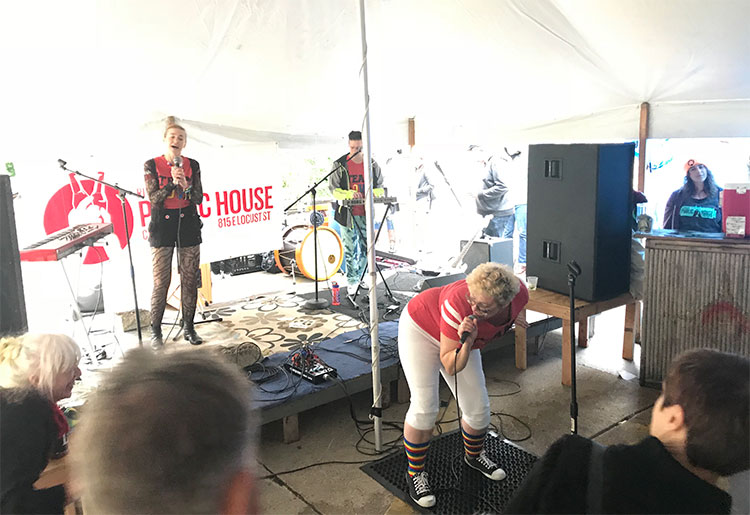 7 p.m. – If there were any doubts of Whips' best-Milwaukee-rock-band status (there really weren't), the group's no-holds-barred set puts them to bed once and for all. Singer Ashley Smith belts it out from the ground, making it impossible to see her in the jam-packed Public House tent. No matter—she and the band tear through songs like the unstoppable "Ms. Terry" and somehow dodge an inflatable Scooby-Doo being passed through the crowd.
7:35 p.m. – Putting Whips and Tigernite on different stages at similar times should be a crime. Anyway, Tigernite, fresh from destroying the Milwaukee Record Stage at PrideFest, similarly destroys the Lakefront Brewery Stage. They play "Hexxx," close with "Ray Gun Queen" (both from the new and excellent Sublunary), and thank the crowd for sticking out the weather. Our pleasure.