Flashback to summer 2004: Phish breaks up "for good." The jam-band world wonders: Who will take up the mantle? Amongst a handful of second-tier contenders in the glowsticks-and-hula-hoop sweepstakes, Chicago-based collective Umphrey's McGee seems as likely as any other band to fill the void. There's only one problem: The music industry is in such a state of decline, and the hippie fanbase so fractured, that nobody except Dave Matthews can reliably sell out major amphitheaters any more. By 2009, with the previously flourishing hippie festival scene in disarray, Phish's ongoing reunion begins, quashing all potential usurpers of their zonked-out empire.
Fast-forward to 2017: While most comparable bands of UM's stature—Widespread Panic, Disco Biscuits, String Cheese Incident, moe.—have become stagnant if not dormant, Umphrey's soldier on. They continue to spice up their live attack with new gimmicks and fan-friendly oddities, such as their yearly mashup extravaganzas on Halloween, or the entirely improvised, song-free set they played in Madison last year. They'll probably never headline the American Family Insurance Amphitheater, but a three-night stand at the Riverside Theater year after year ain't too shabby.
This year's run began on Thursday night with the venue nowhere near capacity; maybe the fanbase was showing its age and saving itself for the weekend. The enthusiastic school-nighters made the room feel like a sellout, though, and Umphrey's opened the show with a signature tune from their earliest days, "Phil's Farm," which showcased their genre-splicing talents for a good 20 minutes of improvisation right off the bat. Few bands this side of Mr. Bungle would dare combine country and metal; Umphrey's threw in a light dose of funk as well as some moody, low-key exploration highlighting the sometimes incredible intuitive interplay between the two guitarists.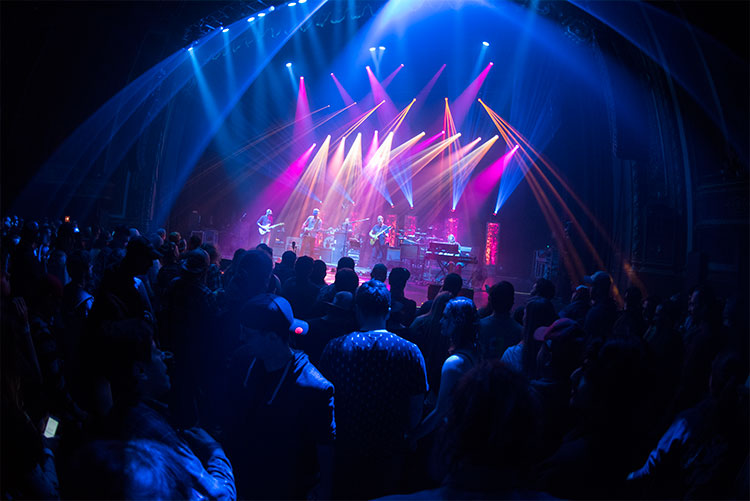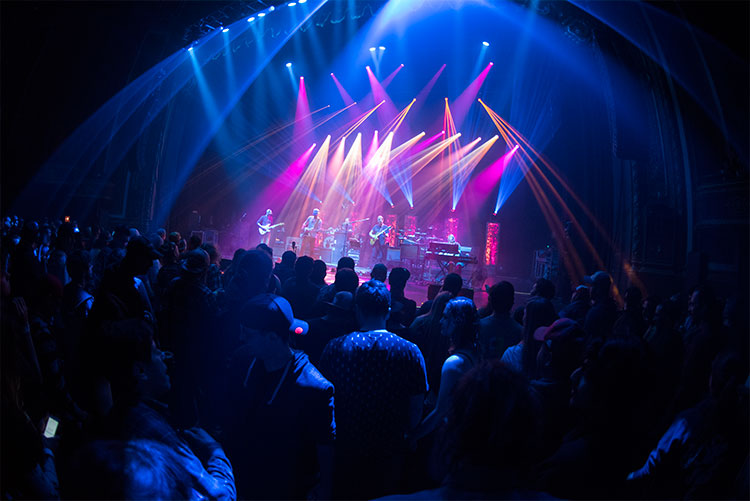 Somewhat unusually for the jam world, UM are frequently known to pack more improv into their first set than their second, and such was the case here. The generally cut-and-dried anthem "Glory" broke free from its mold into a dynamic and uplifting jam, which cooled down briefly to allow Jake Cinninger to put down his guitar and join Joel Cummins at his array of keyboards for a bit, rocking out on the piano while Cummins accompanied him on the organ. Umphrey's tend to favor eclecticism over flow, making for some abrupt transitions between sections of improv, and this show was no exception; they rarely sustained anything overtly danceable for long enough to get lost, providing more opportunities for headbanging than shimmying. It's those metal elements that have always set UM apart from their contemporaries in the jam scene, though, and there were even a couple of tentative forays into legitimate psychedelic noise territory, particularly during another mind-bending jam out of "Blue Echo." Perhaps they've finally been infected by the burgeoning Chicago experimental/post-rock scene.
The band didn't get quite as loose in the second set, which is only a complaint from a prog-hating perspective. For fans of UM's clear Rush/King Crimson influences, bookending the set with the beginning and ending of mainstay "Der Bluten Kat" is always a treat. Throwing in the speed-noodle epic "Hurt Bird Bath" was also a nice touch, although sandwiching the cheesy newer track "Upward" inside it wasn't necessarily a popular move. The major exploratory odyssey arrived in "Utopian Fir," which benefitted from the insertion of the first verse of Thin Lizzy's "Jailbreak" prior to the jam, a nod to the remarkable twin lead guitar work of Cinninger and Brendan Bayliss that drove so many of the night's climactic moments. The kicker was a spontaneous diversion into the end of the Rolling Stones' "Can't You Hear Me Knocking" as the show wound to its conclusion.
All in all, there were no major surprises nor gimmicks at this show—no covers, no mashups, no half-hour-long editions of the structured improvisational strategy known as "Jimmy Stewart." UM leaned on tried-and-true prog and pulled it off with the precision and energy that only they can, and they kept the singing, mercifully, to a minimum. Despite UM's vast repertoire, it's the band's clear enthusiasm for songs they've played hundreds of times over, and their continued tweaking of these formulae, that keeps their music feeling fresh even if the songwriting juice is drying up somewhat after 20 years of virtually nonstop touring. Even on the band's less experimental nights, Umphrey's fans know they're at least going to get a dazzling display of musicianship and professionalism, which is more than can be said for their more famous forebears.