For the past four decades, the annual Locust Street Festival of Music and Art has been one of the city's best street fests, celebrating all that is good, right, and drum circle-y in Riverwest. This year's installment—the festival's 41st—once again featured the ever-popular 1.8-mile Beer Run, hours upon hours of music from groups both old and new, food, drinks, crafts, and stellar people-watching. Oh, and a lot of fidget spinners. Here's our by-no-means-complete minute-by-minute recap.
1:15 p.m. – We arrive. Finally. Was it William Shakespeare or Carlos Santana (ft. Rob Thomas) who said, "Man, it's a hot one"? Either way, it's a scorcher today, with temperatures hovering around the 90-degree mark. There's hardly a cloud in the sky. The bustling crowd looks burnt and beat already. Here's to staying hydrated. [Matt Wild]
1:28 p.m. – Xposed 4Heads have been an on-and-off Milwaukee concern since 1982 (!), and it's nice to see them working the summer street festival circuit at the outdoor Linneman's stage. Frontman Mark G.E. is clad in blue, the band is clad in red, and the on-stage "Star Girls" are a combination of the two. The band's main musical influence shouldn't be too hard to guess (hint: it's Devo), but their ironic "turn off your brain and be stupid" message is all too timely. [MW]
1:49 p.m. – The west end of Locust is noticeably hotter than the east. This has less to do with geography than it does with the amount of food trucks and grilling stations populating the area. Still, the folks in Brewtown Beat are keeping things cool, funky, and upbeat on the grass-bound Wisconsin Veteran's Stage. [MW]
2:13 p.m. – We can't help but notice how many dogs are in attendance. Shibas, poodles, schnauzers, oh my. They should change the name of this festival to "Locust Street Dogs." [Lauren Keene]
2:17 p.m. – Time to duck into the Public House and cool off. WMSE DJ Haven is playing "Beautiful World" by Devo (what's with all the Devo this year?), and some dude is working out his aggressions on the Thump-A-Trump game in the corner. [MW]
2:20 p.m. – "We don't have a lot of time, so here we go!" Vincent VanGREAT is about 20 minutes late to the Public House stage, but he and his band, Ninja Sauce, make up for it with an energetic, nimble set. Putting in work, indeed. [MW]
2:38 p.m. – We always get a lot of shit for not covering the festival's biggest stage, the Tracks Tavern stage. So fuck it. We grab a burger and some fries from Klinger's East, sit down in the middle of street outside of Tracks, and enjoy the dulcet tones of Blues Hammer-esque Katz Sass (get it?) Lots of hot licks, lots of Stevie Ray Vaughan hats. Good festival music. They're on until 5. [MW]
2:53 p.m. – Black Husky Brewing is the new kid on the Locust block, so we decide to drop in and take a look around. "It's Leo!" we immediately hear someone exclaim. Sure enough, it's former Milwaukee music superfan Leo Hayashibara, back for a visit to the Badger state. He immediately starts dancing. [MW]
2:57 p.m. – We sit in the shade next to the Public House, using our promotional David Gruber shirts as a makeshift blanket. We see someone in a chicken suit walk by and wonder how he hasn't passed out. It's still 90 degrees. [LK]
3:05 p.m. – Here's the part of the day where we talk to Public House bartender (and occasional Milwaukee Record contributor) Tea Krulos about the new season of Twin Peaks. Are we really going to be spending all this time with Cooper-as-Dougie? [MW]
3:14 p.m. – At the Public House stage, Moon Rats trudge into the opening of "Highway Lord," the title track to their upcoming Gloss Records cassette. The tent is packed and the band is on point—all heavy riffs, stoner-psych hooks, and a fucking song called "Highway Lord." Moon Rats are currently Milwaukee's best band to get blasted and/or watch The Holy Mountain to. [MW]
3:24 p.m. – Rocket Paloma sound checks as Queen's "Somebody To Love" blares. Seriously, it's so fucking hot. The fact that this many people came out today is impressive, to say the least. If Milwaukee is committed to anything, it's day drinking. [LK]
3:28 p.m. – "One, two, one, two, I live in the 53132," says Rocket Paloma singer Joey McFly. She's sporting a Wonder Woman headband and cuffs. [LK]
3:49 p.m. – The crowd is enthusiastic, but not enough so to dance. The area in front of the stage is empty, but the crowd extends all the way down Weil Street. McFly's vocals can still be heard as we head over to the Public House stage. Locust Street is packed like sardines in a sweaty, sunburnt can. [LK]
3:57 p.m. – There are plenty of top-shelf, "destination" bands playing today's fest (see: pretty much everyone at the Public House stage), but let's give it up for the likes of The Tritonics, who are playing outside Klinger's East and give Locust (both the festival and the street) its distinctive sound. We're sorry we missed Sigmund Snopek's Beer Show earlier in the day. [MW]
4:04 p.m. – Underneath the yellow- and white-striped Public House tent, Dogs In Ecstasy open with two songs we don't recognize. We're hoping this means that new music is on the way. A crowd member goes up to the stage and sprays band members with a Squeeze Breeze. [LK]
4:07 p.m. – Mark Borchardt is here. [MW]
4:13 p.m. – Paul Cebar is here. [MW]
4:15 p.m. – Best motorized skateboard of the day.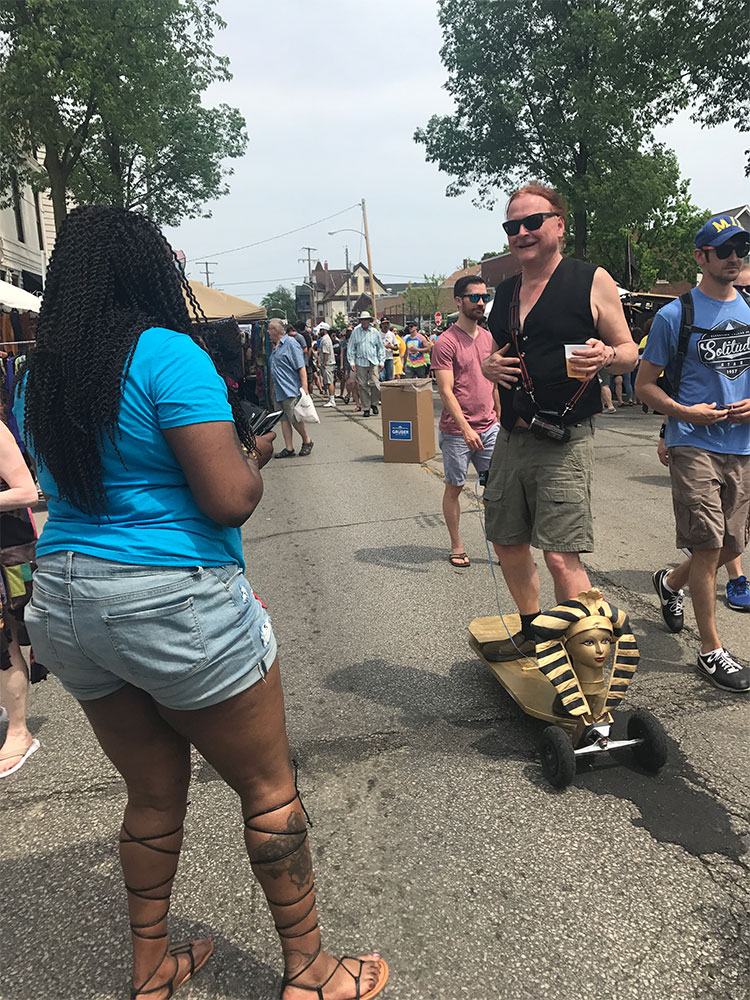 4:18 p.m. – Linneman's is an air-conditioned oasis in a sea of never-ending heat. We duck in to catch the opening minutes of Faux Fiction, whose classic alternative sound is perfect for a quick respite. The crowd is sparse and the drummer's snare and hi-hat fall over at one point (some help from an eager fan proves to be no help at all), but we're enjoying it anyway. Plus, as always, Jim Linneman is busting his ass for the band, the festival, and the neighborhood. [MW]
4:46 p.m. – Overheard: "Give me fifty cents for this fidget spinner! I'm broke as hell!"
5:03 p.m. – "Let's hear some noise for motherfuckin' fidget spinners!" First Devo, now fidget spinners. Go figure. Anyway, the Public House stage is in full pre-party mode for Zed Kenzo. A fidget-spinning DJ hypes the crowd, Milwaukee hip-hop royalty like WebsterX, Klassik, Lorde Fredd33, Siren, and Lex Allen party in the wings, and some random lady gets on stage and dances to Lil Uzi Vert. The crowd is going nuts. [MW]
5:30 p.m. – That woman with a big-ass snake around her neck is here. Where art thou, Summer Soulstice Lizard Guy? [MW]
6:01 p.m. – The Public House stage is jam-packed with Soul Low fans. The band opens with a cover of a cover: Cheap Trick's version of Big Star's "In The Street." There's hardly any room to dance because the tent is so crowded. A few fans know every word to every Soul Low song. It's refreshing to see so much love for a local band. [LK]
6:18 p.m. – A masked intruder enters the crowd. "IT'S BUGER TIME!!!!" screams singer Jake Balistreri. The masked man starts throwing burgers at everyone. They are from McDonald's. The crowd goes wild. [LK]
6:20 p.m. – "Get your expectations very high," says Soul Low's Sam Gerhke. "It's about to get fucking nuts." Time for "Twist And Shout"! [LK]
6:29 p.m. – A group of dude bros instigate what is probably their first mosh pit ever during Soul Low's arguably best song, "I Wanna Die." [LK]
7:26 p.m. – Over at the Lakefront Brewery stage, Whips attract the biggest crowd we've seen all day. This is the first of many street festivals the band will be headlining this summer. [LK]
7:50 p.m. – After the crowd demands "ONE! MORE! SONG!" Whips gladly oblige. "We don't do this a lot," says singer Ashley Smith. Smith has the reverb turned ALL the way up, and the echo of her voice combined with Andy Mrotek's drumbeats is the perfect end to the day. [LK]
7:55 p.m. – We ask Soul Low saxophonist Sean Hirthe the thinking behind the band's McDonald's hamburger stunt. He shrugs. "People want to dance, people want to eat. You can quote me on that." Done. [MW]