Caleb Westphal hasn't missed a Friday fish fry since 2013. Follow along with his never-ending adventures here. This week: Cozy Inn.
Most business owners close up shop long before becoming octogenarians, but the neon on the vintage Old Style beer sign outside of the Cozy Inn in Oak Creek (9509 S. Chicago Rd., 414-762-9933) still beams "OPEN," and the owner, John Sagan, will become a nonagenarian next month. The small, wooden tavern, set back from the road beyond a parking lot, just south of the intersection of South Chicago Road and East Ryan Road, is easy to miss if you aren't looking for it. Not much can be found about it online either, besides outdated Yelp reviews and a dormant Facebook page. I did find a picture of a fish fry from 2019, but the only way to be certain that they still had a Friday fish fry (besides making a phone call) was to make the drive.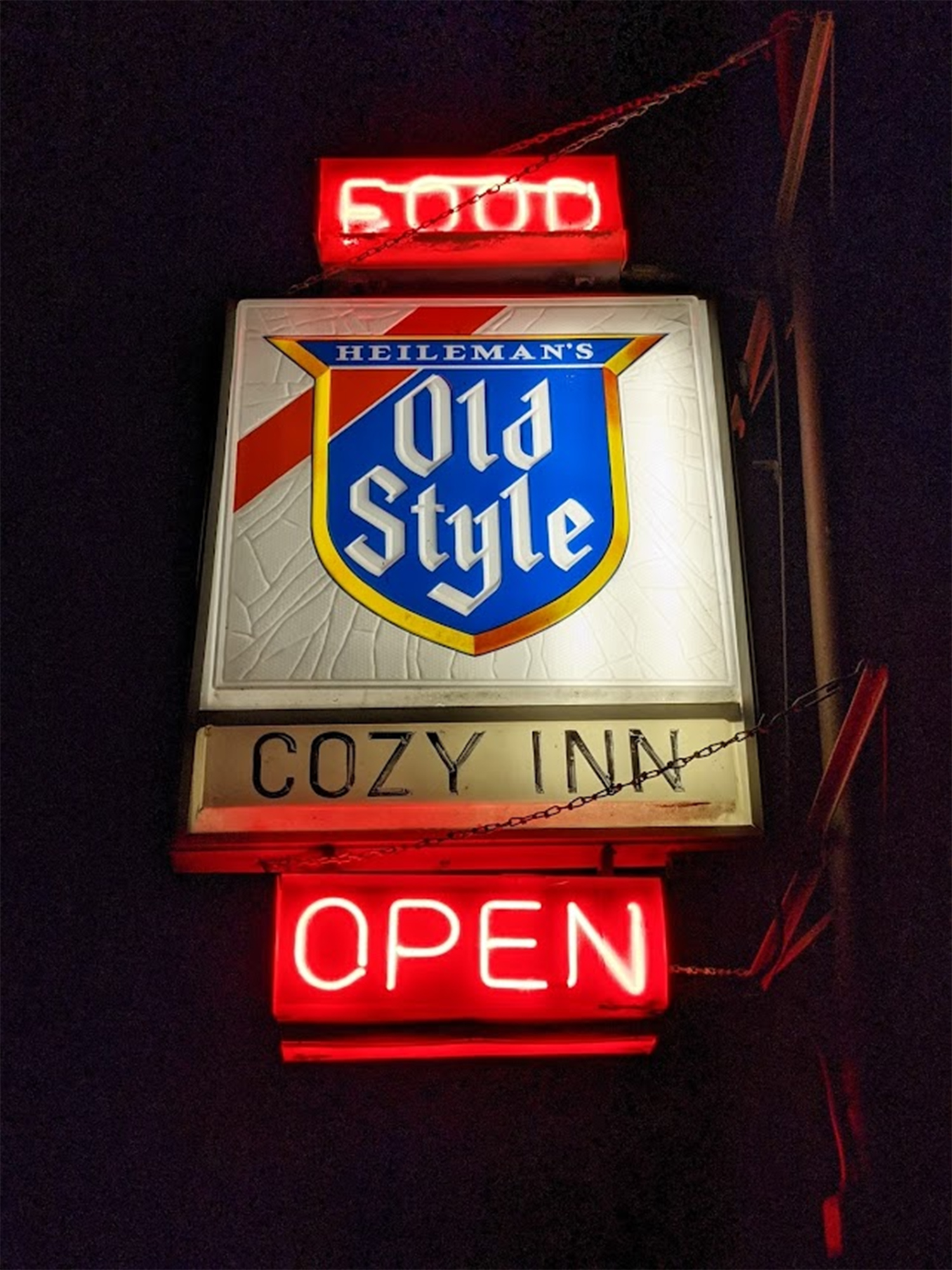 It was around 5:15 p.m. when my friend and I were lured inside by the sign affixed to the building's exterior: "COME SEE," "HOME OF," "WORLD RECORD LAKE TROUT." We then pulled up stools almost directly across from the taxidermied behemoth. I glanced around and saw two food menu signs on the wall that listed fish, and food people must eat on other days of the week, but they looked so old that I wasn't sure they still were relevant. I also saw someone down the bar who was finishing a plate of something. "What are you drinkin'?" asked the woman behind the bar, who was Joyce, John's daughter. It wasn't until I confirmed that fish frys were served that I put in my usual order for an Old Fashioned.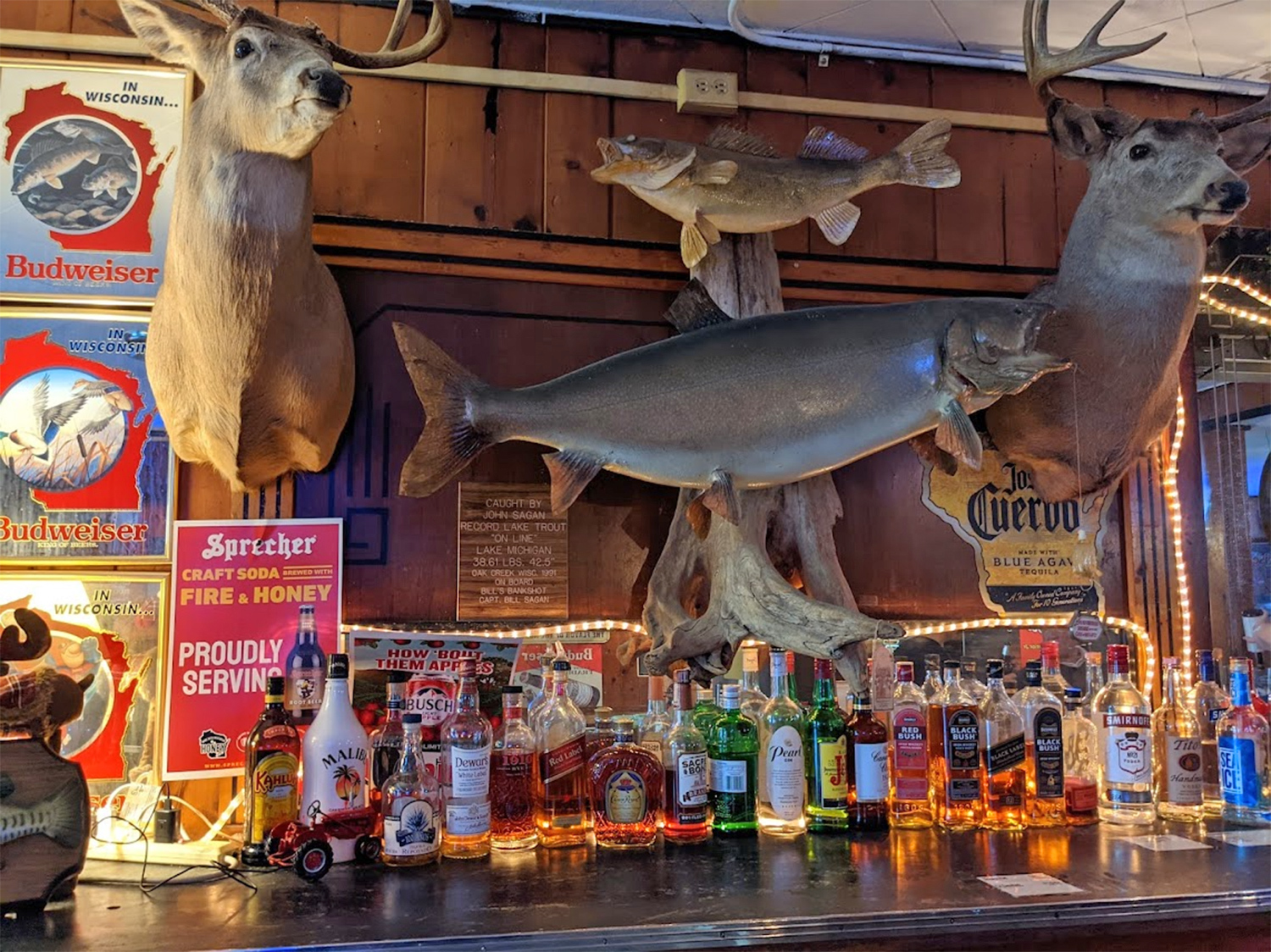 "I make them big," Joyce said, as she set down the 16-ounce glass. She also noted that she makes them with caramelized sugar and burned bitters. Maybe that's what gave it a darker hue, but there was a heavy presence of brandy too—if it had less than three shots worth in it I'd be surprised. But it blended in nicely and was by no means overpowering. I had been asked if I wanted cherries or olives, and four cherries spanned the circumference of the rim.
Perch ($12), cod ($11.50), and walleye ($16) are the three fish choices, and shrimp ($11) is available too. All come with french fries, rye bread, and coleslaw. My friend and I went with the cod, and Joyce flicked on the light above the fryer and got to work on our orders.
I was enjoying my Old Fashioned when the jukebox kicked on. Just over a minute into the first song a clear-as-crystal f-bomb filled the room, and the whole bar swiveled around on their stools as they let out a collective "Ohhhh!" at the guy standing by the jukebox. The song was "Am I The Only One" by the dude from Staind. I didn't recognize it at first because I don't listen to the dude from Staind. "Yikes. Where is this headed?" I thought. I looked at my friend, who appeared to be having the same thought.
We were at the stools closest to the juke, and the guy plugging it came up to us and said he hoped he hadn't offended us with the expletive, but also that the song had amazing lyrics about America that we should check out. Thankfully, "American Pie" came on next. "Oh, do you like oldies? How about The Temptations?" he asked, and put on "Just My Imagination," followed by Steve Earle and Buddy Guy. From the dude from Staind to Steve Earle—now that's some political range.
The fish fry arrived during the Temptations song. There were three pieces of thinly breaded cod. Compact but meaty, they were paired with a sweet and tangy tartar. Two slices of marbled rye were buttered and sandwiched together. "Creamy" and "cabbage" were the operative components of the coleslaw, which, like the tartar, appeared to be freshly made. The french fries came on a separate plate, and were salty and straight cut. While not a stunning fish fry, it was just about perfect for a small-operation tavern.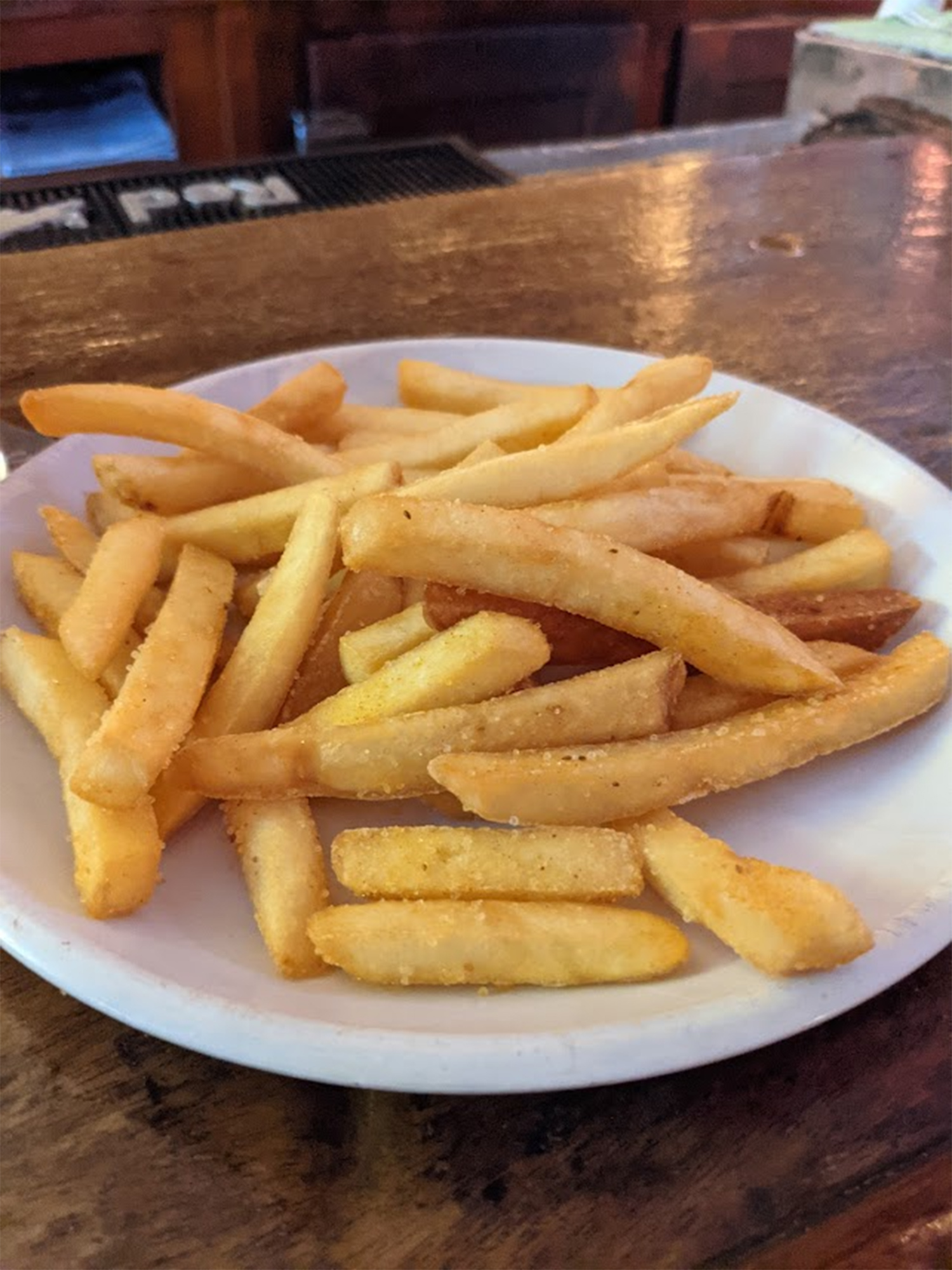 The plaque next to the giant trout said John caught it while on Capt. Bill Sagan's boat, Bill's Bankshot, on Lake Michigan in 1991. It says the fish was a record "on line" lake trout, weighing in at 38.61 pounds and measuring 42.5 inches. "He's sitting at the other end of the bar," Joyce told us, and we decided we had to talk to the angler and bar owner before we left.
"Is that you?" I asked the one guy sitting at the bar who looked like he might be in his eighties, while I pointed at a large picture on the wall of John holding his prized fish on the day it was caught 30 years ago. The seated man beamed with pride as he confirmed it was him, and he reached out to shake my hand. When talking to John it's apparent he's proud of a lot: of his service in Korea, of his family, of his bar, and of course, of his fish—you wouldn't hang a sign outside of your bar like that if you weren't. If he's regretful of anything, it might be that he went out on his brother Bill's boat a bit too early: Salmon-O-Rama, an annual Lake Michigan fishing contest, started six days after he reeled in his trophy trout.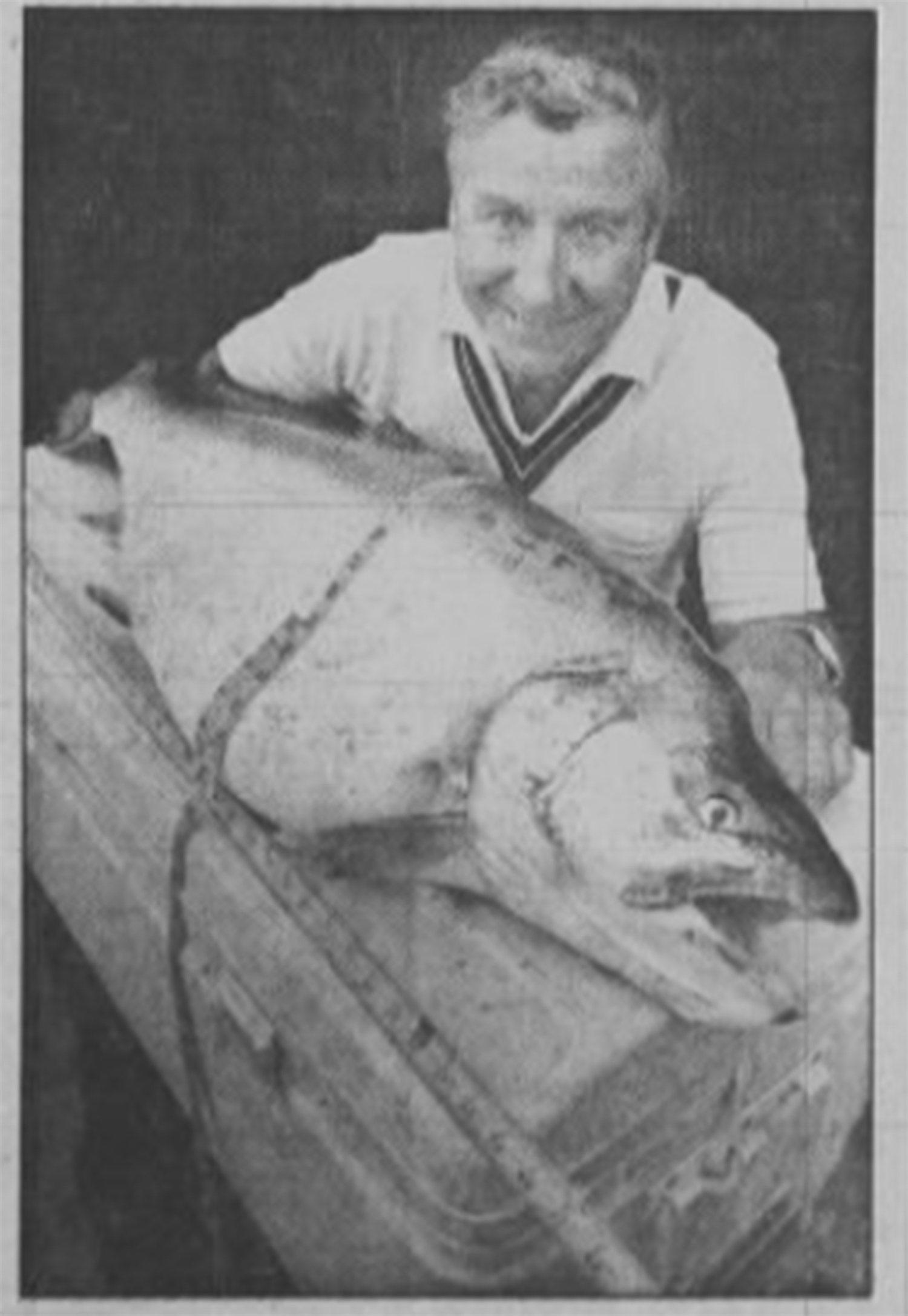 At the time John caught his fish, Racine's The Journal Times reported that "according to the Fishing Hall of Fame in Hayward, Sagan's catch could be the biggest trout ever caught in the lake." So it wasn't the biggest lake trout in the world, but perhaps held the record for biggest lake trout from Lake Michigan. One a little larger was caught in Illinois earlier this year, but John's fish may still hold the record for largest lake trout pulled out of Lake Michigan in Wisconsin waters.
When it comes to the bar, which he's owned for 43 years, John said the idea to buy it came from his late wife Lois, who passed away in 2010. Much of the credit to keeping it going has to go to his family, particularly Joyce. The Cozy Inn is only open from 2-7 p.m. Tuesday through Friday, and from what I gather, Joyce brings her dad in with her and runs the place. So John gets to hang out in his bar, stay active, be surrounded by his friends, and spend time with his daughter. How about that for 90?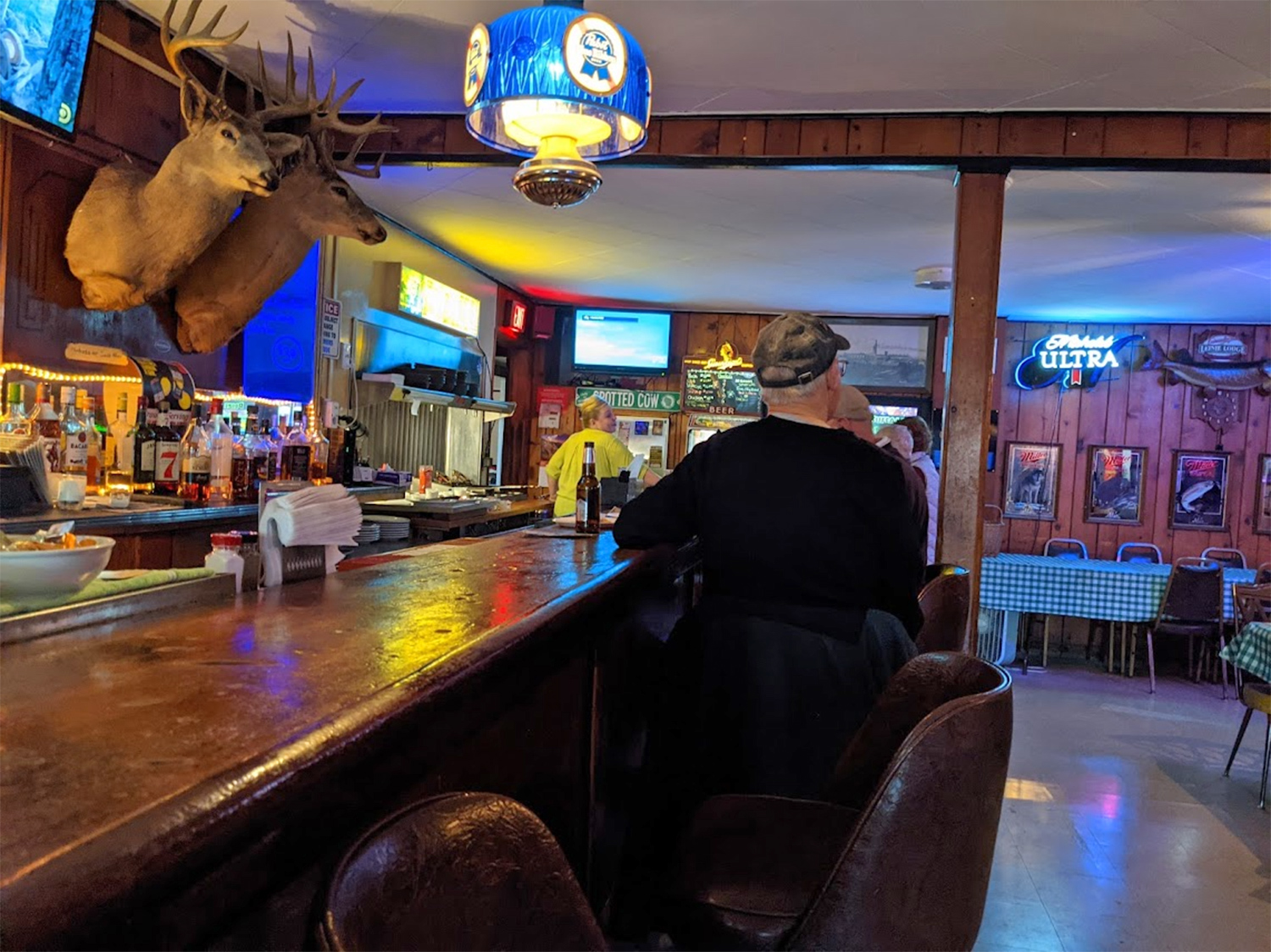 Did the Cozy Inn have the best fish fry I've ever had? No. Do I even care? Not a bit. (It was pretty good though.) Its charm and heart are enough for me. They aren't keeping this place open to get rich, they are keeping it open because it's in their bones, it's who they are. The fish and deer heads on the wall weren't shipped in to make the place look authentic—John caught all the fish and his son shot the deer. The animals don't so much show a trophy mentality as they do a life richly lived, as does the weathered bar top and the walls themselves.
The Cozy Inn is a place where you might shake hands while saying both hello and goodbye. It's a place where all the patrons besides you might be regulars, but they don't look at you as an outsider. Sure, some guy might put on a song that makes you want to respond with some Springsteen, Pete Seeger, and Nina Simone, but that is part of the beauty of America too, and nothing's ever going to get better until we start sitting in the same room with each other like grownups.
As for John, he may be planning for a monumental birthday, but he's not planning on it being his last. While he caught his trout on the boat of one of his brothers, he was sure to let me know that another brother fought in the Battle of the Bulge and lived to be 96. Here's hoping John has many years in front of him, and maybe a few trophy trout left to catch.
Takeaways: "WORLD RECORD LAKE TROUT;" over four decades in business; big, brandy-filled Old Fashioned; meaty and thinly breaded cod; super creamy slaw; appetizing tartar; open from 2-7 Tuesdays through Fridays, which means you have just 5 hours a week to get a fish fry; they should give out bumper stickers when you close this place like they do at Wolski's; I left just before 6:30 and was not successful on my first attempt; they don't take cards, but do have an ATM; if you go here for a fish fry after reading this, don't all show up at once, because it might just be Joyce working behind the bar, and she won't be able to keep up; they are having a party for John on his birthday on December 17, which is a Friday, and I hope he has himself a birthday fish fry.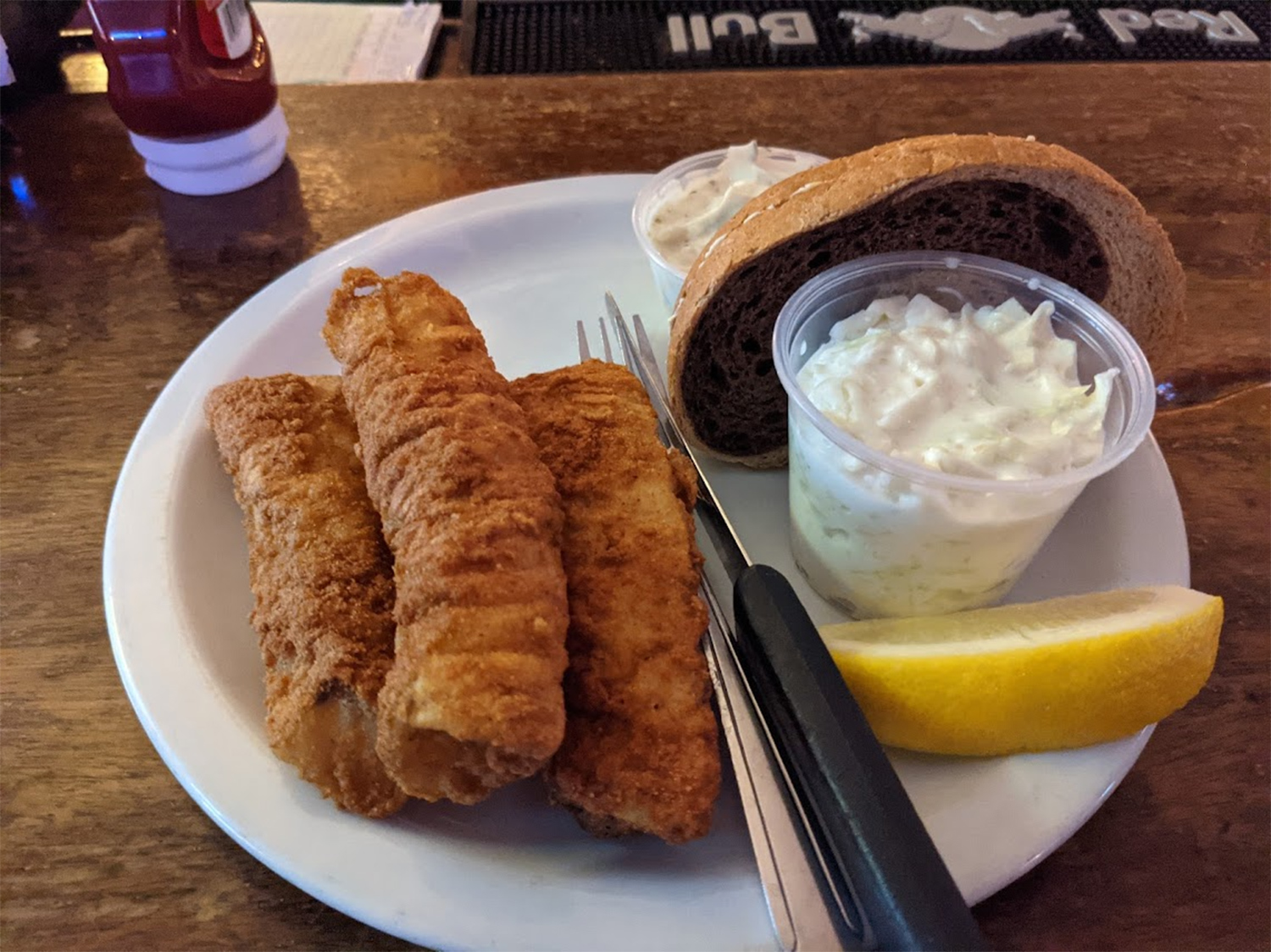 Exclusive articles, podcasts, and more. Support Milwaukee Record on Patreon.
---
RELATED ARTICLES