Caleb Westphal hasn't missed a Friday fish fry since 2013. Follow along with his never-ending adventures here. This week: The Landing.
A vehicle was coming up quick on my bumper as I neared the 794 North ramp while heading west on Layton Avenue in St. Francis. Its driver probably thought I was preparing for highway takeoff, since I was in the lane to do so, but the lane also had a driveway connected to it, and I was actually slowing down to begin my descent into it to land for some fish at The Landing (2234 E. Layton Ave., 414-483-0702).
When I was at The Landing in July it was almost empty, even though it was around 5 p.m.; this time, at only 4 p.m., it was close to packed. Almost every seat at the bar was full and only two tables around its perimeter weren't occupied. I taxied to the closest table without hesitation, because I was on a schedule and needed to refuel and take off again quickly. After eating I had to stop back home, and then I had to be over at Cactus Club and ready to start spinning records by 6 p.m., in advance of the Dead Horses show.
So far, so good. But what about all these people? Were they waiting to eat too? Was the back dining room also full? Was Milwaukee Record's Tyler Maas eating a fish fry back there with St. Francis's former mayor and taking his sweet time? It turned out most of the people were just standing around and drinking. Typical Wisconsin. Speaking of drinks, moments after I sat down a waitress asked if I wanted one, and I ordered an Old Fashioned. I had been looking over the menu that was at the table, and my instincts told me I better order food right away, just in case there did end up being a long wait. So I put my order in.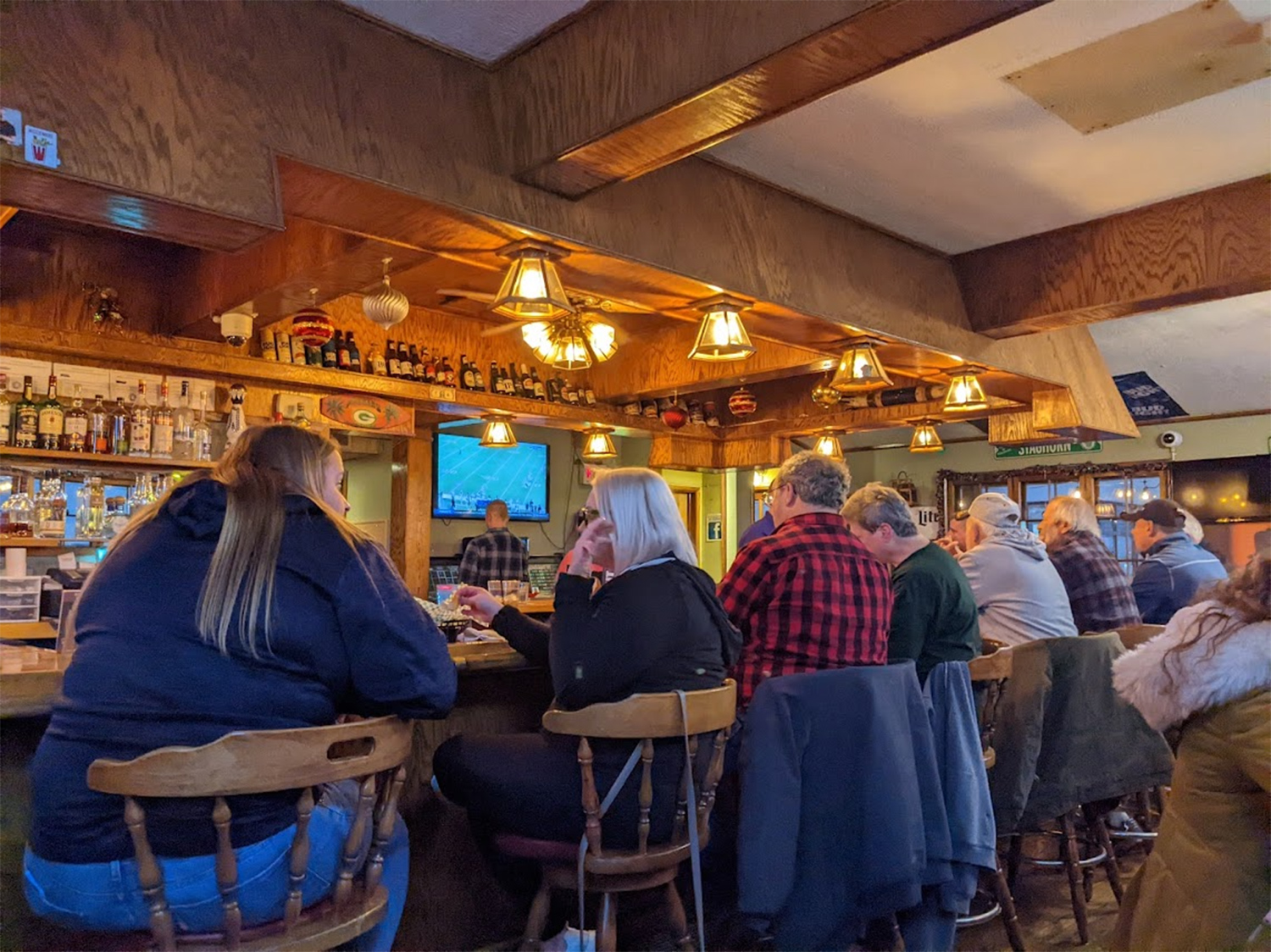 For seafood, The Landing offers beer battered, breaded, and baked cod dinners ($13.99) on Fridays, as well as shrimp dinners ($14.99) on every day of the week. Their menu lists french fries as the only potato option, so my ears perked up when I was told they also had homemade potato pancakes. If you're willing to pay a buck for a song in a jukebox or a cookie at a bake sale, you certainly should be willing to pay a buck for a potato pancakes upgrade. That's what I did, and I ordered them with the cod that was beer battered.
I had been asked if I wanted a tall or short Old Fashioned, and I went with the short. While it was obvious I was given the short glass, the glass was taller than a usual Old Fashioned glass. Three stemmed cherries sat atop it, skewered on a ribboned toothpick. The drink was straight to the point: soda. mix. brandy. no muddle.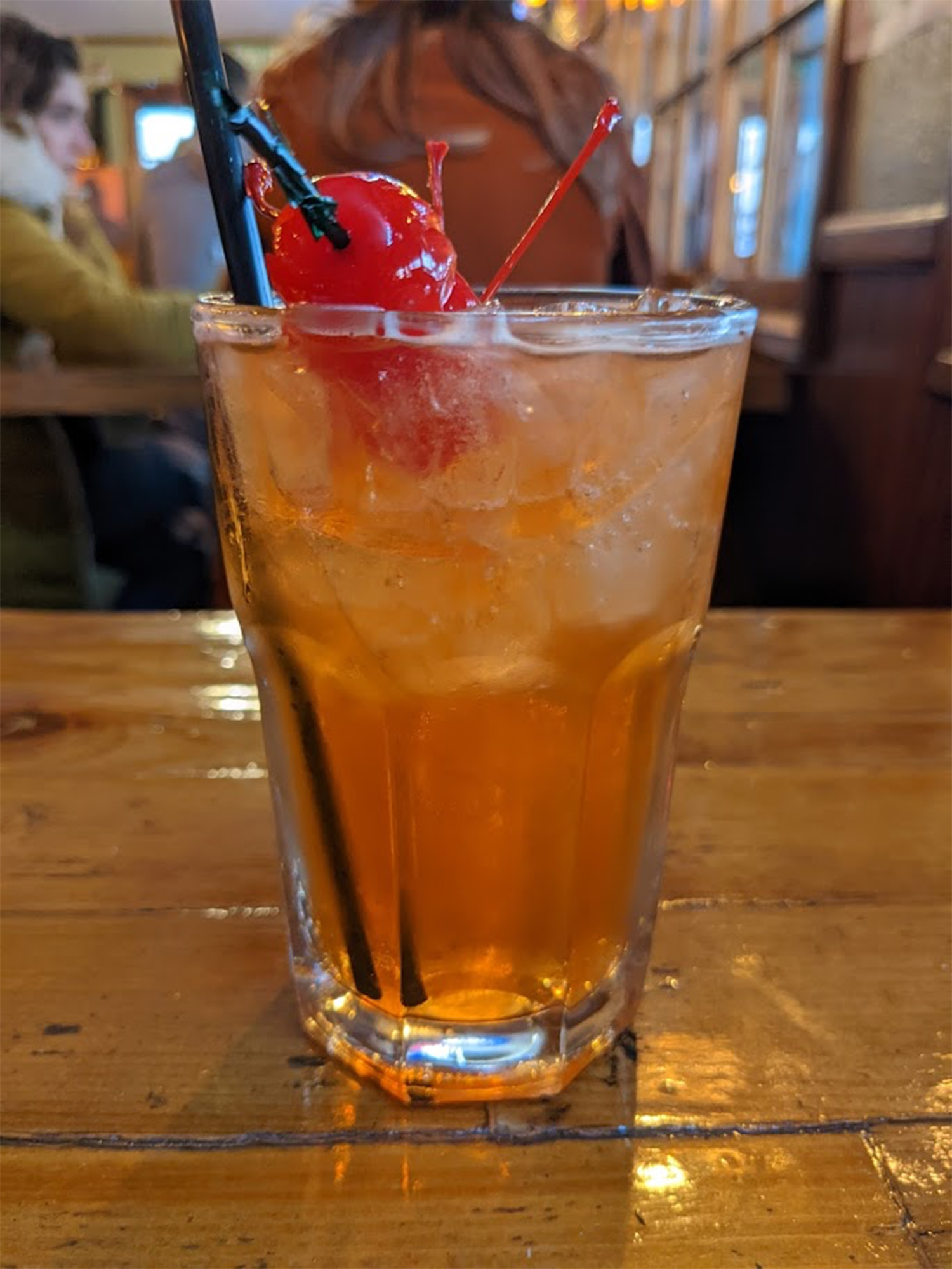 There never had been a need to worry about how long it would take to get food—it took all but 20 minutes from the time I arrived for the meal to come out. First I grabbed the bread, which consisted of two halves of lightly marbled rye flecked with caraway seeds, buttered and sandwiched together. Though standard in appearance, with not much to be expected, it was flavorful, soft, and fresh, reaching to its full potential. The coleslaw was full of crunch, and light on seasoning and sauce—being much less creamy than the slaw I remembered from July.
Flat and thin, the top pancake was uniform enough in appearance that at first I questioned if it was homemade. This questioning quickly receded when biting into it. I'll admit, I usually dab my pancakes in ketchup, but when my waitress asked if I wanted applesauce, syrup, or sour cream, I chose the latter, and never requested ketchup. Sour cream was the perfect match for the cakes on account of their sharp onion flavor.
Compact, thick, and meaty, the cod loins were taken out of the fryer at the perfect moment and were covered with a thin, golden, and flavorful batter. The tartar sauce was unmemorable. And by unmemorable I mean that when I listened back to the voice recording I had made about this fish fry while I was packing up to head to Cactus Club, I didn't mention anything about it, nor can I remember specifics about it now. But this I do remember: it hit the spot in the moment and went just fine with the classic beer battered cod.
Like a number of restaurants near Milwaukee Mitchell International Airport, such as Amelia's and Final Approach, The Landing has a name related to airplanes. The Landing has been in operation for more than a decade, and it isn't the first business in the building to be named in such a way—The Airport Tap, First Class Pub & Eatery, and The Runaway have all called the location home.
Last Friday, the owner was working behind the bar and my waitress was the only waitress in the front room. Despite the number of people she had to weave through who were having drinks, she continually stopped back to check on me. "You can sign it better if you put it on this piece of cardboard," she said, setting my bill on a coaster. "Put that in your wallet right away," she recommended, handing me my card wrapped in the receipt, "so it doesn't get lost." Afterwards she asked me if I liked my meal and if I thought I'd be back. It turned out she was wondering if I wanted a loyalty card. Did I get one? Yes. Where one lands once, they may land again, especially if a classic beer battered fish fry awaits.
Takeaways: When you arrive, it actually feels a bit like you are landing; lots of people standing around and apparently not eating fish; the short Old Fashioned wasn't really short; simple rye can be satisfying rye; on-point sour cream and onion pancakes; classic beer batter on somewhat succulent cod; 5,000 points on the loyalty card gets you four fish fry dinners and I only have 4,965 points to go.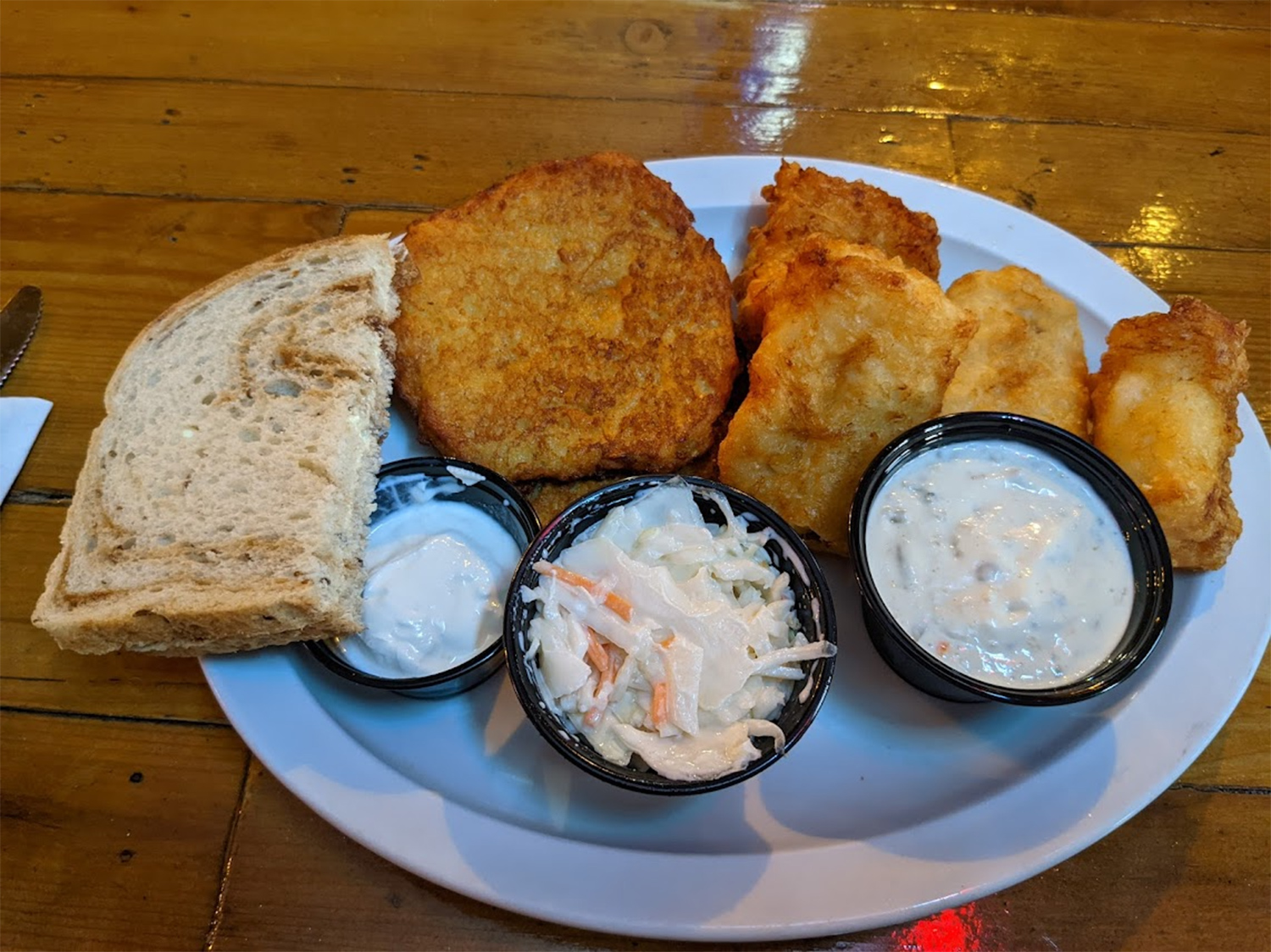 Exclusive articles, podcasts, and more. Support Milwaukee Record on Patreon.
---
RELATED ARTICLES