Caleb Westphal hasn't missed a Friday fish fry since 2013. Follow along with his never-ending adventures here.
Amelia Earhart, the first woman to complete a solo flight across the Atlantic Ocean, disappeared in 1937 while trying to complete a flight around the world. Her plane was lost near Howland Island in the Pacific, where she was planning on stopping before making the last leg of her journey. Some say she landed on nearby Nikumaroro Island and met her fate there. Others started freaking out last year when an unearthed photo supposedly showed her as a hostage of the Japanese in the Marshall Islands.
Other theories exist as to what happened to her, and all of them are rubbish. She actually flew to Milwaukee, kept a low profile for decades, and then opened Amelia's (724 E. Layton Ave., 414-483-0345). By naming the place after herself, she figured no one would ever guess the place was actually hers. She decided to open it near the airport so that she could watch planes fly in, and so she could quickly take off just in case she was ever found out.
Besides a chance encounter with Earhart herself, three other things drew me to Amelia's this past Friday. One: All-you-can-eat fish is an option. I had gone five weeks without it. Two: Smelt is available. Did you see smelt on your fish fry menu last week? I didn't think so. Three: You can mix smelt with cod. Variety is fun.
My friend and I arrived and put our names in for a table, grabbed a few drinks, and started looking at the airplane-related decorations on the walls. Fittingly, there is a section devoted to Earhart. There even is a biplane that hangs from the ceiling in the center of the main room, reminiscent of Earhart's own Kinner Airster. Soon our table was called, and we were seated in the back party room.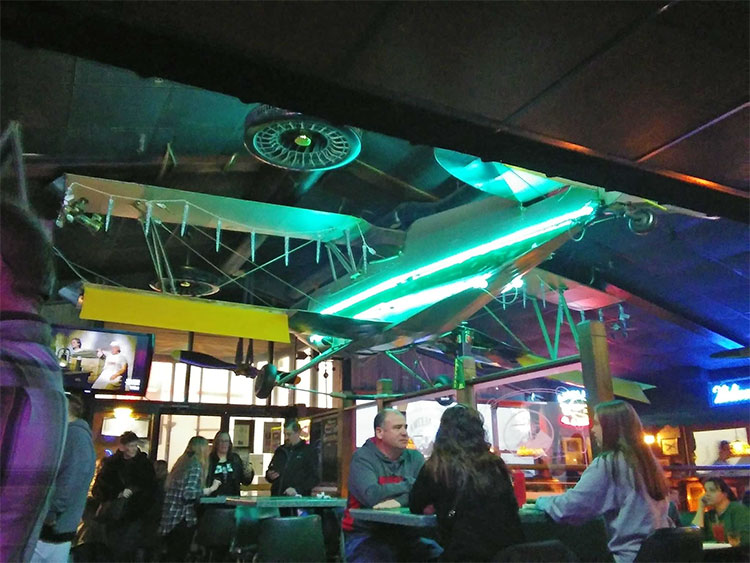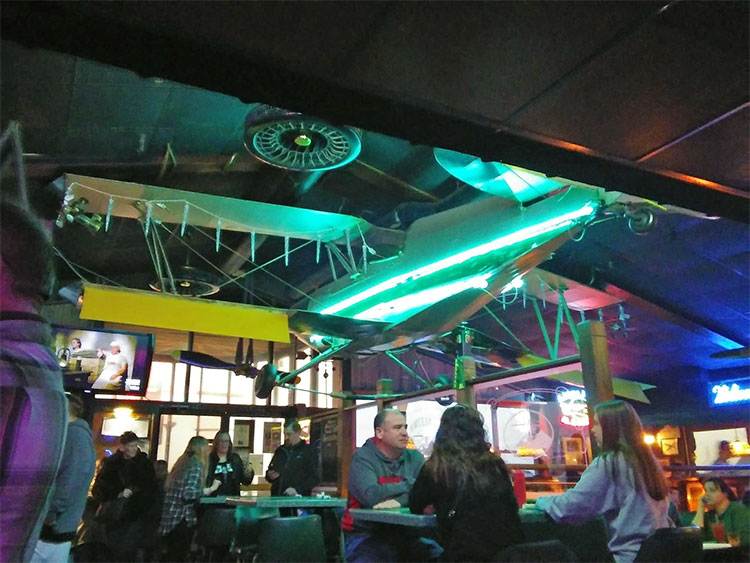 The all-you-can-eat cod and smelt is $13, and for $10 you can drop the all-you-can-eat part from your order. Hand-breaded walleye or perch are also available. The menu is a little unique in that it doesn't list potatoes as coming with fish frys. Three potato pancakes can be purchased for $4, and other sides such as french fries and tater tots can be added on for $2. In hindsight I should have gone with the pancakes, but being that I was a little thrown off by the menu, I just went with fries. I topped off the order with a cup of clam chowder.
The chowder had a robust, sweet flavor, with almost a little spice to it. It was moderate in both its consistency and the amount of clam and vegetables it had. The fries were straight cut and pretty standard, and both the creamy coleslaw and marble rye bread were pretty standard as well.
I was given two pieces of cod and eight smelt (not that numbers matter since it was AYCE). It's been years since I've had smelt, so my frame of reference for what consists of quality may be lacking. As a youngster I dropped nets for them with my dad at the Port Washington Breakwater Lighthouse, but my biggest memory of those trips is being afraid I was going to fall into Lake Michigan, not the smelt being netted. Smelt are a little bit of a fishier tasting fish, and I thought Amelia's prepared them quite well. They had a thick, hearty breading that allowed them to be dipped into the tartar sauce like glorified fish sticks. The tartar was homemade and very creamy, almost having the texture of whipped butter. Large pickle chunks were easily found, as were small red onion pieces. The cod had a light and crisp beer batter that was of decent quality. Most times I use phrases like "it flaked well," but in this case not all the pieces I had did, and some bites were a little on the chewy side. Nonetheless, the fish wasn't too bad overall, so of course I ordered a few more pieces.
Amelia's is noteworthy for both its ambiance and its all-you-can-eat smelt option. If you are a fan of aviation, this place is for you. There is not only a neon-lit airplane out front and an airplane inside, but the building itself is shaped like the nose and wings of a plane. Similarly, if you've been looking for a smelt fry, I'd recommend stopping here. There aren't too many places nearby that have it on the menu (Barnacle Bud's and Lakefront Brewery come to mind), and it was prepared in a way that made me glad I tried it.
Takeaways: robust clam chowder; didn't find a 120 year old Amelia Earhart but found smelt; mix and match AYCE option; the rest of the fry was pretty standard; there is an airplane hanging from the ceiling and the building looks like an airplane.