Caleb Westphal hasn't missed a Friday fish fry since 2013. Follow along with his never-ending adventures here.
By the time this gets published, it will be the last Friday of the year, which means we will all be approaching our final fish fry of 2019. If that wasn't reason enough to get a fish fry at a place named Final Approach (4959 S. Howell Ave., Milwaukee, 414-744-7060) last Friday, it also seemed fitting to go there because it is an aeronautical-themed restaurant and it was the closest Friday of the year to Wright Brothers Day, the annual observance that marks the anniversary of the first successful flight of a mechanically propelled, heavier-than-air airplane, which took place on December 17, 1903. With the spirits of Orville and Wilbur Wright in mind, I took flight towards the airport in my Ford Focus.
Upon arrival, I walked past the host and took a seat at the far end of the bar, at first intending to eat there. But as I was ordering my Old Fashioned, I changed my mind. I walked back to the host, put in my name for a table, and took a seat at a spot at the opposite end of the bar from where I had been.
I sipped the cocktail. Priced at $6.25, it was a rather standard non-muddled brandy concoction. I looked at the bar. With a bulge in its center and two wings, I imagined it had been designed to look like an airplane. I surveyed what else was in my purview. Holiday decorations and aviation items trimmed the walls; booths and tables with chairs were interspersed on a carpeted floor. It was festive and cozy, like a polished family restaurant with a slice of supper club. It's hard to imagine that the building was once home to a Shakey's Pizza Parlor. The phone rang. "No, we don't have prime rib tonight," the host could be heard saying. You're darn right. Give me a juicy prime rib on any day of the week—except Friday. In Final Approach's case, prime rib is available on Thursday, Saturday, and Sunday.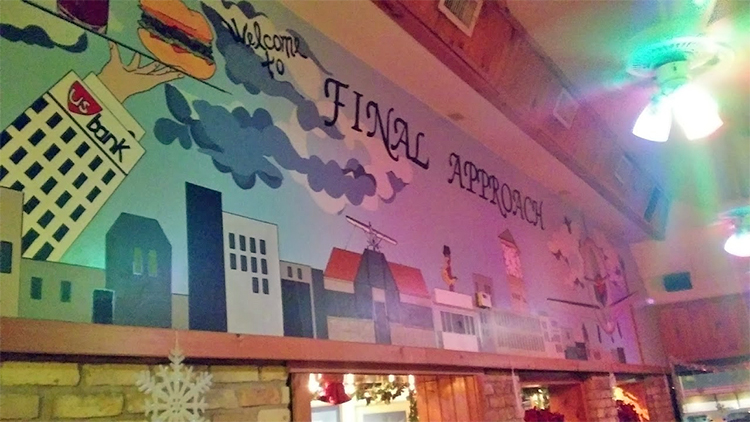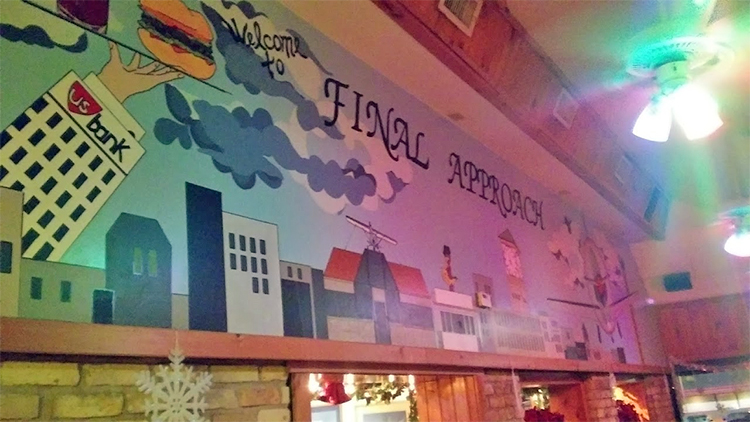 Within 10 minutes, I was taken to a seat in the narrow front room, a section somewhat secluded from the warm bustle of the rest of the restaurant, but brought to life with a mural depicting the Milwaukee skyline, which includes, among other buildings, the U.S. Bank Center holding a drink and cheeseburger, the Allen-Bradley Clock Tower, and of course, Final Approach itself. I settled in and looked over the Friday specials menu. The options consist of beer battered cod ($12.95/ $16.95 for all you can eat), baked cod ($12.95), breaded perch ($14.95), breaded or broiled walleye ($15.95), broiled tilapia ($14.95), coconut breaded shrimp ($14.95), salmon picatta ($16.95), and fish and perch sandwich meals ($10.50). I went with the all-you-can eat cod, chose the potato pancakes over the french fries, and added a cup of clam chowder.
The food arrived promptly, first the chowder and then the fish. The chowder was thick, but not overly gravy-like. Carrot, potato, and celery were prominent alongside the clam, and a trace of onion could also be found. An abundance of herbs invigorated the chowder's otherwise rather mild flavor. The somewhat large cup it came in was well worth the $2.99 price tag.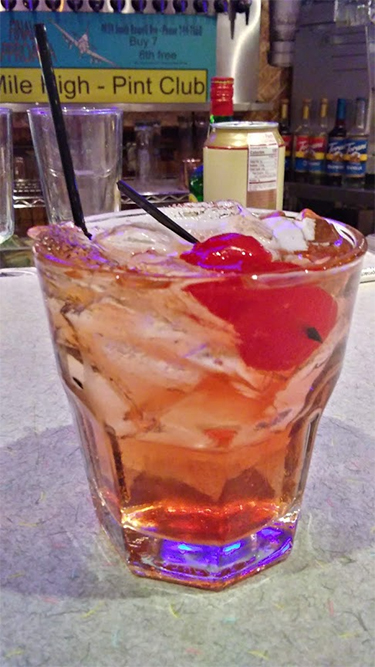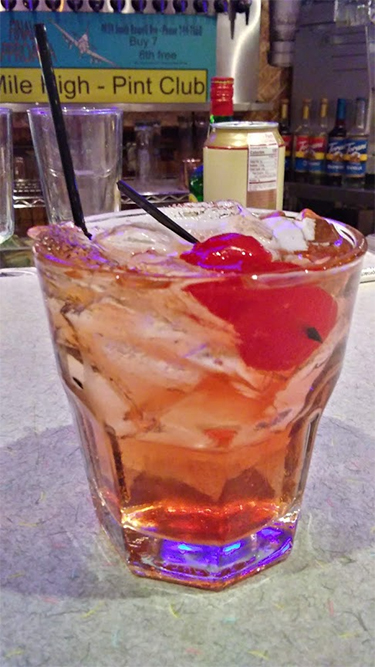 The cuts of cod were of moderate quality, and were covered by a slick, homestyle batter with a pronounced beer flavor. The tartar had a thin consistency, and horseradish was its salient component; the horseradish wasn't overbearing, but I can't say I've ever encountered tartar where it was this prominent before. The plate came with four pieces of fish. I inquired and was told that the regular fish fry came with three.
From a distance, one would scarcely be able to differentiate between the potato pancakes and regular pancakes, on account of their thinness and pigment. They were dense and had a unique, understated flavor, which included a waft of sweetness, but I couldn't determine what else. They were otherwise fairly innocuous in taste, but were pleasing overall.
The rye bread was halved and buttered. Of the marble variety, it was a bit on the tougher side around its edges. The seemingly not-often-found vinegar based coleslaw was crunchy and fresh, and acquired most of its flavor from the vinegar, not from supplementary seasoning.
As I began to slow down, my fork hovered above the fourth piece of fish and the last remnants of the second pancake. As my final approach to the plate neared—and I also contemplated the prudence of ordering additional pieces of fish—my eyes wandered out the window towards the airport, where I spotted an airplane making its own final approach. I visualized a safe landing and weary passengers and crew who had come from a faraway state making it to a Milwaukee-area restaurant just in time to order a Friday fish fry.
I was already quite full, but knew a fifth piece of fish was necessary. Do you think I would pay an extra four dollars for just one piece of fish? Not a chance. So I ordered another piece. This one was not quite up to the caliber as the others: the meat had less to it, and there was an overabundance of batter.
Still, Final Approach has an acceptable fish fry overall. It's the type of place that would be well-suited for someone looking for a no-frills beer batter or for someone who views potato pancake varieties as others do Pokémon characters—Gotta Catch 'Em All. Whether you are on your last fish fry of the year or your first, or if you are a Milwaukee resident or a weary-eyed traveler who just stepped off a plane from around the world, the Wisconsin Friday fish fry tradition is yours to experience and enjoy.
Takeaways: If you truly believe it to be the case, the bar is shaped like an airplane; non-muddled Old Fashioned; no, they don't have prime rib on Fridays, but they do have fish; particularly friendly staff; vinegar slaw; distinct, dense pancakes; adequate beer-forward fish; robust tartar; they have a drive thru specifically for the fish fry from 3-9 p.m.